What Training Does a Federal Air Marshal Need?

Are you ready to find your fit?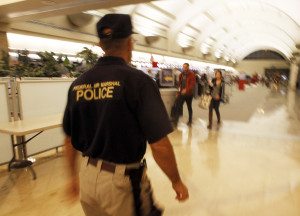 If you're ready to lift off with a rewarding career in law enforcement, then becoming a federal air marshal could be the perfect fit.
Federal air marshals are hired mostly by the Transportation Security Administration (TSA) to protect passengers and airline crews on domestic as well as international flights. On average, marshals fly 15 days a month and spend around 900 hours each year on airplanes. Due to the rising threat of hijacks and terrorism, federal air marshals play a prominent role in maintaining our country's national security. Air marshals must be able to correctly detect and eliminate potential threats to an aircraft for protecting all lives on board, so it's no surprise that the training is intensive.
The following is a step-by-step guide you can use to fly towards your goal of becoming a federal air marshal.
1. Know the Mandated Qualifications
Before landing a coveted job with the TSA, federal air marshals will need to fulfill a number of personal requirements to showcase their protective abilities.
Firstly, marshals must be between the age of 21 and 36 years old at the time of job application. Veterans from the U.S. military have the only exception to this rule and can apply after turning 37.
Federal air marshals must be American citizens whether they're born in the United States or receive naturalization. Since the job is physically demanding, federal air marshals will need to pass medical exams, submit to drug and alcohol screening, and complete a psychological evaluation.
Air marshals must also receive a top security clearance, which means candidates cannot have been previously convicted of a crime.
2. Complete Rigorous Air Marshal Training
Individuals with prior experience in the military or law enforcement are given preference, but all federal air marshals need to pass rigorous training regardless of their background. Once selected, aspiring air marshals are sent to a federal facility to participate in a 16-week session filled with arduous physical exertion. Most will complete this step at the Federal Law Enforcement Training Center in Artesia, New Mexico, or the Federal Air Marshal Service (FAMS) Academy in Atlantic City, New Jersey. Trainees will be taken on a crash course to learn essential skills in criminal profiling, emergency medicine, conflict management, and criminal investigation. Accuracy requirements are quite stringent for federal air marshals, so handgun and marksmanship training is intensive.
3. Obtain a Relevant Bachelor's Degree
It's possible to become a federal air marshal without spending time in post-secondary education, but having at least a bachelor's degree is typically advised. The TSA states that federal air marshals should have either three years of experience, a bachelor's degree, or an equivalent blend of the two. Air marshals can benefit greatly from receiving an undergraduate major in criminal justice, law enforcement, homeland security, or emergency management. Some federal air marshals choose to earn a bachelor's degree in public administration to advance beyond armed service to management in government security agencies. You could also consider a master's degree in any of the public safety fields for upper-level leadership.
Resource:
Best Affordable Online Homeland Security Degree Programs (Bachelor's)
Overall, there are around 4,000 federal air marshals currently working for the TSA to keep our skies safe from the growing concerns over international terrorism. Becoming a federal air marshal can help aspiring law enforcement officers turn their passion for traveling into a viable and in-demand career working undercover on flights around the world.
Get prepared for your next steps
Use articles and resources to uncover answers to common questions, get guidance on your goals, and learn about applying to schools.
Discover a program that is right for you.
Explore different options for you based on your degree interests.