WHAT IS THE EMPLOYMENT OUTLOOK FOR COMPUTER SCIENCE?

Are you ready to find your fit?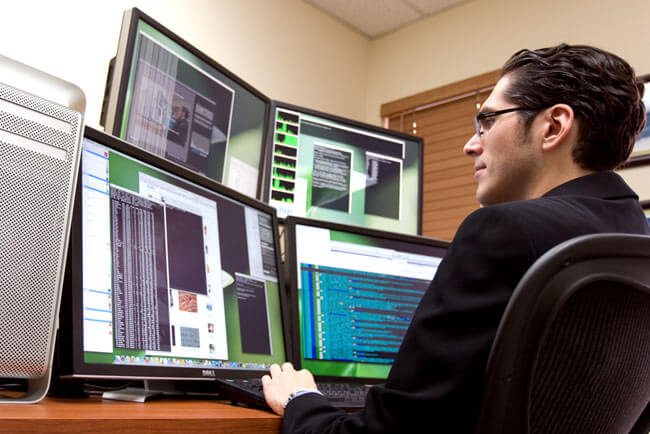 A variety of jobs are available to those who possess technical skills, and this is why the employment outlook for computer science (CS) graduates is generally bright.
CS degree programs introduce students to logic, more efficient ways of problem-solving and industry standard software development methods and frameworks. Besides learning about numerous programming languages, CS students usually do not graduate without taking courses about algorithms, data structures, mathematical theory, computer system architecture and the software development life-cycle.
Here are some of the highest growth technical jobs that are ideal for CS graduates.
Mobile Application Developer
Computer manufacturers predicted several years ago that mobile computing devices like smartphones and tablets would soon outpace traditional personal computers and laptops in sales, and they were correct. The functionality and convenience of these devices have widespread appeal for computer users of all ages and skill levels. The software known as mobile applications (apps) are what fuels the functionality for these devices. These mobile apps can be written in a variety of programming languages like JavaScript, XML, Objective-C, and HTML depending on the computing platform used. Mobile app developers make average annual salaries of $72,000, but their pay can soar well beyond six figures depending on experience, programming language expertise, and geographic job location. CS graduates who work as mobile app developers in cities like Houston, San Francisco, and Salt Lake City have some of the highest pay rates in the country for this job category.
Software Quality Assurance Engineer and Tester
No professional software development firm delivers software to their clients without putting their products through numerous tests to determine whether the software works according to agreed upon functional and performance specifications. CS graduates learn how to develop test programs that provide quality assurance for software that is developed by others. The test programs are usually automated and are capable of detecting and storing details about software errors. Software developers then use the error reports to modify their software and generate more reliable products in the future. Besides keen programming skills, software testers must be great communicators and active listeners who seek to fully understand product requirements. According to a recent salary survey sponsored by Indeed online job board, software testers earn an average annual salary of $76,000. Automation testers and C++ software testers make the most in this job category with annual pay of $112,000 and $94,000 respectively.
Data Scientist
CS graduates who work as data scientists or data engineers analyze large amounts of data and create algorithms that detect patterns within data sets. The identified patterns are used to make predictions about company performance, customer product preferences, and industry health. This position requires deep knowledge of mathematics, statistics, and programming which are main course topics that are taught within most CS degree programs. A national salary survey conducted by Glassdoor showed that the current annual median base salary for data scientists is $116,840.
Conclusion
While CS graduates are most notably known for their programming prowess, the skills that they learn during most CS degree programs prepare them for a number of jobs relating to software, hardware and data systems. Because of the versatility of this technical degree, the employment outlook for computer science graduates includes challenging and well-paying work for many years to come.
See also: The 10 Most Affordable Online Computer Programming Degree Programs (Bachelor's)
Get prepared for your next steps
Use articles and resources to uncover answers to common questions, get guidance on your goals, and learn about applying to schools.
Discover a program that is right for you.
Explore different options for you based on your degree interests.