WHAT HAPPENS ON A COLLEGE VISIT?
Are you ready to find your fit?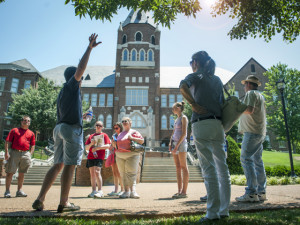 Toward the end of high school, it is a good idea to visit prospective colleges. While academics are the number one reason to choose a college, several other factors will affect your experience. Many colleges are on the same academic level regarding your potential major, and the differences in an atmosphere will determine your ultimate choice.
Why Visit Colleges?
You should visit the colleges you plan on applying to so you can get a real feel for the college. A college visit will help you decide which college is the best fit for your personality and needs. Your dream school may sound good until you visit and something doesn't feel right. College visits also give an opportunity to have your questions answered by people with different points of view.
How To Plan a Visit
First, decide what type or types of visit you prefer. Most colleges offer guided tours for potential students. Also, many high schools schedule group tours of local colleges. You will get to go with a group of your current peers and have someone to discuss the aspects of each college with. Also, much of the planning is done for you. Informal visits require less preparation and are also quite helpful. Show up to the campus and walk around. Check out areas that interest you and talk to current students.
Regardless of which type of visit you choose, do some homework before you go. Check out the website and any brochures provided by the college. Make a list of questions to ask while you are there. Get a map of the school and mark areas of interest. Grab a notebook and possibly a camera. Print a checklist of things to look for. The more colleges you visit, the more they run together. Also, bring along a friend or family member so you can discuss what you see and feel as you go.
What Will I Do?
Most colleges start college visits with a presentation by someone representing the campus. This informative speech will tell you the history of the college, current events, and upcoming changes. After the speech, you will participate in a tour, probably led by a current student. As you walk around, ask questions and pay attention to your surroundings. Pay special attention to bulletin boards to get a feel of the events going around campus. Make sure you are interested in some of the activities! Some colleges allow you to attend a class, club meeting, or sports practice. Meetings can also be arranged with professors, admissions officers, and financial aid officers. These individuals will be an excellent resource for some of your area specific questions. You may also want to eat in the dining hall or see about an overnight stay in a dorm. Make sure you leave enough time to explore on your own to see how you like all of the college, not just the polished places. Check out the meals offered, clubs, social scene, classes, and dorms.
Visiting several colleges will allow you to see which is the best fit for you. By listening to the information provided by the Admissions department, talking to current students, and touring the college, you will have most of your questions answered and should be able to prioritize your choices.
Get prepared for your next steps
Use articles and resources to uncover answers to common questions, get guidance on your goals, and learn about applying to schools.
If you're pursuing a master's degree in psychology, you may have been asked the following question: "What can you do with a master's in psychology?" It may even be a...
Are you interested in helping others resolve their issues and hurdles through talk therapy? You may want to consider a career in the counseling field. Counseling is a field that's...
Mental health counseling jobs exist across many settings — from hospitals and government agencies to schools and private practices, and they're projected to grow. The Bureau of Labor Statistics (BLS)...
Discover a program that is right for you.
Explore different options for you based on your degree interests.