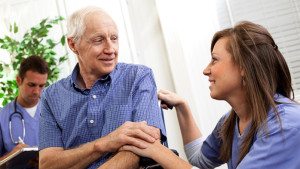 If you would like to study to work with older adults as an advocate, you might want to consider earning a Gerontology Degree.
Gerontology is the study of changes in adults who are aging and how society must change to address the needs of an aging population. Since there is a large population of Baby Boomers who are aging and require additional medical care and assistance, studying for a degree in Gerontology is becoming a much more popular choice for college-bound students.
Find out more about what you will study if you are a Gerontology major and also what you can do with your degree by reading on.
What Will You Learn When Studying for a Degree in Gerontology?
Gerontology is technically a field within the broad discipline of psychology. Because of this, you will study a long list of different subjects in your mission to earn your degree. The first two years of a 4-year program will be focused on studying general courses so that you can move on to studying your major coursework. Once you have completed the pre-requisites, you will then study curriculum in geriatrics and then you will complete a field practicum.
It is common for your graduation requirements to state that you must complete the following courses:
* Upper division units in Gerontology
* Social work
* Upper level units in Child and Family Development
* Exercise and Nutritional Sciences
* Public Health
* Psychology
Careers for Gerontology Majors
Now that you have a general idea of what you will study to learn about the aging population, the next step will be to learn what types of occupations exist in gerontology. The US is an aging nation where the segment of adults over the age of 65 is expected to double by 2060. This fact alone shows why there is a long list of options that you can consider when it comes to working in the field of gerontology. Here are some of the many options that you can consider once you have earned your degree:
* Social worker
* Mental health health associate
* Geriatric care manager
* Geriatric advocate
* Healthcare business manager
* Public policy
* Grant Writers
* Personal Assistants
* Art Therapists
* Grief Counselors
* Pharmacists
* Assisted Living Administrators
* Health Educators
* Physical Therapists
* Herbalists
What is the Work Environment Like in Gerontology?
You can work in all types of settings in gerontology. It is common to find specialists in hospitals, long-term care facilities, clinics, counseling offices, hospice, home health agencies, physicians offices, government offices and even in research departments. What the work environment will be like depends on the setting that you are in. If you are a caregiver, your demands will be much different than if you work in research, policy or management.
What is the Demand in Gerontology?
The demand for professionals who specialize in gerontology is on the rise. If you are looking for a job within the psychology discipline that shows promise, the career opportunities in gerontology are growing rapidly. The actual projected demand will be based on the occupation you are pursuing. As a whole, there is a big demand for specialists who can work with elderly patients and who have a hands-on understanding of their needs.
More than 400 institutions now offer programs in gerontology. If you are interested in working with policy or the aging population, you should start to search for a program. After you have found an accredited program, it is time to apply, enroll, and then study to earn your Gerontology degree.
See also: Affordable Online Master's in Gerontology Degree Programs