WHAT ARE THE PROS AND CONS OF EARNING A COLLEGE DEGREE ONLINE?

Are you ready to find your fit?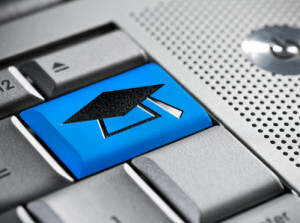 Online education is becoming the fastest and most efficient way to obtain a degree. Millions of people across the world enroll in online colleges and universities for a variety of reasons. Many are working professionals who simply do not have the time to take classes at a traditional school. Many also enjoy the convenience of taking classes from home. Nonetheless, there are some downsides to online education. The biggest downside is that students do not have the ability to actually meet and network with school faculty and students. Students also are limited in attending school-sponsored events that might help with professional development. Here is quick glance at some of the pros and cons of earning a college degree online.
Pro #1 - You can take classes from home
Taking classes in the comfort of your own home is probably the biggest benefit behind obtaining a degree through an online college or university. Many people find it convenient to log online and watch a lecture or presentation from their home computer. This is far more convenient then having to drive to a college campus, find parking and sit in a lecture hall. Professionals who have busy schedules, parents and others prefer online classes because they are flexible and classes are often held during non-traditional business hours. Many online classes are held in the evenings and on the weekends.
Pro #2 - Education-related costs go down tremendously
Many schools and universities that specialize in online education turn out to be cheaper than attending a traditional brick-and-mortar university. Many online schools have fewer faculty, administrative staff and other workers compared to traditional colleges and universities. This allows them to control their costs better and as a result students enjoy cheaper tuition rates. Also, students save money on commuting, course supplies and other materials that are often associated with being enrolled at a large, traditional college or university.
Con#1 - You cannot meet with faculty, staff and students
The number one downside to being enrolled in an online school is that you will have limited opportunities to actually meet with faculty, staff and students. Most online schools are in different cities and states and classes are completed all online. However, if you are enrolled in an online degree through a traditional college or university, you still have the opportunity to visit the campus and meet with professors, administrative staff and students.
Con#2 - You cannot take advantage of on-campus activities and events
Another downside to being enrolled in an online degree program is that many of these online schools do not offer on-site programs, activities and events that students typically take advantage of while they are enrolled at a traditional college or university. Whether it is a seminar, professional networking event, a presentation by an entrepreneur or even sporting events, many online schools simply do not have the capacity to host these types of events. If the online school has an actual campus, they might offer these types of events.
In the end, enrolling in an online college degree program depends on your needs and expectations. For many people, it is the perfect solution for their educational needs. Many do not have the time to actually get engaged in activities and other traditional on-campus activities. For many, they simply want to take classes and ultimately get a degree. Before enrolling in a program, you should definitely make a list of pros and cons and see if the benefits outweigh the disadvantages.
Further Reading: Should You Pursue an Online Degree?
Get prepared for your next steps
Use articles and resources to uncover answers to common questions, get guidance on your goals, and learn about applying to schools.
Discover a program that is right for you.
Explore different options for you based on your degree interests.