Earning a college degree tells the world that you're a well-educated person with a broad range of academic knowledge; general education courses help you reach that status. If you're considering going to school, you've probably seen something about "gen ed" or "core classes," and you may be wondering what general education classes are. Almost every university requires you to take some of these classes, but the exact requirements can vary tremendously.
Convenient Online Programs
General Education: What Is It?
English. History. Science. Mathematics. Think about the core academic subjects you studied in high school; those courses make up the bulk of general education courses at most universities. No matter what major you pursue, you'll have to take one or two classes in each of the major academic disciplines. Depending on the focus of the university you attend, you may also need to take courses in religion, culture or a foreign language.
The Purpose of Gen Ed Courses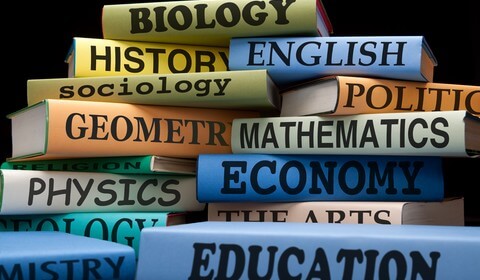 For some students, general education courses are a puzzle. If you're majoring in Business, why do you have to study Biology? Colleges have several reasons for requiring general education courses. First, many students have uncovered a hidden passion for a field of study as a result of taking a required course. After enjoying a class, you may find yourself minoring or even majoring in a topic you would have never considered. Second, required courses ensure that every college graduate has the same basic set of tools. Colleges want you to graduate with strong analytical and writing skills, plus a basic understanding of modern society. General education courses ensure that Chemistry majors can communicate via writing and English majors understand the scientific method.
Do You Have Any Flexibility In General Education Courses?
Are you terrified at the thought of taking Calculus or a college English class? Don't worry! Colleges want you to succeed, so you can choose between many different options for your gen ed courses. For example, you could fulfill a mathematics requirement by taking Algebra, Business Math or Advanced Calculus. Science and engineering majors can find refuge in Technical Writing classes instead of Literature Analysis. Sometimes you can even study abroad to meet general education requirements.
Can You Transfer Gen Ed Courses?
One big advantage of general education courses is how easily they can be transferred. Math is math, whether you're taking it at Harvard or Harlem Community College. If you've taken college courses before, there's a good chance you can apply them towards a degree now. Plus, if you want to switch between schools, you won't find yourself retaking old courses at your new university. Many states even guarantee that you'll be able to transfer every gen ed course you complete.
Once you graduate school, some of your fondest memories will be of your general education courses. Many professors, knowing that their course may be the only experience you have in that particular academic field, will do their best to make classes fun while ensuring you learn something. You might watch movies, read interesting case studies or be asked to consider how the class can be applied to your own area of study. Since you can usually transfer general education courses to any school you want, why not sign up for one today?
See Also: Best Value Schools - The 5 Most Popular College Majors