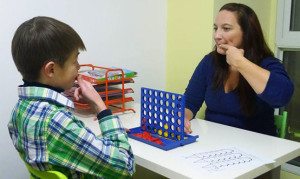 Becoming a speech therapist involves working with clients with speech disorders that can affect learning, socialization and even physical health.
Also called speech pathologists, these professionals work in and with schools, but the field involves patients of every age population. It is an interesting and rewarding field, both personally and financially, but it involves several years of study and certification.
So, how do you become a speech pathologist?
What is a Speech Pathologist?
Study.com defines the profession, also known as a speech-language pathologist, this way: Pathologists "diagnose and treat disorders that affect speech, such as those that prevent proper production of speech sounds, create fluency or rhythm problems, cause swallowing problems or affect an individual's ability to process speech." That involved definition comes down to this: pathologists find problems in making or in processing speech and treat them.
These professionals work in hospitals, clinics, nursing homes, schools, colleges, research centers and even in private practice. They treat both oral and non-verbal communication problems including reasoning and processing. They also work with people whose problems come from inadequate motor skills or functioning. Sometimes their clients include the elderly or babies who have difficulty swallowing.
The First Step is Education.
The field of speech pathology involves so many different knowledge and skill sets that the minimum education required for the profession is a master's degree. A bachelor's degree is required for this step, but there is no set discipline in which the undergraduate degree must be earned. Still, a bachelor's in communication or hearing sciences can prepare you for graduate study.
In an undergraduate program, you may study courses such as the development of language, audiology, phonetics and the anatomy of the brain. An undergraduate degree in one of these fields may also satisfy some of the prerequisites for getting into a speech pathology graduate program.
The master's degree courses include physiology and anatomy that involve the voice and communication disorders. Then, because pathologists work with many different age populations, you will study age-related speech disorders. The graduate program also involves a clinical practicum which is often 300 to 350 hours of supervised hands-on work.
Credentials are Vital.
After graduation, the next step to becoming a speech pathologist is getting credentialed. One of the organizations that offer credentials to professionals in this field is the American Speech-Language-Hearing Association. According to Work.Chron, professionals must apply for certification and provide proof of satisfactory completion of the Educational Testing Service's Praxis Exam. They also must submit their college transcript and documentation of their clinical experience. They must remit the application and membership fee which, according to the classification of the applicant, ranges from $256 to $511. Once credentialed, the pathologist must become licensed and the requirements for that vary by state. Some of the credentialing requisites could fulfill the requirements for licensing. Speech pathologists must have a certain amount of professional clinical experience in order to be licensed and that, too, will vary from state to state.
In total, the process usually takes seven years to go from the bachelor's degree to clinical practice. The Bureau of Labor Statistics, though, gives the median salary for a pathologist in speech and hearing as $69,870. That amount depends on where you work and your position because many pathologists work in research or governmental jobs that may be higher-paying than hospitals or schools.
Becoming a speech therapist is a long process but it leads to a career that can be both financially and personally satisfying.
Related: Top Affordable Online Master's in English Language Learning Degree Programs - Best Value Schools