WHAT ARE THE BENEFITS OF ATTENDING A WOMEN'S COLLEGE?
Are you ready to find your fit?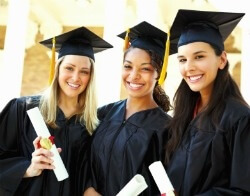 Due to the diverse misconceptions circulating about all-female schools, the numerous benefits of attending a women's college are often overlooked in American post-secondary education.
Women's colleges are rooted in historic traditions for promoting empowerment, sisterhood, and development of the female mind, but the relevance of women's colleges in today's society is often questioned due to tremendous strides for gender equality. After all, in comparison to the thousands of universities nationwide, there are fewer than 60 women's colleges in the U.S.
However, young women choosing to attend women's colleges often report receiving outstanding advantages and thriving in an all-female environment. In the following article, we will discuss the top reasons why you should add women's colleges to your search for higher education.
More Emphasis on Math and Sciences
Although the vast majority of single-sex institutions are private liberal arts schools, women's colleges have a proven track record of preparing female students for traditionally male disciplines in math and sciences. Women's colleges build on their well-rounded liberal arts foundation to boast a significantly higher percentage of majors in economics, math, and life sciences today than at co-educational schools. Not only are students at women's colleges much more likely to thrive in studying subjects in which they are typically underrepresented, but they also experience higher levels of academic challenge, engage in a higher degree of collaborative learning, and participate in activities that integrate the curriculum with real life.
Resource: Best Value Schools STEM Scholarship for Women
Stronger Sense of Campus Community
All-female institutions provide women with an environment that is conducive to building the voice, confidence, and high self-esteem that is necessary for thriving in today's still male-dominated marketplace. With lower enrollment numbers and smaller class sizes, students at women's colleges are able to more fully engage in a strong campus community to make long-lasting connections with brilliant students, professors, and administrators. In a recent study conducted by the NSSE, researchers discovered that women at single-sex institutions were more engaged in campus life and reported the highest levels of support in their development. Students at women's colleges also tend to have significantly greater satisfaction with their academic, developmental, and personal experiences in comparison to co-ed counterparts.
Significant Preparation for Graduate School
Statistics have shown that graduating from a women's college sufficiently increases a female's chances of furthering her studies at the graduate level upon completion. Around 81% of graduates from women's colleges continue their education to earn an advantage degree, plus graduates are more than twice as likely to receive doctorates and enter medical school. As a result, students at women's colleges are more successful in their careers, tend to hold higher leadership positions, report feeling happier, and bring home more money each year. If you are still not convinced that women's colleges produce phenomenal alum for achieving great things in our society, simply ask the graduates that comprise more than 20% of women in Congress and 30% of rising women in corporate America.
From the East Coast to the West Coast and everywhere in between, there are women's colleges that maintain their distinctive identity for providing an unequivocal commitment to helping female students build their success. If order to determine if this environment is the ideal fit for you, it is recommended that you research all-female schools, visit campuses, meet with students, and learn more about the benefits of attending a women's college.
See also: Best Value Schools – Most Affordable Women's Colleges in the U.S.
Get prepared for your next steps
Use articles and resources to uncover answers to common questions, get guidance on your goals, and learn about applying to schools.
If you're pursuing a master's degree in psychology, you may have been asked the following question: "What can you do with a master's in psychology?" It may even be a...
Are you interested in helping others resolve their issues and hurdles through talk therapy? You may want to consider a career in the counseling field. Counseling is a field that's...
Mental health counseling jobs exist across many settings — from hospitals and government agencies to schools and private practices, and they're projected to grow. The Bureau of Labor Statistics (BLS)...
Discover a program that is right for you.
Explore different options for you based on your degree interests.