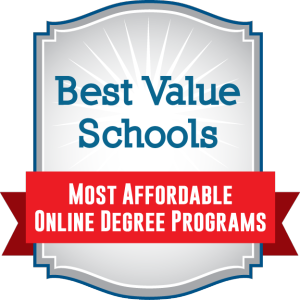 Students who are serious about making it far in business may want to consider an online project management degree at the undergraduate level. Many times schools integrate this degree program into a larger major in Business Administration, but whether the program you choose stands alone or in conjunction with another degree, you will undoubtedly benefit from the education you receive.
Methodology
Check out the list below to read about high-quality accredited schools that 1) offer degrees in Project Management, 2) offer said degrees in a distance education format, and 3) are the most affordable among such schools in the nation. (We used information from the U.S. Department of Education's College Navigator database to make these determinations.) In order to make this list, colleges had to meet all three of the above criteria. Public schools were ranked according to the average of their in-state and out-of-state tuition rates, although some universities may offer online project management degree students one rate or the other.
Cheap Online Project Management Degree Program Ranking
---
1. Columbia Southern University
Online Bachelor of Science in Business Administration Project Management Concentration
Website
Tuition: $4,895/yr
Columbia State University is a leader in high quality online learning. Under the Business Administration degree program, the concentration in Project Management trains students in the practical aspects of time management, budgeting, and following exacting specifications. CollegeProwler, the online education rating system driven by students, gives the University an A+ for online courses, A+ for flexibility and an overall A grade. Courses emphasize leadership and motivation for quality production by project team members. Uniquely, the program includes business values and morals. Comprehensive and demanding, this degree prepares business professionals for the exacting demands of an increasingly competitive environment. This cheap online project management degree program aims at practical application and gives students the tools necessary to excel.
2. Bellevue University
Online Project Management Degree - Bachelor of Science
Tuition: $6,300
Bellevue University knows that project management is an exploding field and has become a necessary strategic competency worldwide. The university's Bachelor of Science in Project Management is a direct path to leading and managing project teams in any organization. U.S. News and World Report ranks the University at #18 for online education, and SuperScholar places them at #20. Accreditations include The Higher Learning Commission of the North Central Association of Colleges and Schools as well as the Project Management Institute, and it is one of only eight schools in the country to receive the respected PMI stamp of approval. Online project management degree students learn the standard practices of the profession, and then move on with the latest research. PMI has qualified the school as a Registered Education Provider for professional development.
3. Trident University International
Online Bachelor of Science in Business Administration (BSBA) - Project Management Concentration
Website
Tuition: $6,600/yr
Trident University International specializes in degree programs for military personnel and other adults worldwide. Fully accredited with the Western Association of Schools and Colleges, the university seeks out highly motivated students for their Business Administration's bachelor programs. Compassionately committed to student success, their undergraduate programs are designed to impart functional expertise for entry-level positions. Students select electives to concentrate in specific areas of business administration, for example Project Management. Ethics is seen as playing a greater role globally, and practical application of the skills learned prepares online project management degree students for the highly competitive marketplace and further professional development. Trident is a California regionally accredited online university.
4. Northwest Florida State College
Bachelor of Applied Science Degree in Project Management (BAS) Online
Website
Tuition: $3,064/yr (In-state) $11,373 (Out-of-state)
Northwest Florida State offers a specialized course of study with their Project Management program. The College enjoys the full accreditation of the Florida College System. This affordable online project management degree program is a concentration under the Bachelor of Applied Science Degree. Students may accomplish the first two years from local institutions, normally at a lower cost; alternately, freshmen may start with an individually designed lower division course of study. For graduates of the Air Force's community college system (under Air University) they offer advantages for those transitioning from the military. The courses build on practical workplace experience with a flexible format that includes traditional classroom course work and distance online learning.
5. Baker College
Online Bachelor of Information Systems - Project Management and Planning
Website
Tuition: $8,100/yr
Baker College's Project Management Program teaches computer technology for problem solving in the business environment. With system analysis and computer programming, students develop the skills and tools needed to tackle the most complex projects. The Bachelor of Information Systems degree, combined with Project Management and Planning coursework, prepares students for formal project management certification. Administration and technological systems can often be at odds; project managers with high competences in information systems bridge that gap. The State of Michigan and the regional Higher Learning Commission accredits the College. Graduates of the online project management degree program serve their organizations with goal-oriented application of computer decision-making technology, system design, and team leadership.
6. Colorado State University - Global
Online Bachelor's Degree in Project Management
Website
Tuition: $8,400/yr
Colorado State University's online Bachelor of Science Degree in Project Management prepares students to take on a multitude of tasks under tight time and budget constraints. The program takes a strategic view of project management. Understanding the stages of a project's lifecycle, the goal of each stage, and then the organization's needs are critical for practical results. Leadership and team building are more than concepts; in the real world, there is a direct benefit when teams have the skills to move an organization forward. SuperScholar rates the university #1 for online colleges and it ranks #16 with U.S. News and World Report. The accredited online project management degree program focuses on the essential tasks of diverse projects, and at the same time it teaches students about complex organizational needs.
7. University of Phoenix
Online Bachelor of Science in Business With a Concentration in Project Management
Website
Tuition: $10,500/yr (On average)
The University of Phoenix is a leader in distance learning and has earned a positive reputation. CollegeProwler gives the University two A's for its online courses and flexibility, with an overall average of a solid A. The program teaches future project managers the skills to lead teams with a strong emphasis on results. The importance of clear communication and creative thinking is part of the program, as well as how to use and develop those skills. The project management degree online uses the latest project management research and experience to build a base of understanding, and from that foundation graduates will be ready to design the innovations organizations seek.
8. Colorado Technical University
Online Project Management Programs
Website
Tuition: $11,689
Colorado Technical University, with its Project Management degree program, is a recognized education provider by the Project Management Institute (PMI). Colorado Technical University is regionally accredited by the Higher Learning Commission. To contact the Higher Learning Commission please visit www.hlcommission.org. Accredited by the Global Accreditation Center for Project Management Education Programs at PMI, the university continues a history of delivering practical management education. Established professionals can take continuing education courses, and all graduates can expect recognition within their profession. And for those who want to get more out of their education, Master's degree classes are available as well. Options include online distance learning or on-campus learning combined with online classes.
9. Capella University
Online Project Management (Business) or Project Management (Information Technology) Bachelor's Degrees
Website
Tuition: $12,341/yr
Capella knows that businesses recognize the importance of project management. In their desire to move beyond the traditional uses of information technology, the university trains students for the deep complexities of modern organizations. Cross-functionality, the combined competencies within an organization, and core business values are a focus of the Bachelor in Project Management degree. In recent decades, organizations have begun to look to the bottom line more and more. Understanding this, the program teaches students how to produce on time and within budget. Capella gets solid A's with CollegeProwler for academic experience, flexibility, student resources and online courses, while SuperScholar places them at #17 overall for online education, making this school a great choice for earning an online project management degree.
Related Articles:
Sources:
Wikipedia - Cross-functional Teams
Wikipedia - Project Management
Project Management Institute
Huffington Post
UCSF - Team Building
College Prowler
SuperScholar
U.S. News and World Report
Wikipedia
Online Degree Reviews - Trident University International
College Navigator
About the Author:
Iris Stone got her start in writing when she began working as a freelance writer and researcher in 2011. Her freelance business soon took off and she now owns and operates a writing and editing firm that works with clients all across the country. Despite the time it takes to run a business she still does much of the writing herself, and her work has included a variety of content related to education policy, colleges and universities, academic programs, and graduates' careers. Check out her Google+ Profile.