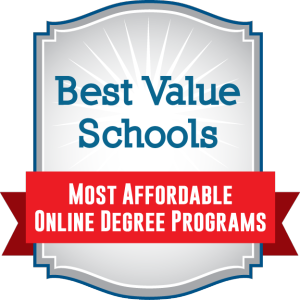 Online Organizational Management Degree Programs are very popular because they allow graduates to pursue a multitude of careers in the public, private, and nonprofit sectors. In addition, having well-defined leadership skills will contribute to your success in just about any job you hold, whether you are in management or not. Pursuing a online management and leadership degree will allow you to continue to work or take care of a family and design your schedule around your own needs. Plus, you might even save money!
Below is a selection of nine of the most affordable online degrees in Organizational Management. The list was narrowed down from a much larger selection of schools that offer degrees in related fields. To make the list, a school had to 1) offer a Bachelor's degree in Organizational Management or Leadership, 2) provide its program in a 100% distance education format, and 3) have one of the 9 least expensive tuition rates out of all the schools that met requirements #1 and #2. Public schools were given an estimated tuition rate based on the average of their in-state and out-of-state rates.
Cheap Online Organizational Management Degree Program Ranking
---
1. Indian River State College
Bachelor of Applied Science Degree in Organizational Management Online
Website
Tuition: $2,764/yr (In-state) $10,201 (Out-of-state)
Indian River State College's bachelor's degree in Organizational Management qualifies graduates to take leadership positions in complex organizations. Online Organizational Management Degree students gain management competences in several areas of communication, marketing, financing, and personnel resources. With a focus on leadership, graduates acquire the skillsets they need to motivate and manage the work of others in the social and ethical context of greater society. Indian River's low student-to-faculty ratio, streamlined student services, online coursework, and convenient locations earn the school a rank of 12th top regional public institution in the South, according to U.S. News & World Report. In addition, the U.S. Department of Education places the school 4th on its most affordable colleges of the nation.
2. Thomas Edison State College
Bachelor of Science in Organizational Leadership Online
Tuition: $5,700/yr (In-state) $8,395/yr (Out-of-state)
Thomas Edison State College's Bachelor of Science in Organizational Leadership degree program is tailored to working adults. At the core of the program lies a strong emphasis on developing competent leaders for the corporate community, non-profits, and government agencies. A rigorous curriculum clearly indicates that it is critical to understand interpersonal dynamics in complex organizations in order to maximize efficiency. Graduates develop requisite skills for working collaboratively in both diverse settings and large groups. The online management and leadership degree draws from a range of study areas in the liberal arts, business, and human behavior, which helps impart a broad perspective on leadership to students. Thomas Edison State College has earned a national reputation for educational excellence and integrity.
3. St. Petersburg College
Online Management and Organizational Leadership B.A.S. Degree
Website
Tuition: $3,232/yr (In-state) $7,355/yr (Out-of-state)
St. Petersburg College provides students with an academically challenging online learning experience. Its online Bachelor's Degree in Management and Organizational Leadership trains students to solve organizational problems with practicality in mind. The degree has several concentrations from which to choose. The concentration in leadership trains students to direct others effectively, while the general management concentration focuses on day-to-day organizational structure and functions. Other options include entrepreneurship, environmental sustainability, and project management. In all, graduates of the management and leadership degree online develop competences in fiscal planning, leadership, and cultural diversity. A recent survey by the college found that approximately 98% of graduates would recommend the college for its affordability and flexibility.
4. Colorado State University - Global
Online Bachelor's Degree in Organizational Leadership
Website
Tuition: $8,400/yr
Colorado State University's Bachelor of Science in Organizational Leadership program teaches future leaders organizational structure, design, behavior, and policy. The Global Campus provides a 100% online learning experience. Going beyond the basics, the program leads students to a higher level of understanding, emphasizing the psychology of the workplace and developing management competency. This bachelor's is a comprehensive one that includes developing critical thinking, research and analysis, decision-making, and strategic development skills, in addition to the oral and written communication abilities so vital for managers. SuperScholar places the Global Campus first as a best online college, and U.S. News & World Report ranked the school the 16th best online bachelor's program.
5. Morris Brown College
Bachelor of Science (B.S.) Organizational Management and Leadership Online
Tuition: $8,500/yr
Morris Brown College's bachelor's degree in Organizational Management and Leadership is ideal for students interested in leadership roles in corporations, non-profits, and government. The school was founded by the African Methodist Episcopal Church in 1881 and continues to provide specialized education for those interested in both religious and secular careers. The lower division coursework builds a sound footing in those "fields of human interest" impacting present society, including the skills essential for advanced study. By the second half of this cheap online organizational management degree program, students start concentrating on classes more specific to organizational management, including leadership and public service. The private liberal arts college is driven by a commitment to excellence in online education and accelerated learning.
6. Arizona State University
Online Bachelor of Arts Organizational Leadership
Website
Tuition: $7,866/yr (In-state) $11,209/yr (Out-of-state)
Arizona State University's online Organization Leadership program focuses on organizational functioning for success. Coursework covers resource management, communication, problem solving, and ongoing assessment, among other areas. Students also study ethical decision-making for the health of organizations and receive specialized training that helps them improve oral and written communication. Other topics include proposal writing and research reports, which can help learners think strategically and identify goals. Furthermore, senior projects help near graduates demonstrate their acquired knowledge and design portfolios that can assist them in interviews. Arizona State is in the top tier of national universities with U.S. News & World Report, while Forbes places the university among America's best colleges nationally.
7. Valdosta State University
Online Bachelor of Science in Organizational Leadership (B.S.)
Website
Tuition: $5,889/yr (In-state) $16,814/yr (Out-of-state)
Valdosta State University's Organizational Leadership bachelor's program offers several concentrations. Both the Leadership in Law Enforcement and Legal Office Administration tracks give students the unique skills needed to work in the civil and criminal justice systems. In addition, online leadership degree students interested in office management roles can pursue a concentration in Office Technology and Administration. The curriculum includes problem solving methodologies, effective communication, and critical thinking techniques for students seeking leadership positions in any organization. VSU also emphasizes ethical principals, presenting them as a fundamental aspect of successful management. Valdosta State's new students meet the highest admission standards in the history of the university as admissions and retention rates increase.
8. National University
Bachelor of Science in Organizational Leadership Online
Website
Tuition: $12,096/yr
The Bachelor of Science in Organizational Leadership degree program from National University is based on analyzing case studies. Leadership theory takes on real-world meaning through the complex problems learners tudy. Unlike many other degrees, the program also compares the differences between leading small and large organizations. Students develop their innate management abilities into an effective personal leadership style. They also devote time to the exploration of past leaders' motivational strategies, helping them prepare for their own successful management roles in organizations. Classes devoted to technology, decision-making, and critical thinking round out this already comprehensive degree. The Chronicle of Higher Education, in a survey of university professors and instructors, lists National University as one of the "great colleges to work for" in the nation.
9. Penn State World Campus
Organizational Leadership Bachelor's Degrees Online
Website
Tuition: $13,202/yr
The Bachelor of Arts in Organizational Leadership program at Penn State World Campus offers a curriculum immersed in the social sciences, humanities, and language in addition to organizational leadership courses. Students who pursue this management and leadership degree online are interested in showcasing their ability to manage and nurture business and professional relationships through motivational strategies, conflict management, and other forms of interpersonal and social influence. PSWC also offers a Bachelor of Science in Organization Leadership, which includes additional courses that explore leadership in business and other organizations from a social-scientific perspective.
Penn State has a history of 100+ years of distance education and more than a decade of experience in online learning. It's a top-notch school for earning an accredited online organizational management degree.
See also: Top 10 Cheap Online Public Administration Degree Programs (Bachelor's) 2019 and Organizational Management Scholarships.
Sources:
College Navigator
Wikipedia - National University
About the Author:
Iris Stone got her start in writing when she began working as a freelance writer and researcher in 2011. Her freelance business soon took off and she now owns and operates a writing and editing firm that works with clients all across the country. Despite the time it takes to run a business she still does much of the writing herself, and her work has included a variety of content related to education policy, colleges and universities, academic programs, and graduates' careers. Check out her Google+ Profile.