AFFORDABLE MASTER'S IN EDUCATIONAL ASSESSMENT ONLINE

Are you ready to find your fit?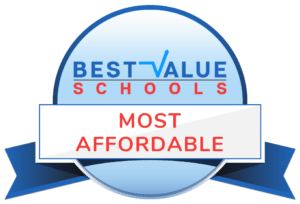 Click here for high resolution badge
By BVS Staff
An online master's degree in educational assessment and evaluation from a reputable college can go a long way in helping you achieve your professional goals. Most of us are familiar with undergraduate degrees in teaching, but you might not know that there are a lot of other types of education degrees (and careers) too. Education majors - particularly those with graduate degrees - often find jobs in administration, testing, research, and learning disability diagnostics.
Because of the nature of most education classes, it's fairly common to pursue such a degree online. Since most curricula don't require labs or presentations, faculty can design courses that use virtual classrooms to facilitate assignments, research projects, discussions, and even group work. Online programs are more convenient, flexible, and often less expensive than traditional schools. Public institutions in particular that offer in-state tuition to distance education learners are a great deal.
The 10 Best Online Master's Degrees in Educational Assessment Ranking Methodology
Selection Criteria
For this ranking, we focused on public and private (non-profit) colleges and universities that offer graduate (master's) educational assessment and evaluation programs online. Because the focus of this list is on affordability, we only considered programs with average* tuition rates of $20,000/year or less.
*For public schools, we calculated the average value of their in-state and out-of-state rates.
Ranking Factors
Unfortunately, there are a limited number of online master's in educational assessment and evaluation degrees available. Therefore, we could not compile a pool of options large enough to justify a multifactorial ranking system in which we'd score colleges and universities based on a list of specific considerations.
So instead, we ranked the programs solely according to their affordability. See below for the best cheap master's in educational research and evaluation online degrees, ranked from most to least expensive.
Cheap Online Master's in Educational Research and Evaluation Programs Ranked
---
#1

West Texas A & M University

Canyon, TX

#2

National Louis University

Chicago, IL

#3

University of Akron

Akron, OH

#4

Cleveland State University

Cleveland, OH

#5

University of the Southwest

Hobbs, NM

#6

University of Mary

Bismarck, ND

#7

Kent State University-Kent

Kent, OH

#8

West Virginia University

Morgantown, WV

#9

Northern Illinois University

DeKalb, IL

#10

Georgia Southern University

Statesboro, GA
Featured Online Programs
Figuring out where to apply? These top, accredited schools offer a variety of online degrees. Consider one of these accredited programs, and discover their value today.
West Texas A & M University

With an average annual tuition rate of less than $7,000, West Texas A&M's program easily stands out as the top cheap master's in educational research and evaluation online. Due to its focus on diagnostics, WTAMU is also a particularly strong choice for teachers who want to work directly with students with disabilities. The program can even lead to certification as a diagnostic specialist in Texas, provided you complete a practicum in an approved school setting. If you're not seeking certification, you can swap out the practicum for a class in assistive technology.

National Louis University

National Louis' cheap online master's in educational assessment and evaluation degree is research-based and action-oriented. In fact, the program's core curriculum includes a four-part sequence in exploring, engaging, continuing, and finally completing "Action Research." Altogether, this sequence represents a year-long research project that you'll develop based on real issues that you identify through your everyday experiences as a teacher. You'll complement this hands-on learning with a series of both theoretical and skills-focused classes like "Developing School Cultures," "Engaging with Critical Multicultural Perspectives," and "Constructing Curriculum for Engaging the Whole Learner."

If you're a current educator who wants to become a leader in assessment and evaluation in your district, then the University of Akron's program is for you. The practically-minded curriculum focuses on skills and concepts that you can apply directly to the classroom. This approach is evident in classes like "Using Research to Inform Practice," "Implementing Assessment Techniques in the Classroom," and "Practical Applications of Educational Evaluation." To drive home these hands-on skills, Akron's accredited online master's in educational assessment and evaluation degree also incorporates a two-part master's project and portfolio demonstration.

Cleveland State University

Cleveland State's Ed.M. in Curriculum and Instruction is designed for current teachers and administrators as well as those who want to pursue careers in research. Thanks to a specialization in Educational Research and Assessment, this program provides candidates with a solid understanding of statistics, data analysis, and data interpretation. CSU also provides a singular opportunity on this master's in educational research and evaluation online ranking: the chance to earn a certificate in Data-Based Decision Making. This certificate is also available entirely online, as it only requires you to swap out one elective for an additional required course.

University of the Southwest

The MSE in Educational Diagnostics at the University of the Southwest emphasizes the evaluation of students rather than academic programs and curricula. Closely related to special education, this degree prepares graduates to assess children with disabilities and to ensure they receive adequate accommodations in the classroom. Classes like "Behavior Management" and "Intro to Psychoeducational Assessment" will give you the skills you need to counsel special needs students and their families. Note that while you can take all the classes for this affordable master's in educational research and evaluation online, you will also need to complete a two-part internship on-site at an educational institution.

The University of Mary is one of two schools on this online master's degrees in educational assessment ranking that focus specifically on curriculum and instruction. Practically speaking, that means this program is ideal for current teaching professionals who want to expand their skills and employment opportunities. As a degree candidate, you'll learn how to communicate clearly in the classroom (e.g. "School and Family Relations"), how to enhance your didactic methods (e.g. "Differentiated Instruction" and "Integrating Technology"), and how to interpret academic data (e.g. "Educational Assessment"). You'll also get to pick how to culminate your studies - by developing a portfolio or conducting your own research.

Kent State University-Kent

At Kent State, you'll find a versatile M.Ed. program that you can easily tailor to your individual interests. In fact, the curriculum only includes four required classes, which cover the basics of research, statistics, evaluation, and assessment. That leaves the remaining 20-credits of coursework open to electives, and Kent provides a long list of relevant options. For example, you might focus your online master's degree in educational assessment on quantitative analysis through classes like "Quantitative Research Design" and a two-part statistics sequence. Alternatively, you could explore contemporary issues through a series of special topics courses and/or by completing an "Individual Investigation in Evaluation and Measurement."

If you live within commuting distance of Morgantown, WV, you'll want to consider earning your degree from West Virginia University. Although you can take several of the courses in this cheap master's in educational research and evaluation online, some classes are only available face-to-face. However, the program is in the process of transitioning more classes to an online format. Even so, there are plenty of reasons to want to visit the WVU campus. For example, the school awards a few funded assistantships to "highly motivated students" who get to work in the on-campus CEHS Program Evaluation and Research Center.

Northern Illinois University

NIU stands out on this online master's in educational assessment and evaluation degrees ranking for its carefully crafted "Areas of Study." While the program as a whole focuses on data analysis and statistical research, the individual Areas of Study will help you apply that knowledge to specific career fields. For example, the Advanced Quantitative Methods track will prepare you for work as a statistician or data analyst. On the other hand, the Program Evaluation option is ideal for aspiring administrators in school districts and government agencies. Lastly, the Assessment track emphasizes the practice of evaluation in schools and thus is best suited for current teachers who want to further their professional development.

Georgia Southern University

This fully online, flexible program is designed to help professionals become data-driven decision makers. Not just for educators, this accredited online master's degree in educational assessment is also open to people who work (or aspire to work) in research, the government, and non-profit organizations. The curriculum aims to promote "21st-century skills" - like collaboration and problem-solving - that you can leverage in modern-day workplaces (including virtual ones!). To achieve this goal, the program incorporates courses in statistics, research, measurement, and more. You'll also be able to choose from more abstract classes such as "Models of Motivation," "Thinking and Problem Solving," and "Theories of Human Development."
Thanks for reading our ranking of the 10 top cheap online master's degrees in educational assessment!
Sources:
IPEDS Data Center
College Navigator
See also:
Top 10 Cheap Online Elementary Education Degree Programs (Bachelor's)
Get prepared for your next steps
Use articles and resources to uncover answers to common questions, get guidance on your goals, and learn about applying to schools.
Discover a program that is right for you.
Explore different options for you based on your degree interests.