This article highlights the top 15 cheap MBA degrees online.
Earning an online MBA can establish you as a qualified candidate for some of the most lucrative jobs in the country. Online learning allows those working full-time jobs to study at times and places most convenient for them while maintaining their professional lives. Alternatively, those with more time can work toward their online MBA full time. Many online MBA students work part time on the side or take care of their families. Depending on the program, students can work in cohorts with a group of peers who go through the same course sequence; they can work at an accelerated pace, designed by programs to decrease the time to graduation; or they can work on individual pace, going through a program at their own discretion. Those with a master's degree typically earn more than those with lower-level educational credentials, and students with an online MBA are qualified for managerial positions in business, government, and the nonprofit sector.
15 Best Affordable Online MBA Programs
| Ranking | Institution | Cost per Credit (avg.) |
| --- | --- | --- |
| 1 | Southern New Hampshire University | $627 |
| 2 | Bellevue University | $525 |
| 3 | Saint Leo University | $485 |
| 4 | Webster University | $685 |
| 5 | University of Houston-Clear Lake | $560 |
| 6 | Concordia University-Wisconsin | $548 |
| 7 | Central Michigan University | $660 |
| 8 | Pennsylvania State University-World Campus | $805 |
| 9 | Concordia University-Chicago | $597 |
| 10 | North Park University | $706 |
| 11 | Excelsior College | $620 |
| 12 | University of Saint Mary | $595 |
| 13 | Tiffin University | $700 |
| 14 | Charleston Southern University | $625 |
| 15 | Franklin University | $625 |
Of course, many people want to continue working while they attend business school. That's where the online MBA comes in - students can take courses at their own pace while maintaining a full-time job. And if the MBA program they attend is also affordable, that's even better!
Featured Schools
The 15 Best MBA Degrees Online Ranking Methodology
Selection Criteria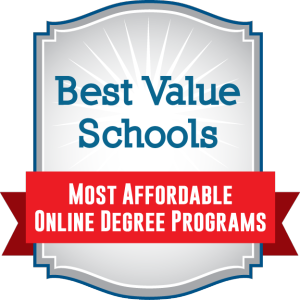 We started by looking at colleges and universities (public and private non-profit only) that offer MBA degrees online. Next, we narrowed our search to include only those schools with an approximate cost (taking the average of resident/non-resident rates and data from the NCES IPEDS Data Center) of less than $1,000 per credit. To ensure we only considered high-quality programs, we also limited our results to colleges that have been accredited by one of the following three business-specialized accrediting agencies:
Ranking Factors
We considered five factors when ranking the top online MBA programs for budget-conscious students. Of course, average cost-per-credit was a major consideration. As such, it accounted for 30% of each school's overall score. Another 30% went to account for each program's accreditation status. We awarded the most points in that category to schools with AACSB accreditation, whereas those with ACBSP accreditation earned three-fourths as many points, and IACBE half as many.
In addition, we looked at the overall size and scope of each college's business program. To do this, we considered the number of MBA concentrations available to students (weighted 25% of the total score) and the total number of online graduate business/management-related degrees (weighted 10%) that the school offers. The larger and more diverse the program, the more resources and attention the university is willing to invest in its business students.
Finally, we gave a 5% bump to any schools that offer MBA "extras," namely accelerated and/or dual degree programs to satisfy the most ambitious (and impatient!) students.
We tallied the results and rated the final scores on a curve so that the #1 ranked online MBA program earned a full 100 points. Keeping reading to find which 15 colleges made the final cut!
---
15. Franklin University
Online Master of Business Administration (MBA) Program
Website
The online MBA at Franklin University is accredited by the International Assembly for Collegiate Business Education, requires a 2.75 cumulative GPA average for program entrance, and can be completed in 14 months. Students complete 36 hours of coursework in classes such as financial and managerial accounting, human resource management, and operations management. Students can apply in the fall, spring, and summer and do not need to provide either GMAT or GRE scores. Instructors deliver coursework focused on practical experience that explores real-world issues. Program expectations include maintaining a 3.0 GPA and earning 24 of the 36 total credits at Franklin.
Score: 57.56
14. Charleston Southern University
Online MBA Program (6 Emphases)
Website
Charleston Southern University offers one of the most affordable online MBA programs in South Carolina. The 33 credit, 11 course curriculum offers six areas of emphasis that cater to a variety of individual interests, including finance, leadership management information systems, and human resource management. The program allows students to work around their schedules and boasts programmatic accreditation from the International Accreditation Council for Business Education. Courses include managing with excellence and integrity, advanced marketing management, and contemporary business law and the legal environment. Admission requires the completion of the online application, two letters of recommendation, an academic statement, and GMAT scores.
Score: 64.09
13. Tiffin University
Online MBA (10 Concentrations)
Website
Tiffin University's online MBA takes students as little as 14 months to complete. As an accelerated program, students complete coursework on a full-time basis. Students can, however, elect the part-time option. Prospective students do not need work experience for program entrance, but they must hold a 3.0 GPA or better for admission. Concentration options include data analytics, finance, healthcare administration, HR management, international business, leadership and change, marketing, and sports management. The finance concentration caters to those with an interest in both local and global business practice through, for example, a course on financial markets and institutions.
Score: 65.49
12. University of Saint Mary
Online MBA - Master of Business Administration (6 Concentrations)
Website
An online MBA from the University of Saint Mary gives graduates a competitive advantage in the job market. Learners can design their programs in accordance with their personal interest and professional goals, all while completing the 36-credit MBA degree. Students select one of six concentrations: leadership and organizational health, finance, general management, health care management, human resource management, or marketing and advertising management. Students take nine required courses in classes such as human resource management, managerial economics, and managerial finance. They use the remaining three courses for electives in courses such as the legal and ethical environment of business and leadership and business operations in healthcare.
Score: 66.04
11. Excelsior College
Online Master of Business Administration (10 Concentrations)
Website
Those working toward an online MBA from Excelsior College enjoy a flexible, affordable program that lets them maintain their filial and work obligations while earning an education. Students can select an MBA without a concentration or with a concentration in accounting, health care management, human resources management, or leadership. The program holds regional accreditation from the Middle States Commission on Higher Learning and programmatic accreditation from the International Accreditation Council for Business Education. Program outcomes include developed professional skills, leadership skills, and learning how to innovate in a global environment. Requirements vary by concentration, but students must complete between 36 and 45 credits.
Score: 66.22
10. North Park University
Online Master of Business Administration (15 Certificate Options)
Website
An online MBA from North Park University provides graduates with the business knowledge and expertise need to serve as leaders in their organizations. The program includes 13 core courses and five elective courses that total 36 credit hours. Course titles include organizational behavior and ethics, marketing analysis and consumer behavior, and multi-sector convergence and social responsibility. Alumni of the program work at places such as JPMorgan Chase, Motorola, and The Tribune Company. Students complete the program in 21 months, and faculty offer years of real-world expertise in finance and economics. Most students supply either GRE or GMAT scores and need a 3.0 GPA for program entrance.
Score: 67.32
9. Concordia University-Chicago
Online Core MBA (10 Specializations)
Website
Graduates of the online MBA program from Concordia University Chicago earn their credential by focusing on the degree's four "pillars": ethics and responsibility, critical thinking and entrepreneurial mindset, communication and human relations, and global interconnectedness and inclusiveness. Students can elect an accelerated online format, an individually paced online format, an on-campus accelerated format, or an individually paced on-campus format. Requirements include 36 total credit hours, 12 of which must focus on the core MBA curriculum. Specializations include finance, accounting, and not-for-profit management, and admission requires two letters of recommendation, transcripts from all previously attended undergraduate institutions, and at least a 3.0 GPA.
Score: 69.15
8. Pennsylvania State University-World Campus
Online MBA (10 Concentrations)
Website
Earning an online MBA from Penn State University World Campus allows graduates to work at the top of their respective fields and organizations. Concentrations in the program include accounting foundations, advanced accounting, and corporate innovation and entrepreneurship. Though students complete most of the coursework online, they are required to be on campus for a five-day residency in which they meet instructors and peers to share experiences and expertise. Members of the military and their spouses receive extra financial aid help and can use their experience for transfer credit. The school also waives application fees for military members.
Score: 69.88
7. Central Michigan University
Online Master of Business Administration (5 Emphases)
Website
An online MBA from Central Michigan University readies graduates for a globalized economy that needs workers experienced in finance, marketing, and management . Students can enter the program in the fall, spring, or summer. The program is accredited by the Higher Learning Commission and the Association to Advance Collegiate Schools of Business. Program requirements include managing information systems in a global economy, managing and leading individuals and groups in organizations, and data analysis for managers. The degree emphasizes SAP software coursework and culminates in a "Boot Camp" project where students meet face to face with faculty.
Score: 70.18
6. Concordia University-Wisconsin
Online Global Master of Business Administration (15 Concentrations)
Website
Students in Concordia University Wisconsin's online MBA gain both practical knowledge of contemporary business software and management experience in areas such as small business and marketing. Distance learners must complete at least 39 credits to graduate and have the option of receiving scholarships for both full-time and part-time study. Common careers upon graduation include range manager and management director. The program offers both the flexibility needed to work full time while learning and the freedom to select coursework that meets a student's particular needs. Graduates can also show potential employers a portfolio developed over the course of the program.
Score: 78.54
5. University of Houston-Clear Lake
Online Business Administration MBA (8 Concentrations)
Website
The online MBA program at the University of Houston Clear Lake offers both a full-time and a part-time option. Full-time students take 14 months to complete the program, and part-time students take 28 months to complete the program. Students may elect either the hybrid or the fully online option. Distinguished faculty with experience in their field deliver coursework that enables graduates to serve as leaders in their organizations. Core requirements include accounting for administrative control, the global environment of business, and management science and operations. A concentration in business analytics gives students the chance to learn about advanced data analysis and information systems management.
Score: 80.43
4. Webster University
Online Master of Business Administration (MBA) (15 Emphases)
Website
Distance learners in Webster University's online MBA enjoy both coursework accredited by the Accreditation Council for Business Schools Programs and small classes that emphasize individualized attention. The school boasts the fact that 91% of its students find full-time employment upon graduation. Students must complete 27 credits of the MBA core and 9 credits in electives in order to graduate. Faculty focus on providing a holistic business education to their students through required courses in organizational behavior, applied business statistics, and management accounting. The program also offers multiple areas of concentration, including information technology management, human resources management, and health administration.
Score: 83.83
3. Saint Leo University
Online MBA Program (9 Specializations)
Website
The online MBA at Saint Leo University encourages students from a variety of backgrounds to enter the program. Coursework focuses on the primary issues that business managers encounter, including law and human resources, marketing, and finance. Graduates of the program go on to work at the governmental, nonprofit, and private sectors prepared to lead their organizations. The program highlights professional development opportunities that foster student growth, including conferences, internships, and professional memberships at places local to the institution. Graduates learn how to apply core business concepts in real-world situations, analyze the effects of global forces on their organization, and demonstrate leadership and teamworking skills. Classes include human resource in management, the legal environment of business, and managerial economics.
Score: 85.55
2. Bellevue University
Online Master of Business Administration Degree (19 Concentrations)
Website
Students in Bellevue University's online MBA can choose from among 19 concentrations, including cybersecurity, global economic threat environment, and human capital management. The program emphasizes the critical assessment of business performance, applying ethical measures in business situations, and both written and verbal clarity within a business setting. Students learn from faculty with practical experience in their field, and the school boasts accreditation from the Higher Learning Commission. The school also prepares students to earn licensure from The Project Management Institute, The Society for Human Resource Management, and The American Society of Transportation and Logistics.
Score: 95.3
1. Southern New Hampshire University
Online Master of Business Administration (20+ Concentrations)
Website
The online MBA program at Southern New Hampshire University (SNHU) offers over 20 concentrations to students with a variety of interest, including economics, criminal justice, and community economic development. Additionally, the program offers affordable tuition rates that the school capped, and active-duty service members receive a 25% discounted tuition rate. Established in 1932, the MBA program at SNHU is over 40 years old and boasts a long tradition of creating business professionals ready to serve their organizations. The school's instructors have both academic and real-world experience and provide graduates with the requisite tools to succeed in multiple positions, including managerial positions.
Score: 100
Thanks for reading our ranking of the 15 best cheap MBA programs online!
Sources:
IPEDS Data Center
Business-Management-Degree.net
AACSB Accredited Universities
IACBE Accredited Programs Directory
ACBSP Accredited Programs