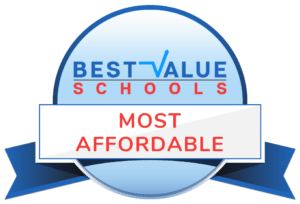 By BVS Staff

Nowadays, most online game design degree programs come in the form of associate's degrees. However, if you're intent on earning a four-year education in game development, you've come to the right place. Although such online programs are hard to come by (especially if you want to attend a public or not-for-profit university), they definitely exist!
So if you want to become a professional game designer but don't have the scheduling flexibility to attend classes on campus, look to the schools on this ranking. They'll help you achieve your goals without breaking the bank.
The 10 Best Online Game Design Degrees Ranking Methodology
Selection Criteria
For this ranking, we focused on public and private (non-profit) colleges and universities that offer game design programs online. When the focus of one of our lists is on affordability (like this one is), we normally limit eligible schools to those with average tuition rates below a certain threshold, typically $20,000-$25,000/year. However, due to the significant shortage of online bachelor's degrees in game design, we determined that a tuition cap would be too restrictive for the purposes of this ranking.
Ranking Factors
Unfortunately, there are a limited number of bachelor's degrees in game design available online. Therefore, we could not compile a pool of options large enough to justify a multifactorial ranking system in which we'd filter out schools based on a list of specific factors.
So instead, we ranked the programs solely according to their affordability. See below for the best cheap game design online degree programs, ranked from most to least expensive.
Cheap Online Game Design Degrees Ranked
---
10. DePaul University
Online Bachelor of Science in Computer Science: Game Systems
Website
Admittedly, DePaul University doesn't come close to having the most affordable game design program online. But considering the scarcity of options in this field, you might find the cost to be worth the investment. After all, DePaul's CS program with Game Systems concentration comes with uniquely specialized classes that are hard to find elsewhere. Classes like "Game Engine Programming," "Object-Oriented Game Development," and "Real-Time Networking" provide the niche skillsets you need to go straight from graduation to a career in game design. Note, however, that not all classes are available online or offered every semester, so you'll need to plan ahead to stay on schedule.
Average Tuition & Fees: $39,010/yr
9. Savannah College of Art and Design
Online BA in Digital Media: Interactive Design and Game Development
Website
At the Savannah College of Art and Design, academics focus exclusively on (you guessed it) art and design. As such, the school's B.A. in Digital Media offers a much stronger foundation in topics like drawing, color theory, and design aesthetics than other colleges on this online game design degrees ranking. The tradeoff is that the curriculum also puts comparatively less emphasis on technological skills like coding. However, you'll still pick up the basics in object-oriented programming and digital content development. You can also take an elective called "Collaboration," which uses multidisciplinary projects to help build your creative thinking, communication, and problem-solving abilities - all skills that are crucially important for a career in game design.
Average Tuition & Fees: $36,410/yr
8. Lewis University
Online Bachelor of Science in Computer Science: Game and Simulation Programming
Website
If you choose to attend Lewis University, be prepared for a heavy helping of courses in computer science and mathematics. And while this may seem daunting, a solid understanding of programming fundamentals, networks, and algorithms is essential for anyone who is serious about becoming a video game developer. And those are just the core courses! To earn an online game design degree, you'll need to sign up for the Game and Simulation Programming concentration. This track comes with even more challenging courses in calculus, linear algebra, and advanced programming languages. But your hard work will pay off by senior year when you get to explore niche topics like artificial intelligence and computer graphics.
Average Tuition & Fees: $31,250/yr
7. Southern New Hampshire University
Online BS in Game Programming and Development
Website
Southern New Hampshire University doesn't just offer a concentration in gaming - it offers an entire BS in Game Programming and Development. That means that practically all 60+ credits of the major-specific coursework focus specifically on game design, as opposed to general CS or IT topics. To be sure, you'll still have to take a few generic classes in software development and project management. But these requirements pale in comparison to highly targeted courses like "Scripting for Games," "Design of Virtual Game Environments," and "Interactive Animation." With this sort of laser-focused training, SNHU easily cements itself as a provider of top online game design degrees.
Average Tuition & Fees: $31,136/yr
6. Liberty University
Online Bachelor of Science in Information Technology - Gaming Design
Website
If you're interested in both game design and information technology, Liberty University may be the way to go. It's the only school on this game design online degree programs ranking to offer a gaming track within a BSIT (Bachelor of Science in Information Technology). That means you'll acquire a lot of useful knowledge that's applicable throughout the IT industry - in database management, web architecture, and systems administration, for example. Adding the Gaming Design concentration then gives you a limited but powerful introduction to key concepts like 3D graphics, digital imaging, and C# programming.
Average Tuition & Fees: $21,310/yr
5. Davenport University
Online BS in Computer Science: Gaming and Simulation
Website
Davenport University's computer science program stands out for its unique trio of specialization options. These include Computer Architecture, Biometrics, and of course Gaming and Simulation. Students on the latter track enjoy hands-on training that runs the gamut from planning and prototyping to implementing and testing both 2D and 3D game designs. Activities also cover modeling and simulation while introducing you to key theories of game development. Still need another reason to attend this affordable game design online degree program? You can earn course credit for any technological certifications that you currently hold or earn while pursuing your degree.
Average Tuition & Fees: $17,558/yr
4. Lindenwood University
Online Bachelor of Arts Degree in Game Design
Website
As a program entirely focused on gaming, Lindenwood's BA in Game Design is not ideal for students who want to acquire general knowledge in computer science. But if you live and breathe video games and can't imagine a career in any other field, Lindenwood will be right up your alley. Indeed, you'll love this top game design online degree program's project-oriented approach to learning. As you progress through the curriculum, you'll complete a three-course "Project and Portfolio" sequence that gives you myriad opportunities to develop and publish your own games. You'll even get a chance to guide a team of classmates through this process to gain invaluable leadership experience.
Average Tuition & Fees: $16,960/yr
3. University of Baltimore
Online Bachelor's Degree in Simulation and Game Design
Website
The University of Baltimore offers another rare opportunity to attend an accredited game design program online that is entirely focused on gaming. It's also the only school in this ranking to incorporate multiple game-specific concentrations. The first, Technical Art, is ideal for students who want to hone their skills in animation, art, and 3D modeling. Alternatively, you can choose the Coding and Development track if you want to bolster your knowledge of scripting, logic, and programming. But no matter which path you choose, this program guarantees you an interesting education full of novel classes like "History of Video Games," "Games for Learning," and "Frontiers of Game Design."
Average Tuition & Fees: $14,764/yr
2. California State University-Monterey Bay
Online BS in Computer Science: Game Development
Website
California State University at Monterey Bay features a computer science degree completion program for students who have earned an associate's degree (or an equivalent number of transferable courses) from another school. If you meet this condition, you could finish your bachelor's at CSUMB in just two years. Because it is a completion program, this degree doesn't officially include concentrations. However, the four-year version of the program does offer a track in Game Development. That means that by strategically planning your electives, you could effectively turn this into a cheap game design online degree program. Relevant course options to look out for include "Game Engine Programming," "Intro to Digital Games," and "Graphics Programming."
Average Tuition & Fees: $12,983/yr
1. Middle Georgia State University
Online BS In Information Technology: Integrated Digital Media and Gaming Design
Website
In Middle Georgia State University's BSIT program, concentrations take center stage. The degree offers an impressive six different areas of specialization, each of which requires students to complete seven area-specific courses (at most schools, the typical track consists of just four classes). Thanks to this unusual balance, you can feel confident that you'll get all the industry-relevant training you'd expect from an online game design degree. Indeed, required concentration classes include everything from "2D Computer Animation" to "3D Modeling." Plus, you can pick from gaming-related electives like "Digital Storytelling," "Computational Intelligence," and "Special Topics in Digital Media and Game Design."
Average Tuition & Fees: $7,508/yr
Thanks for reading our ranking of the 10 top cheap game design programs online!
Sources:
IPEDS Data Center
College Navigator
See Also:
Top Cheap Accredited Online Web Design Degree Programs (Bachelor's)
Top 10 Cheap Online Graphic Design Degree Programs (Bachelor's)