Next in our series of affordable online degrees is our ranking of the best cheap online early childhood education degree programs. People who want jobs as early childhood educators have a special responsibility in society. They take on the sometimes rewarding, sometimes frustrating task of getting young people interested in education and preparing them for many more years of schooling. Not everyone has the patience or compassion to work with small children, but for the right person, it is the best job in the world.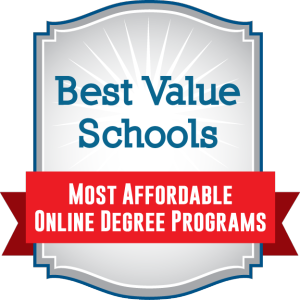 If you're interested in Early Childhood Education, you might be wondering how to go about getting a job in the field. A bachelor's degree in child development or education can help. Think you don't have time to go back to school? Don't worry! Thanks to the increasing use of technology on college campuses, it is now possible to earn a bachelor's degree entirely online. For more general information regarding best value online education programs visit our ranking of the best online colleges.
The 20 Best Online Early Childhood Education Programs Ranking Methodology
Selection Criteria
For this ranking, we focused on public and private (non-profit) colleges and universities that offer early childhood education bachelor's degrees online. Because the focus of this list is on affordability, we only considered programs with average* tuition rates of $25,000/year or less.
*For public schools, we calculated the average value of their in-state and out-of-state rates.
Ranking Factors
After compiling a list of all the colleges that offer early childhood education degrees online, we then collected data in five categories:
Program Demand: How much demand is there for the program relative to other majors? To find out, we calculated the percentage of all 2015-16 graduates at each school who earned their degree in early childhood education (ECE).
Accreditation: Is the program accredited by the Council for the Accreditation of Educator Preparation (CAEP)? If so, does CAEP specifically recognize the ECE degree as an accreditation-worthy program? Is the program also recognized by the National Association for the Education of Young Children (NAEYC)?
Certification/Licensure: Does the program prepare students for teacher certification/licensure as ECE educators?
Delivery: What percentage of the program is available online? Does the school offer a full four-year curriculum or only a "degree completion" option?
Affordability: What is the average annual cost of attendance?
After collecting and sorting all the information, we ranked the candidates according to their performance in each area (all categories received equal weight in the calculation). Finally, we summed up the results and gave each school a final score using a curve so that the top-scoring program earned an even 100 points.
Read more about the best cheap online early childhood education degrees below!
Note: This article may contain sponsored links. These are designed to help you connect with programs easily.
Cheap Online Early Childhood Education Degree Program Ranking
---
20. Wayland Baptist University
Online Early Childhood Education, B.A.S.
Website
Non-traditional learners can easily afford a top early childhood education degree online at Wayland Baptist University. The degree is especially suitable for current teachers as well as teaching assistants and program administrators. In fact, you can leverage your work experience to receive as many as twelve credits of coursework toward your degree. This will leave you with just 24 hours of upper-level classes to complete - a manageable mission even for full-time professionals. And with 15 metropolitan locations across the country, WBU considers accessibility a priority. Though the degree offers a 100% online option, students from Anchorage to Phoenix can easily access onsite classes, most of which meet conveniently at night.
Average Tuition & Fees: $15,060/yr
Score: 54.34
19. Lewis-Clark State College
Online Early Childhood Development BAS
Website
Before applying to Lewis-Clark State's BAS program, you'll first need to complete your associate's degree in early childhood development. After earning your AA, you can transfer up to 50 credits to LCSC and complete your remaining requirements through their BAS curriculum. The advantage of this approach is that students can jump straight into upper-level coursework and start acquiring hands-on experience almost immediately after enrolling in this top online early education program. Experiential learning comes primarily in the form of an internship, through which degree candidates gain the valuable, career-oriented skills that potential employers seek. ECE majors who want extra training can opt for a second, intermediate-level internship as well.
Average Tuition & Fees: $11,870/yr
Score: 57.65
18. Eastern Oregon University
Online Early Childhood Education (ECED) Degree
Website
Although a non-licensure program, Eastern Oregon University nonetheless offers a great option for students preparing to enter the early childhood sector. First off, candidates can earn their accredited, early childhood education degree online in just two years at EOU. And once they graduate, alumni can procure jobs as teachers, program directors, and even policymakers within the education sector. EOU also represents a speedy, affordable alternative for those who plan to earn their master's degree in teaching. With thoughtful classes like "Introduction to Individuals with Exceptionalities" and "Literature for Young Children," the curriculum provides a sound foundation for students who want to take their education to the next level.
Average Tuition & Fees: 13324.5/yr
Score: 61.99
17. University of North Carolina at Greensboro
Online HDFS Early Childhood Degree Completion Program
Website
For students who require flexibility, UNC Greensboro delivers one of the top early childhood education bachelor' degrees online. The curriculum is specifically geared towards North Carolina community college transfer students who have already received their AA degree. Once they've transferred, BS candidates can choose to acquire their remaining credits through either of two distinct tracks. First, the "Birth through Kindergarten" licensure track prepares students for teaching careers in early education classrooms. Or for a broader, more versatile education, program members can choose the BS in Early Care and Education, which will prepare them for non-licensure work in hospitals, child care centers, and private kindergartens.
Average Tuition & Fees: $14,402/yr
Score: 65.82
16. Bluefield College
Online Bachelor of Science in Early Childhood Education
Website
Bluefield College's BS in Early Childhood Education offers an experience-oriented curriculum that requires degree candidates to complete an intensive capstone internship course. By the end of the class, students will accrue an impressive 120 hours of fieldwork. But it's not just about quantity - ECE majors can also tailor the details of their internship to match their professional plans. For example, you might choose to gain management experience by working in an administrative position or strengthening your teaching skills by working directly with students in a classroom. It's this emphasis on hands-on, practical learning that makes Bluefield's accredited online early childhood education program one of the best around.
Average Tuition & Fees: $24,380/yr
Score: 66.33
15. University of Toledo
Online Bachelor's Degree in Early Childhood Education
Website
To qualify for the University of Toledo's ECE program, applicants must hold an AA in either early childhood education or childhood development. Ideal applicants also have at least some work experience on their résumé and are currently employed at an early care or education center. Though some of these requirements may seem unnecessary or cumbersome, they are in fact crucial for students who want to be successful in UT's top online early childhood education program. And by limiting enrollment to a select group of degree candidates who share similar education and skill levels, the university can push a more challenging curriculum - complete with learning themes like "Supporting ECE Science and Math" and "Creating Effective Learning Environments."
Average Tuition & Fees: $14,216/yr
Score: 67.35
14. Arkansas Tech University
Online Bachelor of Science in Early Childhood Education
Website
Arkansas Tech pairs with two local community colleges (North Arkansas and Ozarka) to offer its affordable online early childhood education program. As an ECE major, you'll complete most of the coursework for your associate's degree online through ATU. You can then continue to work toward your BS in Early Childhood Education by combining additional courses from ATU with other requirements from North Arkansas or Ozarka CC. While probably not ideal for out-of-state applicants, Arkansas residents should certainly consider this option. The curriculum meets assessment guidelines for CDA (Child Development Associate) credentials and even incorporates a teaching practicum into lower-level requirements.
Average Tuition & Fees: $9,252/yr
Score: 75.77
13. Chaminade University of Honolulu
Online Bachelor of Science in Early Childhood Education
Website
Technically, Chaminade University's accredited online early childhood education program does not result in teaching licensure. However, it does offer a unique Montessori Credential that specifically prepares students to work with young children in private school settings. The curriculum for this track meets Montessori Accreditation Council for Teacher Education (MACTE) standards and includes two mandatory field assignments. And if you're not interested in this credential, you can opt for Chaminade's standard BS track instead. Graduates of this program - which is aligned with state requirements as well as the standards of the NAEYC - should have no problem finding work as private-school teachers and facilitators at early care centers.
Average Tuition & Fees: $23,310/yr
Score: 76.02
12. Florida International University
Online Bachelor of Science in Early Childhood Development
Website
Florida International University's fully-online ECE program includes all four years of required coursework, meaning applicants don't need an associate's degree - or any transferable credits - to enroll. Both inexperienced and experienced students stand to benefit from FIU's cheap online early childhood education degree, which will quickly submerge you in foundational courses on classroom management, educational psychology, and instructional decision-making. And that's only the start; advanced classes focus on child development, family and community studies, and literacy development, among other topics. As an added perk, FIU encourages its distance learners to pursue Honors College status, for which they'll receive access to a personal faculty mentor plus unique internship, job, and study abroad opportunities.
Average Tuition & Fees: $12,755/yr
Score: 76.79
11. Pacific Oaks College
Online B.A. Early Childhood Education
Website
With four unique tracks, Pacific Oaks College boasts one of the best online BA in Early Childhood Education programs for students who want specialized training. A degree-completion program with a focus on upper-level coursework, this BA only requires applicants to have at least 60 transferrable credits on their transcript - but not necessarily an associate's degree in education. Once they transfer, online learners can select their path from options that include STEAM and Dual Teaching Credential. The former emphasizes the importance of introducing children to science, technology, engineering, art, and math at a young age, while the latter qualifies graduates for the California Preliminary Multiple Subject Teaching Credential.
Average Tuition & Fees: $21,300/yr
Score: 76.99
10. Wilmington University
Online Bachelor of Science Education Studies Early Childhood Education
Website
Though Wilmington University's College of Education offers four distinct BS degrees, students who seek careers in the ECE sector should probably choose the Education Studies program. Majors may then select a concentration in Early Education Studies, which features a set of highly-focused courses on the unique educational needs of infants, preschoolers, and kindergartners. And though this top online early childhood education program does not result in state licensure or certification, degree recipients still acquire extensive classroom experience before graduating. From young ESL preschoolers to exceptional early literacy skills, WU imparts the skills that ECE majors need to succeed in a variety of instructional and childcare roles in the private sector.
Average Tuition & Fees: $10,670/yr
Score: 78.06
9. University of Montana Western
Online Early Childhood Education, Bachelor of Science (B.S.)
Website
Montana Western's Education Department is a well-regarded, NCATE-accredited nationally training center for rural educators. With an eye on the future but feet firmly planted in reality, UMW works to make its teaching degree as accessible as possible to students around the state. Indeed, this university offers one of the best online early childhood education programs for busy students in the Northern Midwest. The degree combines online courses with convenient face-to-face meetings at a number of campuses in the Montana University System, thus extending its reach to all corners of the state. Plus, most traditional classes utilize "block scheduling," which condenses a week's worth of material into a single three-hour session.
Average Tuition & Fees: $10,695/yr
Score: 78.83
8. Mayville State University
Online Bachelor of Science in Education (B.S.Ed.) in Early Childhood Education
Website
Though Mayville State has been conferring degrees for over a century, its cheap online early childhood education program is a fairly recent addition to its list of majors. The university's decision to create an ECE degree reflects its sensitivity to economic conditions - and its recognition of the need for qualified, degree-holding educators. To meet this need, the CAEP-accredited curriculum adheres to all licensing requirements for the state of North Dakota, and possibly other states as well. What's more, MSU offers a readily affordable tuition rate (it's even one of the cheapest on this list!) to ensure that financial limitations don't stand in the way of producing the high-quality, well-prepared educators that this country needs.
Average Tuition & Fees: $766,3.5/yr
Score: 82.4
7. Fayetteville State University
Online BS in Birth through Kindergarten Non-Teaching Degree
Website
In most preschools and elementary classrooms, in addition to the main teacher, there are often many staff members on hand to assist the students in a variety of ways. These other jobs (the non-teaching roles) are the focus of Fayetteville State University's cheap online early childhood education degree. Through this fully online BS program, teaching assistants and other classroom aides can acquire an advanced certification that will give their résumé a valuable boost. The curriculum even requires ECE majors to declare a minor in sociology or psychology to maximize the value of their degree. At the end of their four years, graduates will have received a highly-relevant, career-oriented education that they can leverage into positions ranging from nursery school assistants to after-school program supervisor.
Average Tuition & Fees: $10,889/yr
Score: 84.95
6. Granite State College
Online Early Childhood Special Education (B.S.)
Website
If you're a New Hampshire resident who currently works an early learning setting and wants to boost your credentials, you're in luck. Granite State College offers a top online early childhood education degree that is designed to do exactly that. By emphasizing fieldwork experience, this teaching licensure program prepares ECE majors for work in kindergarten to 3rd-grade classrooms at public schools across the state. In addition to acquiring relevant training (with guidance from highly skilled mentors, of course) you'll also take online courses that explore the theory behind the practice, including topics like brain research and creative pedagogical methods.
Average Tuition & Fees: $7,845/yr
Score: 91.33
5. Central Methodist University
Online Bachelor of Science in Education - Early Childhood Education
Website
Central Methodist University's selective ECE program is available to both first-time undergraduates and current childcare professionals. Taking a balanced approach, CMU develops each student's individual abilities by complementing online courses like "Organization & Administration of Early Childhood Programs" with subject-specific teaching practicums. And as you near the end of this affordable online early childhood education degree, you'll have the option to complete a final student-teaching semester to fine-tune your skills and solidify your readiness for the job market. Many degree candidates also use their last semester to get a jumpstart on Missouri's teaching certification process.
Average Tuition & Fees: $5,400/yr
Score: 92.86
4. Brandman University
Online Bachelor of Arts in Early Childhood Education
Website
Ideal for West Coast residents, Brandman's online BA in Early Childhood Education offers classes over the web and through several satellite campuses in California and Washington. The curriculum provides nearly all the lower and upper division courses that ECE majors need; applicants only need 12 transferable baccalaureate-level credits to qualify for admission. Once accepted, you'll launch into a powerful degree plan that will take you from novice to expert in no time. The first few semesters focus on education fundamentals to prepare students for more advanced classes in pedagogical theory and practice - like "The Intentional, Reflective Teacher," for example. Throughout the program, you'll also complete two teaching practicums and take a final capstone course in decision-making.
Average Tuition & Fees: $12,300/yr
Score: 92.86
3. University of Cincinnati
Online Bachelor of Science (BSED) Degree in Early Childhood Education
Website
This NCATE-accredited online early childhood education program is available entirely at a distance, making it one of our ranking's more convenient options. Better yet, UC's program earned recognition as an exemplary model for distance learners. Although there are likely many reasons for its success, the program's supportive atmosphere and individualized approach go a long way with online students. Program participants enjoy access to personal advisors and can discuss their personalized degree plan over the phone at any time. The result is an impressive track record among graduates, who frequently continue to pursue careers as program administrators, preschool teachers, consultants, and infant/toddler specialists.
Average Tuition & Fees: $18,667/yr
Score: 93.37
2. South Dakota State University
Online Early Childhood Education (B.S.) - Birth to 8 Specialization
Website
South Dakota State University makes it easy for aspiring grade K-3 educators to gain the credentials they need. Faculty within the CAEP-accredited education department have worked to align the ECE degree with NAEYC student learning outcomes to maximize program effectiveness. This means that degree candidates get a hefty dose of hands-on training. In addition to teaching in the university's own early learning center, ECE majors also complete work experiences in kindergarten or primary school environments (up to Grade 3) in their local area. With all that practical knowledge under their belt, it's no surprise that graduates of SDSU's accredited early childhood education bachelor' degree online readily find work throughout the SD, MN, and IA school districts.
Average Tuition & Fees: $978,7.5/yr
Score: 95.92
1. National University
Online Bachelor of Arts degree in Early Childhood Education (BAECE)
Website
The highest-ranking university on our list offers a unique option for candidates interested in both theory and practice. One of the most unique features of National University's top online BA in Early Childhood Education is that it puts a relatively large weight on classroom learning rather than job training. As such, students receive a thorough education in topics that range from early cognition and nutrition to STEM pedagogy and trauma. Degree candidates can even choose from three specialized tracks: Early Childhood Administration, Infant and Toddler, and Teaching Education. Even so, all program participants must complete one academic seminar/field experience before graduating.
Average Tuition & Fees: $13,016/yr
Score: 100
Thanks for reading our ranking of the 20 top early childhood education bachelor' degrees online!
Sources:
IPEDS Data Center
College Navigator
Council for the Accreditation of Educator Preparation (CAEP)
Further Reading: Scholarships Available to Early Childhood Education Students