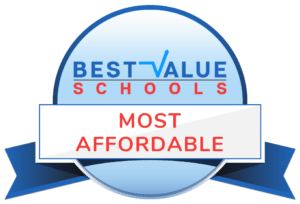 Click here for high resolution badge
By BVS Staff
Thrill-seekers, adventure-lovers, and math whizzes will likely jump at the chance to earn an online aeronautics degree. As an aeronautics student, you'll learn the finer points of mechanical engineering and computer technology as they apply to airplanes. You may even learn how to pilot your very own plane! In addition to becoming a pilot, a degree in aviation can also train you for careers in areas such as technology and management. For example, bachelor's degree holders could become air traffic controllers, facilities operators, logistics managers, or airport administrators.
Featured Programs
The 15 Best Online Aerospace Degrees Ranking Methodology
Selection Criteria
For this ranking, we focused on public and private (non-profit) colleges and universities that offer aeronautics and aviation degrees online. Because the focus of this list is on affordability, we only considered programs with average* tuition rates of $25,000/year or less.
*For public schools, we calculated the average value of their in-state and out-of-state rates.
Ranking Factors
Unfortunately, there are a limited number of aviation and aerospace degrees available online. Therefore, we could not compile a pool of options large enough to justify a multifactorial ranking system in which we'd score colleges and universities based on a list of specific considerations.
So instead, we ranked the programs solely according to their affordability. See below for the best cheap online aviation degrees, ranked from most to least expensive.
Cheap Online Aviation Degree Programs Ranking
---
15. Liberty University
Online Bachelor of Science in Aviation
Website
As the home of Virginia's largest flight school, it's safe to say that Liberty University knows a thing or two about aeronautics. And this expertise extends to the school's accredited online aviation degree program, which will train you for a career as either a commercial or military pilot. Students who already have their pilot's license can focus entirely on completing their online coursework, which covers topics like aerodynamics, aviation weather, and turbine engines. Or if you still need to earn your license, you can sign up to complete your training through one of Liberty's Flight Training Affiliates.
Average Tuition & Fees: $21,310/yr
14. Southern Illinois University-Carbondale
Online Bachelor of Science in Aviation Maintenance Management
Website
If you already have an associate's degree, are currently working in the aviation industry, and want to pursue your bachelor's, check out Southern Illinois University at Carbondale. This school offers a degree completion program that provides advanced avionics and management training for aeronautics professionals who want to further their careers. In this top online aviation management degree program, you'll take classes like "Aerospace Business and Industry Financial Practices," "Aviation Maintenance Shop Operations," and "Advanced Aviation Safety Procedures." These courses - and many others - will give you the in-demand knowledge you need to qualify for promotions (especially to leadership positions) at your current workplace.
Average Tuition & Fees: $21,019/yr
13. Central Christian College of Kansas
Online BS in Aviation
Website
Central Christian College offers a hands-on educational experience that combines face-to-face flight instruction with online aviation degree courses. Through this hybrid program, you can accrue flight hours through the International Aero Academy to gain certification as a commercial, corporate, missionary, or charter pilot. Meanwhile, in the virtual classroom, you'll pick up plenty of soft skills to help you on the job. This includes knowledge of organizational behavior, aviation law and safety, conflict resolution, and even stress management. Plus, you'll work with a faculty advisor to design and complete a 40-hour independent study practicum for an even more hands-on experience.
Average Tuition & Fees: $17,240/yr
12. Everglades University
Online Bachelor of Science in Aviation/Aerospace
Website
For students who want a bachelor's degree that will complement their specific career track, Everglades University offers a great option. The program comes with a list of concentrations to help you tailor your coursework to a specific area of aviation, such as Flight Operations, Security, Aviation Maintenance Management, and more. And don't worry if you don't have an FAA certification; you can still complete this affordable online aeronautics degree with required coursework. In all, the program should take a little less than four years (41 months) to finish, or fewer if you bring transfer credits with you.
Average Tuition & Fees: $18,320/yr
11. Central Washington University
Online BS in Aviation Management
Website
Central Washington University's affordable online aviation management degree is ideal for aeronautics professionals who want to strengthen their leadership skills. In fact, CWU is a great school for job opportunities in general. The university's aviation department has even gone so far as to develop direct-hire agreements with several airlines, including Mesa, Sky West, and Alaska/Horizon. And once you're hired, you can feel confident that you'll have the skills you need to impress your employer. That's thanks to a highly relevant curriculum that covers everything from aviation law and security to operations, management, transportation, and labor relations.
Average Tuition & Fees: $14,956/yr
10. University of Nebraska-Omaha
Online Bachelor of Multidisciplinary Studies with a Concentration in Aviation Studies
Website
At the University of Nebraska - Omaha, you can design your own personalized aviation degree by combining multiple areas of study. This is possible because of UNO's unique Bachelor of Multidisciplinary Studies program. In this program, you get to combine a 30-credit concentration (e.g. Aviation Studies) with two 12-credit secondary fields. For example, aspiring managers might pick secondary fields in General Administration and Management Information Systems. Other potentially relevant options include Geography, Political Science, Cybersecurity, and Fire Service Management. The bottom line? UNO has a top online aviation degree for anyone interested in an interdisciplinary study.
Average Tuition & Fees: $13,975/yr
9. Eastern Kentucky University
Online BS in Aerospace Management: Aerospace Technology
Website
Eastern Kentucky University is another school on this online aviation degrees ranking that lets students customize their academic experience. More specifically, the program offers concentrations in Aerospace Management, Professional Flight, and Aerospace Technology. However, only the latter option is available entirely online. Those who are able to transfer their associate's degree credits to EKU can earn their bachelor's without ever setting foot on campus. Building on your prior knowledge of aviation technology, the curriculum will get you up to speed on topical issues related to aircraft systems, airline management, air transportation, and more - there's even a class in weather analysis!
Average Tuition & Fees: $13,808/yr
8. University of Wisconsin-Oshkosh
Online BS in Aviation Management
Website
With a degree from the University of Wisconsin - Oshkosh, you could become a leader in the aviation industry. Whether you have an associate's degree or technical diploma (in airframe or power plant technology, for example), UWO's accredited online aviation management degree program will help you make good use of your prior knowledge and experience. Once you're enrolled, you'll dive right into this accelerated program, which offers most classes in seven-week sessions. This format lets you focus on one class at a time, giving you a chance to fully absorb topics that span from "Aviation/Aerospace Systems Analysis Methods" to "Airline Management" and "Collaborative Leadership Dynamics."
Average Tuition & Fees: $11,373/yr
7. Wilmington University
Online BS in Business Management: Professional Aeronautics Concentration
Website
If you're equally interested in business and aeronautics, you'll likely find Wilmington University to be a perfect fit. The school offers a BS in Business Management with a concentration in Professional Aeronautics, which was designed specifically for students with a background in military or professional aviation. As long as you can transfer in at least 18 credits in aviation technology subjects, you can earn the remainder of your degree online. These credits could come from documented military experience, technical training, or FAA certifications. As for the aerospace degree online curriculum, it blends topics in aviation safety and management with business-oriented courses like finance, marketing, and information systems.
Average Tuition & Fees: $10,940/yr
6. Utah Valley University
Online BS in Aviation Science
Website
Most of the programs on our list of cheap online aviation degrees focus on professional flight training. However, Utah Valley University offers a great alternative for non-pilot career seekers. This well-rounded program seeks to produce equally well-rounded graduates who possess a breadth of industry knowledge. Covering the field in greater depth and breadth than most schools, UVU's curriculum extends from "Crew Resource Management" to "Personal Finance for Aviation Professionals" to "Unmanned Aircraft Systems" and everything in between. The program even includes a final capstone in which you'll learn to design, implement, control, and evaluate a strategic plan in aviation administration.
Average Tuition & Fees: $10,859/yr
5. Embry-Riddle Aeronautical University-Worldwide
Online Bachelor of Science in Aeronautics
Website
It's hard to imagine a better place to learn about aviation than at a university entirely dedicated to the study of aeronautics. Whether you "work, have worked, or desire to work" in the aviation industry, Embry-Riddle Aeronautical University has a plan of study to help you achieve your goals. Of all its flight-related programs, ERAU's accredited online aeronautics degree is one of the most flexible. It combines 36 credits of major-specific courses (e.g. "Aerodynamics" and "Statistics with Aviation Applications") with 21 credits of electives. Many students choose to earn their electives through one or more minors, which are available in industry-relevant topics like Air Cargo Management, Unmanned Aerial Systems, and Aviation Safety.
Average Tuition & Fees: $9,000/yr
4. Eastern New Mexico University
Online Bachelor of Applied Arts and Science in Aviation Science
Website
In order to cater to students with diverse backgrounds, Eastern New Mexico University offers two distinct pathways within its aviation program. If you are a non-traditional student with professional experience in aeronautics, opt for the Bachelor of Applied Arts and Sciences (BAAS) in Aviation Science. Alternatively, those looking for a traditional liberal arts education that will give them advanced training in aviation should go for the Bachelor of Science program. While the exact requirements differ, both curricula cover many of the same core concepts, including FAA regulations, aviation law and safety, operations, and FBO management.
Average Tuition & Fees: $8,900/yr
3. Thomas Edison State University
Online Bachelor of Science in Aviation Management, Maintenance Technology, or Flight Technology
Website
Officially, Thomas Edison State University ranks near the top of our list of cheap aeronautics degrees online because of is tuition. However, TESC also stands out for having not one, but four aviation-related programs. That means you could earn a B.S. in Air Traffic Control or Aviation Management, Flight Technology, or Maintenance Technology. Except for any FAA certifications and flight training required to complete the program, all courses for all four of these degrees are available entirely online. If you don't have (or plan to earn) an FAA certification, the Aviation Management option will likely be the best fit.
Average Tuition & Fees: $8,560/yr
2. Polk State College
Online Bachelor of Science in Aerospace Sciences
Website
Polk State College understands the value of a bachelor's degree in the aviation industry. Whether you want to work in administration or as a pilot for a major airline, a four-year degree will be essential to your success in this industry. That's why PSC has developed two degree completion tracks: Aerospace Administration and Professional Pilot. Note that both options include a hybrid capstone course that requires students to meet on campus to demonstrate their knowledge in a "simulated airline environment." However, if you absolutely can't travel to complete this online aerospace degree, PSC staff will work with you to develop a virtual-only option.
Average Tuition & Fees: $7,819/yr
1. Middle Georgia State University
Online Bachelor of Science in Aviation Science and Management
Website
Middle Georgia State University may have cheap tuition, but don't think that means you should expect a cheap education. Rather, MGSU has a "well-recognized degree within the Aviation industry," one that offers multiple concentrations and plenty of flexibility through electives. Of the program's six concentrations, three are currently available online. That means you could earn a top online aviation degree in Logistics Management, Space, or Management. Note that university's School of Aviation also delivers flight courses, so local students won't have to travel far to complete their pilot training and/or FAA certification courses.
Average Tuition & Fees: $7,508/yr
Thanks for reading our ranking of the 15 top cheap online aeronautics and online aviation management degrees online!
Sources:
IPEDS Data Center
College Navigator
See also:
Top 10 Cheap Online Software and Systems Engineering Degree Programs (Bachelor's) 2019
Aeronautics Scholarships