WHAT IS THE BEST WAY FOR SCIENCE TEACHERS TO ADVANCE IN THEIR CAREERS?
Are you ready to find your fit?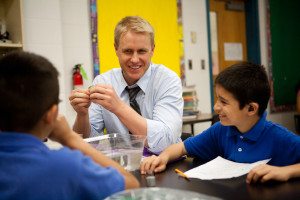 Ironically, the best way for science teachers to advance in their careers is to keep learning. While pay is not the main reason why many people choose to be teachers, salary increases are tangible measurements of career advancement. K-12 teacher salaries vary by state and school districts, but most of the compensation packages for today's educators are based on unified scales that rarely differentiate between subjects taught or performance based upon student outcomes. The pay scale does fairly reflect differences in experience and education level.
Because of a recognized shortage of skilled science teachers , some school districts are beginning to look at providing improved monetary incentives to classroom instructors who are qualified to teach subject areas that are in the greatest demand nationwide. Here are some ways that science teachers can advance their careers in today's education market while positioning themselves to take advantage of future changes within the nation's educational system.
Get an Advanced Degree
According to the current pay scales for teachers in many school districts, classroom instructors who earn advanced degrees get paid significantly more than those who only have undergraduate degrees. Forward-looking science teachers will consider the type of master's degree in which they choose to invest their time and funds. Currently, many districts pay teachers with special education credentials more than other teachers.
Science teachers who earn a Master of Science in Education in Special Education can significantly increase their professional value by gaining the qualifications to teach science to special needs students. Also, earning advanced degrees in science related fields can increase science teachers' knowledge in their chosen instructional subject which may equate to future pay increases in some progressive school districts.
Take Continuing Education and Relevant Certification Courses
Science teachers who do not have the time or funds to invest in comprehensive degree programs can still make strategic career advancements by taking continuing education courses. Most school districts recognize the value of teachers who obtain periodic training, and that recognition currently shows up as pay raises. Courses in areas like educational leadership and education technology can theoretically help science teachers to make greater impacts within their schools and improve the overall student learning experience.
Join Professional Teaching Associations
There are many national and international opportunities for science teachers, but they may not know about them if they are not connected to a network of knowledgeable, like-minded educators. A way for science teachers to find out about jobs, educational policy updates and new, field-tested teaching techniques is by joining professional teaching organizations. Examples of these teaching clubs include the National Science Teachers Association , the American Association of Physics Teachers and the National Earth Science Teachers Association.
Target Other Science Related Education Jobs
Another way for science teachers to increase their professional influence and move up the pay scale is to gain experience in education jobs outside of the classroom. Many advanced degrees in education allow science teachers to concentrate in areas that lead to school administrator positions, jobs as science related curriculum developers and school technology director posts. Science teachers can always go back to classroom instruction if they miss the direct interaction with students.
Conclusion
Most teachers expect academic excellence from their students, and they apply those same standards to themselves. Finding the time to increase their subject knowledge, learn innovative teaching techniques and hone their leadership skills is the best way for science teachers to advance.
Related: The Most Affordable Master's in Science Education Online Degree Programs
Get prepared for your next steps
Use articles and resources to uncover answers to common questions, get guidance on your goals, and learn about applying to schools.
If you're pursuing a master's degree in psychology, you may have been asked the following question: "What can you do with a master's in psychology?" It may even be a...
Are you interested in helping others resolve their issues and hurdles through talk therapy? You may want to consider a career in the counseling field. Counseling is a field that's...
Mental health counseling jobs exist across many settings — from hospitals and government agencies to schools and private practices, and they're projected to grow. The Bureau of Labor Statistics (BLS)...
Discover a program that is right for you.
Explore different options for you based on your degree interests.