15 BEST VALUE COLLEGES AND UNIVERSITIES IN KENTUCKY

Are you ready to find your fit?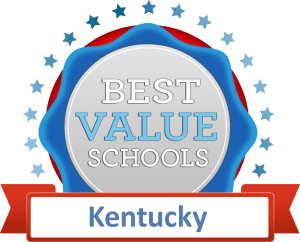 By BVS Staff
In this ranking, we highlight the top values among Kentucky colleges and universities. You may also want to check out our ranking of the best value online colleges in Kentucky.
Kentucky may not exactly be renowned for its prestigious academic options, but you'd be remiss to write off an entire state without even a glance at what it has to offer. Upon close inspection, our ranking reveals that Kentucky is home to some true gems in higher education, including the popular University of Kentucky and University of Louisville, small religious colleges that cater to the faithful, and even a school that offers nearly FREE tuition in exchange for work study commitments.
In many states, the highest ranked schools are also the most expensive, and in many cases this is an understandable outcome. Great schools cost more based on the resources they offer, the quality of the professors, the programs available on campus, etc. But Kentucky is one of the rare states in which the very best schools are also some of the most affordable, meaning you'll have no trouble finding a university that balances cost and quality and constitutes a true "best value."
Our Ranking Methodology:
Graduation Rate: This indicator refers to the percentage of students who complete their degree within 150% of normal time (six years for a typical four-year degree program). Schools that perform well in this area have a track record of keeping students engaged and successful for their entire time on campus. We weighted this category 30% of the total and retrieved the information from College Navigator.
Net Price: In order to make sure that cost was still a factor in the ranking, we also considered overall net price as an indicator. Taken from data on College Navigator, "net price" is an approximate value that refers to the average amount of money a student could expect to pay each year after taking into account tuition, room and board, living expenses, scholarship awards, and financial aid packages. We weighted this category 25% of the total.
Acceptance Rate: Academically challenging, popular universities tend to be more selective and thus have a lower acceptance rate. In order to pinpoint those colleges that boast rigorous academics and also receive a large number of applications, we considered acceptance rate - the percentage of students out of the total number of applicants who receive an acceptance letter. We retrieved this information from College Navigator and weighted it 30% of the total.
20-Year Net Return on Investment: Taken from information on the website PayScale, this statistic provides a picture of how much students can expect to make after they graduate from a particular college. More specifically, the figure is calculated by taking the average income an alumnus will make over his or her first 20 years after graduation and subtracting the amount paid in tuition. Schools with a high ROI tend to be better at preparing their students for the job market. We weighted this category only 15% because data was not available for all colleges considered.
After adding all the points, we gave each university a final score out of 200. The schools below have scores ranging from 82 to 163, and each has something different to offer in terms of its cost, quality, and reputation. No one college is perfect (which is why the scores vary so much) but this ranking offers you a premier selection of universities to help get you started on your search for an education in Kentucky.
Ranking the Top Values in Wisconsin Universities and Colleges
Alice Lloyd College
Pippa Passes, KY
Asbury University
Wilmore, KY
Berea College
Berea, KY
Brescia University
Owensboro, KY
Centre College
Danville, KY
Clear Creek Baptist Bible College
Pineville, KY
Eastern Kentucky University
Richmond, KY
Kentucky Mountain Bible College
Jackson, KY
Kentucky State University
Frankfort, KY
Kentucky Wesleyan College
Owensboro, KY
Featured Online Programs
Figuring out where to apply? These top, accredited schools offer a variety of online degrees. Consider one of these accredited programs, and discover their value today.
Alice Lloyd College

Location

Pippa Passes, KY


This Kentucky college started with a mission to serve students in an Appalachian region that, at the time, was in desperate need of affordable education. It remains one of the best cheap Kentucky colleges to this day, earning national recognition for sending students out into the world with low levels of debt. Alice Lloyd's work-study program ensures that students aren't burdened by the cost of education and instills in them a strong work ethic. Just getting into Alice Lloyd College takes a good deal of hard work, as the school's 36% acceptance rate makes it one of the most selective colleges around.



This Kentucky university is a non-denominational Christian institution that builds community service and spiritual growth into its academic programs. Although it was founded by a Methodist preacher, the school doesn't espouse any one creed over another. Instead, it focuses on creating a community where students can develop themselves both mentally and spiritually. Aside from its academics, Asbury provides opportunities for internships, exchange programs, and missions off campus. More than 80% of freshmen return to Asbury for their sophomore year and 68% graduate within six years, indicating that the university's mission - which stands to build a challenging but welcoming environment - is definitely working.



Founded by social reformers in 1855, this Kentucky college's tradition of progressivism continues to this day. Berea was the first coeducational and racially integrated college in the South and its administration has always fought against discrimination. Another goal of the college was to serve the oft-neglected Appalachian region. From the beginning, the school sought to offer a free education to as many Appalachian students as possible through a work exchange. Today, every student at Berea participates in a work-study program that pays 100% of tuition. Enrolling in the most affordable college in Kentucky isn't easy, however, as the school has a selective 34% acceptance rate.



This Kentucky university was founded in 1925 by the Ursuline Sisters of Mount Saint Joseph as a junior college for women. The original campus was located outside of Owensboro, but an extension campus inside the city soon began offering coeducational courses. In 1949, the campuses were combined in Owensboro to form the school as it's known today. In keeping with its formation as a Catholic institution, Brescia maintains a campus ministry to support students of faith and encourage service in the Owensboro community. The Ursuline tradition also emphasizes creative expression, which Brescia carries on through its engaging liberal arts curriculum.



At this Kentucky college, it's not just a top-notch education that defines the college experience - although students also get that. The Centre Commitment guarantees that all students get the opportunity to study abroad, participate in an internship or research project, and graduate in four years, as long as they live up to the school's academic and social standards. Thanks in part to the program, Centre College enjoys a high 82% graduation rate, and 85% of students choose to study abroad. The Commitment is one reason why Centre is the top university in Kentucky for alumni satisfaction.


Clear Creek Baptist Bible College


This Kentucky college is an open-admission Christian school tucked away in the scenic mountains of Kentucky. The surrounding area is great for hiking, making the school ideal for students who want to enjoy a natural setting while pursuing their calling. Even families with children can live on campus, as the school has accommodations for both singles and married couples. The college provides education for students who are already active members of their church and want to put their faith into practice by entering Christian ministry. Students at Clear Creek must demonstrate their ongoing commitment to the church and to a religious lifestyle to be accepted.


Eastern Kentucky University


This Kentucky university serves the region's students throughout the state with its four campuses, three regional education centers, and a variety of online courses. While its plethora of academic programs and the accessibility of its campuses make education convenient for all students, EKU goes above and beyond for military veterans. The Office of Military and Veterans Affairs provides a number of financial aid options and orientation programs to make veterans' transition to school as smooth as possible. EKU has also been ranked among the best colleges in Kentucky, and in some cases the country, for veteran enrollment and post-graduation success.


Kentucky Mountain Bible College


This Kentucky college offers higher education firmly rooted in Christian principles. Its academic programs prepare students to enter a variety of careers, from education to music, while practicing Christian values. Students who wish to live and study on KMBC's secluded rural campus must adhere strictly to a set of Biblical rules, but they'll find themselves in a supportive community that helps them explore both their education and their faith. The school's extremely low 6 to 1 student to faculty ratio ensures that no one at KMBC is left out.


Kentucky State University


Founded in 1886 as a university devoted to training black teachers for then-segregated schools, this Kentucky university has evolved into a prominent historically black institution. KSU is one of the best Kentucky colleges when it comes to student and faculty diversity. In addition, the school's location in Kentucky's capital city of Frankfort puts it within reach of a host of historical attractions as well as all the amenities of the city. Despite its central location, KSU still offers a large, spacious campus complete with a 204-acre agricultural research farm and a 306-acre environmental education facility.


Kentucky Wesleyan College


Students at this Kentucky college enjoy a close-knit group of fewer than 1,000 students and a student to faculty ratio of just nine to one. The school's small size doesn't mean that the campus lacks excitement, though. KWC hosts more than 45 student organizations and a community that knows how to stand together. When a fire destroyed the college's main building in 1905, the school recovered a damaged statue of Minerva, goddess of wisdom, from the wreckage and turned it into a symbol that still adorns the campus. More recently, an F3 tornado damaged the campus, and KWC responded by not only repairing the damage but also taking it as an opportunity to improve their facilities.



From its humble beginnings as the Kentucky Female Orphan School, Midway University has grown into one of the best universities in Kentucky for women. Midway hosts the only women's college in Kentucky through its residential undergraduate program, but it also offers coeducational courses through its graduate school and evening and online programs. Originally founded to give educational opportunities to underserved women who otherwise would never have such a chance, Midway University continues to inspire its students to become responsible citizens and embrace lifelong learning. Its location in the historic town of Midway helps affirm the school's commitment to its past.



Murray State University is recognized as one of the best colleges in Kentucky for military veterans, academic quality, and healthy student lifestyles. It's also known as one of the best colleges to work for, so students can benefit not only from an excellent school but also from a faculty and staff who are satisfied with their jobs. Murray is highly student-centric, offering plenty of opportunities for on-campus activities. It does all that while remaining one of the most affordable Kentucky colleges, thanks to a large number of grants, scholarships, and work-study programs.



Founded in 1920 as a Catholic liberal arts institution called Nazareth College, this Kentucky university took its current form in 1984 and now offers degrees tailored for professional development. This cheap college in Kentucky was the first institution in the state to offer an MFA in writing, a BA in nursing, and in business communication. Along with its early adoption of new degrees, Spalding runs on a unique schedule that allows students to start their programs at seven different times throughout the year. Some programs also operate on their own schedules, such as the MFA in writing, which takes place over short-term residencies followed by independent study.



This Kentucky university offers a strong all-around education for students, especially when it comes to research. Already rated among the top Kentucky colleges for research, the school is in the middle of a push to become a national leader in academics and innovation. While some research universities focus mainly on study at the graduate level, UK students start early with plenty of opportunities for undergraduates to get involved. Throughout the year, undergrads get the chance to collaborate with peers and instructors on important research projects, as well as apply for on-campus assistantship jobs and compete for national scholarships. The school also gives undergraduates the chance to present their work at a number of highly celebrated showcases.



This Kentucky university has a lot to recommend it, including an active campus life, a central location in one of Kentucky's largest and most exciting cities, and a nationally competitive NCAA Division I athletics program. Even with all those merits, the school really earns accolades as one of the best universities in Kentucky for its medical program. The School of Medicine is responsible for creating the nation's first emergency room and civilian ambulance service and one of the first blood banks. More recently, the school pioneered techniques for artificial heart transplants and hand transplants.

Sources:
College Navigator
Pay Scale
This concludes our ranking of the top values among Kentucky colleges and universities.
About the Author:
Iris Stone began her writing career as a freelance writer and researcher. She now owns and operates a writing and editing firm that works with clients all across the country. Her work has included articles related to education policy, colleges and universities, academic programs, and careers.
Get prepared for your next steps
Use articles and resources to uncover answers to common questions, get guidance on your goals, and learn about applying to schools.
Discover a program that is right for you.
Explore different options for you based on your degree interests.