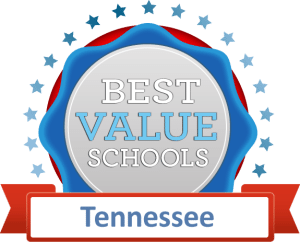 Ranking Best Colleges in TN
By Iris Stone
In this ranking, we highlight the best values in Tennessee colleges and universities.
What comes to mind when you think of the top universities in Tennessee? Undoubtedly you think of Vanderbilt, and yes (spoiler alert) it clinches the #1 spot on our ranking. But you might be surprised to read about Tennessee's many other great values, including the University of Tennessee, the Memphis College of Art, and more than enough Christian schools to satisfy the state's sizeable religious population.
Above all, Tennessee performs admirably in measures of affordability - even #1 ranked Vanderbilt maintains a quite reasonable net price. But you'll note below that cost was only a minor part of our methodology for this "best value" list. What do you look for in a college education? The popularity of the school, it's reputation, student satisfaction rates (for example, how likely they are to stay at that university all four to six years), or maybe the success of its graduates? That's what we look for, too, and the ranking below includes some of the most well-rounded academic options in the state. For a corresponding ranking of online programs, visit Best Online Value Schools in Tennessee.
Our Ranking Methodology:
Graduation Rate: This indicator refers to the percentage of students who complete their degree within 150% of normal time (six years for a typical four-year degree program). Schools that perform well in this area have a track record of keeping students engaged and successful for their entire time on campus. We weighted this category 30% of the total and retrieved the information from College Navigator.
Net Price: In order to make sure that cost was still a factor in the ranking, we also considered overall net price as an indicator. Taken from data on College Navigator, "net price" is an approximate value that refers to the average amount of money a student could expect to pay each year after taking into account tuition, room and board, living expenses, scholarship awards, and financial aid packages. We weighted this category 25% of the total.
Acceptance Rate: Academically challenging, popular universities tend to be more selective and thus have a lower acceptance rate. In order to pinpoint those colleges that boast rigorous academics and also receive a large number of applications, we considered acceptance rate - the percentage of students out of the total number of applicants who receive an acceptance letter. We retrieved this information from College Navigator and weighted it 30% of the total.
20-Year Net Return on Investment: Taken from information on the website PayScale, this statistic provides a picture of how much students can expect to make after they graduate from a particular college. More specifically, the figure is calculated by taking the average income an alumnus will make over his or her first 20 years after graduation and subtracting the amount paid in tuition. Schools with a high ROI tend to be better at preparing their students for the job market. We weighted this category only 15% because data was not available for all colleges considered.
After adding all the points, we gave each university a final score out of 200. The schools below have scores ranging from 90 to 162, and each has something different to offer in terms of its cost, quality, and reputation. No one college is perfect (which is why the scores vary so much) but this ranking offers you a premier selection of universities to help get you started on your search for an education in Tennessee.
20. Tennessee Wesleyan College
Athens, TN
Website
Tennessee Wesleyan College is living proof that the best colleges in Tennessee aren't necessarily the biggest or the most expensive. Affiliated with the Holston Conference of the United Methodist Church, TWC offers a bracing intellectual climate in a modest, intimate environment to cultivate excellence and integrity in all students. And with just over 1,000 undergraduates enrolled and a 12:1 student-to-faculty ratio, teachers and students are able to communicate regularly and directly to form close mentoring relationships. TWC also encourages students to maintain their faith with worship activities administrated by the campus chaplain, ranging from weekly chapel to lectures from visiting religious scholars and pastors.
Net Price: $11,182/yr
Score: 89.76
19. University of Tennessee Chattanooga
Chattanooga, TN
Website
One of the five pillars of Tennessee's state university system, the University of Tennessee Chattanooga is probably best known for its nationally-ranked business program. Although we can't say for sure, this program—which was featured among BusinessWeek's top 100 programs in the nation—probably has something to do with Chattanooga's $294K ROI on PayScale.com. But UTC isn't just a smart investment; with over 140 undergraduate majors in comprehensive liberal studies, engineering, and pre-professional departments, students have the opportunity to study almost anything they want. And with 75% of students receiving financial aid—including the prestigious HOPE scholarship for state residents—you don't have to pay much to get an education that pays off.
Net Price: $12,267/yr
Score: 89.96
18. Tennessee Technological University
Cookeville, TN
Website
This Tennessee university is as rare as a unicorn among colleges: it's a full-sized, comprehensive university with an emphasis on undergraduate education rather than research; a technology and science-driven institution surrounded by lakes, state parks, mountains, and rivers; and a top college in Tennessee (with a $439K ROI on PayScale.com!) for the price of an online program. In addition to the notable programs in STEM fields like computer science and engineering, TTU offers a full range of degrees and majors in business, arts and sciences, and even agricultural studies and human ecology.
Net Price: $13,677/yr
Score: 91.68
17. University of Tennessee Martin
Martin, TN
Website
In a time when our environment is being held hostage by our fossil fuel dependency and wastefulness, future leaders are needed to take a stand against climate change. This Tennessee university produces green leaders at their ecologically friendly and sustainable campus, ranked among the greenest in the country by the Princeton Review. Sourcing 60% of produce locally/organically, reducing waste, utilities, and harmful chemicals, and diverting 25% of all remaining waste through recycling, UTM has taken notable strides to reduce their carbon footprint. This affordable Tennessee college also operates the University of Tennessee Agricultural Experiment Station (UTAES), which is a leader in biofuel research in the southeast.
Net Price: $8,512/yr
Score: 93.12
16. Milligan College
Milligan College, TN
Website
At this Tennessee college, faith and knowledge are intertwined at every level to provide a holistic education for Christian students from around country and beyond. This small, Christian liberal arts college accepts students of all faiths and denominations but still expects students to participate in their Spiritual Formation Program (SFP), which consists of community service, mission trips, chapel and convocation services, and prayer groups, among other faith-oriented activities. Religious and musical events are housed in the monolithic Seeger Memorial Chapel, the most noticeable building on campus at 31,000 square feet. To round out student's spiritual growth, faculty members are selected to be faith leaders in their community, providing intellectual and existential insights necessary for the development of true servants of God.
Net Price: $16,976/yr
Score: 93.24
15. Rhodes College
Memphis, TN
Website
Featured in Loren Pope's Colleges That Change Lives and ranked as the #1 Service-Learning College in the US by Newsweek, Rhodes College is one of the best examples of a Tennessee college for students who learn by doing. Over 75% of Rhodes students participate in fellowships, which include study abroad, internships, research, independent creative work, and civic engagement opportunities. Rhodes' 10:1 student-faculty ratio guarantees a personalized education where students direct their learning within the classroom as well. And with an 80% graduation rate, it's safe to say that the Rhodes formula for success is, well, a success.
Net Price: $28,615/yr
Score: 93.96
14. Hiwassee College
Madisonville, TN
Website
Set on a 400-acre campus surrounded by the Appalachian Mountains and offering hands-on education in equine science and management, one gets the impression that there is a lot of horsing around at Hiwassee College. But that couldn't be further from the truth. Hiwassee's Methodist traditions, values, and wide open doors provide a safe and fecund space for spiritual and intellectual exploration and growth. Hiwassee offers four baccalaureate programs in Equine Science or Management/Training, Pastoral Studies, and Interdisciplinary Liberal Arts, making it a top Tennessee college for students who love the land and the lord.
Net Price: $12,198/yr
Score: 95.4
13. King University
Bristol, TN
Website
King University is another affordable Tennessee college that caters to students of faith. Affiliated with several Presbyterian churches in the US, King cultivates students in their spirituality through mandatory faith-based credit hours each semester. These can be obtained through various means, including community service and chapel or convocation attendance. King University is also notable for the Beuchner Institute. Named after Frederick Beuchner, the notable Presbyterian theologian, the institute helps make spirituality relatable and relevant to young people through weekly lectures on the intersections of faith and culture in modern society.
Net Price: $16,845/yr
Score: 99.72
12. Lipscomb University
Nashville, TN
Website
Founded in 1891 by James Lipscomb and David Harding, Lipscomb University's mission for more than 100 years has been to teach the Bible as an indispensible academic resource alongside more established works of the Western canon. Today, this takes the form of a rigorous liberal core curriculum (that includes the Bible) which students can combine with one of more than 117 concentrations and fields of study, ranging from ministry to business to arts and entertainment. With a 56% acceptance rate Lipscomb isn't exactly competitive, but that's not a bad thing; U.S. News designates this cheap Tennessee college as an A+ School for B Students, providing a world-class education for all.
Net Price: $23,176/yr
Score: 101.26
11. Lane College
Jackson, TN
Website
One of the oldest historically black colleges in the nation, Lane College was founded by Isaac Lane, a former slave and bishop with a simple mission to teach African-Americans to "read, write, and speak correctly." Since then, Lane has been instrumental in eradicating black illiteracy in the South and has grown to offer an expansive range of degrees and subjects to promote academic and vocational growth. Where ministry was once the focus of this top Tennessee college, Lane now features over 30 concentrations in the natural sciences, business, and liberal arts to cater to students of all races, faiths, and interests.
Net Price: $11,527/yr
Score: 104.88
10. Memphis College of Art
Memphis, TN
Website
Located just next door to the Memphis Brooks Museum of Art, this Tennessee college is an aesthetic oasis embroiled in a thriving metropolis. The MCA features a comprehensive range of studio art disciplines in an intimate and challenging environment, including graphic design, drawing, computer arts, and photography. As far as cheap colleges in Tennessee go, the MCA has a lot to offer, with a 10:1 student-faculty ratio and an undergraduate population of just over 350. An acceptance rate of a mere 38% allows the school to be selective, but they hold on to their talent by providing 93% of students with financial aid.
Net Price: $19,123/yr
Score: 106.84
9. Baptist Memorial College of Health Sciences
Memphis, TN
Website
With the bloating of hospital administration, inflated prices due to insurance, and pharmaceutical lobbying, there is great need for ethical leaders in healthcare today. Operated by Baptist Memorial Healthcare, the Baptist Memorial College of Health Science prepares students to rise to the vocational and spiritual challenge on the front lines of modern medicine. Students can specialize in a range of technical fields, such as diagnostic medical sonography, medical radiography, nuclear medicine, nursing, and healthcare administration. Through rigorous Christian values and an almost negligible tuition, BMCHS gives students the tools not just to make money, but also to use their skills for the betterment of their community.
Net Price: $9,385/yr
Score: 107.84
8. The University of Tennessee Knoxville
Knoxville, TN
Website
Founded in 1794, the University of Tennessee Knoxville is not technically the oldest college in Tennessee— because it's four years older than the state itself! UTK is among the top universities in Tennessee for student population (over 27K), annual research budget (over $127 million), and 20-year ROI ($325K on PayScale.com), plus it's the highest ranked research institution in the state according to U.S. News. What's more, UTK's land- and sun-grant status has positioned the schools as a national leader in agricultural and bio-based alternative energy research. Undergraduates can also pursue research in engineering, technology, social sciences, and even the digital humanities.
Net Price: $17,863/yr
Score: 108.42
7. O'More College of Design
Franklin, TN
Website
Many students have a "passion for fashion," but few succeed in this competitive field. This Tennessee college prepares students for this cutthroat industry by providing personalized studio arts practice alongside a rigorous liberal core in an intimate educational environment. With just 200 undergraduates enrolled, fashion, graphics, and interior design students get close attention from faculty that are proven professional leaders in their fields. O'More's impressive graduation rate of 81% and low tuition place it high on our list for students who understand that passion is useless without taking action.
Net Price: $24,571/yr
Score: 108.88
6. Bryan College Dayton
Dayton, TN
Website
At this small, affordable college in Tennessee, a Christ-centric education is more than just lip service to the church. Bryan College Dayton holds students to their faith by opening classes with prayer and teaching all coursework from a Christian worldview. Although it hasn't always been easy to uphold this conviction to Biblical teachings in an increasingly secular nation, Bryan College's efforts have paid off in the form of an "Up and Coming college" ranking by U.S. News. Plus, Bryan not only provides 93% of its students with financial aid, it takes charity to the next level by financing masters' degrees for four-year graduates who maintain 3.5 GPAs.
Net Price: $15,680/yr
Score: 111.04
5. Christian Brothers University
Memphis, TN
Website
Founded and run by the Christian Brothers since 1871, CBU may be the oldest collegiate degree-granting institution in the state of Tennessee. This best Tennessee college is part of the Lasallian educational consortium/tradition, one of a hundred in the U.S. and over a thousand internationally. This group carries on the teachings and work of St. John Baptist de la Salle, who brought humanistic and spiritual education to the poor at all costs during his lifetime. In this spirit, CBU offers dozens of degree specializations in the arts, business, engineering, and natural sciences at a humane price.
Net Price: $15,053/yr
Score: 113.68
4. University of Memphis
Memphis, TN
Website
Located just outside of downtown, this Tennessee University befits the largest city in the state. It may not be the largest school by total enrollment, but UM still features 254 programs of study, ranging from the liberals arts to vocational programs in dentistry, physical therapy, pharmacy, and more. UM also features the largest honors program in the state, combining the intimacy and personalized education of a liberal arts college with the resources of a comprehensive, nationally recognized research institution. Undergraduate research and internship opportunities, NCAA Division I athletics, Greek Life and academic student organizations, and abundant study abroad programs represent just a taste of what's in store for you at UM.
Net Price: $12,369/yr
Score: 125.42
3. Johnson University
Knoxville, TN
Website
Johnson University is dedicated to producing faith leaders with exceptional academic acumen. Affiliated with the Independent Church of Christ under the Johnson University system, this Tennessee university awards four-year bachelors degrees in Church Ministry, Bible Studies, Humanities, and Christian Education. Bible and Ministry are the cornerstones of the academics at Johnson, where all students must double-major by choosing a second focus alongside their spiritual curriculum. Abiding by core values of Christian faith, service, excellence, and equality of opportunity, students at Johnson gain a spiritual and intellectual foundation that they will carry for the rest of their lives.
Net Price: $12,546/yr
Score: 126.04
2. Middle Tennessee State University
Murfreesboro, TN
Website
Founded in 1855 to educate and provide teachers to the Nashville community, this Tennessee university has since grown into one of the top universities in Tennessee. MTSU now offers dozens of degrees in a wide range of unique academic and vocational fields, with specialized departments in Recording Industry (especially targeted for careers in Nashville), Aerospace (including piloting and engineering), Concrete Industry Management (the first of its kind), Human Sciences, and many others. These departments represent MTSU's commitment to student success after graduation by preparing them for promising careers in vital, local industries.
Net Price: $10,910/yr
Score: 141.8
1. Vanderbilt University
Nashville, TN
Website
Ranked 15th among national universities by U.S. News, Vanderbilt is a powerhouse even among the best universities in Tennessee. Vanderbilt invites only the top students (or 13% of applicants) from the state, country, and globe to select from 70 majors and degree programs—or create their own! A spirit of intellectual vigor and integrity pervades this institution, where students must swear by their honor code not to cheat, lie, or otherwise deceive to earn their marks. It's not easy to get into this top Tennessee college, but a 93% graduation rate and nearly $600K ROI proves that honest, hard work really does pay off after all.
Net Price: $22,173/yr
Score: 161.7
This concludes our ranking of the best values in Tennessee colleges and universities.
Further reading:
Best Value Colleges and Universities in Kentucky
Sources:
Pay Scale
College Navigator
About the Author:
Iris Stone began her writing career as a freelance writer and researcher. She now owns and operates a writing and editing firm that works with clients all across the country. Her work has included articles related to education policy, colleges and universities, academic programs, and careers.