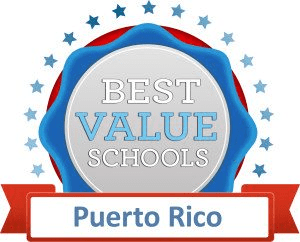 By Iris Stone
In this ranking, we examine top value universities and colleges in Puerto Rico.
Puerto Rico isn't officially a U.S. state (officially, it's an "unincorporated U.S. territory"), but it has close ties to the mainland and is home to a number of American citizens. More than three million people live on the island, which boasts an eclectic mix of cultures, ethnicities, and languages (English and Spanish being the most popular).
Although Puerto Rico is probably best known for its tropical weather and popularity as a tourist destination, it's also a great destination for college students. The cost of living is low while the quality of life is high - who wouldn't be happy living in a tropical paradise? Universities on the island are numerous and include a multiplicity of public colleges, religious schools, and specialized private universities.
Tuition at almost all Puerto Rican schools is enviously affordable, and many of their academic and extracurricular resources are competitive with those on the U.S. mainland. The 20 universities listed below are particularly exemplary in this regard - the descriptions say it all!*
Methodology
Read more about the methodology we used for this article here. (Please note that PayScale.com does not offer information on Puerto Rican universities so that category was omitted from this particular article).
*While we typically use the schools' websites as our primary source for information, most of these schools' websites were only available in Spanish. As such, we used a combination of our own translations, web-assisted translations, and Wikipedia articles to corroborate the details we present below.
---
20. University of Puerto Rico-Ponce
Ponce, PR
Ponce, Puerto Rico is popular to world travelers for its many tourist attractions, but it also offers plenty of appeal to local residents. Perhaps most importantly, Ponce is home to the only public college in the entire southern portion of the island - the University of Puerto Rico at Ponce. The midsized campus hosts a "just right" student body of approximately 3,000 - not so big as to be overwhelming, but not so small as to be boring. And as an academic scholar at this university in Puerto Rico, you won't have much time to be bored, anyway. Challenging majors include Biomedical Sciences, Sports Medicine Technology, and Computer Information Systems, plus useful transfer programs like Land Surveying and Topography, Industrial Chemistry, and Computational Mathematics.
Net Price: $7,075
Score: 91.53
19. Inter American University of Puerto Rico-Ponce
Ponce, PR
Although the Inter American University of Puerto Rico at Ponce originated as an extension campus for another institution, it earned independent status - and a reputation as one of the best cheap colleges in Puerto Rico - in the early 1990s. The 5,000 or so students who attend the Ponce campus can choose from a respectable 25 undergraduate academic options, plus five master's degrees and an honors college for high-achieving learners. Interestingly, the university recently announced plans to pour $10 million into building a college prep school, which will significantly increase its impact and educational benefit to the surrounding community.
Net Price: $5,210
Score: 93.07
18. University of Puerto Rico-Cayey
Cayey, PR
UPR Cayey is one of the top urban colleges in Puerto Rico and a popular choice for students in the region. The municipality of Cayey is known for its expansive mountain ranges and recent boom in economic growth, which has been marked by the arrival of top U.S. organizations like Walmart, Coca-Cola, and Proctor and Gamble. UPR Cayey has kept pace with this progress, bolstering its degree programs in the natural sciences (particularly pre-med options) while also investing in research. For example, the Environmental Education Center and the Institute for Interdisciplinary Research support the interests of the local community, while the esteemed Howard Hughes Project encourages undergrads to participate in research on campus.
Net Price: $5,570
Score: 94.27
17. University of Puerto Rico-Arecibo
Arecibo, PR
The University of Puerto Rico at Arecibo, one of nearly a dozen colleges in the UPR public system, is a career-oriented institution that mirrors the significant industrial and commercial activity in the surrounding area. Located near the largest radio telescope in the world and an immense pharmaceutical and biotechnological complex, UPR Arecibo offers practical degrees for local residents. You could major in Microbiology, Industrial Chemical Process Technology, or Industrial Organizational Psychology, for example, or opt for one of the school's excellent humanities programs, such as Latin American Studies or Elementary Education.
Net Price: $5,371
Score: 95.22
16. University of Puerto Rico-Mayaguez
Mayagüez, PR
If size and stature is what you're after, few schools compare to the University of Puerto Rico at Mayaguez. This Puerto Rican college, which is also known as the College of Agriculture at Mayagüez (an old name) or simply "Colegio," has a 315-acre campus that is home to 12,000+ students and nearly 2,000 regular faculty. Students from all over the island attend this land-, sea-, and space-grant university, which is known for its prestigious academic programs and litany of accreditations (the Accreditation Board for Engineering and Technology, National League for Nursing, and American Chemical Society among them). UPR Mayaguez is clearly one of the best universities in Puerto Rico, but it also earns recognition in wider circles; the Webometrics Ranking of World Universities named it #1 in the Caribbean!
Net Price: $5,394
Score: 98.87
15. Inter American University of Puerto Rico Aguadilla
Aguadilla, PR
In contrast to some of the more metropolitan offerings on this list, the Inter American University of Puerto Rico in Aguadilla provides a small, rural alternative for locals. The 45-acre campus provides a residence for approximately 4,300 students at a time, and the school employs enough professors to keep classes comfortably small - the student-to-faculty ratio is a seemingly large 29:1, but nearly 40% of classes have fewer than 20 students! Popular majors include Marketing, Management, Telecommunications, Nursing, Criminal Justice, and Social Work, and students in all disciplines benefit from a curriculum that underscores traditional Christian values like family, service, and "commitment to our neighbor."
Net Price: $5,246
Score: 99.0
14. College University of San Juan
San Juan, PR
If you're a student who is all about results, you'll find a like-minded partner in this top university in Puerto Rico. From one-course vocational programs to certificates to full-fledged bachelor's degrees, CUSJ promotes a singular mission to be "agents of change for the socio-economic, technological and cultural development of Puerto Rico." Undergraduates can major in Criminal Justice, Computerized Accounting, Information Systems, or Nursing, or start a two-year program in Engineering. In the spirit of affordable and accessible career training, CUSJ even provides free online practice for the NCLEX, GMAT, MCAT, and other advanced standardized tests.
Net Price: $1,065
Score: 103.66
13. University of the Sacred Heart
Santurce, PR
The university of the Sacred Heart, also known as USC or simply "Sagrando" (the Spanish word for sacred) is a Catholic university known for its beautiful architecture and rich history - literally. The school sits in a Puerto Rican neighborhood that was once home to some of the most prominent families on the island, and the 33-acre campus offers priceless views of tropical forests and the Atlantic Ocean. The $7,500 annual price tag is actually one of the more expensive on the island, but this investment goes a long way in helping USC provide the very best in campus resources, including high-tech laboratories, a sports complex with tennis courts and an indoor stadium, a massive library, amphitheater - even a television studio!
Net Price: $7,505
Score: 104.42
12. University of Puerto Rico-Aguadilla
Aguadilla, PR
Although the University of Puerto Rico at Aguadilla is one of several public institutions in the PR system, that doesn't make it "just another public college." Unlike some state schools, which operate essentially as smaller versions of the "flagship" university, UPR Aguadilla distinguishes itself with unique academic offerings that make it a popular destination for ambitious learners. Students whose career goals extend beyond the traditional programs available elsewhere on the island can come to this top Puerto Rican college for an innovative education in Environmental Technology, English and Multimedia Technology, Bioinformatics, Genetics, or even Computerized Information Systems (ACBSP accredited).
Net Price: $2,248
Score: 105.93
11. School of Plastic Arts of Puerto Rico
San Juan, PR
While attending a "school of plastic arts" might not sound like the most glamorous choice for college students, it would be more accurate to look at this university as an institution for visual artists and crafters. Degree programs combine the best of traditional arts and hands-on subjects, such as Photography, Industrial Design, Sculpture, Fashion Design, Graphic Arts, and Art Education. The school's rock-bottom net price barely tops $2,000 a year and is one of the cheapest in Puerto Rico, but don't let this low figure lower your expectations of its academic quality. Students enjoy workshop-based classes with some of the best local designers and substantial studio time to refine their skills.
Net Price: $2,184
Score: 108.65
10. Inter American University of Puerto Rico-Metro
Cupey, PR
The Metro campus of the Inter American University of Puerto Rico features an active student body and fast-paced environment that is reminiscent of many of the most popular urban universities in the United States. Cafes, libraries, beautiful gardens, computer labs, and fitness centers adorn a modern campus that is replete with high-tech facilities. Students who aren't satisfied with the limitations of this spacious campus can venture out to the many popular hang out spots in Cupey, which include great dining and entertainment options that won't break the bank. And when you consider the wealth of events and activities that the school sponsors each year, including the "Sport Zone" and "Inter Metro Tiger Dance," (plus the school's extremely selective 22% acceptance rate) it's easy to see how this university is one of the best, most affordable universities in Puerto Rico.
Net Price: $8,102
Score: 110.63
9. Universal Technology College of Puerto Rico
Aguadilla, PR
At the end of the day, most college students are just looking for an education that will lead to a good job and a steady income. For practical students, the Universal Technology College of Puerto Rico, or simply "UniTec," is one of the best colleges in Puerto Rico and an expert in career training. Most notably, the administration recognizes that the economy is constantly changing and that "learning is not static"; as such, courses regularly evolve to keep pace with the needs of both the regional and global community. Academic programs focus on health, industrial technology, and business, and the curriculum emphasizes real-world applications - an approach that has earned UniTec a strong 68% graduation rate (the second highest on the island)!
Net Price: $4,742
Score: 112.14
8. Dewey University-Hato Rey
San Juan, PR
Right off the bat, Dewey University stands out as the school with the highest graduation rate in all of Puerto Rico. At 73%, Dewey is the only college on the island with student retention and success rates that are comparable to some of the premier universities in the continental U.S. But what makes DU one of the best colleges in Puerto Rico? Students choose Dewey for its unique, intellectual campus culture, which supports engaging ventures for every academic interest. Attend informative exhibitions and seminars on U.S. history, learn new skills at an interactive 3D printing workshop, or join the transformative "Society of Student Leaders," among many other potential activities.
Net Price: $3,992
Score: 117.18
7. Pontifical Catholic University of Puerto Rico
Ponce, PR
The Pontifical Catholic University of Puerto Rico actually consists of three campuses: one in Ponce, one in Arecibo, and a third in Mayagüez. As the name suggests, the university preaches Catholic values - in fact, it was founded by two Puerto Rican bishops. The school added "Pontifical" to its title in 1991 after a visit from Pope John Paul II, who bestowed the name on the campus. Academic degrees span multiple levels and are generally career-focused; business, education, and human studies are popular majors among the student body. At the graduate level, Puerto Rican scholars can earn a reputable education from the School of Law or School of Architecture, and within the next few years the university plans to open additional programs in the cinematic arts, fashion, and graphic design.
Net Price: $4,974
Score: 125.26
6. Bayamón Central University
Bayamón, PR
Once just a small Catholic community college, Bayamón Central University has evolved over the past fifty years into an independent university and thriving intellectual center. Sporting triple accreditation from the Middle States Association of Schools and Colleges, Council of Higher Education of Puerto Rico, and the Congregation for Catholic Education, BCU has established itself as a reputable university and one of the top affordable colleges in Puerto Rico. But that doesn't mean the school has completely shed its roots; coursework closely adheres to the founders' humanistic Christian values and emphasizes both social transformation and community involvement.
Net Price: $6,954
Score: 130.40
5. The Puerto Rico Conservatory of Music
San Juan, PR
If you're interested in studying music, there's simply no better place on the island than the Puerto Rico Conservatory of Music. The entire academic curriculum at this cheap Puerto Rican college is devoted to the study of song, harmony, and composition, offering everything from bachelor's degrees in Classical Guitar and Caribbean Music to master's degrees in Music Education and Symphony Instruments. In addition to preparing its students for successful careers as musicians, the conservatory also prioritizes community outreach and involvement. Programs encouraging music appreciation are available for children and adults alike, and annual events such as the Casals Festival include participants from across the university.
Net Price: $4,945
Score: 130.94
4. University of Puerto Rico-Humacao
Humacao, PR
Due to the many luxurious resorts and large populations of tourists in Humacao, you might assume that the University of Puerto Rico located in the municipality is equally laid back. But don't expect to spend all your time at this top college in Puerto Rico in vacation mode; practical, in-demand degrees will also demand a lot of your time. Programs are available in Microbiology, Nursing, Industrial Chemistry, Marine Biology, Computational Mathematics, and other select degrees that uniquely position graduates to contribute to the needs of the local economy. UPRH is also well known for its modern on-campus space observatory as well as a microbial observatory funded by the National Science Foundation.
Net Price: $5,348
Score: 133.69
3. Inter American University of Puerto Rico - Barranquitas
Bayamon, PR
The highest-ranked campus of Inter American University on this list, Barranquitas stands apart as one of the premier colleges in central Puerto Rico. Like many of the best universities in Puerto Rico (and in the United States, for that matter), this school's primary mission is to serve the intellectual community by providing "excellence and relevance" in a diverse, socially responsible environment, while simultaneously integrating "intensive use of information technology." In other words, the Inter American University of Puerto Rico - Barranquitas is a high-tech school for highly motivated students. And in an effort to be both affordable and accessible, the university has begun offering free Microsoft Office packages to new students, which include Word, Outlook, Excel, OneNote, and PowerPoint applications.
Net Price: $4,877
Score: 152.17
2. University of Puerto Rico - Bayamon
Bayamon, PR
As the third-largest public university in the Puerto Rican system, UPR Bayamon excels in both size and stature. The 68-acre campus is jam-packed with academic buildings that cater to nearly every interest, from business administration to electrical engineering to elementary education. But this affordable college in Puerto Rico is perhaps best known for the competitive athletic spirit that envelops the campus. The sports teams on campus are as numerous as they are varied and include fencing, judo, weightlifting, beach volleyball, and a dozen others - as well as a nebulous activity simply titled "fight."
Net Price: $4,877
Score: 152.17
1. University of Puerto Rico - Rio Piedras
San Juan, PR
Most Puerto Ricans will probably not be surprised to hear that the University of Puerto Rico - Rio Piedras clinches the #1 spot on our ranking. The largest public research university on the island, UPR's nearly 300-acre campus supports over 18,000 students at any given time - including both undergrads and graduate scholars. Recognized as a "very high research activity" university by the Carnegie Educational Foundation and sporting a slim 28% acceptance rate, this top university in Puerto Rico is as prestigious as it is popular. Students enjoy access to the on-campus Museum of Art, History, and Anthropology as well as a dozen comprehensive schools and colleges, including the historic College of Education and the fully accredited School of Law.
Net Price: $2,318
Score: 177.32
This concludes our ranking of best value Puerto Rico colleges and universities.
Sources:
College Navigator
Pay Scale
Wikipedia-University of Puerto Rico Ponce
Wikipedia-Inter American University of Puerto Rico at Ponce
Wikipedia-University of Puerto Rico at Cayey
Wikipedia-University of Puerto Rico at Arecibo
Wikipedia-University of Puerto Rico at Mayaguez
Wikipedia-University of the Sacred Heart
Wikipedia-University of Puerto Rico at Aguadilla
Wikipedia-School of Plastic Arts of Puerto Rico
Wikipedia-Inter American University of Puerto Rico
Wikipedia-Pontifical Catholic University of Puerto Rico
Wikipedia-Bayamon Central University
Wikipedia-Conservatory of Music Puerto Rico
Wikipedia-University of Puerto Rico at Humacao
Wikipedia-University of Puerto Rico at Bayamon
Wikipedia-University of Puerto Rico Rio Piedras
About the Author:
Iris Stone began her writing career as a freelance writer and researcher. She now owns and operates a writing and editing firm that works with clients all across the country. Her work has included articles related to education policy, colleges and universities, academic programs, and careers.