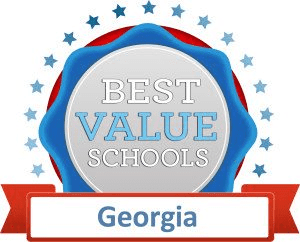 By Iris Stone
As an east coast state and one of the thirteen original colonies, Georgia is home to some of the oldest, most established universities in the country. From gargantuan state schools like the University of Georgia to esteemed private institutions like Emory to small religious colleges like Toccoa Falls, Georgia offers educational options across the entire spectrum of collegiate life. Georgia is also one of the most affordable states for college; in fact, 80% of the school listed below come with an annual net price below $20,000!
This blend of quality and affordability is exactly what makes a "best value" university - after all, the best you could hope for in your college search is to stumble across a school that provides all the resources and academic options you need but without breaking the bank. That's where this ranking comes into play. Using a careful methodology that considers metrics like graduation rate, acceptance rate, and annual net cost, we've aimed to bring you a selection of schools that offer the best of both worlds. You may also want to check out our ranking of the Top Affordable Online Colleges in Georgia.
Our Ranking Methodology:
Graduation Rate: This indicator refers to the percentage of students who complete their degree within 150% of normal time (six years for a typical four-year degree program). Schools that perform well in this area have a track record of keeping students engaged and successful for their entire time on campus. We weighted this category 30% of the total and retrieved the information from College Navigator.
Net Price: In order to make sure that cost was still a factor in the ranking, we also considered overall net price as an indicator. Taken from data on College Navigator, "net price" is an approximate value that refers to the average amount of money a student could expect to pay each year after taking into account tuition, room and board, living expenses, scholarship awards, and financial aid packages. We weighted this category 25% of the total.
Acceptance Rate: Academically challenging, popular universities tend to be more selective and thus have a lower acceptance rate. In order to pinpoint those colleges that boast rigorous academics and also receive a large number of applications, we considered acceptance rate - the percentage of students out of the total number of applicants who receive an acceptance letter. We retrieved this information from College Navigator and weighted it 30% of the total.
20-Year Net Return on Investment: Taken from information on the website PayScale, this statistic provides a picture of how much students can expect to make after they graduate from a particular college. More specifically, the figure is calculated by taking the average income an alumnus will make over his or her first 20 years after graduation and subtracting the amount paid in tuition. Schools with a high ROI tend to be better at preparing their students for the job market. We weighted this category only 15% because data was not available for all colleges considered.
After adding all the points, we gave each university a final score out of 200. The schools below have scores ranging from 80 to 177, and each has something different to offer in terms of its cost, quality, and reputation. No one college is perfect (which is why the scores vary so much) but this ranking offers you a premier selection of universities to help get you started on your search for an education in Georgia.
---
30. University of North Georgia
Dahlonega, GA
Website
Over the past few years, the University of North Georgia has grown stronger than ever. North Georgia College and State University merged with Gainesville State College, creating a new, top-performing school in one of Georgia's fastest growing regions. UNG is also Georgia's military college and puts a strong emphasis on leadership, integrity, and service. Both men and women who attend the university adopt "cadet" status when they first arrive, and they follow a rigorous daily schedule. From uniform inspections to physical fitness tests to afternoon drills, your time on campus will be perfectly planned. Of course you will take time to attend class as well, some of which have a specific focus on military history and strategy.
Net Price: $10,262/yr
Score: 79.59
29. Georgia Regents University
Augusta, GA
Website
Although it costs less than $8,000 a year to attend, Georgia Regents University is a $1 billion enterprise with some of the best academic programs in the state. It's home to the Medical College of Georgia - the 9th largest in the nation - as well as the only dental school in Georgia. GRU is one of the country's leaders in healthcare education, and its high-tech simulation labs, focus on patient care, and world-class research will more than prepare you for work in hospitals and clinics. But if you're not destined to wield a stethoscope, fear not; the Hull College of Business, Pamplin College of Arts, and other academic units at this affordable Georgia college have plenty to offer as well.
Net Price: $7,667/yr
Score: 80.88
28. Middle Georgia State College
Macon, GA
Website
Students who are looking for the traditional college combination of strong athletics and interesting academics should consider Middle Georgia State, a midsized institution and one of the most affordable colleges in Georgia. The student body is spread out across five campuses (in order of population): Macon, Cochran, Warner Robins, Dublin, and Eastman. Macon sports the main campus, complete with a residence hall and numerous academic buildings, while Eastman hosts the aviation programs and Warner Robins is in close proximity to an air force base. MGA also supports a sizeable online segment and special programs for adult learners, ambitious high schoolers, and high achieving freshmen.
Net Price: $9,206/yr
Score: 80.89
27. Brenau University
Gainesville, GA
Website
Brenau University is all about making connections, and not just with other people on campus. The focus here is on interdisciplinary programs, so you can practice your Spanish skills by translating research for your science experiment; immerse yourself in the ecology of the Yucatan forest while studying another culture; or combine your love of business, art, and computers by getting a degree in Digital Technology. And although Brenau is officially co-ed, it's one of the top colleges in Georgia for empowering women. The school's Women's College offers tailored personal and professional support to female students, with special learning experiences and leadership initiatives to prepare women for successful careers.
Net Price: $17,319/yr
Score: 81.52
26. Berry College
Berry, GA
Website
A Christian liberal arts institution, Berry College is intimately focused on students' intellectual and spiritual growth. Notably, Berry also boasts one of the most spacious campuses in the nation. Although there are only about 2,000 students who attend, the campus encompasses an incredible 27,000 acres! Located about 70 miles northwest of Georgia, the scenic grounds are surrounded by forests, lakes, and mountains that provide a picturesque setting for nature-loving students. And Berry has come a long way from its beginning as a school for rural boys; the now co-ed institution sports a respectable 61% acceptance rate and a highly praised work experience initiative. This program provides opportunities for student employment, community work, and student-operated enterprises to ensure that everyone leaves Berry with an industrious attitude and a marketable work ethic.
Net Price: $24,431/yr
Score: 81.80
25. Agnes Scott College
Decatur, GA
Website
One of the best colleges in Georgia for women, Agnes Scott has a proud history of offering the highest caliber liberal arts education in a supportive environment. Young women learn to think critically, gain an appreciation for other cultures, and grow into assertive leaders who can take charge in their field. ASC limits its campus to just 900 students, allowing those who are admitted to form strong bonds with faculty and classmates alike - and get to know many people by name. Agnes Scott College also takes environmental causes very seriously and is known for its "urban tree forest." Combining the close-knit feeling of this community with the stately scenery, it's no wonder Princeton Review ranks ASC 8th in the nation for "best quality of life."
Net Price: $20,378/yr
Score: 85.82
24. Oglethorpe University
Atlanta, GA
Website
Despite only enrolling 1,000 students at a time, Oglethorpe University is dense with diversity. Students from nearly 30 different countries travel to Atlanta each year to attend OU, one of the premier liberal arts institutions in Georgia. It is a member of the prestigious Annapolis Group - an organization of selective liberal arts schools - and frequently makes Higher Education Community Service Honor Roll. The campus is rich in culture and opportunity, from the regal Gothic architecture to its nationally recognized art museum. OU also channels substantial resources into unique programs that aren't available elsewhere, namely the Urban Ecology degree and the Urban Leadership Program, which will train you to succeed in positions of responsibility at the community and national levels.
Net Price: $20,326/yr
Score: 86.75
23. Piedmont College
Demorest, GA
Website
Piedmont College seeks to appeal to students from all walks of life. Whether you're a young student seeking a traditional campus experience or you're a working adult looking to commute. Between its two campuses (one in Demorest and the other in Athens), Piedmont offers a combination of liberal arts and career-oriented classes to help students fulfill their aspirations, whether it's to become an art therapist or an athletic trainer. The travel study program is also popular amongst students; you can journey with a group of your closest friends and favorite faculty to Germany, Ecuador, Japan, or numerous other countries as you absorb other cultures and learn on the go.
Net Price: $17,261/yr
Score: 91.33
22. LaGrange College
LaGrange, GA
Website
LaGrange is another top Georgia college that heralds a liberal arts education as essential for producing well-rounded students. Small class sizes and an idyllic campus put LaGrange in the same category as many of the state's other top liberal arts colleges, but there's plenty that distinguishes it as well. You can earn a traditional degree in Art, Biology, English, or the like, or opt for one of LC's nine pre-professional programs. But despite the school's challenging academic life, campus leaves plenty of room for fun and frivolity. For instance, you can take a turn painting "The Rocks," on the school's central quad - two massive boulders that change design almost weekly as different student groups advertise events and express themselves through color.
Net Price: $19,684/yr
Score: 93.51
21. Gordon State College
Barnesville, GA
Website
Gordon State is an emerging leader in Georgia's public school system that has spent more than 150 years evolving and growing to meet the demands of Central Georgians. From state-of-the-art classrooms to a vibrant athletic program with NJCAA sports teams, GSC offers everything you'd get at a larger state school - but on a smaller scale. Many of its programs are associate's degrees, so it doesn't maintain quite the same graduation rate as a school with more terminal four-year options, but GSC nonetheless stands on its own as a top, cheap college in Georgia. The vast majority of its bachelor's degrees are aimed at future teachers, but newer additions in management, nursing, and the health sciences seek to attract a broader group of learners.
Net Price: $10,515/yr
Score: 93.54
20. Point University
West Point, GA
Website
Point University gives new meaning to flexibility and personalization on college campuses. You can choose from three different tracks at Point - traditional, access/adult, and online - depending on what fits your age, goals, and budget. The university is also Christ-centered, meaning its mission focuses on the need to educate students to be moral, faithful servant leaders of the 21st century. Those who take the traditional route also enjoy spiritual opportunities outside the classroom; student groups like the Fellowship of Christian Athletes and men's and women's Bible studies will provide a forum for you to ask questions and bond with other Christian students.
Net Price: $14,190/yr
Score: 93.78
19. Mercer University
Macon, GA
Website
U.S. News and World Report names Mercer University the #1 best value in the South, and for good reason. The midsize school works to keep classes small and intimate while offering the resources and connections of a much larger college. Although founded by Baptists, Mercer doesn't officially align itself with the church today. However it continues to espouse Baptist-held values, such as intellectual drive and religious freedom, and emphasizes discovery, community, and service above all. Students who embrace this love of learning and genuine pursuit of knowledge do well for themselves after graduation; the 20-year net ROI approaches $200,000.
Net Price: $20,054/yr
Score: 96.52
18. Paine College
Augusta, GA
Website
A private, historically black college in Augusta, Paine College's central mission is to prepare students to become spiritual role models and effective leaders in the African American community. The liberal arts curriculum is split between two divisions: the School of Arts & Sciences and the School of Professional Studies, the latter of which offers career-oriented degrees in business, education, communications, and nursing. Paine is surprisingly selective, with an admissions rate of just 22%, but if you are one of the few admitted you'll benefit from a litany of special programs, including the Center for Advanced Professional Studies and the Academic Center for Excellence and Success.
Net Price: $14,152/yr
Score: 97.91
17. Georgia College & State University
Milledgeville, GA
Website
As the designated liberal arts college for the state, GC is one of the best universities in Georgia if you're looking for a traditional, well-rounded education. And yet Georgia College seeks to push students beyond the typical bounds of a liberal arts experience, encouraging you to move past simple memorization to understand your major on a deeper level. And if you're a fan of the outdoors, Georgia College will more than satisfy your need for nature. Walking around campus you'll find your fellow students doing yoga on the lawn or heading out to hang with the wildlife around the nearby walking trials. GC is also home to The Outdoor Center, a technical training hub that offers education in outdoor recreation and leadership.
Net Price: $17,015/yr
Score: 98.44
16. Spelman College
Atlanta, GA
Website
Spelman College isn't for everyone, but it's perfect for the select group of students to which it caters. Originally founded as a female seminary, Spelman continues to support women's education - but now as a contemporary college for African Americans. The HBC sports a 76% graduation rate (one of the best in the nation) and a fairly selective admissions rate (54%). Spelman offers 27 majors in all the typical liberal arts topics, but what it lacks in academic breadth it more than makes up for in creativity and interdisciplinary study. For example, the Gordon-Zeto Center for Global Education provides opportunities for study abroad, on-campus international programming, and even G-STEM - which gives Spelman students the opportunity to conduct research and complete scientific field experiences abroad!
Net Price: $30,522
Score: 102.15
15. Valdosta State University
Valdosta, GA
Website
If you're an in-state resident looking for a cheap Georgia college, Valdosta State University just might the bill (literally and figuratively!). With its low tuition for locals, it's no surprise nearly 90% of those enrolled come from within Georgia. Degrees are available in just about every area imaginable, from Applied Mathematics to Speech Communication - and everything in between. Valdosta State also sports an Honors College and a special Air Force ROTC program - plus plenty of transition programs for incoming freshmen. This includes unique first-year learning communities, so you can easily connect with others over your shared love of sports, education, the military, leadership, and other popular interests.
Net Price: $13,701/yr
Score: 102.37
14. Young Harris College
Young Harris, GA
Website
Young Harris College describes itself as "a classroom unlike any other." This tagline emphasizes YHC's love of experiential learning opportunities, and you'll have plenty! Students particularly love the immersive learning experiences, which include Rhetorica, a focused program to improve your written and oral communication abilities; Bonner Leaders, in which you can step outside your comfort zone and make a difference on campus; and Ethics across the Curriculum, a set of workshops that will help you learn how to uphold traditional YHC morals across campus. Of course if these on-campus activities aren't enough for you, try traveling abroad - options include trips to France, South Korea, Morocco, Turkey, and even Fiji!
Net Price: $15,964/yr
Score: 103.55
13. Emmanuel College
Franklin Springs, GA
Website
Driven by the motto, "God with Us," Emmanuel College is a "Christ-centered liberal arts institution" with Evangelical, Pentacostal roots. Only 800 students attend this small school, but they have plenty of room to spread out on serene campus of 150 acres. Above all, EC scores high on keeping costs low and has a tuition rate well below the national average. Just as important, its financial aid programs are incredibly generous, with 90% of students receiving some type of aid! But Emmanuel has plenty more to offer than just budget-saving prices; it's a top university in Georgia for its service-oriented programs. You'll join your fellow students in trips to hospitals and homeless shelters, tutoring centers and prisons, and even summer mission trips abroad!
Net Price: $14,746/yr
Score: 105.91
12. Fort Valley State University
Fort Valley, GA
Website
Even a cursory glance at Fort Valley State's 100 year-long history reveals a clear commitment to African American culture and deep intellectual growth. What started as a humble land-grant university has grown into one of the best Georgia colleges for biology, chemistry, and agriculture. What's more, FVSU sends more African American students to medical and dental graduate programs than any other state school in Georgia. But don't worry, FVSU has plenty to offer non-scientists as well. For example, the College of Education offers CAEP-accredited programs that are dedicated to producing proficient educators in every subject. FVSU even supports an initiative called Real Men Teach, which recruits African American males for in-demand careers in education.
Net Price: $14,122/yr
Score: 106.98
11. Georgia Southern University
Atlanta, GA
Website
If you're looking for a large, urban university with a strong reputation for academics, research, and athletics, you've already found it. With 20,500 students, 120+ undergraduate and graduate degrees, and 15 NCAA Division I teams, Georgia Southern hits every item on even the longest wish list. And since it's located just south of Atlanta, it's easy to travel into the city for internship and work experiences - plus nightlife and entertainment, of course! On that note, GSU is also an easy drive from Savannah, Hilton Head, and the Atlantic coast, so you'll have no excuse to claim boredom (when you're not studying, that is). Combine all this with 200+ student organizations and more than two-dozen research centers and labs, and it's easy to see why so many GSU grads excel; in fact, the 20-year net ROI is nearly $250k.
Net Price: $16,032/yr
Score: 107.96
10. Kennesaw State University
Kennesaw, GA
Website
There's a lot of change going on at Kennesaw State University. Already prominent as one of the top universities in Georgia, KSU won approval to merge with Southern Polytechnic University. The merger created a new, improved Kennesaw State with an incredibly diverse range of programs and the promise of much more to come in the future. Being 30 minutes north of Atlanta puts you a short drive from the action of the city—fun neighborhoods, great restaurants, and plenty of internship opportunities. On campus, you will find more than 30,000 students representing more than 130 countries - and with over 300 student organizations, you're sure to always find something to do. Average 20-year ROI is strong at $230,500.
Net Price: $16,232/yr
Score: 109.51
9. Columbus State University
Columbus, GA
Website
Columbus State is a mid-size school in Georgia's second largest city by the same name. Home to 8,200 students and more than 90 student organizations, whatever your interests may be, there's always something to do when you're not in class. The Student Recreation Center includes a 37' climbing wall, yoga classes, two basketball and racquetball courts—and more. You're guaranteed more than a good time while you're at Columbus State; the school is a solid investment as the 20-year return is an average of $217,400. Plans are currently underway for new science laboratory facilities, a sure step in furthering Columbus State's position as a top-tier choice amongst affordable colleges in Georgia.
Net Price: $10,612/yr
Score: 109.69
8. Toccoa Falls College
Toccoa Falls, GA
Website
Pretty as it may be, Toccoa Falls is so much more than the waterfall after which it's named. This school, perched in the hills of northeastern Georgia, is as rural as it is scenic. And with fewer than 1,000 students, Toccoa is an excellent choice for students who may feel intimidated by larger universities. If you attend TFC, you will get the best in Christ-centered education—truly, Toccoa is committed to bringing a biblical worldview together with hard-hitting academic excellence. The school is divided into three divisions: Arts and Science, Christian Ministries and Professional Studies. The falls, by the way, are one of the largest in the United States and only a short walk from your front door.
Net Price: $18,337/yr
Score: 109.95
7. University of West Georgia
Carrollton, GA
Website
The University of West Georgia has built a solid reputation and earned a place of respect in the Georgia school system in the last 100 years. Originally UWG opened in 1908 as an agricultural and mechanical school to support the state's rural workers. Today, UWG holds its own against some of the best universities in Georgia, welcoming more than 10,000 students every year. Although the University of West Georgia is in a small-town setting, never fear. Atlanta is only an hour away and the school even brings big-name artists to campus as part of their fall concert series.
Net Price: $13,988/yr
Score: 113.20
6. Albany State University
Albany, GA
Website
If you want to participate in a proud athletic tradition, Albany State University may be the school for you. In the last 30 years, the Rams have taken home the conference title nearly 50% of the time. In fact since 1972, the Rams have won 17 SIAC titles! The school also fields baseball/softball teams and basketball team, as well as cross-country. As one of the top colleges in Georgia, admission is competitive; only 47% of applicants make it in. Nationally, ASU is well-known for its education program and, on top of that, is one of only 20 American institutions with an American Academy of Forensic Sciences-accredited forensics program. Academics? Check. Athletics? Check. Albany has it all.
Net Price: $12,203/yr
Score: 113.45
5. Georgia State University
Atlanta, GA
Website
Hands-down, Georgia State University is one of the best colleges in Georgia. Saying that Georgia State wants to make global citizens of its students doesn't even begin to do the school justice. The Panthers of Georgia State are a diverse crowd, hailing from every state in the U.S. and more than 150 countries, helping make this one of the most diverse student bodies in the country. This research university stands proudly in the heart of Atlanta's financial district. When you graduate, you are sure to have excellent connections. You can find the school's nearly 180,000 alumni all over the world. Oh, and a $268,300 ROI over 20 years doesn't hurt, either.
Net Price: $15,609/yr
Score: 120.36
4. Clayton State University
Morrow, GA
Website
Opened in 1969 to meet the needs of a growing metropolitan city, Clayton State University sits on the southern reaches of greater Atlanta. Not only are you on the doorstep of Fortune 500 companies less than an hour away, Clayton State is also the only university in America adjacent to both state and national archives facilities. You'll also be excited to here that on-campus apartments include special amenities - including a swimming pool! Looking for a good deal? You really can't top Clayton. At just over $10,000 a year, this is one of the most affordable Georgia colleges around. And with a $240,300 ROI over 20 years, you don't want to overlook this great investment.
Net Price: $10,898/yr
Score: 128.15
3. Emory University
Atlanta, GA
Website
What is there to say about Emory that hasn't already been said? Recognized as one of the top 50 research universities in the world, Emory's 15,000 students are split almost 50-50 between undergrads and graduate students. If you want to be counted among them, you'll have to bring your "A game," as the acceptance rate is only 27%. Everyone knows Emory's reputation as a cutting-edge research university, but the school has also been counted among the 10 "most amazing college campuses." The graduation rate is an impressive 89% and graduates go on to get an average $405,400 return for their investment over 20 years.
Net Price: $28,203/yr
Score: 147.26
2. University of Georgia
Athens, GA
Website
In the heart of one of the nation's most beloved college towns, the University of Georgia is a one-of-a-kind experience. Just off campus you'll find quaint streets with fun shops, restaurants, coffee shops and more. UGA even started a "Fresh Food Bus" that takes students to the farmers' market. On campus, the pride of UGA is a new 300,000 sq ft veterinary medical center complete with hospital facilities, an equine performance arena, classrooms and research facilities. Chartered in 1785, UGA holds the distinction of being America's first public institution of higher education. Today, UGA is building its reputation as one of the best Georgia colleges. Aspiring Bulldog? UGA offers second-to-none support for students, hence its excellent 85% graduation rate.
Net Price: $13,287/yr
Score: 152.32
1. Georgia Institute of Technology
Atlanta, GA
Website
For being one of the best schools in the state, Georgia Tech also ranks highly among cheap colleges in Georgia. Georgia Tech is all about discovering what's next in technology to overcome the challenges of the 21st century—and that's not just a slogan. After the devastating 2010 earthquake in Haiti, Georgia Tech was on the ground, working to set up safe housing for survivors. Georgia Tech proudly claims the title "Nerd University." Besides, with an average 20-year ROI of $796,300, the title of "nerd" is pretty well compensated. Don't worry, Yellow Jackets still know how to have fun. There are more than 400 student organizations, excellent sports teams, and countless events year round at Tech, one of the best colleges in Georgia.
Net Price: $12,187/yr
Score: 177.26
Sources:
College Navigator
Pay Scale
About the Author:
Iris Stone began her writing career as a freelance writer and researcher. She now owns and operates a writing and editing firm that works with clients all across the country. Her work has included articles related to education policy, colleges and universities, academic programs, and careers.