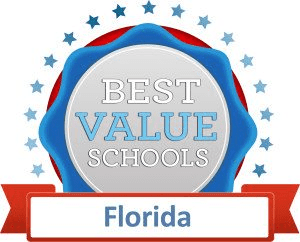 By Iris Stone
Even mentioning the word "Florida" likely brings up thoughts of theme parks, sandy beaches, cruise ships, and retirement communities - and it's certainly true that Florida packs a lot of character into just one state. But Florida also excels when it comes to college education, and students who want warm weather, southern charm, and quality academics all in one place may find their answer here.
Need flexibility? Check out our ranking of best value online colleges and universities in Florida.
When starting your school search, narrowing down the location is just one part of your decision. It can be complicated to determine the perfect mix of qualities that will make your college experience an unforgettable one. But there are a few indicators that most students will agree hold high appeal - factors like cost, student satisfaction and retention, selectivity and popularity, and long-term alumni success. Using a combination of these metrics, we've produced a top 30 ranking of the absolute best values in the Floridian education system.
Our Ranking Methodology:
Graduation Rate: This indicator refers to the percentage of students who complete their degree within 150% of normal time (six years for a typical four-year degree program). Schools that perform well in this area have a track record of keeping students engaged and successful for their entire time on campus. We weighted this category 30% of the total and retrieved the information from College Navigator.
Net Price: In order to make sure that cost was still a factor in the ranking, we also considered overall net price as an indicator. Taken from data on College Navigator, "net price" is an approximate value that refers to the average amount of money a student could expect to pay each year after taking into account tuition, room and board, living expenses, scholarship awards, and financial aid packages. We weighted this category 25% of the total.
Acceptance Rate: Academically challenging, popular universities tend to be more selective and thus have a lower acceptance rate. In order to pinpoint those colleges that boast rigorous academics and also receive a large number of applications, we considered acceptance rate - the percentage of students out of the total number of applicants who receive an acceptance letter. We retrieved this information from College Navigator and weighted it 30% of the total.
20-Year Net Return on Investment: Taken from information on the website PayScale, this statistic provides a picture of how much students can expect to make after they graduate from a particular college. More specifically, the figure is calculated by taking the average income an alumnus will make over his or her first 20 years after graduation and subtracting the amount paid in tuition. Schools with a high ROI tend to be better at preparing their students for the job market. We weighted this category only 15% because data was not available for all colleges considered.
After adding all the points, we gave each university a final score out of 200. The schools below have scores ranging from 85 to 160, and each has something different to offer in terms of its cost, quality, and reputation. No one college is perfect (which is why the scores vary so much) but this ranking offers you a premier selection of universities to help get you started on your search for an education in Florida.
---
30. Saint Leo University
St. Leo, FL
Website
Named after Pope Leo The Great, Saint Leo University is not only the oldest, but also one of the best universities in Florida and the southeast region according to US News. This Catholic university is founded upon a liberal arts core of science and humanities that provides students with a strong foundation for their faith and knowledge. Students can then select from dozens of majors in academic and professional subjects ranging from Biology to Marketing and Social Work. Rigorous coursework, low tuition, and a $265,000 ROI from PayScale.com all put SLU high on our list.
Net Price: $19,466/yr
Score: 85.54
29. Trinity Baptist College
Jacksonville, FL
Website
Founded by the Trinity Baptist Church and accredited by the Transnational Association of Christian Colleges and Schools, Trinity Baptist College offers students of faith a spiritual education at an affordable college in Florida. From Education and Business to Biblical Studies and Music, TBC students have a range of promising and challenging degree choices undergirded by devotion to Christ. Music lovers in particularly will be drawn to LifeSong, TBC's traveling devotional music group. And thanks to its location in the heart of Jacksonville, TBC gives students the opportunity to explore beautiful beaches and the downtown and metropolitan areas of the largest city in Florida.
Net Price: $11,798/yr
Score: 85.56
28. Eckerd College
St. Petersburg, FL
Website
One of forty liberal arts colleges profiled in Loren Pope's Colleges That Change Lives, Eckerd offers more than just a pretty view (although the mile-long Gulf Coast waterfront doesn't hurt). This top Florida college combines a robust liberal arts education in the humanistic tradition with innovative interdisciplinary undergraduate research opportunities, such as D.A.R.W.I.N., a computer and marine science project designed to model dolphin behavior. With a nearly 70% graduation rate, and $266,000 ROI, students can be confident in their future at Eckerd. Plus, they can always enjoy sailing, kayaking, fishing, and waterskiing through Eckerd's Waterfront Program.
Net Price: $31,893/yr
Score: 87.51
27. Nova Southeastern University
Ft. Lauderdale, FL
Website
Among cheap colleges in Florida, few other schools can match Nova Southeastern University for sheer academic breadth and depth. With 140 degree programs available to undergraduates alone, along with groundbreaking research opportunities in fields such as medicine, oceanography, oncology, psychology, dentistry, and autism studies, students have a range of opportunities that is only limited by their imagination (and time)! But NSU doesn't put quantity before quality; state-of-the-art research facilities and technology and expert faculty (no teaching assistants here!) mean that students get more than what they pay for. The proof is in the pudding: with a $200,000 ROI on PayScale.com, NSU graduates get more than what they pay for.
Net Price: $24,833/yr
Score: 91.79
26. University of Tampa
Tampa, FL
Website
With 200 degree programs and 1,000 internship opportunities from which to choose, the University of Tampa can seem a bit overwhelming at first glance. But these opportunities are all brought to you by distinguished faculty who are there to teach first and do their own research second. In fact, like many of the best Florida colleges, UT employs no teaching assistants whatsoever, maintaining a 17:1 student to faculty ratio to provide the best learning experience for students. Whether students wish to pursue a degree in Aerospace Studies, Cybersecurity, or Entrepreneurship, they are guaranteed to get direct access to and guidance from experts who can show them the path to success.
Net Price: $27,391/yr
Score: 92.32
25. Jacksonville University
Jacksonville, FL
Website
With a small class sizes, personalized wellness and career resources, and a multitude of professional programs, Jacksonville University manages to combine the respective advantages of a liberal arts college with that of an urban comprehensive university. Alongside more traditional offerings in business, education, and nursing, JU is also noted for its aviation program (partnered with Aerosim Flight Academy) and Naval Reserve Officer Training Corps (the second largest in the nation). Students can also enjoy modern apartment-style residence halls, the newly renovated Swisher Theater, and NCAA Division I athletics to complete their experience at this top Florida college.
Net Price: $20,538/yr
Score: 96.00
24. Rollins College
Winter Park, FL
Website
As Florida's oldest post-secondary institution, Rollins College has a storied history filled with rich tradition and intellectual heritage. Students at Rollins engage with the liberal arts through such disciplines as anthropology, economics, and theater studies, and use this knowledge to enrich not only their future, but their present as well. What's more, Princeton Review has named Rollins' stunning campus on the banks of Lake Virginia one of the most beautiful campus in the country for several years running, and the school itself is regularly ranked the best Florida college regionally on US News lists.
Net Price: $32,621/yr
Score: 96.29
23. Southeastern University
Lakeland, FL
Website
This small Christian university is the largest Assemblies of God educational institution in the US, offering affordable, non-denominational higher learning for students of faith. Students can choose from 45 majors in schools ranging from Behavioral/Social Sciences and Business/Legal Studies to Christian and Ministry. Students' spirituality is augmented by strong Christian values in the classroom as well as the administration. Southeastern also holds an annual National Leadership Forum to address servant leadership in the academic, business, and church communities. Past speakers have included George W. Bush and Tim Tebow, bringing students closer to national role models who use their faith to lead others.
Net Price: $19,679/yr
Score: 97.34
22. Bethune Cookman University
Daytona Beach, FL
Website
As a charter member of the United Negro College Fund since its inception in 1943, Bethune Cookman University has long been dedicated to advancing the cause of affordable education. This cheap college in Florida offers practical degree programs in seven schools including nursing, engineering, and business. But BCU is perhaps best known for its sporting events, whether it be their fierce intra-state football rivalry with Florida A&M, or the pre-game performances from their marching band, The Pride, which appeared in the film Drumline. In short, BCU provides a full college experience for half the price.
Net Price: $16,193/yr
Score: 97.72
21. Florida Gulf Coast University
Fort Myers, FL
Website
At Florida Gulf Coast University three values are paramount: sustainability, excellence, and service. The school has set aside 400 acres of its sprawling campus specifically for nature preservation, and it has even constructed lakes to promote local ecology. What's more, the university supports a 15-acre solar field that has reduced FGCU's reliance on the grid by 18%. FGCU students also devote a combined nearly 200,000 service hours a year to the community. Excellence pervades all aspects of the FGCU community, but particularly the classroom, where students can pursue 51 different degrees at this top-tier southern university.
Net Price: $12,948/yr
Score: 100.94
20. Florida Atlantic University
Boca Raton, FL
Website
In 1964, Florida Atlantic University became the first public university in southeast Florida. In a short time, it has grown from a miniscule research program into one of the top universities in Florida, with 30,000 undergraduate enrolled, affiliations with major research institutions, and NCAA Division I athletics. Yet FAU is also known for being the most ethnically, racially, and culturally diverse school in Florida's State University System. Drawing students from all over the state and country, FAU has proven its effectiveness by giving students a great return on their investment: $266K, as reported by PayScale.com.
Net Price: $13,360/yr
Score: 101.01
19. Carlos Albizu University Miami
Doral, FL
Website
At Carlos Albizu University, they understand the best way to learn is by doing. That's why all academic programs, from psychology and criminal justice to speech/language therapy and pathology, feature extensive hands-on work and observation components. With three clinics in Miami and San Juan acting as external practicum sites, students can develop actionable professional skills while simultaneously earning a degree and serving the community. Top caliber academics and professional practitioners - not teaching assistants or graduate students - teach all classes, providing great depth of insight to eager students. This affordable Florida college also makes it easy to finance your education by providing 75% of students with financial aid in the form of grants, scholarships, and work-study programs.
Net Price: $25,030/yr
Score: 101.34
18. Florida Institute of Technology
Melbourne, FL
Website
Founded in 1958 to educate professionals at the Kennedy Space Center, the Florida Institute of Technology is a rigorous technological institution that provides world-class instruction in a variety of STEM disciplines. Even within the engineering program (which takes 55% of enrollment), students can choose among biomedical, aeronautic, electrical, and chemical specializations, just to name a few. And despite being the only independent technological institution in the southeast, it has been ranked by the Fiske Guide as one of the top such schools in the country. FIT's attractive price tag and excellent academics also makes it a great investment, giving it the #1 ROI among Florida colleges.
Net Price: $30,477/yr
Score: 102.41
17. Keiser University
Ft. Lauderdale, FL
Website
What sets Keiser University apart from all the other cheap, career-focused institutions in Florida? With program specific accreditation in pragmatic degrees such as accounting, biomedical sciences, and finance, Keiser unites the latest findings and insights in your field of study with the latest technology to prepare you to leap into a career. Keiser is also unique in that they offer small, personalized coursework one class at a time. Students take a new class every four weeks, which can help them focus and retain material so they can gain fundamental understandings that will last a lifetime.
Net Price: $21,129/yr
Score: 105.55
16. Flagler College
St. Augustine, FL
Website
Located in historic St. Augustine, the nation's oldest city, Flagler College is probably best known for its nationally ranked beautiful campus and architectural stewardship. Yet with just a 35% acceptance rate, Flagler also distinguishes itself as one of the best comprehensive liberal arts colleges in the southeast. By combining classroom theory with community practice, the college seeks to engage and enrich both students' hearts and minds. After all, how many cheap Florida colleges offer "community integrated education" in their curriculum, where the coursework is taken to the historic streets of St. Augustine?
Net Price: $21,914/yr
Score: 105.55
15. Johnson University
Kissimmee, FL
Website
Johnson University in Kissimmee, FL, is dedicated to producing faith leaders with exceptional academic acumen. Affiliated with the Independent Church of Christ under the Johnson University system, Johnson awards four-year bachelors degrees in Church Ministry, Bible Studies, Humanities, and Christian Education. Bible and Ministry are the cornerstones of the academics at Johnson, where all students must double-major by choosing a second focus alongside their spiritual curriculum. Abiding by core values of Christian faith, service, excellence, and equality of opportunity, students at Johnson gain a spiritual and intellectual foundation that they will carry for the rest of their lives.
Net Price: $14,001/yr
Score: 106.66
14. Warner University
Lake Wales, FL
Website
Located in quaint Lake Wales, Warner College is the picture of an intimate, Christian liberal arts college. This cozy campus features just 1,200 students in a spiritual community affiliated and integrated with the Church of God. Warner offers spiritual and ministry services to students alongside 20 degree programs in religious and academic programs. But what may be most unique about Warner is their HEART program, which stands for Hunger Education and Resources Training. HEART simulates the conditions of a Third World country to educate students in "appropriate technology" and provide experiential insight into conditions and problems in other parts of the world.
Net Price: $15,545/yr
Score: 108.66
13. The Baptist College of Florida
Graceville, FL
Website
The only institution of higher learning supported by the Florida Baptist Convention, the Baptist College of Florida is the top resource in the state for spiritual, professional, and liberal arts education in the Baptist tradition. BCF offers degrees in theology, music, counseling, education, and business, and the curriculum works to incorporate a strong foundation of spirituality, service, and integrity into all courses. BCF is also nationally accredited by the National Association of Schools of Music. All told, students of faith will find a great price, an historical tradition of Christian leadership and service, and meaningful academic work at BCF.
Net Price: $6,812/yr
Score: 110.84
12. Florida Memorial University
Miami Gardens, FL
Website
Florida Memorial University is a great resource for ambitious students of color looking for an affordable Florida college. Founded in 1879, this vibrant, historically black college is also one of only 40 members of the United Negro College Fund, which provides educational assistance based on race and need. But FMU is more than just a good deal; owing to rigorous curriculum and extensive career resources, FMU graduates have the 6th-highest starting salaries in the state. It's no wonder they have such a competitive acceptance rate; at just 21%, you'll need strong credentials to even be considered.
Net Price: $15,635/yr
Score: 111.04
11. Florida Southern College
Lakeland, FL
Website
At Florida Southern College, students gear up for successful careers in the best way possible: with real-world experience and a demanding, engaging curriculum. Between mandatory internships for pay or course credit and junior-year study abroad programs at no extra cost, students are encouraged to develop as much as possible off-campus. Past students have even found internships with big-name companies like NASA, Geico, FOX, Marrill Lynch, and ESPN! Not that it's easy for them to leave; with the largest single-site collection of Frank Lloyd Wright architectural designs in the world, the Princeton Review has twice named FSC's campus the most beautiful in the country.
Net Price: $23,395/yr
Score: 112.36
10. New College of Florida
Sarasota, FL
Website
The only public liberal arts college in the state, the New College of Florida is a unique school for unique students. New College features a bayfront campus in Sarasota, just outside of an arts district that is home to such cultural hubs as the John and Mable Ringling Museum of Art and the Asolo Repertory Theater. But what really sets New College apart is its academics, as the school rejects grades in all forms. Instead, students enjoy an individualized curriculum and spend the entire month of January engaged in independent study. Add to this a mandatory senior thesis project (regardless of discipline) and it's easy to see why New College is the perfect cheap college in Florida for strong-willed, independent thinkers.
Net Price: $2,353/yr
Score: 121.24
9. Florida Agricultural and Mechanical University
Tallahassee, FL
Website
FAMU is the only public, historically black college in the state of Florida, and also one of the largest in the nation by enrollment. But the lack of competition hasn't made them slack: the National Science Foundation has ranked FAMU #1 among all HBCUs in the nation for research and development expenditures annually. FAMU is also a member-school of the Thurgood Marshall College Fund, which financially supports nearly 300,000 African-American students around the country in their pursuit of higher education. Combined with an already low tuition, this makes FAMU an attractive choice for students looking for a rigorous and affordable college in Florida.
Net Price: $12,075/yr
Score: 124.08
8. University of North Florida
Jacksonville, FL
Website
Why has the Princeton Review ranked the University of North Florida among its best value colleges for so many years? For one thing, its 53 undergraduate degrees include numerous top programs, including nationally recognized opportunities in business, coastal biology, nursing, nutrition, and music. In fact, UNF's Jazz studies program is internationally recognized, and ensembles perform regularly at popular festivals around the globe. What's more, UNF's Transportation Logistics Program within the business school is notably ranked above programs at Stanford, Harvard, Penn, and Wisconsin. All in all, it's a no brainer that UNF is one of the best colleges in Florida.
Net Price: $13,244/yr
Score: 127.59
7. University of Miami
Coral Gables, FL
Website
Ranked 53rd in Forbes' list of the top research universities in the nation, the University of Miami is a cheap Florida college with a lot to offer. From UM's oceanography and atmospheric studies facilities in Virginia Key to their 1.3 million-volume library system and nationally dominant NCAA Division I football team, there is no shortage of opportunities for even the most ambitious students. UM is also known for its bi-weekly school newspaper, The Miami Hurricane, which has been honored in the Associated College Press Hall of Fame for its commitment to excellence over nearly 100 years.
Net Price: $33,284/yr
Score: 130.32
6. University of West Florida
Pensacola, FL
Website
Nature lovers will find a home away from home at the University of Western Florida. Set on a natural reserve in wild Pensacola, the 1,600-acre campus of this top university in Florida consists of rolling hills and woodland areas that run alongside the scenic Escamba River. The coastline of Pensacola Bay also makes UWF's underwater archeology program one of the most prestigious in the world. The rich resource draws researchers and grant money from around the globe to fund excavations in which both graduate and undergraduates can participate. UWF also has waterfront property on Santa Rosa Island, where students can pursue research, academic, and of course fun recreational opportunities.
Net Price: $10,759/yr
Score: 135.68
5. University of Florida
Gainesville, FL
Website
With a top 15 ranking out of all public universities in the country (according to U.S. News), and membership in the Association of American Universities (the only elected member in the state), the University of Florida is easily one of the top colleges in Florida. This prestigious, historical college boasts a 2,000-acre campus with over 19 historical academic buildings, dormitories, and churches alongside world-class modern athletic and performance facilities. And with an impressive 88% graduation rate, you can be certain that UF will put you on the path to success in your education, degree, and career.
Net Price: $14,786/yr
Score: 142.70
4. Florida International University
Miami, FL
Website
Florida International University is Miami's first and only public research university, and it's not hard to see why they haven't bothered to add another one. FIU is not only one of the best universities in Florida; among 191 programs of study and 280 degree programs, FIU houses the 6th highest ranked international business program in the U.S. And with a net price of just over $11K, it's an attractive choice for all the top students in Florida. In fact, FIU attracts more southern Florida valedictorians than any other school in the country and boasts a competitive acceptance rate to boot.
Net Price: $11,552/yr
Score: 146.82
3. Florida State University
Tallahassee, FL
Website
Founded in 1851, Florida State University is not only one of the top colleges in Florida; it is also the oldest continuous site of higher education in the state. FSU is accredited by the Southern Association of Colleges and Schools (SACS) and features national ranked programs in business, engineering, medicine, social policy, and more. But FSU offers more than just a historical tradition of academic excellence: on its 500 acre campus, FSU hosts everything from NCAA Division I athletics to the FSU Museum of Fine Arts (FaMo), as well as student media groups that include both radio and television programming.
Net Price: $16,737/yr
Score: 147.45
2. University of South Florida
Tampa, FL
Website
The University of South Florida is one of only three top Florida colleges to receive top tier research classification by the Carnegie Foundation for the Advancement of Teaching. With an annual budget of over $1.6 billion, this impressive institution supports an incredibly high level of research and education across three campuses. Tampa is home to most of the doctoral research at USF, as well as the colleges of nursing, medicine, public health, and pharmacy. The waterfront campuses at St. Petersburg and Sarasota are more intimate, but they still offer a combination of over 40 degree programs, including nationally recognized digital media/journalism and hospitality programs.
Net Price: $11,355/yr
Score: 147.72
1. University of Central Florida
Orlando, FL
Website
At the top of our list we have the University of Central Florida, a school that boasts the highest undergraduate enrollment in the country. What attracts these 52,000 young students to UCF every year? Ranked a top up and coming university by U.S. News, UCF has attracted national attention with an exceptional 70% graduation rate and an impressive 20-year net ROI of more than $300k. UCF is hands down one of the best colleges in Florida; in addition to being a space-grant institution, the school is also known for its contributions in optics, simulation and modeling, digital media, engineering, computer science, and more.
Net Price: $14,745/yr
Score: 159.11
Sources:
College Navigator
Pay Scale
About the Author:
Iris Stone began her writing career as a freelance writer and researcher. She now owns and operates a writing and editing firm that works with clients all across the country. Her work has included articles related to education policy, colleges and universities, academic programs, and careers.