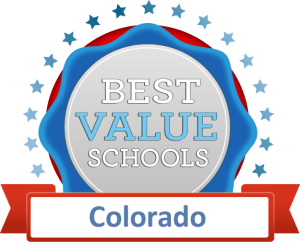 By Iris Stone
In this ranking, we examine top value universities and colleges in Colorado. For a look at flexible online options, see our ranking of the best value online Colorado colleges and universities.
If you're looking to go to school out West, it will be difficult to find a better spot than Colorado. In general, there are a lot fewer universities in this region than there are on the East Coast, and some states only have a few really serious options. But Colorado is a bright spot, full of spectacular options with equally spectacular mountain views. The state's public school system is especially strong, and between popular universities like University of Colorado and the University of Denver, you can't go wrong! The independent colleges in Colorado offer just as much quality - more so in some cases - and the Colorado School of Mines and Colorado College are both worth a close look.
While some would say that you can't put a price on the picturesque views and natural access you'll at any Colorado school, the reality is that most college applicants are trying to stick to a budget. Enter our "best value" ranking, a favorite of the budget-conscious, which will help you identify the universities that offer the most bang for their buck. These schools vary greatly in their exact cost and quality, but they all strike a balance that will make you feel like your money has been well invested.

Our Ranking Methodology:
Graduation Rate: This indicator refers to the percentage of students who complete their degree within 150% of normal time (six years for a typical four-year degree program). Schools that perform well in this area have a track record of keeping students engaged and successful for their entire time on campus. We weighted this category 30% of the total and retrieved the information from College Navigator.
Net Price: In order to make sure that cost was still a factor in the ranking, we also considered overall net price as an indicator. Taken from data on College Navigator, "net price" is an approximate value that refers to the average amount of money a student could expect to pay each year after taking into account tuition, room and board, living expenses, scholarship awards, and financial aid packages. We weighted this category 25% of the total.
Acceptance Rate: Academically challenging, popular universities tend to be more selective and thus have a lower acceptance rate. In order to pinpoint those colleges that boast rigorous academics and also receive a large number of applications, we considered acceptance rate - the percentage of students out of the total number of applicants who receive an acceptance letter. We retrieved this information from College Navigator and weighted it 30% of the total.
20-Year Net Return on Investment: Taken from information on the website PayScale, this statistic provides a picture of how much students can expect to make after they graduate from a particular college. More specifically, the figure is calculated by taking the average income an alumnus will make over his or her first 20 years after graduation and subtracting the amount paid in tuition. Schools with a high ROI tend to be better at preparing their students for the job market. We weighted this category only 15% because data was not available for all colleges considered.
After adding all the points, we gave each university a final score out of 200. The schools below have scores ranging from 78 to 166, and each has something different to offer in terms of its cost, quality, and reputation. No one college is perfect (which is why the scores vary so much) but this ranking offers you a premier selection of universities to help get you started on your search for an education in Colorado.
Ranking the Top Value Universities and Colleges in Colorado
15. Regis University
Denver, CO
Website
One of nearly 30 Jesuit institutions scattered across the United States, this Colorado university stands for values-centered education, the pursuit of truth, and dedication to the community. Service learning plays a central part in every student's education, whether you're studying in the Rueckert-Hartman College for Health Professions or the College of Computer and Information Sciences. In the past, students have taken "immersion trips" to Mexico, volunteered with the homeless, and hosted community health fairs with local high schools. In keeping with its commitment to fostering a sense of togetherness and inclusivity, Regis also offers plenty of on-campus events for students, including special activities for commuters and the Sophomore IN program that will help you "gain a great sense of purpose and meaning."
Net Price: $26,225/yr
Score: 78.0
13. Johnson & Wales University Denver
Denver, CO
Website
Although this Colorado university's primary campus is in Providence, Rhode Island, it has satellite locations in some of the country's most appealing cities - including Miami, Charlotte, and yes - Denver. And Denver is one of the best possible sites for a college student; it's easily walkable, bike-friendly, has a pristine park system, and is a booming urban center for new businesses. This profile provides the perfect backdrop for a school like Johnson & Wales, whose undergraduate programs focus largely on business-related degrees and career training. Food service management, culinary nutrition, hospitality, tourism, and event planning topics take center stage, as well as options such as entrepreneurship and fashion design for creative thinkers.
Net Price: $24,820/yr
Score: 82.0
13. Colorado Mesa University
Grand Junction, CO
Website
This Colorado university is all about accessibility - a trait that extends far beyond its low tuition and status as an affordable college in Colorado. The student population is largely regional and includes a number of working adults and parents; as such, CMU provides online, evening, and weekend courses for non-traditional learners. The campus also offers plenty of appeal to outdoor adventurers. Situated between both the mountains and desert, Colorado Mesa provides convenient access to plenty of recreation activities - and the 300+ days of sunshine each year practically eliminate any excuse you could have to stay indoors!
Net Price: $13,000/yr
Score: 82.0
12. Colorado Heights University
Denver, CO
Website
Speaking of accessibility, this Colorado university is the go-to choice for international students and first-generation college applicants. Between the local immigrants who attend and the international students who seek a true American education (you can count individuals from more than 60 countries on campus) Colorado Heights is truly the best college in Colorado for diversity. And yet there are few language barriers on campus; the school's nationally recognized Intensive English Courses can take students from quiet to fluent in practically no time. CHU also understands that each student is unique and has specific goals, and so it offers personalized advising and meetings with Student Services staff members to help you find your fit on campus.
Net Price: $4,206/yr
Score: 93.0
11. Adams State University
Alamosa, CO
Website
This Colorado university is currently in a period of remarkable growth, making it the perfect time for you to apply! As its student population surges toward 4,000, its acceptance rate (which now stands at a relatively safe 60%) is likely to fall in the coming years. Fueling Adam State's popularity is its vibrant campus atmosphere, state-of-the-art-facilities (which include $65 million in recent improvements), and its manicured campus. ASU also deserves a nod as the state's first officially designated Hispanic Serving Institution, making it another one of the top universities in Colorado for diversity and inclusivity.
Net Price: $9,886/yr
Score: 97.0
10. University of Colorado Colorado Springs
Colorado Springs, CO
Website
This Colorado university traces its roots to a really great bargain - a businessman sold the original 80 acres of campus space for just $1! This cheap Colorado college continues its reputation for bargain hunting to this day by passing on the savings to its students, both in-state and out. In exchange for a reasonable tuition check, you'll by into some of the best views in Colorado, including a scenic look at the rugged Austin Bluffs and looming Rocky Mountains. But there's plenty to do on campus, too. You'll have your pick of activities to supplement your academic goals, whether that means joining your classmates for some power yoga or practicing your rhymes at a poetry slam.
Net Price: $13,722/yr
Score: 101.0
9. Metropolitan State University of Denver
Denver, CO
Website
More than simply providing an education, this Denver university professes to be in the business of "transforming lives." Its first priority is "broad access," which means catering to low-income and non-traditional students. In fact, 40% of the campus population attends part-time, while more than 30% are the first in their family to attend college. What's more, MSU is the best Colorado college for granting STEM degrees to students of color, making it a top-choice for science nerds and minorities alike. In total, MSU offers nearly 60 degree programs for undergrads, including individualized study for those looking to break the mold.
Net Price: $9,145/yr
Score: 104.0
8. University of Denver
Denver, CO
Website
Th Denver university is almost old as the eponymous city itself, and it hasn't wasted any time over the course of its 150-year history. The school has burgeoned into a sprawling campus that supports more than 11,000 students from over 80 nations, and it has earned a reputation as a top college in Colorado for experiential learning and community impact. In fact, there's no reason you'll have to limit your collegiate experience to the city of Denver. The university strongly encourages students to immerse themselves in other cultures, and it puts is money where it's mouth is! You could apply for the Cherrington Scholars Program, which provides financial assistance - including round-trip airfare and visa application fees - to off-set the costs of studying abroad.
Net Price: $33,625/yr
Score: 108.5
7. University of Colorado Denver
Denver, CO
Website
Also located in Denver is one of the premier locations of the University of Colorado, which actually consists of three distinct campuses throughout the metropolitan area. Travel to CU South Denver to participate in numerous K-12 outreach programs, visit the popular museum, and enjoy a one-of-a-kind "Wildlife Experience" in the cultural center. Alternatively, health science students can benefit from high-tech resources at the Anschutz Medical Campus, while adventurous learners can weave seamlessly into city life on the urban campus in downtown Denver. And in fact, at this school the city is the campus, where you will find internships, cultural experiences, and entertainment venues - all on your walk to class!
Net Price: $13,518/yr
Score: 125.0
6. University of Colorado Boulder
Boulder, CO
Website
If Denver isn't exactly your scene, you might try your luck at this Colorado university, the flagship university of the UC system. Whether you choose Boulder for its breathtaking mountain views, international recognition in numerous areas of research, affordable tuition, or booming social scene (almost 30,000 students attend!) you can't really go wrong at this cheap college in Colorado. Although its high acceptance rate doesn't exactly scream selectivity, UC Boulder performs levels above the competition in measures of student engagement. With an 84% annual retention rate, solid 70% six-year graduation rate, and 93% post-grad employment rate, it's easy to see how Boulder will get you more than your money's worth.
Net Price: $21,053/yr
Score: 125.0
5. University of Northern Colorado
Greeley, CO
Website
With an annual student enrollment of about 12,000, this Colorado university is certainly not the biggest school in the state. However, UNC comes in strong with big-school resources, offering students more than 200 academic programs, 300+ annual music and theatre performances, 19 NCAA Division I sports teams, and pristine on-campus facilities. UNC also makes a point of "caring for the whole bear," and provides unparalleled student support services for tutoring, career prep, and advising - plus a Center for Human Enrichment that caters to the needs of first-generation students.
Net Price: $12,978/yr
Score: 126.0
4. Colorado State University Fort Collins
Fort Collins, CO
Website
If you had tried to attend this Colorado university back in 1870, you might be out of luck unless you were a farmer looking for an education in agriculture. Fast-forward nearly 150 years, and the CSU of today has something for everyone. A blossoming research university with a national reputation in popular STEM subjects - including atmosphere science, environmental science, clean energy, and biomedical tech - CSU is busy producing highly successful graduates. Fort Collins alumni enjoy an average 20-year net ROI of $378k, and it's easy to see why! And if you're interested in living long enough to enjoy that success, CSU is the place to be; Fort Collins has been named the 4th healthiest midsize city in America.
Net Price: $14,511/yr
Score: 134.5
3. Colorado College
Colorado Springs, CO
Website
Although this selection may not exactly be a standout when it comes to affordable Colorado colleges, it nonetheless deserves recognition as one of the most unique academic opportunities for independent students. The curriculum is completely unlike what you would experience elsewhere; students take one class at a time, spending nearly 4 weeks immersing themselves in a single subject. Learning is highly experiential and personalized, and professors will know your name in every class. Life on campus is fast-paced and animated, but that doesn't mean students don't get time to relax. Regular "block breaks" give you four days of vacation to take a camping trip, hike up a mountain, or simply recharge at home.
Net Price: $24,141/yr
Score: 137.0
2. Colorado School of Mines
Golden, CO
Website
Forget top Colorado colleges - this school is one of the best of its kind in the nation. At the Colorado School of Mines, academics focus almost exclusively on applied science and engineering. With a selective 36% acceptance rate and a hefty $830,000 20-year net ROI, Mines demonstrates a clear commitment to both finding and graduating the very best students. But despite the fact that many learners at Mines are preoccupied with numbers and abstract figures, they don't live with their heads in the ground. The school advances a strong dedication to community issues and looks to focus its training on issues that matter - including environmental protection and resource protection.
Net Price: $25,138/yr
Score: 144.50
1. United States Air Force Academy
Colorado Springs, CO
Website
If you're looking for an academic experience that's completely different - and completely free - the United States Air Force Academy may be your best bet. Students spend four years in training at this military school, where coursework combines useful academic degrees, such as Aeronautics, Economics and Geosciences, and Operations Research, with rigorous military training. The campus doubles as an Air Force base and puts all incoming cadets through basic training - but the challenge doesn't stop there. Students must demonstrate both stamina and self-discipline in preparation for graduation, when they will be officially commissioned into the Air Force as second lieutenants. A narrow 17% acceptance rate proves that getting into this cheap Colorado college isn't easy, but at least paying for it is!
Net Price: $0/yr
Score: 166.5
Sources:
Pay Scale
College Navigator
This concludes our ranking of the top values universities and colleges in Colorado.
About the Author:
Iris Stone began her writing career as a freelance writer and researcher. She now owns and operates a writing and editing firm that works with clients all across the country. Her work has included articles related to education policy, colleges and universities, academic programs, and careers.