5 Popular Teaching Specialities

Are you ready to find your fit?
Teaching Specialty Areas
English
Math
Science
Music
Technology/Computer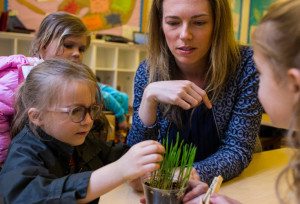 If you're considering teaching as a profession, you'll need to select a specialty area that interests you so that you can enrich your knowledge and maintain the interest of your students. Fortunately, the education field has a wide assortment of subjects from which to choose. Here is a list five popular teaching specialties that might appeal to you.
Featured Online Programs
Figuring out where to apply? These top, accredited schools offer a variety of online degrees. Consider one of these accredited programs, and discover their value today.
English Teacher
English is a subject that has a ripple effect on a student's academic career. As you improve your students' abilities in reading, composition and critical thinking, you are also giving them skills that will enable them to do better in other classes. You can concentrate on one aspect of English education, such as literature, poetry, business writing or creating content for the Internet. As an English teacher, you'll interact with students from all walks of life. The ability to communicate effectively opens the door to exciting careers for students who are interested in journalism, sales, law, technical writing and many others.
Math Teacher
Teaching math isn't just about numbers. Math professors introduce their students to analytical thinking skills that they will find useful for the rest of their lives. Students learn how to comprehend mathematical formulas, solve problems, verify solutions and think inside or outside the box. Those skills can lead to their becoming involved in engineering, information technology, physics, astronomy or even logic. Excitement is contagious. If you have a passion for mathematical challenges, your enthusiasm would go a long way toward inspiring your students to enjoy the intricacies of mathematics. Math teachers can find employment on an elementary, secondary or college level.
Related: STEM Scholarship for Women
Science Teacher
At any level, science is awesome. Learning is all about discovering new things, and science delights students and teachers alike. Scientific advances change the world daily, and those advances would be impossible without scientists. As a science teacher, you have the option to teach numerous subjects, including biology, astronomy, chemistry, physics, marine science or earth and space science. The fun of teaching science is increased when students get involved in experimentation, research and learning how the world around them works. As with teaching math or English, science teachers are needed at all levels of education.
Music Teacher
If performing arts are a passion of yours, you might want to teach music. When students learn music, they develop good habits that endure, like practicing, goal-setting, performing and teamwork. Most music teachers work with a variety of students who have a wide range of abilities and experience, as opposed to core curriculum teachers who usually concentrate on one grade level. Music teachers teach the basics of music to individuals or small groups, or they might supervise stage bands or full-sized orchestras. Opportunities and situations vary, but talented music teachers are always in demand.
Technology/Computer Teacher
Computers are everywhere today, and almost every business has a team of computer experts. Computer science teachers not only teach students to use, program and troubleshoot computer systems, they prepare them to enter the workforce in a highly paid position. Computer science is changing constantly, and computer teachers need to remain on the cutting edge of information technology to keep their students enthused. That means that you are continually learning more about a subject you love, so you not only teach. You learn.
Sharing knowledge and guiding young people toward their perfect vocation is one of the most personally rewarding careers. In the course of your employment, you'll meet hundreds of students, parents and other teaching professionals. As a teacher, you can impact their lives deeply.
See also: Top Affordable Online Master's in English and Creative Writing Degree Programs
Get prepared for your next steps
Use articles and resources to uncover answers to common questions, get guidance on your goals, and learn about applying to schools.
Discover a program that is right for you.
Explore different options for you based on your degree interests.