20 Best Value Small Colleges for a Philosophy Degree
By BVS Staff February 2017 The study of philosophy can provide insight on how people should behave, what people can really know, logical argumentation, or even what constitutes beauty. The analytical skills and abstract concepts learned from studying philosophy can translate to many prominent fields. Some possible career paths for philosophy graduates have a median pay ...
BestValueSchools.com is an advertising-supported site. Featured or trusted partner programs and all school search, finder, or match results are for schools that compensate us. This compensation does not influence our school rankings, resource guides, or other editorially-independent information published on this site.
Are you ready to discover your college program?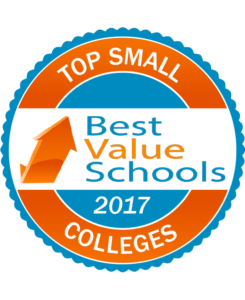 By BVS Staff
The study of philosophy can provide insight on how people should behave, what people can really know, logical argumentation, or even what constitutes beauty. The analytical skills and abstract concepts learned from studying philosophy can translate to many prominent fields. Some possible career paths for philosophy graduates have a median pay of over $100,000 a year, like becoming a lawyer.
The beginning of your philosophy journey starts here at the 20 best small colleges for philosophy majors on a budget. Each college listed offers at least two majors, minors, and/or concentrations for students studying for a bachelor's degree in philosophy, or a related area. The colleges listed also stick to these two important criteria:
Overall undergraduate graduation rate of at least 50%
Estimated annual cost of less than $26,000 a year (as shown on College Navigator)
Read on to learn what college has the best value on the market.
Featured Online Programs
Figuring out where to apply? These top, accredited schools offer a variety of online degrees. Consider one of these accredited programs, and discover their value today.
Top 20 Best Value Small Colleges for a Degree in Philosophy
Spanning topics from the ancient and medieval to the modern and contemporary, Augsburg College's affordable undergraduate philosophy program is a great introduction to the history of Western thought. In addition to reading pivotal thinkers like Plato, Hegel, and Russell, philosophy majors at Augsburg are trained in critical thinking, speaking, and writing to learn how to communicate difficult ideas with confidence. Many students also pursue an honors thesis project, for which they receive one-on-one mentorship from experienced faculty. But Augsburg's most unique offering is its interdisciplinary major in Computational Philosophy, which leverages both disciplines to investigate artificial intelligence, logic, and the philosophy of mind.

The Southwestern University Philosophy Department builds on the Western philosophical tradition to provide broad perspectives on power relations across the globe. While many top small colleges for philosophy majors dwell on the classics, Southwestern features "Critical Histories" courses every semester that pit these revered tomes against modern/contemporary theory. Southwestern's undergraduate philosophy curriculum also integrates Feminist Studies, Race and Ethnicity Studies, Marxist theory, and other strands of contemporary progressive thought to challenge students' perspectives on culture and politics. This rigor is reflected in the undergraduate research which is features on the departmental website.

Lake Forest College

Location

Lake Forest , IL

With devoted faculty and a comprehensive core curriculum, Lake Forest College is one of the most affordable and stimulating top colleges for a philosophy degree. In their first few years, Philosophy majors at Lake Forest all are required to take coursework that spans from ancient Greek philosophy and to modern analytical theory to guarantee that they acquire an appreciation for their intellectual forebears. In their senior year, they then utilize this foundation to produce a senior thesis or independent research project. Lake Forest is also home to an Ethics Center, which is devoted to studying social and politics issues around the globe.

La Sierra University's individualized Philosophical Studies Program provides not only a complete overview of the philosophical canon, but an intellectual toolkit that will be indispensable in countless careers, as well. Through coursework in logic, religion, scientific thinking, and more, philosophy majors at La Sierra gain new perspectives on important questions that relate to every facet of life. Since the philosophy curriculum is so broad, this top small college for philosophy also provides advisors to help undergraduates choose the classes they need to meet their graduation requirements as well as their personal academic needs.

Austin College uses its platform as a Presbyterian College to advance an ethical and principled worldview. To this end, Austin's philosophy major features robust mixture of metaphysics, religion, ethics, politics, critical theory, and other analyses of the world in which we live. From "Ancient and Medieval Philosophy" to "Modern Logic," philosophy majors at this affordable small school for philosophy are confronted with challenging ideas that will provide them with traction in approaching complex issues in their academic and/or professional careers. Austin also offers a minor in Ethics for those who wish to specialize in the study of morality as it relates to justice, religion, and truth.

The affordable undergraduate philosophy program at Hiram College excels by prioritizing the analysis of primary source texts above all. Where many comparable programs accept secondary literature as an acceptable introduction to dense and intractable thinkers like Kant and Hegel, Hiram encourages all philosophy majors to discuss the primary texts alone and develop their own interpretive framework as they go. This hard-line approach is as rigorous as it is rewarding, and many philosophy majors at Hiram even opt to take on the additional challenge of writing an honors thesis in spite the difficulties.

Franklin and Marshall College

Franklin and Marshall College may not be the smallest school on this list, but its Department of Philosophy is certainly in the running for the best student-faculty ratio. With just five students for every professor, Franklin and Marshall provides an unprecedented level of intimacy and exposure both in and outside of the classroom. F&M also regularly invites leading scholars from the likes of Yale and the U of I to visit the department, give lectures, and engage with majors on a one-on-one basis. Thanks to the small scale of the program, philosophy majors at this top college for a philosophy degree can also pursue interdisciplinary programs such as Scientific and Philosophical Studies of Mind.

Birmingham Southern College

Like Franklin and Marshall, the philosophy department at Birmingham Southern College encourages undergraduates to devise a course of study that suits their unique needs and goals. From interdisciplinary programs that combine philosophy with the likes of religion, politics, and/or economics to a "create your own major" initiative, this top small school for philosophy gives students a wide berth for their intellectual journey. This naturally leads to many creative and inventive independent research projects at the undergraduate level. BSC philosophy faculty also promote lateral thinking during the January Exploration Term, a period between semesters when the department offers courses in the philosophy of film, religion, and even Led Zeppelin lyrics.

Augustana College tackles the study of philosophy with a three pronged approach: topics, texts, and tools. In this way, this affordable college for a philosophy degree is able to introduce multiple millennia worth of vital information in just four years. While "topics" and "texts" run the gamut of the philosophical traditions, the "tools" are much more targeted. Courses in Critical Reasoning and Modern Formal Logic guarantee that all philosophy majors are equipped to make intelligent arguments that are thoroughly justified at the most granular level. Learning opportunities don't end there, however; outside the classroom, study abroad programs in Berlin and the Socratic Society of Augustana (a philosophy club) keep the educational experience going around the clock.

Millsaps College may be small, but its affordable undergraduate philosophy program is second to none. Millsaps' philosophy curriculum spans dozens of courses in nearly as many different topics and fields to provide the most rigorous and comprehensive education possible. Most are led by one of Millsaps' four dedicated philosophy professors, all of whom are active scholars in fields like ethics, religion, politics, and aesthetics. Notably, Millsaps also offers an interdisciplinary degree program in Religion and Philosophy that integrates the two departments' respective strengths and areas of expertise to provide a uniquely rewarding education.

As one of the leading liberal arts colleges in the country, it's hardly a surprise to find Wesleyan University atop our philosophy degrees ranking. Wesleyan's undergraduate philosophy program is unique in that it offers two separate degree tracks, a general track and a social justice track, to cater to the emerging needs of young thinkers today. Where the former is comprised of a core curriculum with added electives, the latter asks students to develop a specific focus (such as "Human Rights in China" or "Challenging the Carceral State") on a social cause or topic of injustice.

At Colgate University, one of the best small colleges for philosophy majors, the study of philosophy is reduced to several key topics: Value Theory, Metaphysics, Epistemology, and Major Figures. This comprehensive set of categories allows philosophy majors to choose their educational pathway while simultaneously fulfilling the rigorous distribution requirements that make such a degree so valuable in the first place. To further encourage this kind of intellectual exploration, Colgate's Department of Philosophy also offers an honors program in which students can conduct their own independent research alongside a faculty mentor.

Like Colgate, Swarthmore College's Philosophy Department takes a taxonomical approach to course distribution requirements. Undergraduates majoring in philosophy at Swarthmore must take one or two courses in logic; ancient and/or modern history; metaphysics, epistemology, and/or philosophy of science; and social, political, cultural, and other aesthetic theory. The sheer breadth of this curriculum alone makes Swarthmore one of the top small schools for philosophy, but that's not the only selling point. Swarthmore's Lady Philosophers is one of the few programs in the country that cater exclusively to the feminine side of this male-dominated field; it's also a great example of the progressive values that this exceptional school embodies.

Vassar College

Location

Poughkeepsie, NY

With six different "correlates," or sub-fields available within its Department of Philosophy, Vassar College offers one of the most flexible undergraduate philosophy programs available. Pending departmental approval, philosophy majors at Vassar may select any of these course sequences: Aesthetics and Philosophy of Art, Analytic Philosophy, Continental Philosophy, Comparative Philosophy, Ethics and Social and Political Philosophy, and History of Western Philosophy, to serve as a specialization within their degree. Ambitious young philosophers also regularly publish their work in one of Vassar's numerous intellectual periodicals, such as the Vassar College Journal of Philosophy.

Hillsdale College prepares undergraduates for a life of learning with its robust and affordable undergraduate philosophy program. Featuring classes in logic, ethical theory, phenomenonology, and much more, Hillsdale's Philosophy Department encourages students to continually challenge their assumptions about the nature of reality, transforming them into powerful thinkers. Period requirements also guarantee an awareness of the progress of Western thought via courses in Ancient, medieval, modern, and contemporary philosophy. Outside of the classroom, Hillsdale features a number of opportunities for philosophy majors to explore their intellectual interests alongside their peers, not least of which is its campus chapter of Phi Sigma Tau, the national philosophy honors society.

Millikin University's affordable undergraduate philosophy program is organized into three tracks that are geared towards the most common goals shared by majors. The first is a generalist, or "Traditional," track that provides a broad survey of philosophical topics and thinkers and serves as good preparation for an academic career. The Ethics track, on the other hand, draws on Millikin's Presbyterian heritage to educate students in the arguments of morality and justice that have been ongoing for millennia. The final track is a Pre-Law program, which utilizes a philosophical core to hone critical thinking skills at the highest level.

At Haverford College, philosophy majors tackle a comprehensive curriculum that spans the history of European thought as well as plenty of special topics in philosophy (e.g. aesthetics, epistemology, and metaphysics). The curriculum also offers a long list of advanced electives, allowing students to explore unique themes like German Idealism and Zen Buddhism. Undergraduates at this top school for philosophy are also required to formulate a Senior Project, an independent research paper that builds on the coursework of their previous years. Senior projects are scrutinized according to a set of rigorous criteria that include clarity and presentation, with the best among them receiving departmental honors.

Colorado College

Location

Colorado Springs, CO

Established in just 1948, Colorado College's Philosophy Department is younger than most of its peers, but it is unparalleled in its rigor. After all, how many schools require all majors to produce either a senior essay, thesis, or interdisciplinary research project in order to graduate? Leading up to this capstone, undergraduates at Colorado participate in both junior and senior seminars, plus they take numerous courses in the history of philosophy, ethics, value theory, and comparative philosophy, among other topics. This affordable small college for philosophy majors also has a longstanding Colloquium Series that brings leading scholars from around the globe to deliver lectures to the department.

Pomona College is tied for 7th in U.S. News' ranking of liberal arts colleges, and it's no coincidence that it has reached 2nd place in our philosophy degree rankings. Owing to the school's prestige, Pomona attracts some of the most distinguished faculty and brightest students to its intellectual community. Within the Philosophy Department itself, Pomona features fascinating coursework in bioethics, philosophy of biology, science fiction, and more. What's more, Pomona also offers a unique degree program in Philosophy, Politics, and Economics for those ambitious students whose interests can't be confined to a single discipline.

Bryn Athyn College of the New Church

With a net price of under $14,000 a year, Bryn Athyn College of the New Church is indisputably one of the most affordable schools out there. But while money is certainly a huge factor in Bryn Athyn's philosophy degrees ranking, size and degree customization help put it over the top. Bryn Athyn's 200-some students enjoy close relationships with prestigious philosophers who are active in the fields of religion, ethics, and politics. The Philosophy Department also allows undergraduates to combine their major with another field (such as religion, math, or even biology) to tailor their learning to their interests and career goals.
Methodology: Here's How We Rank Schools
At Best Value Schools, we help students of all ages get the best possible value for their education. When choosing the best schools and programs, we prioritize tuition rates, student debt, financial aid opportunities, graduation rates, and the availability of online programs. We source unbiased data from government and educational databases like the National Center for Education Statistics and the U.S. Bureau of Labor Statistics for 6,374 schools across the U.S. We organize that data into five weighted categories to compile our school rankings.
| | | |
| --- | --- | --- |
| Metric | Data Used | Percentage |
| Academic Quality | Full-time faculty percentage, student-to-faculty ratio, student retention and graduation rates | 25% |
| Affordability | Tuition rates, median student debt, and financial aid | 35% |
| Reputation | Admission and enrollment rates | 15% |
| Program Offerings | Number of program options | 10% |
| Online Enrollment Score | Portion of learners taking at least one online course | 15% |
You can read more about our comprehensive evaluation process on our methodology page.
Similar Industries
Factors Considered When Ranking Schools
Each of these top schools offers at least two majors, minors, and/or concentrations for students seeking a bachelor's degree in philosophy (which also includes programs in ethics and western intellectual traditions). In addition, they each maintain an overall undergraduate graduation rate of at least 50%. Of course, to be a best value, these top-ranked schools also have to demonstrate a genuine commitment to affordable education - which means meeting our net price requirements. All of the programs on this ranking have estimated annual costs (as reported on College Navigator) of less than $26,000 a year. But which of these is the most affordable college for a philosophy degree? Scroll down to #1 to find out!
Want to find out exactly how much it will cost for you to attend one of these affordable undergraduate philosophy programs? Check out the U.S. Department of Education's Net Price Calculator Center.
See also: The 100 Most Affordable Small Colleges in America 2015
Sources:
Additional Resources
Use articles and resources to uncover answers to common questions, get guidance on your goals, and learn about applying to schools.
Discover a program that is right for you.
Explore different options for you based on your degree interests.