10 Best Value European Universities for American Students
Advertisement
BestValueSchools.com is an advertising-supported site. Featured programs and school search results are for schools that compensate us. This compensation does not influence our school rankings, resource guides, or other information published on this site.
Are you ready to find your fit?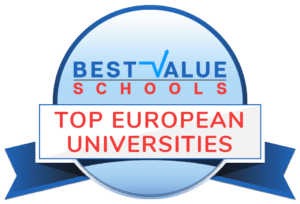 Did you know the average cost of attending college in the United States is approximately $9,400 (public) and $32,000 (private)? No wonder the cost of higher education has become a major topic in U.S. politics! Meanwhile, countries throughout Europe provide free, or nearly free, university education to students both national and international. Each year more and more American students take advantage of the opportunities these international universities provide by enrolling to pursue their degree for little more than the costs of a flight and living expenses.
Below, we've listed the 10 best value European universities for American students. We based our selection on a number of factors, including:
Accessibility: Not every American student is bilingual, so we've included only those universities at which enough English-language courses are available to complete a degree.
Cost of Living: Living costs can be just as much a consideration as tuition when it comes to paying for college, so we took into account the estimated costs of room and board at each of our listed universities and their cities.
Reputation: Each university on our list has an excellent international reputation.
"It Factor": Pursuing a college degree abroad should be fun, so we included universities that can provide American students with a once-in-a-lifetime experience. While some are located in bustling cities, others are like cities within themselves.
Aarhus University
Aarhus, Denmark
Beautiful Aarhus University is one of the top-ranked universities in Europe and the best in Denmark. Though Americans are expected to pay tuition at Aarhus, tuition for most programs is less than $9,000 per year — less than most American universities and enough to make Aarhus one of the best value European institutions. The university also boasts more than 70 English-language programs, most of which are at the master's level.
Heidelberg University
Heidelberg, Germany
A whopping 18% of Heidelberg University's student population is international, so American students seeking a degree here aren't likely to feel left out in any way. Heidelberg is the oldest university in Germany, and is nearly always included amongst the top 75 academic institutions in the world. Although the official language at Heidelberg is German, American students will find dozens of options for English-language courses, including some at the undergraduate level and approximately 10 complete master's programs. As at all universities in Germany, tuition is free, though students should expect to pay around $160 in student fees each semester, and about $1,000 per month in living costs.
Humboldt University
Berlin, Germany
Humboldt University is located in Berlin, Germany's vibrant capital city and a place where American students are sure to feel right at home. Humboldt is consistently ranked as one of the world's 100 best universities, and figures such as Albert Einstein, Karl Marx, and W.E.B. DuBois all taught here at some point. Though the primary language of instruction is German, English-speaking students do have a solid selection of English-language courses, including two entire degree programs in Gender Studies. Best of all, American students can study at Humboldt tuition-free (though the university does charge all students semester fees ranging from $55 to $280).
Lund University
Lund, Sweden
Lund University is one of the oldest and most prestigious universities in all of Europe, and consistently ranks among the top 0.4% of universities in the world. Tuition is free for exchange students, Switzerland, and citizens of the European, and others (including Americans) pursuing a PhD degree. A number of programs are offered in English at Lund, including six undergraduate: development studies, fine arts, international business, mathematics, physical geography and ecosystem science, and physics.
Sorbonne University
Paris, France
The January 2018 merger of Paris-Sorbonne and Pierre et Marie Curie University makes for an exciting opportunity for American students looking to attend a prestigious school abroad. Like all public universities in France, Sorbonne University is free for both French and international students. American students must purchase approximately $300 worth of health insurance each year, and all students pay between $200-$700 in annual student fees (the higher amount is reserved for programs such as medicine). And while for most students, living in Paris is worth every penny, it's important to know that living costs average about $1,200 per month for those living in university housing. Interested students should check the university's website for a detailed list of courses and degrees taught in English, as the options have expanded since the announcement of the new partnership.
Technical University of Munich
Munich, Germany
Technologically inclined students interested in pursuing a degree from a European university have a great option with Technical University of Munich. A whopping 22% of the university's student body is comprised of international students who are attracted by the fact that Munich is consistently ranked as one of the best universities in the world. Like most universities in Germany, tuition is free even for American students, though the majority of classes are taught in the German language.
University of Bologna
Bologna, Italy
University of Bologna is one of Italy's most prestigious universities, and a good option for American students looking to pursue a degree in Europe. All students, whether Italian or international, are charged the same amount for tuition. These tuition amounts range from $1,900 to $4,400, depending on the program. A few English-language undergraduate programs are available, though most programs for English speakers will be found at the master's level.
University of Ljubljana
Ljubljana, Slovenia
American students are sure to love the tiny country of Slovenia and its beautiful capital city, Ljubljana. They're also likely to love the fact that a year here costs anywhere between $2,700 to $3,400, depending upon the choice of program. Even better, the university currently offers 19 different English-language undergraduate programs, plus a handful of master's programs, in subjects ranging from maritime studies, to health sciences, to theology, and more.
University of Oslo
Oslo, Norway
American students interested in pursuing a master's degree in Europe need look no further than University of Oslo. The university — the oldest in Norway — does not offer any undergraduate programs in English, but has more than 70 English-language graduate degree programs in subjects ranging from Asia and Middle East Studies, to Data Science, to Peace and Conflict Studies, and everything in between. Tuition at the university is free, though all students pay semester fees of approximately $75 and should expect to pay around $1,700 per month for living costs in the exciting, yet expensive, Norwegian capital.
University of Vienna
Vienna, Austria
University of Vienna is Austria's top public university. While tuition isn't free like in other places, it will only set you back about $800 per semester, plus another $25 in student fees — much less than in the States. Most classes are taught in German, though there are a few undergraduate courses offered in English. Master's students have the biggest selection, as more than a dozen English-language master's programs are available.
Get prepared for your next steps
Use articles and resources to uncover answers to common questions, get guidance on your goals, and learn about applying to schools.
One of the smartest moves a student can make is to find out if they qualify for a federal Pell Grant as part of their…
Affordable Bachelor's In Psychology Despite commonly held beliefs that undergraduate majors in the social sciences or humanities may suffer from a lack of entry-level career…
RN-to-BSN Online Degrees By Staff WritersPublished on May 18, 2020Registered nurses (RNs) care for patients in settings like doctors' offices, hospitals, long-term care facilities, and…
Advertisement
BestValueSchools.com is an advertising-supported site. Featured programs and school search results are for schools that compensate us. This compensation does not influence our school rankings, resource guides, or other information published on this site.
Review hand-picked, high-value degree programs.
Share your degree interests with us, and discover which schools could offer a degree program that gives you value now and builds value for your future.