4 BEST VALUE ONLINE SCHOOLS IN UTAH

Are you ready to find your fit?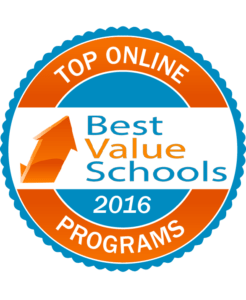 By BVS Staff
Welcome to our best value ranking of online colleges in Utah.
At more than 30, Utah's selection of traditional four-year colleges and universities is substantial. However, the selection available specifically to online learners is extremely slim by comparison. Even so, nontraditional students will find what they need at one of these 4 "best value" schools in the state. These top 4 colleges all earned at least 75 points (out of 100) in our ranking.
Methodology
Click here to read all about our best value online schools ranking methodology. Also see our ranking of best overall colleges: Top Colleges for a Cheap Online Degree.
Featured Online Programs
Figuring out where to apply? These top, accredited schools offer a variety of online degrees. Consider one of these accredited programs, and discover their value today.
Western Governors University

Location

Salt Lake City, UT

This fully online school in Utah was the brainchild of a bipartisan group of western governors who wanted to provide a collaborative environment where working adults could obtain an education. They knew that developing technology - namely, the internet - could revolutionize distance learning. 20 years later, WGU is a leader in the field, with programs across nearly every interest area. Aspiring educators will appreciate the teachers' college, which offers BAs in eight teaching specialties. And over in the College of Business, your choice is between six distinct undergraduate programs. You might even consider sticking around to earn your MBA!

Weber State is dedicated to helping the underserved further their education. And this isn't just talk; the school outperforms other institutions in the state when it comes to both enrollment of first-generation college students and the number of applicants who receive financial aid. For the online crowd, WSU shows its commitment to accessibility by providing career-focused online degrees that are among the cheapest on this Utah accredited online colleges ranking. The B.S. in Professional Sales, for example, can give majors a leg-up in retail and customer service-related careers. On the other hand, you might prefer the B.S. in Medical Technology, which boasts a nearly 100% rate of employment for graduates seeking work in a clinical lab.

With 16 undergraduate degree programs and 10 minors, Utah State lets adults mix and match to earn a unique online degree in Utah. And distance learners have at least one advantage over traditional students, because some degrees are online-only! But where Utah State really shines is in its commitment to offering degrees that are rarely available online. Options like the B.S. in Communicative Disorders and Deaf Education and the B.S. in Family Life Studies are hard to find elsewhere, and they prepare graduates for a multitude of careers. And if you're not sure which program fits your needs, Utah State is here to help. The website describes all offerings in detail, lists relevant career options and what it takes to graduate, and even recommends professional organizations for you to join.

University of Utah

Location

Salt Lake City, UT

After completing an online readiness questionnaire and determining that attending an online college in Utah is a good fit, distance learners can choose from a smattering of undergraduate degrees at the U. One of the most unique options is the Bachelor of Social Work; it's the only accredited online degree of its kind in Utah. Program members take classes from the same professors who teach on-campus courses, and much of the program has a social justice bent. For example, students learn how to develop respectful relationships with marginalized communities. Participants starting the program with an associate's degree under their belts can expect to finish in just four to five semesters.
What did you think of these top online degrees in Utah?
See also: 5 Best Value Colleges and Universities in Utah
Sources:
Get prepared for your next steps
Use articles and resources to uncover answers to common questions, get guidance on your goals, and learn about applying to schools.
Discover a program that is right for you.
Explore different options for you based on your degree interests.