The global landscape is shifting and now placing a high value on environmentally sustainable practices. Best Value Schools' 10 Best Online Master's in Sustainability for 2019 can help students develop the eco-friendly future our world deserves.
The field of sustainability reportedly represents 4.5 million jobs according to the Environmental Defense Fund. The U.S. Bureau of Labor Statistics reported how the national average salary for a Sustainability Specialist is a whopping $69,040.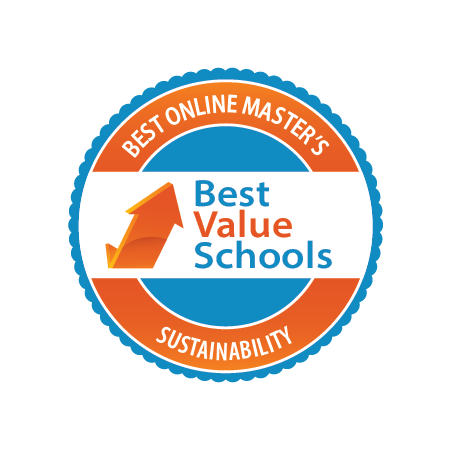 With employment in sustainability expecting to increase by 11 percent in the coming years, now is the time to attain an advanced degree in sustainability. Learn about the leveraging, strategizing, regulating, and implementing energy sources to be a valuable leader in your company. We've ranked the top online programs for you.
Methodology
Best Value Schools publishes college degree rankings with the belief of how one's higher education should be, both, affordable and an investment of continued value for the students who pursue them. The staff of BVS collects data from reputable sources in order to calculate Net Price and the short and long-term value of every ranked degree. Collected data is simplified into weighted categories before scoring, and then scaled through a BVS Score up to 100. The weighted categories are:
Degree Investment Return (25%)
Student & Alumni Evaluation (25%)
Cost Value (25%)
Matriculation (10%)
Academic Success (15%)
No matter what degree you decide on, we hope our research and support has made the selection process easier. There are numerous resources BVS utilizes to collect information on degrees, and we encourage you to check them out for yourself!
10. Green Mountain College
Master of Science in Resilient and Sustainable Communities
Website
Green Mountain College in Vermont has a rich history of effective sustainability programs. They are consistently top-ranked, and most recently were named the #1 College and Curriculum by the Association for Advancement of Sustainability and Sierra Magazine. GMC is accredited by the New England Association of Schools and Colleges. The MS in Resilient and Sustainable Communities is unique in that distance students study environmental problems and solutions in their regions. Though this is an online program, students are required to come to the Vermont Campus annually for a couple of days.
Net Price: $20,060
9. Franklin Pierce University
Master of Business Administration in Energy and Sustainability
Website
Franklin Pierce University understands that many working professionals seek to continue advancing their career while they supplement their education. Its MBA in Energy and Sustainability reflects this understanding as it introduces coursework that is immediately applicable in the workplace. The program's advisory board ensures that the curriculum is relevant.
Further, students have direct access to board members who are great additions to their networks. If the MBA in Energy and Sustainability is too great a commitment, you can begin with the certificate course. Later on, you can apply those credits to the full MBA.
Net Price: $29,136
8. University of Denver
Master of Science in Environmental Policy and Management, Energy, and Sustainability
Website
A U.S. News Top 100 University and accredited by the Higher Learning Commision, the University of Denver should not be overlooked as you select your graduate institution. Former students enjoyed working with academic advisors to craft a set of courses that aptly aligned with their career goals and interests. The advisory board for this master's program is full of industry leaders and employers who ensure the program provides what you need to continue your career successfully. Core courses cover topics such as law, economics, project management, and ecology. Moving at their own pace, students take between 18 months and five years to complete the whole program.
Net Price: $32,940
7. Pennsylvania State University - World Campus
Master of Professional Studies in Renewable Energy and Sustainability Systems
Website
The master's in Renewable Energy and Sustainability systems utilizes eight departments in 4 colleges within Penn State University. This gives a comprehensive approach to energy and sustainability that considers energy economics, project development, and applications of technology. Although the main focus is on renewable energy and sustainability, you can choose from courses that concentrate on areas such as policy, sustainability management, bioenergy, solar energy, or wind energy. The faculty at Penn State have broad experiences and expertise to ensure your education is useful in the field, and that you will succeed in the growing green economy.
Net Price: $23,129
6. Western Kentucky University
Master of Arts in Social Responsibility and Sustainable Communities
Website
So far, the graduate program at Western Kentucky University offers the first Master's of Arts on our list. It is less focused on practical application and industry, and more focused on theory and root causes of problems. Titled Social Responsibility and Sustainable communities, this degree is interdisciplinary and looks at social justice issues as well. The culmination of the program is a conference style symposium where you present the research findings of your graduate work while reviewing the work of other students. Thesis options exist but are not mandatory for degree completion.
Net Price: $11,409
5. Wilmington University
Master of Business Administration in Environmental Sustainability
Website
Wilmington University offers an MBA with a concentration in Environmental Sustainability. This program aims to ready you for leadership and management positions in businesses and corporations that specialize in sustainability. Core courses are typical of MBA curricula, but the ES concentration adds a green flair to the program with classes such as Economic and Financial Analysis of Environmental Issues, Project Management with Sustainable Green Technologies, and Strategic Planning for Sustainable Organizations. All so you can learn to align business needs with environmental considerations. On top of that, faculty members are active in their respective fields, so you have an opportunity for excellent mentorship available to you.
Net Price: $14,471
4. University of Saint Francis
Master of Business Administration in Sustainability
Website
Since its founding in 1890, the University of Saint Francis has been deeply committed to its Franciscan roots. It takes its role preparing students for careers related to sustainability because it believes its graduates can greatly impact creation, bring about peace and restoration, and serve in communities. For under $20,000 and with the flexibility of six possible start dates in the year, you can easily balance life, work, and school through USF. Better yet, the program can be completed in a year. After completing this MBA, the University of Saint Francis is confident you will be able to lead green initiatives in any number of contexts.
Net Price: $17,031
3. Arizona State University
Master of Sustainability Solutions
Website
Arizona State University is distinguished in the field of sustainability. In fact, 78 percent of its graduates work in fields related to sustainability. This is probably attributed to the fact that the program places a high value on practical application, and it teams its students up with companies, government agencies, or NGOs for a culminating applied project. This kind of valuable experience will position you well to impact areas like policy, administration, and communication.
Net Price: $13,007
2. Virginia Polytechnic Institute
Master of Natural Resources
Website
Although Virginia Tech is a well-known university, you may not have heard of its Master of Natural Resources degree. This program can be completed online, but it uniquely requires an international field experience as a part of the core curriculum. Students take a 10-day trip to a developing country to help analyze environmental problems and implement successful solutions. In addition, students create a custom plan of study with their advisers to ensure their coursework meets their needs and goals adequately. Highly motivated students can also pursue other degrees concurrently.
Net Price: $17,190
1. University of North Carolina
Master of Business Administration in Sustainable Enterprise
Website
The Kenan-Flagler Business School at the University of North Carolina offers an online Master of Business Administration in Sustainable Enterprise worthy of our top spot in 2019. The MBA at UNC offers multiple concentrations for online students such as Entrepreneurship, Data Analytics, and Decision Making; Finance, Marketing, and Strategy; and Consulting. Each concentration aims to provide students with the skills necessary to be effective strategizers and leaders. UNC covers MBA electives such as Digital Marketing, Negotiations, Real Estate, Corporate Strategy, and Managing Innovation.
The MBA at UNC also offers students an opportunity to participate in the Student Teams Achieving Results program or STAR. Participants of STAR can work alongside industry leaders from organizations such as Corning Cable, Krispy Kreme, Paychex, and GE Healthcare. According to UNC, graduates of their MBA program have gone on to work for companies such as North Highland and Boston Consulting Group. What more could you want?
Net Price: $10,077