5 Best Online Master's Degrees in Web Design
Are you ready to find your fit?
Get paid, nerds! Check out Best Value Schools' 5 Best Online Master's Degrees in Web Design.
In virtually any industry or business, web design is present. Web designers work in large corporations, small businesses and as freelancers. It is a valuable and necessary skill set that grows each day exponentially. The Bureau of Labor Statistics anticipates a 15 percent growth in the job field by 2026.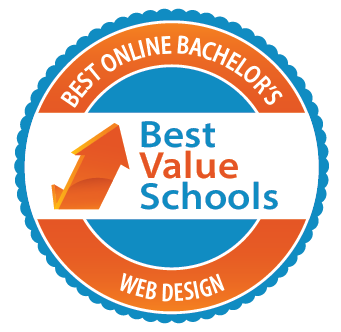 Web designers may be responsible for front end and back end development, in addition to regularly maintaining and updating sites. Some of these programs also integrate the creative aspect of web design, focusing on video and still photography as well as graphic design.
In 2017, the median pay for a web designer or programmer was $67,990. This wage was that of a non-management position. With a Master's degree, you gain a leg up on experienced designers. You'll have the knowledge and experience to do the work of computer and information systems managers. Opportunities for positions are likewise going to grow over the next several years. The average median wage for an IT manager in 2017 was $139,220.
Ranking Factors
Best Value Schools publishes college degree rankings with the belief of how one's higher education should be, both, affordable and an investment of continued value for the students who pursue them. The staff of BVS collects data from reputable sources in order to calculate Net Price and the short and long-term value of every ranked degree. Collected data is simplified into weighted categories before scoring, and then scaled through a BVS Score up to 100. The weighted categories are:
Degree Investment Return (25%)
Student & Alumni Evaluation (25%)
Cost Value (25%)
Matriculation (10%)
Academic Success (15%)
No matter what degree you decide on, we hope our research and support has made the selection process easier. There are numerous resources BVS utilizes to collect information on degrees, and we encourage you to check them out for yourself!
1. Harvard University – Cambridge, MA
Master of Liberal Arts in Digital Media Design
The 12-credit Master of Liberal Arts in Digital Media Design at Harvard University furnishes students with the newest developments in web design, along with video and still photography. Graduate students in the program will take the majority of their courses online, with at least one class on Harvard's campus. Students fulfill the requirements of the program with 12 core courses and a capstone project. Subjects include Introduction to Creative Exploration on the Web, Modern and Model Front End Web Design, and Planning Successful Websites and Applications. Harvard University's studies online programs were designed for adults learners committed to continuing their educations. While maintaining the academic rigor that Harvard is known for, students can complete this program at their own pace.
2. Fort Hays State University – Hays, KS
Master of Professional Studies in Web Development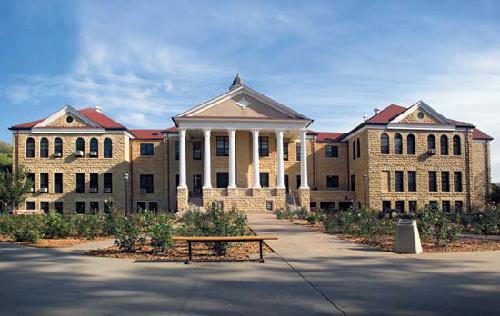 The Master of Professional Studies in Web Development program at Fort Hays State University is a 30-credit hour program that offers a sophisticated and challenging curriculum in all aspects of web development. Students take courses in Research Methods in Informatics, Web Scripting Languages, and Foundations of Information Systems Security. All graduate candidates complete a capstone project in Informatics. FHSU was ranked a top university for online graduate degrees in 2018 by US News & World Report. 95 percent of FHSU's graduates secure a job or go on to continue their education.
3. Boston University – Boston, MA
Master of Science in Computer Informations Systems with Web Application Development
The Master of Science in Computer Information Systems in Web Application Development at Boston University is at the cutting edge of technology education. Students in the program are exposed to innovative concepts and technological advances in building desktop and mobile web applications. At 40 credit hours, most students will complete the program within 18-24 months. Graduate students will take courses in topics such as IT Strategy and Management, Information Structures with Java, and Server-Side Web Development. BU's MSCIS degree was #6 in the U.S. News & World Report's 2018 ranking of Best Online Graduate Computer Information Technology Programs.
4. University of Denver – Denver, CO
Master of Science in Information and Communications Technology
In as little as 18 months, students in the University of Denver's Master of Science in Information and Communications Technology are prepared for the challenges of a career in web design development. Students take 48 credit hours in courses such as Enterprise Architecture and Web Enabled Information Systems. All graduate candidates complete a capstone project or seminar that reflects their specific area of expertise in the field. The degree's curriculum was developed in collaboration with several information agencies to develop its unique and relevant curriculum including the Information Security Systems Association and the Committee on National Security Systems standards. The University of Denver appears on U.S. News & World Reports Top 100 Universities for 2019.
5. Illinois Institute of Technology – Chicago, IL
Master of Information Technology Management
Illinois Institute of Technology's Master of Information Technology Management degree offers a concentration in Information Technology Infrastructure. This concentration delves into every aspect of web design. Required courses include Object-Oriented Application Development, Introduction to Data Networks and the Internet, and Introduction to Open Source Software. At 30 credit hours, graduate students become experts in the infrastructure of information technology. IIT's goal is to push students into becoming future leaders and innovators. The school works with many employers to assist graduates in job placement through their career center. Illinois Tech is accredited by the Higher Learning Commission.
Get prepared for your next steps
Use articles and resources to uncover answers to common questions, get guidance on your goals, and learn about applying to schools.
If you're pursuing a master's degree in psychology, you may have been asked the following question: "What can you do with a master's in psychology?" It may even be a...
Are you interested in helping others resolve their issues and hurdles through talk therapy? You may want to consider a career in the counseling field. Counseling is a field that's...
Mental health counseling jobs exist across many settings — from hospitals and government agencies to schools and private practices, and they're projected to grow. The Bureau of Labor Statistics (BLS)...
Discover a program that is right for you.
Explore different options for you based on your degree interests.