9 BEST ONLINE MASTER'S DEGREES IN BIOLOGY

Are you ready to find your fit?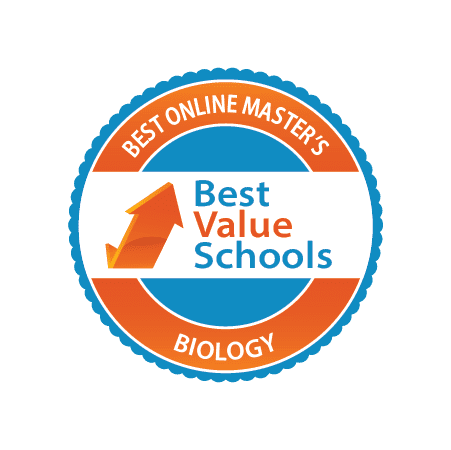 It's one thing to have your Bachelor's degree, but to return to school and earn your graduate-level degree in Biology benefits one with many more opportunities and chance for career growth. Many in the professional fields after receiving their BS in Biology work in research, teaching, engineering, or as biologists in many different industries.
A Master of Science in Biology is usually curated for those students who are already professional workers and are looking to increase their credentials and knowledge in the field. These programs are not typically designed for those in pursuit of Ph.D.'s or programs higher than an MS. An MS in Biology is curated for students who are already professional workers and are looking to increase their credentials and knowledge in the field.
Because an MS program in Biology aims to be accessible for working professionals, many are offered online. Online programs have the ultimate benefit of schedule flexibility with the same dedicated faculty leading advanced coursework. It's also common to find programs that emphasize the importance of research in biology-focused industries.
At the graduate level, most of the Biology curriculums consist of a majority of electives, giving students the chance to pursue the areas that interest them or are most relevant to their careers. These topics can be as encompassing as Understanding Scientific Research or as zoomed-in as Domestication of Dogs. Earning one's Master of Science in Biology is a prideful step towards further opportunities and growth, with a guaranteed development of one's specific focus areas and knowledge in such a diverse field.
Selection Criteria
Best Value Schools publishes college degree rankings with the belief of how one's higher education should be, both, affordable and an investment of continued value for the students who pursue them. The staff of BVS collects data from reputable sources in order to calculate Net Price and the short and long-term value of every ranked degree. Collected data is simplified into weighted categories before scoring and then scaled through a BVS Score up to 100. The weighted categories are:
Degree Investment Return (25%)
Student & Alumni Evaluation (25%)
Cost Value (25%)
Matriculation (10%)
Academic Success (15%)
No matter what degree you decide on, we hope our research and support has made the selection process easier. There are numerous resources BVS utilizes to collect information on degrees, and we encourage you to check them out for yourself!
Here are the 9 Best Online Masters in Biology!
#1

Western Kentucky University

Bowling Green, KY

#2

Clemson University

Clemson, SC

#3

Illinois Institute of Technology

Chicago, IL

#4

University of Nebraska at Kearney

Kearney, NE

#5

Texas A & M University-Commerce

Commerce, TX

#6

University of Saint Joseph

West Hartford, CT

#7

University of West Alabama

Livingston, AL

#8

Worcester Polytechnic Institute

Worcester, MA

#9

Alcorn State University

Lorman, MS

,
Featured Online Programs
Figuring out where to apply? These top, accredited schools offer a variety of online degrees. Consider one of these accredited programs, and discover their value today.
Western Kentucky University

Location

Bowling Green, KY

Western Kentucky University's Master of Science in Biology is a 100 percent online non-thesis program designed to prepare students for more significant opportunities in teaching, research, and public service. The curriculum is a minimum of 30 credits made up of coursework that emphasizes the importance of research. Only three courses are required, and the rest of the degree is made up of electives. Elective topics may include classes like Aquatic Insect Diversity, Virology, Electron Microscopy, Ichthyology, and Plants as Alternative Therapeutics. Applicants to the program should have a bachelor's degree in Biology earned with at least a 3.0 GPA. They'll also need to submit GRE scores.

The online Master of Science in Biological Sciences from Clemson University is a non-thesis degree preparing students for careers in medicine, conservation, and agriculture. The program is designed specifically for science educators who are looking to expand their knowledge and focus in the biological sciences. While there is no required thesis, all students will create a research proposal and project suitable for submission to a peer-reviewed journal. The curriculum consists of ten courses, and students are usually limited to taking only two a semester, making the program take six semesters. Courses include Understanding Animal Biology, Understanding Scientific Research, Understanding Genetics, and Evolutionary Biology, and more.

Illinois Institute of Technology

The Illinois Institute of Technology offers its fully online Master of Science in Biology degree with a specialization in Applied Life Sciences. Applicants must have an undergraduate GPA of 3.0 and submit GRE scores. The 32-credit program consists of 20 credit hours of core requirements and 12 hours of electives. The curriculum focuses on the recent and exciting discoveries and innovations in the life sciences. Students in the program may be preparing for careers in or related to the development and application of treatments for serious illnesses. This goal has shaped the coursework to cover major topics like biochemistry and cell and molecular biology. Electives may include subjects like Bioinformatics and Toxicology.

University of Nebraska at Kearney

The online Master of Science in Biology from the University of Nebraska at Kearney is specifically for students who cannot participate in the offered on-campus program. Many prospective students are already employed professionally and would benefit from an advanced education in biology. The Department of Biology provides a focused graduate education. The 20 faculty members are dedicated to the success of students and offer expertise in diverse areas of interests. The 36-credit program does not require a thesis, but students must maintain at least a 3.0 to earn the degree. Course topics include Microbial Diversity, Issues in Bioethics, Cell Signaling Pathways, and Domestication of Dogs.

Texas A & M University-Commerce

The fully online Master of Science in Biological Sciences from Texas A&M University-Commerce is designed for biology teachers who are in pursuit of expanding their knowledge and experience to begin college-level teaching. The 36-credit program includes a research paper, and a majority of the courses are elective topics. Students may take classes in Vertebrate Endocrinology, Advanced Neuroscience, Virology, or Hydrology. Application is open to those who have earned an undergraduate degree in Biology or another related field with at least a 2.75 GPA. Applicants must also submit GRE scores. Earning the degree is not recommended for those in pursuit of Ph.D. or other advanced degrees.

University of Saint Joseph

Location

West Hartford, CT

The Master of Science in Biology from the University of Saint Joseph is designed for working professionals whose career progression and success would benefit from further knowledge in a wide variety of biological disciplines. The program can be completed in two years, with flexible courses that may be taken year-round. Students enter an intimately-sized cohort with people who have different work experience from around the world, with all classes being capped at 20 students. This ensures thoughtful and fulfilling engagement from both the students and faculty. A majority of the degree is made up of electives, where students can focus in on their own interests. Courses may include Cancer Biology, Immunology, Molecular Genetics, Cell Signalling, and Psychopharmacology.

University of West Alabama

University of West Alabama's Master of Science in Conservation Biology degree is a total of 36 credits, all of which can be earned entirely online. The curriculum is dedicated to understanding diversities and natural ecosystems, and the different ways humans impact the planet and can instead focus on conserving natural resources. Core courses focus on the theory and research methods of the field. Elective courses may cover topics like Appalachian Ecology, Biology of Fishes, Environmental Toxicology, and Watershed Management. All students will also complete a course on Teaching College Biology, as the program is designed to prepare those who wish to become teachers, work in nonprofits, and more.

Worcester Polytechnic Institute

The Master of Science in Biotechnology from Worcester Polytechnic Institute combines online coursework with lab sessions at the campus in Worcester, with schedule accommodations for those who are working professionals and are earning their degree part-time. The curriculum prepares students with knowledge and applications of molecular biology and biochemistry. Graduates are experts in modern laboratory and bio-production techniques. Course topics include Fermentation Biology, Medical Device Design Controls, Animal Cell Culture, Project Management, and more. Applicants should have earned a Bachelor of Science degree in the life sciences or an engineering field with foundational life science and biochemistry courses.

Students pursuing a variety of different professional careers or doctoral programs will benefit from earning The Masters of Biology at Alcorn State University. The program is dedicated to equipping students with advanced knowledge in biology and the skills necessary for success in the prospective industry. All students complete a thesis document or a special project paper focused on their individualized research goals and topics. Coursework is centered around the importance of theory, research techniques, and communication skills. All courses in the program may be completed online, with elective topics such as pharmacology, invertebrate zoology, toxicology, and literature topics in biology.
Get prepared for your next steps
Use articles and resources to uncover answers to common questions, get guidance on your goals, and learn about applying to schools.
Discover a program that is right for you.
Explore different options for you based on your degree interests.