5 BEST ONLINE BACHELOR'S IN TECHNOLOGY

Are you ready to find your fit?
It's no surprise that the U.S. Bureau of Labor Statistics estimates that job opportunities in the IT industry will increase by as much as 15 percent in the near future-faster than the national average. Graduate degrees in technology management are becoming exceedingly valuable to employers from the myriad of industries as more and more companies are driven by and reliant on technology. This value is evidenced by the fact that an MS in Technology has a higher earning potential than a typical MBA.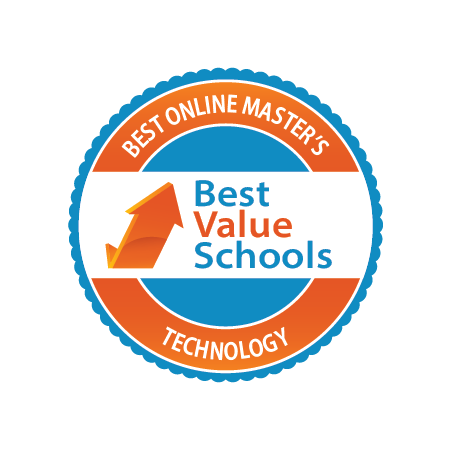 Re-invigorate your career and move up the leadership chain with an online Master's in Technology. We've done the heavy lifting and found the best programs for you.
Methodology
The task of ranking schools and programs is not one we take lightly. With so many graduate programs in existence, we've narrowed down the top schools by looking at factors that are important to you.
Student loans are the biggest debt in America, which makes sense when considering the ever-rising cost of tuition. Sometimes, the tuition of a program is worth it, while other times it's a clear waste of resources. But it can be hard to draw the line, so we've done it for you by researching:
Student-Faculty Ratio
Student Experiences
Alumni placement and salary
Quality of Faculty
Accreditation
Factors like these can be a good reason to dish out hard-earned income, but on the flip side, steer clear of schools without them. Other important considerations are alumni networks, concentration diversity, research opportunities, and industry partnerships.
Find the best online Master's in Technology for you.
#5 University of Central Missouri
Master of Science in Technology
Warrensburg, MO
The University of Central Missouri's Master's in Technology offers students a Master of Science in Technology that is fully accredited by the Association of Technology, Management, and Applied Engineering. Students can complete their MS at UCM in as little as two years.

UCM's MS allows for different specializations which include Construction Management, Computer Sciences, Engineering Technology, Network Security, Manufacturing Management, GIS, and Automation. Earning an MS in Technology proves useful, as evidenced by the $65,000 median salary of UCM graduates with a master's in technology. The required core courses prepare graduates well for positions of leadership as they include Organizational Dynamics, Legal Aspects of Industry, and International Technology Management.
Net Price: $12,711
Caption: The online master's in technology at the University of Central Missouri equips its students to be leaders in their fields.
#4 Indiana State University
Master of Science in Technology Management
Terre Haute, IN
With the master's in Technology Management from Indiana State University, students create a customized track that accounts for past coursework and experiences while aiming for a specific academic or vocational goal. You can concentrate on areas such as quality, packaging, mechanical engineering technology, manufacturing, aviation, or automotive.
ISU's MS is also a great segue into academia since it sets up for a Ph.D. in Technology Management. If you're planning on being a part-time student, Indiana State University will allow you up to seven years to complete all requirements. It should be noted, however, that this program is only available to students within the U.S. and Canada.
Net Price: $11,443
Caption: Indiana State University's MS in Technology Management helps develop students for both industry and academia.
#3 Georgetown University
Master of Science in Technology Management
Washington, D.C.
The Master's in Technology Management from Georgetown University provides an excellent opportunity to learn from renowned faculty. The program prides itself in balancing theory with practice as it seeks to place its alumni in executive-level positions in technology. Former students rave about being able to tailor their program to match their needs in their current jobs. Required courses in the program demonstrate a commitment to grooming future leaders as they cover areas such as financial analysis, modernization, ethics, business management, strategy, and future trends.
Net Price: $26,625
Caption: Relate business leadership to technological developments with a master's in Technology Management from Georgetown University.
#2 New York University
Master of Science in Management of Technology
New York, NY
New York University's Tandon School of Engineering offers a master's degree in Management of Technology, taught by faculty who bring in years of practical industry experience. With concentrations such as Cybersecurity, Human Capital Engineering and Analytics, Human Resource Information Systems, and Project Management NYU prepares its students for high-level roles in various industries. NYU's higher tuition can certainly raise eyebrows, but keep in mind the value of a school like NYU transcends its curriculum by opening the door to is its vast alumni network and its mentorship support programs.
Net Price: $35,147
Caption: Learn from renowned faculty with years of industry experience managing technology while getting a master's from New York University.
#1 Southeast Missouri State University
Master of Science in Technology Management
Cape Girardeau, MO
At the top spot of our list is Southeast Missouri State University's MS in Technology Management. It aligns its curriculum with the needs and trends of the industry, keeping its students up-to-date. Although students select from three different degree tracks, which include Thesis, Applied Project, or Graduate Paper.
Each track shares a core course load with topics such as Facility Management & Supervision, Technology Supervision, and Lean Thinking & Cost Reduction. Elective options range from Cybersecurity to Manufacturing Systems, to Telecommunications. This program is especially attractive to students interested in research because of its history of securing funding opportunities from outside sources.
Net Price: $11,776
Caption: Southeast Missouri State University has opportunities for research which completing a Master's in Technology Management.
Get prepared for your next steps
Use articles and resources to uncover answers to common questions, get guidance on your goals, and learn about applying to schools.
Discover a program that is right for you.
Explore different options for you based on your degree interests.