10 Best Online Bachelor's Degrees in Sustainability
A sustainable career is only possible with a sustainable way of life. Save the planet and your future goals by earning one of the 10 Best Online Bachelor's Degrees in Sustainability for 2019. Earning a degree in Sustainability Studies is more timely than ever, especially with climate change at the forefront of political and economic ...
BestValueSchools.com is an advertising-supported site. Featured or trusted partner programs and all school search, finder, or match results are for schools that compensate us. This compensation does not influence our school rankings, resource guides, or other editorially-independent information published on this site.
Are you ready to discover your college program?
A sustainable career is only possible with a sustainable way of life. Save the planet and your future goals by earning one of the 10 Best Online Bachelor's Degrees in Sustainability.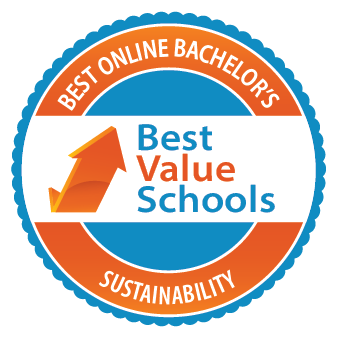 Earning a degree in Sustainability Studies is more timely than ever, especially with climate change at the forefront of political and economic discourse. Organizations across the globe continue to look to new generations for guidance in sustainable and environmentally conscious practices. In fact, the United States' Bureau of Labor Statistics estimates the number of environmental science positions will rise by 11 percent between 2016-2026.
Students who graduate with a degree focused on sustainability can expect to partake in the necessary work of environmental conservation and ecological rehabilitation. Sustainability ethics can be applied to every market, however, and can take place within corporate, governmental, and nonprofit organizations. In addition, students who dedicate themselves to Sustainability and Environmental Studies can expect to gain desirable leadership and advocacy skills.
Selection Criteria
The following list of degrees highlight Best Value Schools' 10 Best Online Bachelor's Degrees in Sustainability for 2019, but if you haven't noticed- every degree is earned online. Why earn a degree in Sustainability without a hands-on, residential experience?
BVS understands how not every student has access to large metropolitan areas where many educational opportunities exist for Sustainability students. But what about rural students who want to make a difference in the world, as well? Additionally, online education is the future of sustainable education. Meaning, online students technically leave the smallest carbon footprint while achieving their higher educational goals. Online students can attend class without driving, moving to a new city, and - sometimes- they don't even need to purchase paper textbooks. Who knew?
Ranking Factors
BVS ranked each of the 10 Best Online Bachelor's Degrees in Sustainability based on specific criteria, which of course, include online availability. But in addition, BVS scores degrees based upon:
Affordability
Quality of Education
Institutional Reputation
Employment Prospects
Long-term Student Satisfaction
For a more comprehensive guide to how BVS research and score online degrees, please visit our methodology page.
Here are the 10 Best Online Bachelor's Degrees in Sustainability!
#1

University Of Illinois At Urbana - Champaign

Champaign, IL

#2

Florida International University

Miami, FL

#3

Oregon State University

Corvallis, OR

#4

Arizona State University

Tempe, AZ

#5

Bellevue University

Bellevue, NE

#6

University Of Wisconsin - Stout

Menomonie, WI

#7

University of Massachusetts Amherst

Amherst, MA

#8

Pennsylvania State University - World Campus

University Park, PA

#9

Liberty University

Lynchburg, VA

#10

Roosevelt University

Chicago, IL
Featured Online Programs
Figuring out where to apply? These top, accredited schools offer a variety of online degrees. Consider one of these accredited programs, and discover their value today.
University Of Illinois At Urbana - Champaign

The Bachelor of Science in Earth, Society, and Environmental Sustainability at the University of Illinois at Urbana-Champaign is home to ground-breaking research in many fields, all of which students in the ESES program can partake in. These research areas, consisting of earth systems modeling, remote sensing, environmental policy and more, are also the options for ESES students to specialize in. Application to the online ESES degree requires that the student has completed at least a semester of prior college-level.

Alongside the research areas, ESES students will concentrate on one of two subjects, which are Science in the Earth System and Society and Environment. The Science in the Earth System concentration caters to students with a more scientific background, while the Society and Environment concentration attract students with experience in the social sciences.

Florida International University

Florida International University's multidisciplinary Bachelor of Arts in Sustainability and the Environment consists of 60 major credits while focusing on the sustainability of organizations, cultures, technologies, and institutions. The BS at FIU encourages students to think holistically about sustainability and the environment, specifically the relationship that both have to human societies.

FIU pairs every online student with a success coach, who will serve as a mentor to ensure the student is receiving the support they need to stay on track for graduation. Students will graduate with desirable skills for employment in the public, private, and nonprofit sectors. FIU also offers online students admittance to the Honors College, which consists of coursework earned through any combination of seminars, studies abroad, and thesis work.

Oregon State University designed its online Bachelor of Science in Sustainability to complement every student's primary degree program. For example, a student may earn a BS in Sustainability alongside their BS in Business, or their BS in Economics. The BS in Sustainability can be combined with all other OSU degree programs, allowing graduates to become competitive job candidates.

The Sustainability curriculum at OSU focuses on topics such as sustainable communities, economic and political policy, and the social aspects of sustainability. The BSS serves to acknowledge how problems of sustainability affect global business, politics, economics, and society. This perspective on the importance of sustainability enables the BSS to ready its students to become skilled and informed leaders.

The online Bachelor of Arts in Business with a focus in Sustainability at Arizona State University requires to complete 120 credits, with 30 of those credit hours earned through on-campus classrooms. The BABS emphasizes global markets while preparing students for leadership positions in sustainability-focused fields. ASU students examine business sustainability through courses on economics and policy through, both, domestic and global levels.

The BABS readies students with desirable traits for both governmental and corporate organizations. Graduates have gone on to pursue careers in agribusiness, international development, urban dynamics, operations, and more. ASU's Business School is also home to a cohort of award-winning faculty from six different continents, many of whom partake in the creation and management of the program.

Bellevue University's Bachelor of Science in Sustainability Management focuses on strategies for energy and water resources, land management, urban development, biofuels and bioenergy, solar and wind technologies. The BSSM prepares Bellevue students for careers in both public and private industries or to continue a graduate-level education later on.

Bellevue designed the BSSM for students with professional experience within the science or engineering technology industry, or those who already completed two college-level natural science classes. If a student does not qualify based on these prerequisites, they can achieve eligibility via permission from the program director. The total degree consists 127 credit hours, with the Sustainability Management major requires 40 credits in itself. The BSSM equips Bellevue students with an understanding of sustainability projects and the necessary leadership, analysis, and design skills needed for the professional environment.

University Of Wisconsin - Stout

The University of Wisconsin - Stout's Bachelor of Science in Sustainable Management consists of 21 classes and 63 major credits, designed with working students in mind. The curriculum takes an interdisciplinary approach, offering sessions on the relationship between sustainability and the practices of business, finance, society, and international development. During their final term, students will complete a capstone project, working hands-on alongside an organization to solve a sustainability problem.

Leading faculty of the SM department hail from four different UM campuses and specialties, providing students with a diverse understanding of sustainability. UWS requires prospective students to have an initial 60 college credits before admittance to the program, which can be transferred in from another university or completed through UW's online Associate's degree.

University of Massachusetts Amherst

The Bachelor of Arts in Sustainability Studies at the University of Massachusetts Amherst offers courses focused on food and farming, business, policy, green building, citizen advocacy, and more. UMass recognizes that students have responsibilities outside of school, and so the degree is provided 100 percent online without requiring students to visit campus.

BASS students have the opportunity to design individual course concentrations, which allows multifaceted aspects of sustainability to overlap subjects such as health or business. What sets UMass most apart is the credit they offer for "Life Experience," where students can potentially transfer up to 105 credits from prior coursework, academic testing, or military and professional experience.

Pennsylvania State University - World Campus

Location

University Park, PA

Pennsylvania State University's World Campus provides a Bachelors of Arts or Science in Energy and Sustainability Policy. PSU's 120-credit degree prepares students for graduate school by giving them tools to succeed in their interests and strengths. The interdisciplinary BSESP brings a global lens to sustainability studies, focusing on the political, social, and cultural importance of international energy policies.

The focus on different aspects of energy and sustainability policy enables students to graduate and pursue careers in both governmental and corporate organizations. Every student will also work with a faculty member to design an outside-the-classroom engagement that works with their schedule, whether it be a domestic internship or an international venture.

Liberty University provides an online Bachelor of Science in Business Administration degree with an emphasis on Green and Sustainable Management consisting of eight-week courses and a total of 120 college credits. On average, students complete their degree in around four years. LU's BSBA provides students with a biblical worldview and an understanding of God's original plans for ecosystems and environmental sustainability.

Liberty offers $250 off per credit hour for students who served in the US military in addition to providing free online electronic textbooks to all undergraduate students. Because LU places great focus on the affordability of their programs, there hasn't been a tuition increase in three years. Students can expect dedicated support from Liberty to ensure they're provided affordable higher education.

Most Sustainability courses at Roosevelt University take advantage of the urban location to provide students with field trips and hands-on learning opportunities. The university partners with the Field Museum of Natural History, a local urban farm, in addition to other nature centers in the city of Chicago. Lectures are available online and at RU's campus buildings.

Alumni have gone on to attend prestigious graduate schools such as the University of Chicago and Erasmus University in the Netherlands. The BASS also links its students to a handful of sustainability and environment focused clubs and activities on campus, such as research symposiums and internships. RU also offers an Honors Program for undergraduate students, encouraging more interdisciplinary approaches to studies. Honors students will also complete a thesis.
Get prepared for your next steps
Use articles and resources to uncover answers to common questions, get guidance on your goals, and learn about applying to schools.
Discover a program that is right for you.
Explore different options for you based on your degree interests.