15 BEST ONLINE BACHELOR'S DEGREES IN FINANCIAL MANAGEMENT

Are you ready to find your fit?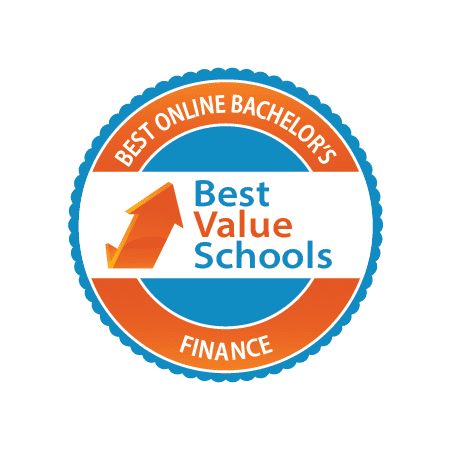 There is hardly a field in today's global economy that is growing as rapidly as finance. In fact, the U.S. Bureau of Labor predicts the number of jobs as Financial Managers to increase by an impressive nineteen percent from 2016-2026. The everchanging industries of business, economics, banking, and more all rely on professional candidates that have been trained in the art and science of finance.
Students of Financial Management are equipped with an understanding of all aspects of the field to be a source of informed advising and financial analysis. Earning a Bachelor's degree in Finance is a step towards a reliable and stable professional future, with an average pay surpassing $60,000 and many opportunities for growth once having entered the promising field.
Undergraduate programs in Finance are plentiful, including online options. Earning one's degree online is a good option for students who may be working, have outside obligations and responsibilities, or appreciate the flexibility allowed with online programs. It's important to note that while many Finance degrees are offered in full through an online format, some are considered degree completion programs, meaning that students are expected to enter with a certain amount of college credit already fulfilled. Regardless of one's academic experience and career ambitions in the field, there are sure to be a program in Finance that fits.
Selection Criteria
Best Value Schools publishes college degree rankings with the belief of how one's higher education should be, both, affordable and an investment of continued value for the students who pursue them. The staff of BVS collects data from reputable sources in order to calculate Net Price and the short and long-term value of every ranked degree. Collected data is simplified into weighted categories before scoring and then scaled through a BVS Score up to 100. The weighted categories are:
Degree Investment Return (25%)
Student & Alumni Evaluation (25%)
Cost Value (25%)
Matriculation (10%)
Academic Success (15%)
No matter what degree you decide on, we hope our research and support has made the selection process easier. There are numerous resources BVS utilizes to collect information on degrees, and we encourage you to check them out for yourself!
Here are the 15 Best Online Bachelor's in Financial Management!
15. University of Minnesota-Crookston - Crookston, MD
Bachelor of Science in Finance
The Bachelor of Science in Finance from the University of Minnesota-Crookston is a 65-credit major that can be earned entirely online but does require summer terms. The curriculum recognizes the importance of finance for organizations and teaches students to understand markets and how businesses function as a whole. They'll be equipped to recommend serious financial decisions and assess consumer financial needs, performance and risk, and describe and apply economic concepts, theories, and tools. All coursework can be completed online, but there are options for hybrid format with some work on campus. The program of study is broken up into three main categories: Business Core, Finance Requirements, and Liberal Education requirements. This well-rounded curriculum ensures that students enter the workforce as competitive candidates.
Net Price: $13,962
Score: 83.81
14. University of Maryland-University College - Adelphia, MD
Bachelor's in Finance
The Bachelor's in Finance from the University of Maryland can be earned entirely online, designed to train students in business finance, financial management, investments, security analysis, strategic risk management, and valuation. These topics are selected for the curriculum to prepare students for professional opportunities upon graduation. Throughout the program, students will even use financial theory to complete extensive case studies based on the real-world experience of actual companies. Coursework also consists of creating an investment policy statement; designing and tracking an investment portfolio, and completing case studies of individual financial planning scenarios. The 36 credit major also prepares students multidisciplinary, with courses drawn from Economics and Accounting.
Net Price: $15,256
Score: 84.95
13. Davenport University - Grand Rapids, MI
Bachelor of Business Administration in Finance
Davenport University's Bachelor of Business Administration in Finance draws from corporate finance, investment planning, portfolio management, and international and healthcare finance to equip students with holistic knowledge of the field. Graduates are prepared for employment as ethically-driven financial managers, having benefit from a rigorous curriculum designed in partnership with business communities. Courses draw from other disciplines to ensure a widespread and informed lens applicable to problems in the field, with courses in economics, writing, and social science. Otherwise, courses may include Financial Analysis, Business Law Foundations, and Principles of Project Management. A concentration is offered in Financial Planning, explicitly designed for those who want to become financial advisors.
Net Price: $16,788
Score: 86.5
12. Florida State College at Jacksonville - Jacksonville, FL
Bachelor of Science in Financial Services
The Bachelor of Science in Financial Services from Florida State College Jackson prepares its graduates for careers in one of the largest industry sectors in the First Coast region: banking. Students in the BS in Financial Services program at FSCJ take a combination of finance, accounting, and business courses, all of which are offered fully online or in a hybrid format. The curriculum equips students with groundwork knowledge in financial education, business administration, banking and financial markets, strategic management, and informed decision making. A concentration is also available in Banking, where students take courses specific to banking operations and management before completing a Senior Capstone Project in Banking.
Net Price: $4,422
Score: 87.22
11. Dickinson State University - Dickinson, ND
Bachelor of Business Administration - Finance
Dickinson State University's Bachelor of Business Administration offers a major in Finance, designed to prepare students with the ability to apply fundamental theories and practices of management to see impactful results. They'll also be able to use analytical problem-solving techniques tailored for the specific needs of the business world. Before beginning the bulk of core courses, students take pre-major courses in economics, business, and accounting. Once proving their academic dedication to the field, they'll be admitted to the upper-division courses such as International Business, Business Policy, Principles of Marketing, and more. Students in online programs at DSU benefit from assigned academic advising and access to other support services designed specifically for non-traditional online students.
Net Price: $11,390
Score: 87.36
10. Metropolitan State University - Saint Paul, MN
Bachelor of Science in Finance
Metropolitan State University's Bachelor of Science in Finance prepares students to take on a variety of different roles in the business world, as the field of finance influences all aspects of an organization. Core areas in the curriculum include investments, risk and financing management, and preparation necessary for success in corporate finance and personal investment services. The degree can be earned on campus, in a hybrid format, or entirely online, with the program requirements staying the same regardless of delivery. Course requirements are divided into overarching topics of the field: Management Foundation, Management Business Core, and then electives. All areas familiarize students in economics, research, financial decision-making, and management skills.
Net Price: $13,954
Score: 88.98
9. National University - San Diego, CA
Bachelor of Science in Financial Management
The Bachelor of Science in Financial Management from National University can be earned entirely online, consisting of four-week classes and a curriculum centered around practical and theoretical training in financial decision-making. Not only do students get experience in monitoring a company's finances, but they'll also receive hands-on training in data analysis and have opportunities to observe how senior managers maximize their profits. The curriculum teaches students how to explain financial objectives of an organization and use quantitative, qualitative, and problem-solving skills to reach those goals. They'll also be able to explain the structure and operation of financial markets both in the nation and across the world.
Net Price: $23,232
Score: 89.35
8. University of Massachusetts-Amherst - Amherst, MA
Bachelor of Business Administration
The Bachelor of Business Administration at the University of Massachusetts offers a focus of study in Finance. The curriculum is centered around training in technical knowledge and uses real-world case studies to equip students with professional experience. Course topics cover corporate finance, financial modeling, investments, bank management, international banking, and advanced corporate finance. Students begin in the program as pre-majors and must complete a minimum of 27 credits either at UMass or another accredited university before starting the formal major. Electives can be taken in Marketing, Sport Management, Accounting, Hospitality and Tourism Management, and other related topics.
Net Price: $21,281
Score: 89.77
7. University of Houston-Clear Lake - Clear Lake, TX
Bachelor of Science in Finance
The Bachelor of Science in Finance from the University of Houston-Clear Lake is designed like a degree completion program; while many of its courses are offered online, entering students have core coursework completed either at UHCL on-campus or at another university. Students benefit from the well-established Business-minded community on campus, including student organizations like Beta Alpha Psi and the UHCL Accounting Association. The curriculum is made up of Business Core requirements and a subsequent Finance Core. Topics cover everything necessary to succeed in the field, from Business Calculus to Management Theory and Practice to Structure of Financial Statements.
Net Price: $11,306
Score: 91.26
6. SUNY College of Technology at Canton - Canton, NY
Bachelor's in Finance
The Bachelor's degree in Finance from SUNY College of Technology at Canton can be earned entirely online, training students for work in a more service-oriented world. The curriculum recognizes the importance of financial services both in urging the success of various business industries and the greater future of the global economy. Students in the program are familiarized with many different operational areas of finance and receive a comprehensive, fundamental education in not only funding but business, accounting, and the liberal arts. Course topics include Financial Management, Global Finance, Strategic Policies and Issues, and Financial Derivatives. There are also opportunities for online students to spend an entire semester working in the financial industry.
Net Price: $12,881
Score: 93.49
5. Missouri State University-Springfield - Springfield, MO
Bachelor of Science in Finance
The Bachelor of Science in Finance from Missouri State University prepares students for management and leadership roles in a variety of settings, including companies and public agencies. The curriculum begins with a foundational understanding of the financial industry before encouraging students to specialize in a particular area through elective courses. Students benefit from the department's professional relationships in the financial sector, which contribute to faculty expertise and potential for scholarships and professional opportunities. Sessions cover finance and essential aspects of its related fields, like accounting, marketing, law, and communications. Graduates are equipped and ready to sit for the CFA Level 1 Exam.
Net Price: $15,173
Score: 93.90
4. Old Dominion University - Norfolk, VA
Bachelor of Business Administration
The Bachelor of Science in Business Administration from Old Dominion University offers a major in Finance that can be earned online, either as a degree completion program where students transfer in with college credit, or an entire undergraduate degree program. The curriculum covers the breadth of the field, with coursework dedicated to topics like financial management and decision-making, investments, portfolio management, banking, and international finance. Students in the Finance program often minor in numerous subjects throughout the university, accompanying their major with a multidisciplinary understanding of its relatives. Specific courses include the Student Managed Investment Fund, Cooperative Education, Risk Analysis and Control, and Real Estate Finance.
Net Price: $15,213
Score: 95.59
3. University of Houston - Downtown - Houston, TX
Bachelor of Business Administration
The Bachelor of Business Administration in Finance from the University of Houston-Downtown is designed to prepare candidates for careers in financial management, investment management, banking, and other financial institutions. The curriculum reflects the everchanging and rapid growth of the global business world, with courses that familiarize students with the different ways businesses operate. Students in the program often opt to complete a minor in Accounting, Marketing, or Economics. The upper-division business courses typically begin a student's third year, with courses that train them in all fields necessary to succeed in finance. This may include courses in statistics, business, and management.
Net Price: $8,766
Score: 96.82
2. University of Alabama at Birmingham - Birmingham, AL
Bachelor of Science in Finance
University of Alabama's Bachelor of Science in Finance is a 100-percent online degree program that trains students in financial analysis, different types of investment services, corporate finance, and real estate. The program was designed with working students in mind. Students are well-equipped for careers in all kinds of settings, from multinational corporations to small startups. The renowned business school at UAB has been recognized for its cultivation of leaders, innovation-driven minds, and ready entrepreneurs. Transfer credits are accepted, and scholarships are available to qualified students, ensuring accessibility to learns of all academic backgrounds. Courses include Equity Portfolio Management, Principles of Real Estate, and Financial Accounting and Research Methods.
Net Price: $17,016
Score: 97.81
1. Florida International University - Miami, FL
Bachelor of Business Administration
The Bachelor of Business Administration in Finance from Florida International University can be completed entirely online and is designed for prospective careers in business, banking, corporate finance, and corporate investments. The curriculum familiarizes students with the latest technology in the field, advancing their ability to gather and analyze financial information. The Finance major is centered around both theoretical and practical knowledge necessary for all aspects of the field, like banking and international finance. Required courses are drawn from related fields like Economics and Statistics so that students are trained in all skills necessary for success in finance. From there, they continue onto advanced topics in Finance and Business Management.
Net Price: $12,219
Score: 100
Get prepared for your next steps
Use articles and resources to uncover answers to common questions, get guidance on your goals, and learn about applying to schools.
Discover a program that is right for you.
Explore different options for you based on your degree interests.