Pursuing a Bachelor's degree in Marine Biology promises students a lifetime journey of research, learning, and growth, both in skill and job opportunity. Marine biology is an ever-relevant field given the societal turn toward and inquisition of humanity's relationship with the planet.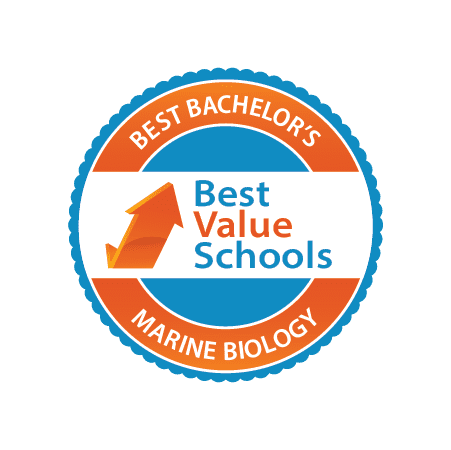 Students who earn their Bachelor's Degree in Marine Biology are prepared with knowledge and skills relevant to a variety of fields, such as data analysis, research methods, and scientific communications. If graduates do not pursue further education and research, they otherwise have a variety of career opportunities in both the public and private sector. Not only are graduates eligible for careers as marine biologists, but also as teachers, conservation scientists, biological firm consultants, and more.
Most Marine Biology programs require students to conduct original research, which is often made easy with on-campus or nearby laboratories. Many universities in the United States also take advantage of their coastal location, and so students can gain hands-on field experience early on in their Marine Biology careers.
Students entering into Marine Biology program should be prepared for entry-level coursework in the basic sciences as preparation for the intensive Marine Biology upper-division courses. These programs call for students to combine knowledge in all types of sciences, including chemistry, physiology, oceanography, and more, to holistically analyze and study marine systems and organisms. Earning a Bachelor's in Marine Biology equips students with the tools and knowledge necessary to participate in a fascinating and complex field, and guarantees opportunities of all kinds.
Selection Criteria
Best Value Schools publishes college degree rankings with the belief of how one's higher education should be, both, affordable and an investment of continued value for the students who pursue them. The staff of BVS collects data from reputable sources in order to calculate Net Price and the short and long-term value of every ranked degree. Collected data is simplified into weighted categories before scoring and then scaled through a BVS Score up to 100. The weighted categories are:
Degree Investment Return (25%)
Student & Alumni Evaluation (25%)
Cost Value (25%)
Matriculation (10%)
Academic Success (15%)
No matter what degree you decide on, we hope our research and support has made the selection process easier. There are numerous resources BVS utilizes to collect information on degrees, and we encourage you to check them out for yourself!
Here are the 10 Best Bachelor's Degrees in Marine Biology for 2020!
10. University of New Hampshire - Durham, NC
Bachelor of Science in Marine, Estuarine, and Freshwater Biology
The Bachelor of Science in Marine, Estuarine and Freshwater Biology from the University of New Hampshire prepares students for careers and advanced study in the specific area of biology. The curriculum begins with basic science courses in math, chemistry, physics, and biology. This core knowledge is then built off of in the advanced study of aquatic sciences from watershed to ocean. Students can also specialize in topics such as Molecular Biology, Ecosystem Studies, Aquaculture, or Animal Behavior. The location of the UNH campus also provides unique opportunities for students, with nearby access to seacoast and lakes. Research is encouraged and may be conducted in the White Mountain National Forest or two coastal marine laboratories.
Net Price: $22,888
Score: 89
9. California State University - Monterey Bay - Monterey Bay, CA
Bachelor of Science in Marine Science
California State University's Bachelor of Science in Marine Science teaches students how to properly apply a wide range of technologies and knowledge to the advanced study of marine ecosystems. The curriculum is focused on applied learning and research and provides students with hands-on field opportunities in the Monterey Bay region. Students also have access to off-campus facilities such as the Moss Landing Marine Labs. Graduates from the program have gone onto a variety of careers in the public and private sector or continued education and research in ecology, environmental science, and other related fields. Course topics include Biological-Physical Oceanography, Quantitative Marine Science, and Marine Biodiversity.
Net Price: $11,233
Score: 90.2
8. Oregon State University - Corvallis, OR
Bachelor of Science in Marine Biology
Oregon State University's Marine Biology course of study is offered as an option within their Bachelor of Science in Biology. The curriculum of the Marine Biology option prepares students with a strong background in marine organism's biology and habitats. The coursework is combined with field and laboratory work in oceanography, ecology, marine biology, and conservation. Students are required to complete a term of residence at the OSU Hatfield Marine Science Center at the coast in Newport, Oregon. During the residency, students are also complete an undergraduate research project. Pursuing additional research opportunities and internships while in the program are strongly encouraged.
Net Price: $30,141
Score: 92.8
7. University of Maine - Orono, ME
Bachelor of Science in Marine Biology
The Bachelor of Science in Marine Biology from the University of Maine designed their program to complement the ideal location of the university, with a curriculum focused on the biological, social, and historic uniqueness of the campus' geographic setting. UM has closeby sites where students have direct access to intertidal and subtidal marine habitats. Students will graduate with skills in analysis and communication, earned through independent study and research. Coursework is dedicated to advanced training in topics like Genetics, Marine Ecology, Oceanography, and various species-focused topics. Before earning their degree, students of MU complete a Capstone Requirement fulfilled via seminar, or by completing a senior-level thesis.
Net Price: $30,970
Score: 93.4
6. University of California - Los Angeles - Los Angeles, CA
Bachelor of Science in Marine Biology
The Bachelor of Science in Marine Biology from the University of California-Los Angeles prepares students who are specifically interested in the area of marine sciences. Graduates of the program will not only have an established background in biology, but advanced knowledge in various subdisciplines, like oceanography, subtidal and intertidal ecology, and physiology of marine organisms. Alongside coursework, students have numerous opportunities for field experience and individual research. The major requires students to complete a Life Sciences Core Curriculum in preparation for the more advanced and Marine Biology-focused courses. Before graduation, all students complete a capstone throughout an entire quarter dedicated to field research.
Net Price: $14,760
Score: 93.7
5. University of Washington - Seattle, WA
Bachelor of Science in Marine Biology
The Bachelor of Science in Marine Biology from the University of Washington covers all aspects of the field, like Marine Ecology, Physiology, Evolutionary Biology, and Conservation and Management. The curriculum is designed to encompass intersecting subjects taught in the Oceanography Department and Aquatic and Fishery Sciences Department, which provides students with many field experiences lead by Friday Harbor Laboratories. Students are required to complete an integrative field experience or research at Friday Harbor or a similar site in the San Juan Islands. Electives can cover topics like Marine Botany; Marine Mammals of the Salish Sea; Comparative Anatomy and Physiology of Marine Organisms; and Marine Zoology.
Net Price: $9,443
Score: 93.8
4. Stony Brook University - Stony Brook, NY
Bachelor of Science in Marine Sciences
Stony Brook University designed their Bachelor of Science in Marine Sciences to prepare students with an interdisciplinary background in the sciences, drawing from biology, physics, and chemistry to provide a holistic understanding of the many aspects of Marine Sciences. After completing these basic background courses, upper-division electives allow students to further their knowledge of particular groups of organisms and habitats. Many students participate in research and internships either at the main campus or in Southampton, NY. Marine Science courses cover topics like Environmental Microbiology, Coastal Oceanography, Long Island Marine Habitats, and Marine Conservation.
Net Price: $14,330
Score: 94.4
3. California State University - Long Beach - Long Beach, CA
Bachelor of Science in Marine Biology
The Bachelor of Science in Marine Biology from California State University-Long Beach provides students with hands-on experience at bay, estuary, rocky intertidal, and open ocean habitats. All students are encouraged to conduct original research alongside frequent field trips, as coursework is often focused on research methods, experimental design, statistical analysis, and scientific communication. Course topics include Evolutionary Biology, Fisheries Ecology and Conservation, Marine Microbiology, and more. Prerequisites prepare students with foundational knowledge in organic chemistry, comparative animal physiology, evolution and diversity, and statistics. Graduates from the program have gone onto Ph.D. programs or work in teaching, biological consulting firms, and resource management agencies.
Net Price: $9,654
Score: 94.4
2. University of North Carolina at Chapel Hill - Chapel Hill, NC
Bachelor of Science/Arts in Biology with Marine Sciences
The University of North Carolina at Chapel Hill offers a Bachelor of Science or Arts in Biology with a minor in Marine Sciences. UNC-Chapel Hill is dedicated to preparing students for graduate-level study and research, and so even the minor provides students the opportunity for supervised practical experiences. The minor in Marine Sciences is made up of coursework focused on biological, chemical, geological, and physical oceanography. Specific course topics have included Change in Coastal Ocean; Wetland Hydrology; Fluid Dynamics; and Extreme Microorganisms. Undergraduate research is encouraged, and the department can help students find opportunities that best suit their interests.
Net Price: $11,100
Score: 96.9
1. Duke University - Durham, NC
Bachelor of Science in Biology with Marine Biology
Duke University offers a concentration in Marine Biology for those pursuing a Bachelor's in Biology. The curriculum views the discourse of Marine Biology as an application of different specialties in biology, used to study marine organisms. Students who opt to concentrate in Marine Biology within their BS/BA in Biology are required to complete two lab courses at the Duke University Marine Laboratory. There are three required Biology-focused courses in the concentration, while the subsequent electives cover a variety of advanced aspects of Marine Biology. These electives include Biological Oceanography, Marine Bioacoustics, Comparative Physiology of Marine Animals, and more.
Net Price: $22,011
Score: 100