BestValueSchools.com is an advertising-supported site. Featured or trusted partner programs and all school search, finder, or match results are for schools that compensate us. This compensation does not influence our school rankings, resource guides, or other editorially-independent information published on this site.
Are you ready to discover your college program?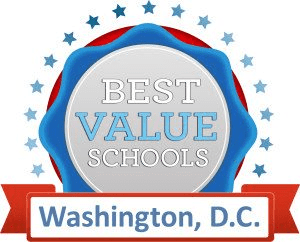 By Iris Stone
In this ranking, we examine top value universities and colleges in Washington, DC. You can also check our online options here: Best Value Online Colleges and Universities in Washington, DC.
Although not officially a state, Washington, D.C. is an important - nay, an essential - region of the United States. In addition to being the national capital, the home of the President, and the seat of all three branches of government, "the District" also lays claim to some of the nation's best colleges.
Unsurprisingly, many of the local universities excel academically in areas related to politics and public service, and they all take advantage of the cultural, entertainment, and artistic opportunities citywide.
With campuses that offer unparalleled diversity, access to coveted internships, and views of some of the nation's most iconic monuments, it's easy to justify the somewhat high cost of attending a D.C. university. In keeping with our vision of "best value" in higher ed, we've identified the five top colleges in Washington, D.C. that go above and beyond to ensure students' success without going overboard on cost.
Methodology
Read more about the methodology we used for this article here.
5. Gallaudet University
Washington, D.C.
Website
It's safe to say that there is no other university in the country quite like Gallaudet. The school caters exclusively to deaf and hard of hearing students, providing classroom instruction in both English and American Sign Language. Many of Gallaudet's degree programs - including ASL, Deaf Studies, Interpretation, and Communication Studies - promote deaf culture, but like all of the best universities in Washington, D.C., its academic offerings are wide and varied. Many students choose to major in an area of business, human services, science, math, or technology, and the school also funds a robust visual arts department.
Net Price: $14,080/yr
Score: 98.21
4. Howard University
Washington, D.C.
Website
Take one step onto Howard University's campus and you'll quickly see why it has been named a top Washington, D.C. college. Located on the south bank of the McMillan Reservoir, Howard stands out from the surrounding cityscape with its open green spaces and historic architecture. Capitol Hill, U Street, and the Howard Theatre are all just blocks away, putting students within easy reach of internships, entertainment, and culture. Most importantly, this affordable university in Washington, D.C. has a strong reputation for academic excellence. In fact, it's hard to find a weak spot anywhere in its curriculum! It's a top producer of African American undergrads in science and engineering; hosts nationally-ranked communication, business, and social work programs,; and is home to a top-rated College of Medicine and School of Law.
Net Price: $22,337/yr
Score: 101.53
3. American University
Washington, D.C.
Website
It's probably not a surprise that students at American University are among the most politically active in the country. Residing in the Northwest quadrant of the district just minutes from Capitol Hill and the National Mall, students at this top university in Washington, D.C. have a hard time not getting swept up in the passion and ambition of the city. American also has a reputation for diversity and cultural awareness, and each incoming class includes students from as many as 150 different countries. The school's academic programs also reflect the political spirit and community involvement of its urban home; programs like DC Reads, courses in Community-Based Learning, and special internships through the Washington Semester perfectly position students for careers in politics, nonprofit work, and public service.
Net Price: $33,778/yr
Score: 119.85
2. George Washington University
Washington, D.C.
Website
Admittedly, George Washington University isn't exactly a cheap Washington, D.C. college, but then again D.C. isn't exactly a cheap place to live! On the plus side, GW students enjoy exceedingly comfortable residence halls - upperclassmen can even apply for housing in small townhouses (with private bathrooms) and high-rise apartment buildings. The school's sprawling, walkable urban campus seamlessly blends in with the local architecture of Foggy Bottom (one of the oldest neighborhoods in the historic capital city) and is just steps from the Kennedy Center, the White House, and numerous local monuments. And if you're still cringing at the cost, consider the fact that GW grads have no trouble making money: PayScale.com reports an average 20-year net ROI of nearly $400k!
Net Price: $32,386/yr
Score: 129.17
1. Georgetown University
Washington, D.C.
Website
As the oldest Jesuit university in the United States, Georgetown has plenty of experience providing a "world-class learning experience" that values global engagement, community service, and cultural diversity. With commendable acceptance and graduation rates of 17% and 95%, respectively, Georgetown easily qualifies as one of the top colleges in Washington, D.C. It's also an academic powerhouse, providing numerous opportunities for undergraduates to participate in research, study abroad, and immerse themselves in new artistic and cultural experiences. And the Georgetown "Hoyas" are certainly an expressive bunch. Dance groups like Groove Theory and the Ballroom Dance Club; a music program that partners with the American Opera Theater; and nearby artistic venues like the renowned National Gallery of Art and the Portrait Gallery all serve as creative outlets for this energetic student body.
Net Price: $25,786/yr
Score: 174.99
This concludes our ranking of best value Washington, D.C. colleges and universities.
Sources:
College Navigator
Pay Scale
About the Author:
Iris Stone began her writing career as a freelance writer and researcher. She now owns and operates a writing and editing firm that works with clients all across the country. Her work has included articles related to education policy, colleges and universities, academic programs, and careers.
Get prepared for your next steps
Use articles and resources to uncover answers to common questions, get guidance on your goals, and learn about applying to schools.
Discover a program that is right for you.
Explore different options for you based on your degree interests.