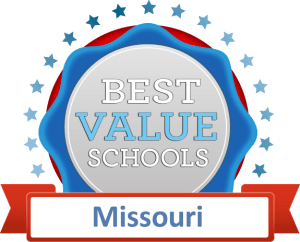 By Iris Stone
In this ranking, we highlight the best values in colleges and universities in Missouri. We've also compiled a ranking of the top online universities in Missouri.
A quick look at your academic choices in this Midwestern state should easily convince you that Missouri is overflowing with best value colleges. Be warned if you have trouble making decisions! With all-star universities like Washington University in St. Louis, the University of Missouri in Columbia, and the Missouri University of Science and Technology, you can feel confident that this ranking has something for everyone. Even if you're seriously strapped for cash, fear not; one of the top schools we've included offers nearly free tuition!
How did we determine our ranking? While it's difficult to claim that any college or university would be a great fit for everyone, we do know that there are certain features almost everyone looks for during their college search: affordability, selectivity, and student success (both before and after graduation). Using these metrics and weighting them according to importance, we've produced a list that is heavy on academic excellence, resources, and student programs while treading lightly on your pocketbook.
Our Ranking Methodology:
Graduation Rate: This indicator refers to the percentage of students who complete their degree within 150% of normal time (six years for a typical four-year degree program). Schools that perform well in this area have a track record of keeping students engaged and successful for their entire time on campus. We weighted this category 30% of the total and retrieved the information from College Navigator.
Net Price: In order to make sure that cost was still a factor in the ranking, we also considered overall net price as an indicator. Taken from data on College Navigator, "net price" is an approximate value that refers to the average amount of money a student could expect to pay each year after taking into account tuition, room and board, living expenses, scholarship awards, and financial aid packages. We weighted this category 25% of the total.
Acceptance Rate: Academically challenging, popular universities tend to be more selective and thus have a lower acceptance rate. In order to pinpoint those colleges that boast rigorous academics and also receive a large number of applications, we considered acceptance rate - the percentage of students out of the total number of applicants who receive an acceptance letter. We retrieved this information from College Navigator and weighted it 30% of the total.
20-Year Net Return on Investment: Taken from information on the website PayScale, this statistic provides a picture of how much students can expect to make after they graduate from a particular college. More specifically, the figure is calculated by taking the average income an alumnus will make over his or her first 20 years after graduation and subtracting the amount paid in tuition. Schools with a high ROI tend to be better at preparing their students for the job market. We weighted this category only 15% because data was not available for all colleges considered.
After adding all the points, we gave each university a final score out of 200. The schools below have scores ranging from 88 to 145, and each has something different to offer in terms of its cost, quality, and reputation. No one college is perfect (which is why the scores vary so much) but this ranking offers you a premier selection of universities to help get you started on your search for an education in Missouri.
Ranking the Best Values in Missouri Colleges and Universities
19. Westminster College
Fulton, MO
Website
What would be the point of going to college if you planned on being the exact same person from freshman to senior years? At least, that's how this Missouri college sees it. As one of the top colleges in Missouri, Westminster expects its students to arrive on campus ready to be transformed. This attitude has proved popular with a diverse range of applicants, and in any given year the student body includes representatives from more than 70 countries. Considering student enrollment caps at about 950, it's safe to say Westminster is one of the most diverse small colleges in the entire country. But rather than causing divisions, the heterogeneous mix of backgrounds only brings students closer together.
Net Price: $20,621/yr
Score: 88
19. Southwest Baptist University
Bolivar, MO
Website
For the past 15 years, this Missouri university has earned top rankings on the list of America's 100 Best College Buys and America's Best Christian Colleges, and its scholarship program has garnered national recognition as well. It's rare that a school does such a superb job balancing faith and finances with traditional academic features, but SBU makes it look easy. This is because Southwest Baptist students use their faith as a vehicle to new adventures; study abroad mission trips, Bible camp retreats, service learning events, and campus organizations like the Fellowship of Christian Athletes represent just a few of the ways SBU merges religion and education in a combination that is more than the sum of its parts.
Net Price: $16,892/yr
Score: 88
18. Missouri State University Springfield
Springfield, MO
Website
There are plenty of universities that focus on engineering, music, or the visual arts, but there are very few schools that have a targeted mission like this Missouri university. This affordable Missouri university is a self-proclaimed public affairs university, and many of its programs are oriented toward community engagement, ethical leadership, and cultural competence. Programs like Community and Regional Planning, Environmental Sciences and Policy, International Relations, Law and Society, and many others will put you on the right track to responsible citizenship. If you're not ready to immerse yourself in public affairs, that's OK too; MSU's four campuses (including a location in Dalian, China!) collectively offer more than 185 academic options covering just about every subject imaginable.
Net Price: $14,192/yr
Score: 90.5
17. Lindenwood University
St. Charles, MO
Website
Neatly tucked away in the charming community of St. Charles, this Missouri college has been quietly growing in both size and stature for almost 200 years. Its tree-spotted campus and historic architecture convey a sense of calm and tranquility, but underneath the surface Lindenwood is a buzzing hive of activity. More than 16,000 students at a time choose to attend this top university in Missouri, due - at least in part - to the "values-centered education" the school provides. Students cultivate a sense of personal responsibility through Lindenwood's numerous enrichment experiences, such as the annual Speaker Series, student research symposiums, and study abroad trips to nearly a dozen countries.
Net Price: $21,440/yr
Score: 91.0
16. Central Methodist University
Fayette, MO
Website
Central Methodist University is a small private college for students with big ideas. In accordance with its United Methodist affiliation, this Missouri university enforces a student-centered education and fosters an environment of social responsibility, self-discovery, diversity, and global competence. And like all of the best Missouri colleges, CMU encourages students to get involved in campus activities - not just for fun, but also as a way to build relationships, discover new interests, and grow as individuals. From intramural sports - ultimate Frisbee and flag football among them - to creative outlets like Eagle Radio and the campus newspaper, you can rest assured that you will never be bored - but that you'll always be growing.
Net Price: $17,785/yr
Score: 93.0
15. Cottey College
Nevada, MO
Website
As one of just a few schools in the United States that still offers single-sex education, this Missouri college is easy to pick out from the crowd. But there are plenty of other reasons to name Cottey one of the best colleges in Missouri - although the all-female student body is definitely a good one! More specifically, the school outlines four additional selling points in what it calls "The Cottey Advantage"; the fun, high-energy community; leadership training that is integrated into the academic curriculum; free study abroad trips for the entire second-year class to help students develop a global view; and apartment-style residence halls that are intentionally designed to create small, sociable communities that feel like home.
Net Price: $16,876/yr
Score: 95.0
14. Avila University
Kansas City, MO
Website
The Sisters of St. Joseph of Carondelet originally founded this Missouri university in the mid-1800s, establishing a straightforward mission to "work for the dear neighbor." This simple but compassionate directive continues to attract students to the university today. You can work with the Center for Global Studies and Social Justice to earn a grant for immersive travel experiences, complete local community service projects, or earn an internship with peaceful organizations like the American Friends Service Committee. Government majors might also take a semester to work with a non-profit in Washington, D.C., and all students are open to join service-minded campus organizations like Colleges Against Cancer and the Disability Advocacy Group.
Net Price: $19,781/yr
Score: 95.5
13. University of Central Missouri
Warrensburg, MO
Website
This Missouri university offers a "future-oriented" education with a consistent focus on skills that will serve students well in the job market. The 13,000 students at UCM have access to some of the best state-of-the-art facilities in the region, including redbird simulators in the Aviation Program, 19,000 square feet of student meeting space in Elliot Union, decked-out recreation facilities with climbing walls and an indoor shooting range, and a modern Agriculture Mechanics Laboratory and greenhouse complex. There's even an entire "Innovation Campus" that partners with the local school district to help students graduate with a valuable, four-year degree just two years after high school!
Net Price: $13,606/yr
Score: 96.0
12. William Jewel College
Liberty, MO
Website
Can't decide if you want to attend a rural or urban school? If you go to this Missouri college, you won't have to pick! The 200-acre campus sits on the edge of a forested landscape on one side and has a view of Kansas City on the other. This geographic split is mirrored in the spectrum of opportunities available to learners at this top Missouri college. The Center for Justice and Sustainability supports projects like the Harvest Hill Community Garden, while the Tucker Leadership Lab offers an outdoor recreation space for leadership and teamwork skill building. On the other hand, there are plenty of internships, field experiences, and volunteer opportunities available in Kansas City, and the highly praised Oxbridge Honors Program provides guaranteed study in an even bigger metropolitan area - Oxford in the United Kingdom!
Net Price: $21,173/yr
Score: 99.5
11. University of Missouri St. Louis
St. Louis, MO
Website
With all that the city of St. Louis has to offer, it's not hard to convince students of the merits of attending a university within its limits. Big-city attractions mix with a friendly Midwestern community spirit to produce a metropolis unlike any other. This Missouri university captures this spirit on its own campus and uses it to fuel engaged, innovative learning. Academics at UMSL focus on interdisciplinary, metropolitan degrees that take advantage of local resources, such as Economics, Biochemistry and Biotechnology, Public Administration, and Criminology. Degrees like this - as well as a cheap Missouri college price tag below $10k - help support UMSL's 20-year ROI of nearly $230k.
Net Price: $9,969/yr
Score: 100.0
10. Rockhurst University
Kansas City, MO
Website
This Missouri university is one of 28 Jesuit institutions of higher learning in the United States, and its connection with the nation's largest network of private colleges affords it some serious advantages. For one, the Jesuit approach to education - which fosters a genuine love of learning and emphasizes truth, inquiry, and philosophical curiosity - encourages students to make the most of their experience on campus, thinking about school as more than a conduit to a credential. In addition, Rockhurst makes a priority out of student engagement, and as a result it boasts some of the highest educational satisfaction ratings in the entire country! It's no surprise, then, that RU maintains a respectable 69% graduation rate and impressive $400k 20-year ROI.
Net Price: $19,723/yr
Score: 106.5
9. University of Missouri Kansas City
Kansas City, MO
Website
It's hard to know where to start with a school like the University of Missouri Kansas City. While some schools offer a clear strength in one area, colleges like UMKC seem to excel across the board. This makes UMKC not just one of the best universities in Missouri, but a simultaneous powerhouse and well-rounded jack-of-all-trades. This Missouri university has earned a "community engagement" classification from the Carnegie Foundation; has been ranked a military-friendly, gay-friendly, and environmentally friendly; and it has earned academic distinctions for its law, management, nursing, pharmacy, and public administration degrees. The university generally accepts about 64% of applicants, and with its growing popularity this figure is likely to become increasingly selective in the future!
Net Price: $18,904/yr
Score: 107.5
8. Missouri University of Science and Technology
Rolla, MO
Website
With the skyrocketing cost of education, most students can't afford to think of college as anything other than an investment - not just in terms of their own growth, but also in the financial return they should expect. At this Missouri university, this reality empowers students to take their studies seriously. Degree programs focus almost exclusively on engineering, sciences, and computing - Aerospace Engineering, Geophysics, and Applied Mathematics among them - and incorporate frequent guest lectures and labs. The school's Experimental Mine has even been ranked the #1 "Awesome Lab" in the country for four years running! Between the low cost and high ROI (a whopping $726,000), MST really is one of the most affordable colleges in Missouri for ambitious students.
Net Price: $14,377/yr
Score: 110.0
7. University of Missouri Columbia
Columbia, MO
For further information: University of Missouri
The University of Missouri Columbia, or "Mizzou" as locals say, is the largest public research university in the state and the flagship campus of the UM system. And forget being one of the top colleges in Missouri - Mizzou is without a doubt one of the top public schools in the United States. At this school, it's all about being comprehensive; 300 degree programs, 35k students from 120 nations, and $235 million in annual research expenditures prove that the University of Missouri Columbia offers more variety and opportunities than you could possibly uncover in four short years. That being said, Mizzou also has a reputation for excellence in a few very specific areas, most notably as a top choice for creative writing and journalism.
Net Price: $16,872/yr
Score: 112.0
6. St. Louis University
St. Louis, MO
Website
As another one of the great Jesuit institutions in Missouri, this Missouri university holds a dual reputation for both academic excellence and cultural diversity. 8,600 undergraduates from all faiths and backgrounds (including 75+ countries) choose SLU in an attempt to capture this inclusive spirit, and in return the school makes a committed effort to offer its students the world. And between the school's ideal placement within the St. Louis' cultured art district; its satellite campus in Madrid, Spain; the nearly $40 million in research support; and its endless catalog of international programs (the international business program is also one of the best in the nation), SLU undoubtedly achieves its goal.
Net Price: $33,812/yr
Score: 114.0
5. Central Christian College of the Bible
Moberly, MO
Website
Right off the bat, it's easy to see what makes this Missouri college unique. While many independent religious universities have trouble keeping costs down, Central Christian seems to have uncovered the secret to becoming a great cheap college in Missouri. In fact, many of the college's alumni graduated entirely debt-free! Central also distinguishes itself through its unusually strict code of conduct, which prohibits alcohol consumption, R-rated movies, spending the night with a significant other, and staying out past midnight on weeknights. Although this lifestyle deviates substantially from what many consider to be the traditional collegiate experience, CCC is anything but unpopular. Its acceptance rate is only 42%, which means it has to turn away almost 60% of applicants each year!
Net Price: $11,647/yr
Score: 114.0
4. Park University
Parkville, MO
Website
With exciting metropolitan areas like St. Louis and Kansas City, it might be hard to imagine why anyone would choose to attend college in Parkville. But don't pass judgment too quickly! The small town's antique stores, art galleries, and historic architecture offer a quaint alternative to big-city chaos. And despite its humble location, this Missouri university takes a worldly approach to education. Its core values include global citizenship, inclusivity, and excellence - values that are reflected in its many engaging student programs, including the International Center for Music, where artists can take lessons in the renowned European apprenticeship model. Park is also one of the most affordable colleges in Missouri, putting students in a comfortable financial position upon graduation and contributing to a $435k 20-year net ROI!
Net Price: $9,326/yr
Score: 121.0
3. Truman State University
Kirksville, MO
Website
Truman State University takes on a unique position on this ranking of the most affordable top universities in Missouri. Unlike the many large public research schools and small religious colleges in the state, TSU is a midsized, public university of traditional liberal arts values. Students choose TSU because they want to stand out from the crowd instead of getting lost in it. The 16: 1 student-to-faculty ratio offers young scholars the advantage of taking small classes from professors who know their name - and who might even invite them to partner on research projects! Academics focus on "high impact" learning activities like internships and study abroad travel, and this hands-on approach has led TSU to an notable graduation rate of 71%.
Net Price: $12,041/yr
Score: 128.5
2. College of the Ozarks
Point Lookout, MO
Website
Although its official name is College of the Ozarks, you might as well call this school "Hard Work U." C of O professes to exemplify "what is right with America," namely the work ethic and dedication that once established the United States as a beacon of equal opportunity. This Missouri college doesn't participate in any loan programs, but it is still one of the most affordable Missouri colleges. How? Its Work Education Program, which provides all students with on-campus jobs (you might work in a computer lab, the Child Development Center, or a museum, among other places) that defray tuition costs. Students frequently graduate debt-free, which has made C of O incredibly popular - so much so that its acceptance rate is only 8%!
Net Price: $14,152/yr
Score: 133.0
1. Washington University in St. Louis
St. Louis, MO
Website
If you're even remotely familiar with the top colleges in Missouri, you probably expected Washington University in St. Louis to show up at the #1 spot. Its 95% graduation rate, 17% acceptance rate, and $500,000 net ROI make it an unequivocal leader in all respects. You could visit the gorgeous campus any day and overhear passionate conversations between intellectual students discussing ambitious plans for research or promoting the cause with a social justice group. But while Wash U is one of the best universities in Missouri for smart students, they still make time for fun in the city; conversations also include stories of their visits to museums, evenings at "The Loop" (one of the top 10 streets in America), and trips to cheer on the beloved Cardinals.
Net Price: $33,374/yr
Score: 144.5
Sources:
Pay Scale
College Navigator
Wikipedia
This concludes our ranking of the best value Missouri colleges and universities.
About the Author:
Iris Stone began her writing career as a freelance writer and researcher. She now owns and operates a writing and editing firm that works with clients all across the country. Her work has included articles related to education policy, colleges and universities, academic programs, and careers.