HOW CAN I GET THE BEST DEAL ON COLLEGE TEXTBOOKS?

Are you ready to find your fit?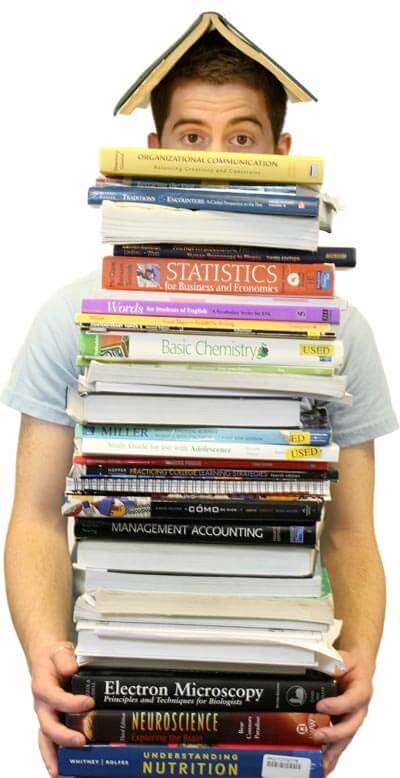 When you pay your tuition for the semester, you might feel a little drained from the expense, but if you look for the best deal on college textbooks, you can still save hundreds of dollars.
Even though most college bookstores buy back textbooks at the end of the semester, you won't be able to sell them if your courses use different textbooks the next semester. By using a strategy of finding the lowest prices and buying new textbooks if they can be resold after the semester, you can minimize your expenses and spend your money on items you really want.
If the bottom line is all that matters to you, you can get some textbooks for free if you don't mind a lower quality or having to share the book. Your college library usually has quite a few textbooks that you can use without removing them from the building, and you can use the campus scanners to copy as many chapters from the books as you need. Save even more money by reading the scanned pages in electronic form instead of printing them out. The scanners in the library usually make scans in JPEG format, and you can save the JPEGs on a flash drive.
Save Money by Using Electronic Textbooks
For most people, the best deal on college textbooks comes from using e-books, which you can rent from websites such as CourseSmart and eCampus. To find textbooks on one of these sites, just enter the title or ISBN number in the search bar and choose the book from the search results. These sites only allow you to rent textbooks in e-book format because their licenses don't allow them to sell the books outright, but you can save as much as $100 on a single textbook by renting the e-book. You can read the book online by logging into your account on the website, and you can download all or most of the chapters in the book to read offline. Usually, you can't download the whole book, but you should be able to download as much as you need for the class.
Another method is to simply search for the book in EPUB or PDF format on Google. While downloading textbooks with Torrent files is illegal and can lead to lawsuits that cost thousands of dollars, many textbooks are freely and legally available online. Google Books often has free textbooks, and while they're not always the ones that save you hundreds of dollars, you can still usually save $30 or $50 on some of the extra books professors assign throughout the semester.
Buy Used Hard-Copies From Students and Resellers
Every semester, students post ads around the campus for used textbooks that they want to sell for a little more money than the bookstore will pay to buy them back. You can spend less on these books than you would by buying them used from the bookstore, or you can shop at an off-campus used bookstore for better prices. There are used textbook stores near most college campuses, and they usually offer better prices than campus bookstores.
Buying textbooks can feel like punishment after paying your tuition, especially if you simply buy new textbooks from the campus bookstore. Instead, search for the best deal on college textbooks and save hundreds of dollars for other items you can really use.
Related Resource: Best College Reviews - Some Useful Tips for Surviving Finals
Get prepared for your next steps
Use articles and resources to uncover answers to common questions, get guidance on your goals, and learn about applying to schools.
Discover a program that is right for you.
Explore different options for you based on your degree interests.