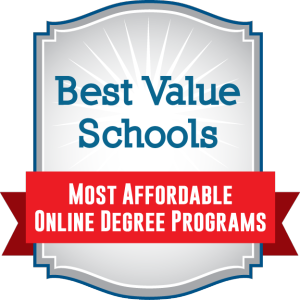 Anyone who wants to work in a religious vocation or just wants to learn more about their faith could benefit from attending an online theology degree program. Graduates wielding a degree in a major such as Theology, Biblical Studies, or Christian Ministries are well positioned for work as both missionaries and ministers. Other work opportunities include church administration, nonprofit management, and youth group leadership.
Because of the strength and popularity of online degrees, we wanted to find out just what the options are for Christian students interested in distance education. There are numerous biblical studies and ministry degrees online, most of which are provided by colleges with a particular religious affiliation. Some schools focus on one major, while others offer a whole host of degrees, concentrations, and minors in religious subjects.
The 25 Best Online Christian Ministry Degrees Ranking Methodology
Selection Criteria
All of the colleges and universities we considered for this ranking are private, religiously-affiliated institutions with an average undergraduate tuition rate that is less than average (approximately $22,000) for all post-secondary schools in the U.S.
Ranking Factors
We considered four primary factors for this ranking of the best bachelor of biblical studies degrees online. First, we examined the number and type of theology and Christian studies programs that each school offers. Degrees in Bible/Biblical Studies, Theology, Christian Studies, and any type of Ministry/Missions all counted toward this category.
We also examined general performance statistics for each college, namely their selectivity and undergraduate graduation rate. Lastly, we took into account each school's average undergraduate tuition rate based on data provided by College Navigator.
All four categories were weighted equally in calculating the final ranking. As the last step, all the final scores were rated on a curve so that the #1 online Christian college earned an even 100 points.
---
25. Warner University
Online Bachelor's of Science in Christian Ministry
Website
Tuition at Warner University is higher than at many other colleges on this list, which is one of the reasons the college places 25th in the ranking. And yet, for nontraditional students who can handle the cost, Warner probably has one of the best ministry degrees online. In fact, applicants are only eligible for the university's distance education programs if they are at least 23 years of age or otherwise qualify as a "working adult." But for those who do qualify, Warner offers a flexible and accelerated delivery format that allows students to complete two courses every eight weeks.
Tuition: $20,712
Score: 60.51
24. The King's University
Online Bachelor of Biblical and Theological Studies
Website
The King's University offers a royal selection of affordable online theology degree programs for students with a variety of interests. On one end of this spectrum is the Bachelor of General Christian Studies, which imparts a broad education in the Christian faith. The Bachelor of Biblical and Theological Studies is slightly more focused on biblical interpretation; you can even take Hebrew and Greek language classes or add a concentration in Messianic Jewish Studies. However, professionally minded undergrads may prefer the Bachelor of Christian Ministry or the Bachelor of Biblical Counseling, both of which put a strong emphasis on training for careers in the church.
Tuition: $13,650
Score: 60.87
23. Midwestern Baptist Theological Seminary
Online BA in Biblical Studies
Website
If you're a Christian undergraduate who appreciates options, you'll also appreciate Midwestern Baptist Theological Seminary's online degree programs. Choose a BA in Christian Ministry and select a second emphasis in either Divinity or Business. Or opt for the BA in Biblical Studies and decide between concentrations in Business, Counseling Psychology, Humanities, and Worship Ministries. Of course, you'll also appreciate the price, as few schools offer such cheap ministry degrees online. Plus, you'll get to make all these choices through MBTS's research-based OnlineYou system, which employs a proactive team of digital developers and uses the latest technology and to maximize your online learning experience.
Tuition: $6,925
Score: 60.87
22. Barclay College
Online Bachelor's Degree in Biblical Studies
Website
Online students at Barclay College can choose from two faith-based bachelor's degree programs: Biblical Studies and Christian Ministry Leadership. The former option provides a general education in Christian literature and teachings, with classes like "Synoptic Gospels," "Writings of John," and "Friends Theology." In contrast, the latter option delivers more practical instruction for those who aspire to a leadership position in their church. Undergrads who pursue this accredited online Christian ministry degree study "Old Testament Models of Leadership," "Bible Evidences," "Techniques of Counseling," and many other career-oriented topics. In addition, Barclay offers a handful of online certificates for those who want to expand their repertoire of skills even further.
Tuition: $15,990
Score: 61.23
21. Morthland College
Online BA in Biblical Studies
Website
Like most schools on our ranking of top online theology degree programs, Morthland College's BA in Biblical Studies primarily serves to "deepen your knowledge of the Bible" while imparting "practical knowledge about ministry." But Morthland sees this program as an opportunity to enhance students' competency in other areas as well. For example, all biblical studies majors must complete a senior thesis that demonstrates their ability to think critically, synthesize concepts, and clearly articulate their ideas. You'll even have the opportunity to study Greek and Hebrew so you can read religious texts in their original form.
Tuition: $14,780
Score: 61.96
20. Lancaster Bible College
Online BA in Biblical Studies
Website
The Bachelor of Arts in Biblical Studies at Lancaster Bible College stands out on this ranking for a few reasons. Chief among these is its unusually customizable curriculum, which allots nearly 40 credits to open elective courses. This gives you the freedom to take any class you're interested in, or you can concentrate them in another area of study (and in fact, biblical studies majors are required to select a minor). It also earns the program a reputation among transfer students as one of the best Bachelor of Biblical Studies degrees online!
Tuition: $21,500
Score: 62.32
19. Dallas Christian College
Online BS in Practical Ministries and Bible
Website
Dallas Christian College has pioneered a unique course delivery system that will redefine your standards for flexibility and accessibility. Appropriately known as "FLEXCampus," this system grants students complete freedom over their learning experience. You can attend classes on campus, log in to online LIVE (in real time), or watch a video recording later. And you don't have to pick just one; every week you can pick the method that's best for your schedule. Currently, FLEXCampus offers a number of accredited online theology degree programs that combine Bible studies with another discipline. Examples include Business and Bible, Psychology and Bible, and Practical Ministries and Bible.
Tuition: $17,454
Score: 62.68
18. Southwestern Adventist University
Online BA in Theology
Website
Instead of Christian ministry or Bible studies, Southwestern Adventist University offers a bachelor's degree is in theology. Due to this broader focus, the curriculum prepares majors for a wider range of career opportunities than many of the other programs on this list. Graduates may work in education, counseling, medicine, communication, or in the nonprofit sector. Even so, most students who earn this degree end up working as pastors for an Adventist conference. So if your goal is to one day lead a Seventh Day Adventist organization, you'll likely agree that this is one of the best online theology degree programs.
Tuition: $20,276
Score: 64.49
17. Heritage Christian University
Online Bachelor of Arts in Biblical Studies
Website
At Heritage Christian University, all undergraduates major in biblical studies. As such, the program primarily attracts applicants who want to pursue a career in evangelistic ministry. The 128-hour curriculum, which is available on campus and online, consists of five parts: general education, biblical and theological studies, professional studies, field education, and concentration. Most noteworthy are the last two categories, which will require you to gain substantial hands-on work in a ministerial setting and declare a career specialization. Also, with HCU's affordable tuition rate (one of the lowest on this ranking), this is undoubtedly one of the best cheap Bachelor of Biblical Studies degrees online.
Tuition: $9,792
Score: 64.86
16. Toccoa Falls College
Online Biblical Studies Major
Website
Biblical Studies majors at Toccoa Falls College explore Christian literature though both personal and professional lenses. This means that they can use coursework to grow their own faith while also preparing for a career in pastoral ministry or teaching. Because TFC also offers its Bachelor of Biblical Studies degree online, students from all over the country can reap the benefits of this program. And Toccoa Falls ensures that all its online courses maintain the same quality that you'd find in the classroom; it even earned a ranking as the #3 best online college in Georgia!
Tuition: $21,414
Score: 66.3
15. John Wesley University
Online Bachelor of Arts in Ministry
Website
For anyone who wants an education steeped in Biblical principles, John Wesley University is one of the top online Christian colleges in operation today. Most importantly, JWU requires all undergrads to earn two majors: one in their chosen field, and the other in Bible studies. And yet, the university only offers two other bachelor's degree options - a BA in Management and a BA in Ministry. This means that most students get a double-dose of religious education. Both of these programs are available online, and the Christian ministry curriculum even offers six concentration options.
Tuition: $11,230
Score: 66.67
14. Point University
Online Bachelor of Science in Christian Ministries
Website
Point University's Bachelor of Science in Christian Ministries provides an opportunity for students to "develop their spiritual gifts, strengthen their faith, and enhance their knowledge of Christian principles." As such, it's ideal for anyone who wants to learn more about church doctrine. However, the curriculum also includes practical courses like "Introduction to Preaching" and "Administration and Leadership in Ministry," making it an equally ideal option for aspiring pastors, worship leaders, and church administrators. Undergrads and adult learners can also pursue this affordable ministry degree online. In the web-based program, CM majors utilize asynchronous learning and progress through the coursework at their own pace.
Tuition: $19,200
Score: 68.12
13. North Greenville University
Online Bachelor's Degree in Christian Ministries
Website
Whether you ultimately want to attend seminary school or you just want to understand more about the Christian faith, North Greenville University has a program for you. In fact, NGU's Christian Ministries major can help you accomplish both those goals by "provid[ing] a solid foundation of orthodox theology and practical application to daily life and ministry." Offered through the College of Adult Professional Studies (CAPS), this top online Christian Ministry degree puts a strong emphasis on real-world experience. This includes two ministry practicums, which you can complete with your local church or a religious or nonprofit organization.
Tuition: $17,594
Score: 69.2
12. Central Baptist College
Online BS in Leadership and Ministry
Website
Central Baptist College has developed a special division known as PACE, or "Professional Adult College Education" to address the needs of its nontraditional students. Through PACE, regular CBC professors as well as experienced career professionals teach courses in practical subjects like business, information systems, and psychology. PACE also offers a BS in Leadership and Ministry. Individuals who sign up for this accredited ministry degree online learn about basic theological and biblical teachings but also take career-oriented classes like "Principles of Management" and "Expository Preaching." Or if that program isn't quite your speed, you might prefer CBC's new online BS in Church Administration.
Tuition: $15,000
Score: 70.29
11. Lee University
Online BA/BS in Bible and Theology
Website
Thanks to its Division of Adult Learning (DAL), Lee University is one of the best online Christian colleges for nontraditional students. Through the DAL, busy professionals, parents, and other adult learners can access a flexible learning experience that won't disrupt their daily schedules. DAL students can take online classes, of course, but they can also participate in 7-week hybrid intensives, which combine accelerated online lessons with onsite weekend sessions. A BA/BS degree in Bible and Theology is available through the DAL, as well as programs in Christian Studies and Ministry Leadership.
Tuition: $15,770
Score: 75.72
10. Trinity Bible College
Online Bachelor of Arts in Biblical Studies
Website
Although Trinity Bible College offers just one distance education degree, it's flexible enough to accommodate quite a few career goals. For example, if you'd like to pursue a career in the ministry, you might want to pair your accredited Bachelor of Biblical Studies degree online with a minor in Church Ministries. If you earn the degree by itself, you can customize it to your interests by selecting three (or more) electives in various theological areas. And if cost is an issue, Trinity offers a unique and generous tuition waiver: The school provides cost reductions of up to $100 per credit to students who demonstrate financial need.
Tuition: $15,912
Score: 77.54
9. Mid-Atlantic Christian University
Online Biblical Studies Major
Website
Mid-Atlantic Christian University wants to combat a trend it's noticed in other top online Christian colleges: a reduced focus on required Bible-theology courses. Instead, MACU requires extensive study in this field, and it's proud to produce graduates who are ready to become Christian leaders. As you pursue a major in Biblical Studies, you'll learn how to both develop your personal spirituality and how to be an effective and persuasive evangelist in your community. And thanks to that focus on theology, you'll develop a love of learning that MACU hopes will carry over into your future career in the ministry.
Tuition: $13,600
Score: 79.71
8. Johnson University
Online BA/BS in Ministry Leadership
Website
Tennessee-based Johnson University differentiates itself from the competition with its fieldwork-based degree in ministry leadership. The school's cheap online Christian ministry degree (which is available as both a BA and a BS) incorporates a unique three-credit internship, where students serve under a mentor in their community. The internship requires a weekly commitment of seven to eight hours and gives you the chance to observe the nuts and bolts of ministry work. At its conclusion, you'll have an opportunity to reflect on the experience and determine whether you'd like to pursue a similar career path.
Tuition: $13,950
Score: 79.71
7. Moody Bible Institute
Online Bachelor of Science in Biblical Studies
Website
For students seeking a pragmatic and affordable online theology degree program, the Moody Bible Institute's BS in Biblical Studies is a strong option. That's because the program is eminently career-minded: graduates leave with a strong portfolio of all their best work, ensuring they have a ready-made demonstration of their personal "ministry brand" to show potential employers. In addition, you'll have an opportunity to create "action plans" and practice tailoring your message to specific audiences. But that doesn't mean you have to give up your personal beliefs and values. In fact, other elements of the program will help you develop an individual strategy for enriching your own spiritual life.
Tuition: $12,630
Score: 80.43
6. Calvary University
Online Bachelor's Degree in Bible and Theology
Website
An online theology degree from Calvary University provides students with the necessary education for ministry roles and for further biblical studies. It offers the flexibility of online learning with the rigor of a solid theology degree. Students take courses such as developing a biblical worldview, survey of physical science lab, and survey of biological science lab. Students must complete a total of 126 credit hours before they can graduate: three hours in the ministry core, 33 hours in the major, one class in either Biblical communication or expository preaching, three credits in great Christian thinkers, 16 hours of electives, and 23 more hours in "open" electives.
Score: 82.25
5. Piedmont International University
Online BA in Bible Studies
Website
Unlike some of the other programs on this list, Piedmont International University's BA in Bible is designed exclusively for professional adults "who are already active in local church ministry or would like to expand […] their service for Christ." In addition, the curriculum requires all Bible majors to declare a minor, either in a secondary area of study or in a specific type of ministry. A few of the options are professional/secular in nature, such as English, History, and Management for Nonprofits. But this top online Christian ministry degree is more notable for its many ministerial concentrations, including Children's, Coaching and Recreational, and Student Ministry.
Tuition: $9,650
Score: 85.87
4. Saint Louis Christian College
Online Bachelor of Science in Christian Ministry
Website
St. Louis Christian College created its Bachelor of Science in Christian Ministry with a very specific goal in mind. Catering to the needs of students who aspire to "a traditional vocational ministry position," the degree prepares majors to "conduct bi-vocational ministries" in their professional lives. Therefore, the curriculum splits coursework almost evenly between required bible/theology credits and "professional education" credits. This kind of balance and flexibility in the coursework makes this one of the best online theology programs for transfer students as well as a practical choice for a variety of careers.
Tuition: $11,240
Score: 88.77
3. Southwestern Assemblies of God University
Online Bachelor's Degree in Bible and Theology
Website
Southwestern Assemblies of God University may just be the largest provider of accredited online theology programs in the US - at least when it comes to the number of degrees it offers. Undergraduate students attending SAGU online can major in Bible and Theology, Biblical Studies, Theological Studies, Pastoral Leadership, or one of the several sub-types of Christian ministry. The university even offers a separate Intercultural Studies program specifically for those who want to work overseas as missionaries. And with its generous credit-for-experience policy and sizeable tuition grants, SAGU makes it more affordable than ever to train for a career in the church.
Tuition: $19,560
Score: 90.58
2. Luther Rice University and Seminary
Online BA in Religion: Biblical Studies
Website
If you can't decide between earning a Bachelor of Biblical Studies degree online or a degree in Christian Ministry, Luther Rice University can help. The school's 100% online program features a hybrid curriculum that combines a broad overview of religion with core coursework in biblical studies and one of three approved minors. Each minor provides training in a slightly different faith-based discipline. For example, the Christian Worldview track imparts general skills related to "advancing the Christian faith," while the Ministry track offers more specific preparation for serving your local church.
Tuition: $6,800
Score: 93.12
1. The Baptist College of Florida
Online BA in Christian Studies
Website
Nearly half of the undergraduate programs available at The Baptist College of Florida are religious in nature. Whether its biblical or Christian studies, ministry or missions, worship leadership or Christian education, BCF covers nearly the entire range of theological topics. On top of that, all of the school's bachelor's degrees are available in an online format. And if you happen to live in Florida, you can also take classes at one of the college's satellite campuses in Jacksonville, Orlando, and Panama City. Along with high-quality curricula and an ultra-low tuition rate, it's not hard to figure out how BCF made it to the top of this online Christian ministry degrees ranking.
Tuition: $10,800
Score: 100
Thanks for reading our ranking of the 25 best cheap ministry degrees online!
Sources:
IPEDS Data Center
College Navigator
College Data - Pricetag for a College Education