Affordable Real Estate Online Bachelor's Degree Programs of 2021

Are you ready to find your fit?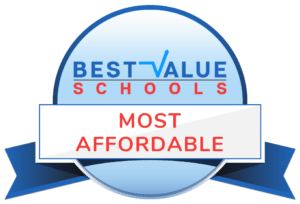 Click here for high resolution badge
By BVS Staff
Next on our list of cheap online degrees is our ranking of the most affordable online real estate degree programs.
Real estate is a dynamic field that combines business and finance with sales and economics in a way that has the potential to be quite lucrative. Students who graduate with a degree in real estate pursue careers as real estate brokers, appraisers, mortgage lenders, property managers, and assessors, just to name a few. Many people choose to attend classes on campus, but the demand for online classes has caused the availability of distance education programs to grow.
Featured SchoolsClick here to request free information about Purdue University Global's online BS - Business Administration: Real Estate program.AD
The 5 Best Online Real Estate Degrees Ranking Methodology
Selection Criteria
For this ranking, we focused on public and private (non-profit) colleges and universities that offer real state programs online. Because the focus of this list is on affordability, we only considered programs with average* tuition rates of $25,000/year or less.
*For public schools, we calculated the average value of their in-state and out-of-state rates.
Ranking Factors
Unfortunately, there are a limited number of real estate degree programs available online. Therefore, we could not compile a pool of options large enough to justify a multifactorial ranking system in which we'd score colleges and universities based on a list of specific considerations.
So instead, we ranked the programs solely according to their affordability. See below for the best cheap real estate degrees online, ranked from most to least expensive.
Cheap Online Real Estate Degree Programs Ranking
Featured Online Programs
Figuring out where to apply? These top, accredited schools offer a variety of online degrees. Consider one of these accredited programs, and discover their value today.
Clarion University of Pennsylvania


There are two reasons that the Clarion University of Pennsylvania deserves to be at the top of our online real estate programs ranking. Of course, it officially ranks first because of its low average tuition costs. But aside from its affordability, Clarion's program also attracts attention as having perhaps the most comprehensive real estate curriculum available online. More specifically, the core coursework includes at least nine specifically real estate-oriented classes, covering everything from real estate law, finance, and analysis to marketing, brokerage, appraisal, and management. On top of that, you'll even take classes that will help qualify you for a real estate appraisal and/or brokerage license in the state of Pennsylvania.



For an AACSB-accredited online real estate program, look no further than the University of Memphis. Aside from its approval from this prestigious accrediting agency, UM also attracts applicants for the academic flexibility it provides. Of course, you'll have to make it through the standard core BBA curriculum first, but then you'll get to move onto the Real Estate concentration. This is where you'll put your personal mark on your studies; of the six classes in the concentration, you'll get to handpick three of them from a list of nearly a dozen options.



While many business administration programs prioritize the rote acquisition of knowledge, Mississippi College's BBA degree aims instead to develop flexible learners who can communicate clearly, work well with others, and think critically. As a Christian institution, MC's curriculum also emphasizes ethical and moral issues that could arise in managerial contexts. And if you're looking for an affordable online real estate program, look no further than the Career Track in Real Estate. It covers all the staples - finance, sales, law, and general principles - while still leaving you room to supplement your studies with electives from other areas of business.


East Tennessee State University

Location

Johnson City, TN


Earning a BBA in Finance from East Tennessee State University is a great way to launch your real estate career. With this program's robust, 27-credit real estate concentration, you'll be hard-pressed to find a curriculum that will better prepare you for success in the industry. You'll learn about the principles of real estate, capital budgeting, investment, financial analysis, real estate appraisals, and urban economics - and those are just the core classes! While enrolled in ETSU's accredited online real estate program, you'll also get to pick electives - e.g. "Real Estate Law" and "Monetary Economics" - that can help you develop a specialized area of expertise that is sure to get the attention of potential employers.


Temple University

Location

Philadelphia, PA


Temple University's online BBA program is among the most customizable you'll find anywhere in the country. For starters, it offers a ton of scheduling flexibility. You can choose to take classes in traditional 15-week or accelerated seven-week semesters. Plus, you can attend either part- or full-time. This flexibility extends to the curriculum, as Temple's BBA lets you modify your degree with one of six majors - one of which is real estate. By choosing to earn an online real estate degree, you'll gain access to targeted coursework in real estate investment, asset analysis, and international finance. You'll also get to select elective classes on specialized topics like Real Estate Financial Modeling and Residential Property Management.

Thanks for reading our ranking of the 5 top cheap real estate programs online!
Sources:
IPEDS Data Center
College Navigator
See also:
Top 10 Cheap Online Retail and Sales Management Degree Programs (Bachelor's) 2019
Get prepared for your next steps
Use articles and resources to uncover answers to common questions, get guidance on your goals, and learn about applying to schools.
Discover a program that is right for you.
Explore different options for you based on your degree interests.