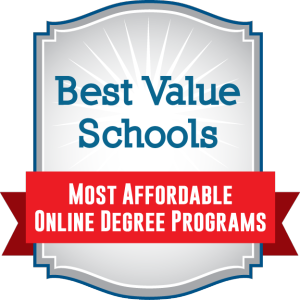 A number of degrees related to Information Technology and Computer Science are in high demand, and an online network administration degree can help prepare you for a rewarding career.
Students who major in Network Administration or a related field are suitably prepared to organize, install, and support a variety of computer systems and networks. You'll be able to work with both small businesses and large corporations in both the private and public sectors. If this type of work sounds interesting to you, consider earning a degree online.
Methodology
If you need help finding the perfect program (and are also on a budget) check out our list of the 10 most affordable online bachelor's degrees in Network Administration. We determined this list by first discovering all the schools in the country that offer such degrees completely online and then eliminating all but the 10 least expensive (according to data from the U.S. Department of Education's College Navigator website). When it comes to public schools, we determined their affordability by averaging the in-state and out-of-state tuition rates. Schools are presented here in ascending order of cost, with the #1 school being the least expensive.
Cheap Online Network Administration Degree Program Ranking
---
1. Western Governors University
Online BS in Information Technology - Network Administration or Network Design and Management
Website
Tuition: $6,070/yr
At regionally accredited, non-profit Western Governors University, students follow an individual degree plan based on existing skills; the more you know, the faster you progress. You earn your B.S. in Information Technology—Network Administration not by simply undertaking credit hours but by passing proctored skill assessments to demonstrate what you've learned. This may be one reason why Get Educated ranks WGU #3 in online Computer Science bachelor's programs. Included in tuition are ten industry certifications such as Comp TIA Security+ and CIW JavaScript Specialist. WGU also has a #1 ranking on College Prowler for Online Course Options. Its twelve areas of study for this degree beyond general education include network security, project management, and leadership.
2. Bellevue University
Online Systems and Network Administration Degree - Bachelor of Science
Website
Tuition: $6,300/yr
Bellevue University is proud to be ranked #18 on U.S. News and World Report's list of online Bachelor's programs and #7 of top online colleges from Online U. It also holds a coveted regional accreditation and is not-for-profit. Students may access the university's career services department for job searches and advising, and they enjoy 24/7 support through services like the Bruin Student Portal and an internal support team. The Systems and Network Administration Degree (SNAP) begins with a general education core, including the three-course Kirkpatrick Signature Series on American values and traditions. The cheap online network administration degree also requires 36 credit hours of major coursework in administration of Microsoft and Unix networks, including courses like Advanced UNIX Administration and Administration of SQL Databases.
3. Trident University International
Online Bachelor of Science in Computer Science - Network Administration Concentration
Website
Tuition: $6,600/yr
Trident University International is a for-profit, regionally accredited, fully online university. The school has developed a methodology for online education called the Robust Learning Model (RLM), which relies on faculty/student interaction, faculty responsiveness, a strong IT backbone, and strong student support services, among other key characteristics. Ninety percent of faculty have a PhD or the highest equivalent in their fields, and College Prowler ranks it 89 of 1,447 schools in Online Professor Communication. Get Educated ranks them #21 in online IT Bachelor's degrees, which includes the B.S. in Computer Science (BSCS). Beyond general education and nine core courses, BSCS students use remaining credit hours to specialize in Network Administration, and a second concentration if they so choose. The Network Administration concentration teaches the design and management of networks and how to incorporate emerging technologies through courses like Wireless Hybrid Networks.
4. Mayfield University
Bachelor's Degree in Network Management Online
Tuition: $7,200/yr
Students at Mayfield University can pursue a B.S. in Network Management within the Computer Science School. Disciplined online network administration degree students might be able to complete the 24-course degree in less than two years - an appealing factor for students in a hurry. Ten courses fulfill general education requirements and cover areas such as math, biology, and social sciences, while eight Core IT courses teach the broad basics of technology, such as programming and e-commerce. Finally, students complete their work with six specialized courses in Network Management, including topics on firewalls, networking, disaster recovery, and network security. A premier online education provider, Mayfield has an international presence on six continents and attracts world-class faculty.
5. Rogers State University
Online Business Information Technology Bachelor's Degree - Computer Network Administration Option
Tuition: $5,349/yr (In-district) $5,351/yr (In-state) $12,005/yr (Out-of-state)
Rogers State University has operated online learning programs since 1992 for Oklahoma residents. The school is regionally accredited; it is also a member of the Southern Regional Education Board Electronic Campus and complies with its standards. In addition, Get Educated ranks it #8 of affordable online Bachelor's degrees in Computer Science. Students can pursue a B.S. in Business Information Technology with a Computer Network Administration focus to prepare themselves for careers as network systems specialists. Coursework mirrors RSU's traditional campus degree program, so not all courses are offered each semester. Coursework includes a special emphasis on business fundamentals, requiring eight courses in accounting, statistics, marketing, and other similar topics. Other work in the degree's 124 credit hours includes 11 core IT classes and five network administration courses like Network Routing, Emerging Technologies, and Advanced TCP/IP administration.
6. Dakota State University
Network and Security Administration (BS) Online
Website
Tuition: $7,506/yr (In-state) $9,506/yr (Out-of-state)
In 1984, the South Dakota legislature mandated that Dakota State University change its mission to "educate leaders for the information age," so the school did just that. Shortly thereafter Yahoo Magazine ranked the school one of the country's "most wired" universities. U.S. News and World Report ranks it as a top regional university, and Get Educated ranks it #14 among affordable online Bachelor's degrees in computer science. The School of Business and Information Systems offers eight technology related majors, including a B.S. in Network and Security Administration. The accredited online network administration degree is offered online through PC-based learning systems and courses follow the semesters of traditional, on-campus programs. The degree requires 21 technology courses of varying depth, including Scripting for Network Administration, Offensive Network Security, Computer Forensics Fundamentals, Survey of Network Applications, and Routing and Switching.
7. Colorado Technical University
Online Bachelor of Science in Information Technology - Network Management
Website
Tuition: $10,531/yr
Colorado Technical University has been acclaimed for its M.U.S.E. (My Unique Student Experience) platform, which allows students to learn by whatever methods are most effective for them, e.g., listening, watching, reading, or interacting. Perhaps that's why College Prowler gives CTU an A for Online Courses. Students pursuing a B.S. in Information Technology can choose one of seven specializations, including Network Management. Following general education and general IT coursework, students specialize in networks through courses like Network Infrastructure Design, Disaster Recovery, and UNIX Systems Programming. Those wishing to focus additionally on Project Management replace the typical IT Capstone courses with four specific courses like Project Scheduling and Cost. The affordable online network administration degree prepares students for careers as varied as software developer, network security engineer, and test engineer. CTU is regionally accredited and has been named an NSA Center of Academic Excellence in Information Assurance Education.
8. American National University
Network Administration Bachelor's Degree Online
Website
Tuition: $11,550/yr
The online Network Administration Bachelor's Degree at American National University prepares IT professionals for promotion to mid-level positions such as network analyst, network engineer, or network administrator. Coursework is applied primarily to Microsoft Windows Server and provides the background needed to complete Microsoft, Cisco, and CompTIA certification exams. There is special emphasis on integrating newer technologies, especially in the areas of cloud computing, network security, and wireless network architecture. Online classes are limited to 25 students in order to maximize faculty attention. Online collaboration tools and forums also foster student-faculty relationships. ANU is nationally accredited by ACICS, one of the few national agencies recognized by the Council for Higher Education Accreditation and the U.S. Department of Education.
9. National American University
Online Information Technology - Network Management/Microsoft
Tuition: $12,500/yr (on average)
National American University uses what it calls an "inverted curriculum." Students start in their major courses during the first year to confirm they've chosen a major that fits their interests and goals. NAU also has employed other tools to help get you to graduation day, including personal advisors, Academic Success Appraisals, and a class on Strategies for Success. The university is regionally accredited and for-profit, and U.S. News and World Report ranks it #87 for best online Bachelor's programs. The B.S. in Information Technology—Network Management/Microsoft requires a minimum of 27 credit hours in the network management area. Examples of courses include Network Security, Interconnecting Cisco Network Devices, and Implementing Advanced Server Architecture. Online classes are offered year-round with four start dates to give eager students as many opportunities as possible to enroll in school.
10. Virginia College
Network Management (Bachelor's) Online
Website
Tuition: $13,000/yr (on average)
Virginia College offers nine online Bachelor's programs, including a B.S. in Network Management. Students study general education and IT basics as well as 88 credit hours of specialized electives. Examples of specialized courses include Microsoft Network Engineering, Cisco Secure PIX Firewall Management, Biometrics, Counter Hack, and Incident Response. Breadth of course offerings may be why VC receives an A+ for Online Courses and an A for Academic Experience from College Prowler. The degree prepares students for IT career choices ranging from computer servicing to network security to network administration. When pursuing that next career move, students can consult the Career Services department, which maintains strategic relationships with many potential employers to facilitate a smooth transition in to working life. VC is nationally accredited by ACICS, one of the few national agencies recognized by the Council for Higher Education Accreditation and the U.S. Department of Education.
Resource: Network Management Scholarships
Sources:
College Navigator
College Prowler
Get Educated
U.S. News and World Report
Online U
Bureau of Labor Statistics
About the Author:
Iris Stone got her start in the industry when she began working as a freelance writer and researcher in 2011. Her freelance business soon took off and she now owns and operates a writing and editing firm that works with clients all across the country. Despite the time it takes to run a business she still does much of the writing herself, and her work has included a variety of content related to education policy, colleges and universities, academic programs, and graduates' careers. Check out her Google+ Profile.
Filed under: online network administration degree