AFFORDABLE MBA ENTREPRENEURSHIP ONLINE DEGREE

Are you ready to find your fit?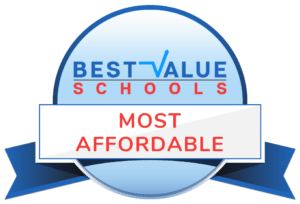 Click here for high resolution badge
By BVS Staff
An online entrepreneurship MBA program is a great choice for ambitious business professionals who want to climb the corporate ladder and perhaps even start their own company. While some students apply to MBA programs directly out of undergrad, many frequently return to school later on in their careers after they've already accrued some on-the-job experience. These working adults often find that online education is a convenient way for them to earn their degree without sacrificing their current work schedule.
Fortunately, there are a plethora of affordable online master's degrees in entrepreneurship that are flexible, convenient, and self-paced. Current businessmen and women who want to break free from the corporate ladder and start their own businesses can use the opportunities these programs offer to take their goals out of the idea stage and into the real world.
The 25 Best Online Entrepreneurship MBA Programs Ranking Methodology
Selection Criteria
For this ranking, we focused on public and private (non-profit) colleges and universities that offer online Master of Business Administration Entrepreneurship degrees. This means MBA programs that have an explicit focus in entrepreneurship, either across the entire curriculum or in the form of a concentration. Because the focus of this list is on affordability, we only considered programs with average* tuition rates of $25,000/year or less.
In addition, we only considered colleges whose business schools/departments have obtained accreditation from one of three specialized accrediting agencies: the Association to Advance Collegiate Schools of Business (AACSB), the Accreditation Council for Business Schools and Programs (ACBSP), or the International Accreditation Council for Business Education (IACBE).
*For public schools, we calculated the average value of their in-state and out-of-state rates.
Ranking Factors
After compiling a list of all the colleges that offer entrepreneurship master's degrees online and meet the above criteria, we collected data in three categories:
Entrepreneurship Focus: What percentage of the curriculum's coursework (core, concentration, elective, or otherwise) is specifically related to entrepreneurship (as opposed to other general business topics)?
Accreditation: From what agency has the MBA program earned its business accreditation? Professionally, most people consider the AACSB to be the most prestigious business-focused accreditation agency. Therefore, AACSB-approved schools earned more points in our ranking than those with ACBSP or IACBE accreditation.
Affordability: What is the average annual cost of attendance?
After collecting and sorting all the information, we ranked the candidates according to their performance in each area. Finally, we summed up the results and gave each school a final score using a curve so that the top-scoring program earned an even 100 points.
Read more about the best cheap master's degrees in entrepreneurship online below!
Cheap Online MBA - Entrepreneurship Degree Program Ranking
#1

University of Houston-Victoria

Victoria, TX

#2

Ball State University

Muncie, IN

#3

University of Missouri-Kansas City

Kansas City, MO

#4

Missouri State University-Springfield

Springfield, MO

#5

Southeastern Oklahoma State University

Durant, OK

#6

Concordia University-Wisconsin

Mequon, WI

#7

University of North Carolina-Chapel Hill

Chapel Hill, NC

#8

Gonzaga University

Spokane, WA

#9

North Carolina State University

Raleigh, NC

#10

Brenau University

Gainesville, GA
Featured Online Programs
Figuring out where to apply? These top, accredited schools offer a variety of online degrees. Consider one of these accredited programs, and discover their value today.
University of Houston-Victoria

The University of Houston-Victoria gives you two options for pursuing an affordable master's degree in entrepreneurship online. First, the "Strategic MBA" offers a broad, interdisciplinary look at the field, while the "Global MBA" focuses on international business. Both options include a concentration in entrepreneurship and are available either entirely online or by combining online and on-campus courses. Regardless of the delivery mode you choose, you'll appreciate the school's use of case studies and collaborative group projects, methodologies that help hone your problem-solving and communication skills. Note that the global program is intended for applicants with a bachelor's in business administration; if you don't have one, you'll need to take additional foundation courses.

Ball State University offers one of the top 20 accredited online entrepreneurship MBA programs in the country, according to U.S. News and World Report. And with its flexible scheduling, competitive tuition, and opportunities to augment your degree with a graduate certificate, it's easy to see why. Not only can you complete this program fully online, but you can also incorporate on-campus classes if you prefer a blended program. Regardless of your approach, you can earn your degree in just two years while maintaining your full-time job. One caveat? Many classes are synchronous, so you'll have to carve out time to log in and view the live webcasts and class discussions.

University of Missouri-Kansas City

At the University of Missouri - Kansas City, instructors know that MBA candidates have busy professional - and personal - lives. That's why they let you combine online and in-person classes as you earn the school's top online MBA Entrepreneurship degree. The school also offers a unique take on all its courses by combining lectures with "engagement activities" that require you to work with your classmates either online or on campus. And if you're unsure whether an online MBA will meet your needs, you can stop by the free open house to meet instructors, network with fellow students, and ask any questions you need to make your decision.

Missouri State University-Springfield

If you're hoping to carry out research while earning a cheap entrepreneurship master's degree online, you'll want to give Missouri State - Springfield a look. A research component is baked into each class, and if that's not enough, you can opt to complete a six-credit thesis in place of a seminar and one elective. Springfield also differentiates itself from the competition by offering a graduate certificate in entrepreneurship alongside the MBA. The certificate doesn't require any additional courses, and it could help your resume stand out. And if you completed an undergraduate minor in business, you might be able to waive certain core requirements, reducing the cost of this already affordable program.

Southeastern Oklahoma State University

Given that Southeastern Oklahoma State University offers more than 10 emphases as part of its MBA, it's no surprise that one of those is in entrepreneurship. With classes focused on marketing, financing, and developing new businesses, this cheap online Master of Business Administration Entrepreneurship degree leaves you well-equipped to start - and grow - your own venture. Practically speaking, this program also shines for its quick completion time: just a single year of full-time study. You can also opt for one of five start dates, all with a quick turnaround time between application, admission, registration, and your first day of studies.

Concordia University-Wisconsin

The four-class Innovation and Entrepreneurship concentration at Concordia University - Wisconsin lets you effectively design your own specialization. You'll choose among nine focused classes, which cover topics that include sustainability, social media marketing, IP law, marketing research, and more. As you earn this affordable entrepreneurship master's degree online, you can even incorporate a hands-on experience: Concordia offers an optional 120-hour internship to any MBA student. Otherwise, all courses are available online, with no required residency. Another perk? With no set start dates, you can begin the program at any time that works for your schedule.

University of North Carolina-Chapel Hill

UNC-Chapel Hill wants its top online entrepreneurship MBA program to work for anyone interested in entrepreneurship, whether you're a founder, funder, corporate innovator, or early executive. As such, the curriculum focuses on core skills you can apply to any of these roles, such as identifying financing, managing technology, and developing a corporate strategy. The school also offers plenty of ways to make the most of your degree, including an optional experiential learning program where students act as consultants at home or abroad. You'll also have access to a Career and Leadership Services team that can help identify your career goals - and strengthen the personal and professional skills you'll need to reach them.

The Washington-based Gonzaga University offers one of the most unique options on this online MBA Entrepreneurship degree ranking: a specialization in American Indian entrepreneurship. Designed for leaders who can create strong businesses on reservations, the cohort-based program has plenty to offer Native students. For example, although you do need to attend a six-week summer session at the beginning of the program, Gonzaga covers housing for you and your family members during your stay. Additionally, the university will reimburse 50% of your travel expenses and will cover hotel expenses for other occasional weekend visits to campus. As for the curriculum, all courses place business topics in a tribal context, making them relevant and relatable to their intended audience.

North Carolina State University

Flexibility is the name of the game at North Carolina State University. As you pursue the school's accredited master's degree in entrepreneurship online, you can opt for an accelerated program - requiring 21 months of study - or a slower one that you can complete in up to six years. You can also choose between spring and fall start dates. Plus, you can incorporate on-campus classes in Raleigh or Research Triangle Park if you prefer a hybrid program. And although instructors offer most classes asynchronously, they do incorporate some live presentations, discussions, and other synchronous delivery methods. Note that you will need to attend two three-day residencies at the Raleigh campus over the course of the program.

Five courses comprise the entrepreneurship concentration at Brenau University, giving you a chance to explore topics from finance to product development. The broader MBA core introduces you to more universally applicable topics, including applied economics, critical thinking, and cross-cultural business challenges. And if you hope to one day expand your business globally, you'll want to check out the optional International Business Experience course, which sends students abroad to experience a different business environment. Brenau's affordable online Master of Business Administration Entrepreneurship degree also stands out for its cohort-based classes, which give you the chance to develop meaningful professional relationships - and to network with potential future business partners.

Colorado Technical University

Location

Colorado Springs, CO

Designed for applicants who already have a business concept in mind or in its early stages, the affordable online MBA Entrepreneurship degree at Colorado Technical University gives you the chance to build on that idea. Instructors will show you how to develop a business plan, create a launch strategy, and design a portfolio for your concept. During the final capstone course, you'll even have the chance to present your plan to an investor - and get valuable feedback. Note that this program is also appropriate for consultants who intend to work primarily with small business owners, not just entrepreneurs themselves.

Regent University

Location

Virginia Beach, VA

Another Christ-centric program, Regent University's affordable online Master of Business Administration Entrepreneurship degree is intended to produce business leaders who can adapt to changing markets and technologies. You'll learn how to develop marketing plans, manufacture products, deliver services, and more, both domestically and internationally, grounding what you learn in a sound understanding of both finance and investing. As a nod to the increasing difficulty of digital information literacy, you'll even take a non-credit "Information Research and Resources" class that provides you with essential skills necessary in both your MBA program and your post-graduate business.

Cairn University-Langhorne

Location

Langhorne Manor, PA

Cairn University offers one of the most globally focused MBAs on this entrepreneurship master's degree online ranking. Not only does the 20-month program include coursework with an international bent, but you'll also complete a week-long residency in Europe or Asia (this year the residency is in Madrid). The degree also prizes hands-on work, including a final capstone where you'll develop an in-depth business plan for either a domestic or international start-up. And if you happen to have attended a Christian college for your undergrad degree, you might be eligible for advanced standing in the MBA program thanks to Cairn's Christian affiliation.

Hands-on learners who want an enriching online MBA program will want to consider Felician University. This Catholic institution gives you plenty of ways to make the most of your online experience, including the option of taking classes at the Rutherford, New Jersey campus. The program culminates in a capstone experience and portfolio, and you can even join a week-long study abroad program in Ireland. In addition, all students enrolled in this top online entrepreneurship MBA program can join Sigma Beta Delta, an international business and management honor society, and they can also attend Felician's yearly business symposium to network and meet industry leaders.

University of West Florida

With five yearly start dates, the option to waive your GRE/GMAT, and high marks from online ranking services, the University of West Florida represents an all-around strong option for earning your affordable entrepreneurship master's degree online. Classes address every aspect of starting a new business, from analyzing the industry to rolling out your product or service. A particularly helpful "New Ventures" class asks you to evaluate potential new businesses and develop one through the funding phase, while the follow-up "Venture Development" class demonstrates how to fill a board of directors, meet your revenue targets, and develop an IPO.

University of Illinois-Springfield

While many schools on this online Master of Business Administration Entrepreneurship degree ranking offer a leadership-forward curriculum, the University of Illinois - Springfield puts a unique spin on this approach. Not only does the program require classes in strategic leadership, but you'll also need to select one of three "leadership pathways" - innovation, digitalization, and globalization - to bring additional focus to your studies. Another notable difference? Along with your specialization in entrepreneurship, you'll choose a second specialization in either Global Challenges in Business or Digital Marketing. It all adds up to a highly customizable degree that should meet any student's needs.

Pennsylvania State University-World Campus

Location

University Park, PA

Integration, collaboration, and engagement define the top online entrepreneurship MBA program at Penn State - World Campus. The idea is to help you develop broad skills you can use to solve any problem; as such, your classes will include plenty of group and individual case simulations and projects. And although classes on innovation are baked into the general MBA curriculum, your entrepreneurship concentration gives you nine additional credits of targeted coursework, including classes such as "Business Modeling and New Venture Creation" and "Emerging Trends, Technology, and Corporate Innovation." All classes are asynchronous, although you will need to complete a five-day residency at the University Park campus.

If you're looking for the chance to incorporate experiential learning as you earn an accredited master's degree in entrepreneurship online, you'll want to give Northeastern a look. The school offers optional residency courses both in the United States and abroad, including locations like Greece and Turkey. These hands-on, intensive courses give students the chance to learn from and network with global business professionals. Other than this optional experience, you'll complete all classes online. One requirement of note: Rather than asking applicants to take the GRE or GMAT, Northeastern wants you to have five years of relevant professional experience under your belt before applying.

Clarion University of Pennsylvania

No matter your ultimate career goals, the MBA in Innovation and Entrepreneurship at Clarion University of Pennsylvania should help you meet them. The program's broad curriculum starts by helping you develop solid communication, data analysis, and marketing skills. It then takes a deep dive into topics unique to entrepreneurship: creating a sustainable venture and analyzing market potential, for example. Classes cover both for-profit and nonprofit enterprises, and as you earn this top online MBA Entrepreneurship degree, you'll consider how both types of ventures can serve the greater good and "improve social welfare."

University of Arkansas

Location

Fayetteville, AR

Residents of Arkansas, in particular, will want to consider UA's cheap entrepreneurship master's degree online program. That's because the school offers hybrid delivery rather than fully online coursework, requiring MBA students to attend one in-person class each month at the Fayetteville campus. If this requirement works with your schedule and you crave hands-on learning, you'll want to give this two-year, part-time program a good look. Although the entrepreneurship focus area technically requires just two courses, one of them is an in-depth "partnering project" that asks you to spend 10 weeks working on a real-world, large-scale project. It's a great way to put your skills to work in a low-stakes setting.

University of Louisiana-Lafayette

You can earn the University of Louisiana - Lafayette's MBA in just 15 months while still working full-time, making this program a great choice for busy adults who want to complete their degree quickly. The accelerated classes are available fully online and typically last for eight weeks, and you can choose among four yearly start dates. Curriculum-wise, you'll take a series of Foundations courses in topics such as finance and economics, then dive into management-specific core classes. You'll also complete four concentration-specific classes as you earn this top master's degree in entrepreneurship online; topics include law, marketing, and organizational behavior.

Graduates of Bellevue University's cheap online entrepreneurship MBA program will have something tangible to show potential employers: an extensive portfolio demonstrating their problem-solving and project-implementation skills. But you'll also leave with soft skills that make you a valuable employee, like the ability to communicate with colleagues and lead project teams. Students can effectively customize their entrepreneurship concentration by choosing from two highly-focused tracks: Family Business and Self-Employment and Small Business Operation. And although the concentrations can prepare you for all types of ventures, you'll benefit most strongly if you intend to pursue a technology-driven or socially-oriented business.

Florida International University

The top online Master of Business Administration Entrepreneurship degree at Florida International University earns accolades from myriad ranking organizations. Among its biggest selling points are its comprehensive curriculum, corporate marketing management simulation, and professional development requirement. You can complete the fully online curriculum in just 18 months with accelerated study, and if the price is a concern, you'll want to look at FIU's generous scholarships. Available to students who meet specific criteria - such as serving in the military or working for an affiliate partner of the school - the scholarships are worth up to $10,000 over the length of the program.

Lynn University's three-course MBA specialization in Entrepreneurial Management focuses on pragmatic skill development. Classes touch on essential topics in finance and management while also teaching students how to leverage their creativity and innovation to achieve success in business. As you pursue this affordable online MBA Entrepreneurship degree, you'll also learn how to develop and implement a business plan, woo potential investors, use resources effectively, and more. All courses are asynchronous, and you'll even get a new iPad - fully equipped with prepaid mobile learning apps and collaboration tools - when you enroll.
Thanks for reading our ranking of the 25 top cheap entrepreneurship master's degrees online!
Sources:
IPEDS Data Center
College Navigator
Business-Management-Degree.net
Accreditation Council for Business Schools and Programs
Association to Advance Collegiate Schools of Business
International Accreditation Council for Business Education
See also:
Top 10 Cheap Online Entrepreneurship Degree Programs (Bachelor's)
Entrepreneurship Scholarships
Get prepared for your next steps
Use articles and resources to uncover answers to common questions, get guidance on your goals, and learn about applying to schools.
Discover a program that is right for you.
Explore different options for you based on your degree interests.