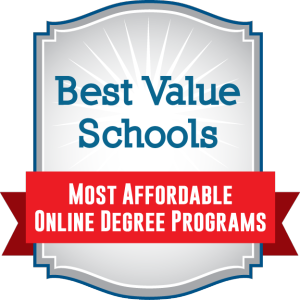 As the use of technology becomes more prevalent in classrooms and many schools take their programs online, students can now earn advanced degrees, such as those in education, without leaving their living room - and this includes an online master's in secondary education. Middle and high school teachers can augment their expertise in English, Mathematics, Biology, or History by taking rigorous classes that specifically target 6-12th grade pedagogy. Teachers who are experts not only in their subject area, but also in the art of instruction itself, will achieve more success in the classroom for both themselves and their students.
Methodology
The ranking below describes the top 10 most affordable, best online master's degrees in secondary education. Our main focus was low tuition rates, and it's unlikely that you'll find an accredited graduate program in secondary education with lower prices than these schools. Thankfully, these universities don't stop at affordability, and many achieve high standards of academic quality as well. We gathered tuition information from the U.S. Department of Education's College Navigator database. We've organized them from most to least expensive, organizing public schools based on their average in-state an out-of-state rates.
Ranking Cheap Online Master's in Secondary Education Degree Programs
---
10. The University of New Mexico
Online M.A. in Elementary or Secondary Education Online with a Focus in Teacher Leadership
Website
The University of Mexico College of Education's online secondary education master's degree is designed to assist teachers in becoming leaders in their schools and communities, exceeding expectations for the average middle or high school teacher. Students complete the program as part of cohorts, which begin each fall. Online learners take useful classes in Advanced Instructional Strategies, Social Justice in Education, and many other career-specific topics. The National Council for the Accreditation of Teacher Education approves UNM's programs, indicating both quality and consistency.
Tuition: $5,924/yr (In-state) $20,002/yr (Out-of-state)
9. Gwynedd Mercy University
Online Accelerated Master's (MS) with Secondary Education Certification
Website
This accredited online master's in secondary education targets students who have already attained degrees in other fields, but who have decided they wish to pursue teaching. This degree has a student teaching requirement, enabling students to have hands-on experiences as student teachers prior to graduation. Students choose a specialization in one of four different curriculum areas: English, Mathematics, Biology, or Social Studies. The highly flexible program allows online learners to complete all their classes while simultaneously preparing for certification, meeting student teaching requirements, and even continuing their current employment. Core courses include Teaching and Learning Process, Effective Communication for Educators, and many others. Start Class gives GMU an above average overall ranking and makes particular note of its excellent financial aid; 99% of qualified students receive help paying for college.
Tuition: $12,906/yr
8. San Diego State University
Online Master of Arts in Teaching: Elementary and Secondary Education
Website
San Diego State University is proud of its online master's degree in secondary education, which emphasizes social justice in education. The MAT offers educators credit towards the degree if they have obtained their teaching credentials within the past six years. It is also one of the least expensive teaching degrees, costing a mere $8,200 for the entire program of 24 units, as of the most recent academic year. The varied coursework mixes foundational instruction with specialized training, assisting teachers in understanding topics from innovative curriculum development to research-based pedagogy. The schedule even meets the needs of current full-time teachers. Forbes ranks SDSU the 47th best university in the West, as well as the 114th best research institution nationally.
Tuition: $6,866/yr (In-state) $18,026/yr (Out-of-state)
7. California State University Fullerton
Online Master of Science in Education with a Concentration in Secondary Education
Website
California State University at Fullerton offers a graduate program in education that is available 100% online. A specialized concentration option allows students to follow a schedule quite similar to a full online master's degree in secondary education. There is a non-refundable enrollment deposit of $250 due at time of admission; however, accepted students can apply this charge to their total tuition payments. The entire program consists of at least 31 advisor-approved courses, including a mandatory prerequisite class in Introduction to Graduate Studies in Education. Once they complete this foundational requirement, students can then focus on the excellent writing, research, theory, and practice courses that make this school the highest ranked teaching program in the state of California.
Tuition: $6,738/yr (In-state) $17,898/yr (Out-of-state)
6. Western Kentucky University
Online M.A.E. in Teacher Leadership Secondary Education
Website
For those teachers who want to learn how to excel in their classrooms, this degree will address the actual functional needs in managing a classroom, as well as different theories for improving student learning. WKU's affordable online master's degree in secondary education allows teachers to draft their own program of study based on the outcomes they project for their current and future teaching goals. As a Teacher Leader, graduates are prepared to implement innovative new strategies and better assist their schools in overcoming student barriers, such as those prevalent in impoverished areas. Students on College Prowler praise WKU for its knowledgeable professors and overall low-stress course load.
Tuition: $10,300/yr (In-state) $13,820/yr (Out-of-state)
5. Northwestern State University of Louisiana
Online Master of Arts in Teaching: Secondary Education Grades 6-12 Professional Studies Program
Website
This online master's degree in secondary education is perfect for professionals with bachelor's degrees in areas other than teaching but who would like to start a new career in education. While most programs of this nature have rigid start dates, NSU offers unbeatable flexibility with class start options in summer, spring, and fall. Online learners can earn teaching certification in areas such as biology, chemistry, English, or mathematics. Students complete 33 hours of traditional coursework in addition to internships and other hands-on learning experiences. U.S. News & World Report gives Northwestern State high accolades for its student services and technological resources.
Tuition: $5,738/yr (In-state) $16,526/yr (Out-of-state)
4. Grand Canyon University
Online Master of Education in Secondary Education
Website
For those who want to teach the 6th-12th grade set, Grand Canyon's master's degree in secondary education online could be a great fit. It is specifically designed for those who have not yet obtained their initial licensing for teaching. Highly focused, this program was designed to create informed and motivational leaders and educators. The curriculum requires students to work in real 6th-12th grade classrooms to complete their student teaching credit, which mandates 130 hours of observation followed by 16 weeks of actual hands-on instruction. There are frequent start-up dates and no physical on-campus attendance requirements. U.S. News ranks GCU as a "Tier 2" Regional University (West).
Tuition: $9,563/yr
3. Liberty University
Online Master of Arts in Teaching Secondary Education
Website
This NCATE-accredited degree program is geared towards those who have yet to gain their teaching licensure. After completing a foundation of core courses, students focus on career-specific topics in behavior management, curriculum development, and other essential subjects. Liberty's top online master's degree in secondary education curriculum requires three on-campus intensives, but students may complete the mandatory internship in their local area. Students can shorten the time they need to complete the 36-credit program by transferring up to six from a non-teaching undergraduate program. The Online College Database for Teacher Education accredits the curriculum as well, which opens the door for graduates to find work as both middle- and high school teachers.
Tuition: $9,360/yr
2. University of Nebraska
Online Secondary Education M.S. with School Library Endorsement
Website
This University of Nebraska's cheap online master's degree in secondary education, which uniquely includes a School Library Endorsement, incorporates specialized training in library science. Today's children approach finding information much differently than in the past, so teachers need to embrace those technological differences and keep up with the changing face of information. NCATE accredits this program, as with other colleges on this list, but UN also boasts program accreditation from the American Library Association. Classes focus on literature, research, and other library information and resources. The University of Nebraska proudly displays a Top 100 Ranking out of all national universities from U.S. News and World Report.
Tuition: $4,414/yr (In-state) $11,970/yr (Out-of-state)
1. American College of Education
Online Master of Arts in Secondary Teaching
Website
The M.A. in Secondary Teaching program at ACE is dedicated to those who have attained a bachelor's degree in a subject area approved by the Indiana licensing board. It is tailored specifically to help prepare teachers for diverse learning environments, giving them the tools they need to inform a wide range of learners. Over 34-credit hours, current and aspiring teachers learn how to design curriculum that both engages students and encourages achievement. Online learners adjust to the program through an Orientation and then take an introductory "Overview of Digital Learning" class before moving to more advanced subjects. NCATE accredits all American College of Education programs, and students can tackle the online master's degree in secondary education for less than $5,500 annually.
Tuition: $5,250/yr
Sources:
College Navigator
U.S News & World Report
Forbes
College Prowler
About the Author:
Iris Stone began her writing career when she started working as a freelance writer and researcher in 2011. Her freelance business soon took off and she now owns and operates a writing and editing firm that works with clients all across the country. Despite the time it takes to run a business she still does much of the writing herself, and her work has included a variety of content related to education policy, colleges and universities, academic programs, and graduates' careers. Her interests actually span far beyond writing, and she is currently studying to be a physicist! Check out her Google+ Profile.
Related Articles
This concludes our ranking of the cheapest accredited online master's in secondary education degree programs.