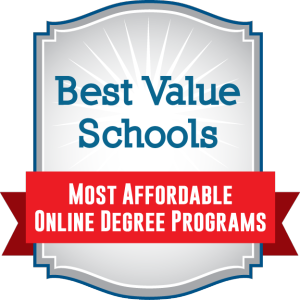 Welcome to Best Value School's ranking of the most affordable online international business degree programs available today.
Business has always been a very popular major, but never has it been as important to supplement business training with a knowledge of the global marketplace as it is today. Enter the International Business degree, which will help you find success in international organizations and agencies.
While there's a certain appeal to studying on campus, don't underestimate the benefits of taking your classes in international business online. Not only can you tailor your schedule to your exact needs, but in many cases you can save money.
Methodology
Take a look at the selection below of the 14 least expensive online degree programs in International Business at the Bachelor's degree level. Most of these universities are private and accredited by at least one agency, and many of them are nationally ranked. The fifteen schools were selected by first researching all the online degree programs in International Business and then determining which from this list have the overall lowest tuition rates according to the U.S. Department of Education's College Navigator database. Public universities were assigned an estimated tuition rate based on the average of their in-state and out-of-state price tags.
Cheap Online International Business Degree Program Ranking
---
1. University of Phoenix
Online Bachelor of Science in Business With a Concentration in Global Management
Website
Tuition: $10,500/yr (On average)
University of Phoenix's major in Global Management acts as the perfect launching pad for catapulting you and your business into the international market. The school's business programs are all accredited by the Accreditation Council for Business Schools and Programs, which emphasizes student learning, faculty scholarship, and continuous quality improvement. The Bachelor of Science in Business degree programs all have retention/completion rates that rival those of more expensive private institutions, and the percentage of students who remain in their degree program after their first year has risen since 2009. Take classes in Business Communication, Statistics for Decision Making, Principles of Macroeconomics, Marketing, and more as you build a core foundation in business principles.
2. Colorado Technical University
Online Bachelor of Science in Business Administration - International Business
Website
Tuition: $10,531/yr
As a technical university, CTU offers a unique approach to studying International Business. The university recognizes that a significant reason for international exchange in business is the proliferation of the internet and telecommunications. The online international business degree within the Business Administration major combines a solid understanding of basic business practices with extensive training in international finance, legal operations, global economics, global management, international marketing, and more. CTU's business majors are accredited by the Accreditation Council for Business Schools and Programs, and 99% of employers say CTU grads are prepared as well or better than other employees for work at their jobs.
3. Walden University
Online B.S. in Business Administration
Website
Tuition: $11,460/yr
Arm yourself with all the skills you need to be successful in international business with Walden's comprehensive program, which combines general education courses with business, concentration, and elective classes. By the time you graduate, you'll know all you need in strategic and management issues, international finance, international marketing, and global business management to forge long-lasting cross-cultural alliances. You may even have the opportunity to develop an electronic business portfolio that you can put to good use in the professional world. Walden's programs are accredited by the Accreditation Council for Business Schools and Programs and nearly 90% of alumni report that Walden curriculum is relevant to their life and work.
4. Linfield College
Online International Business Degree
Website
Tuition: $11,745/yr
Linfield College's Adult Degree Program is ideal for nontraditional students who already have some professional experience and are looking to augment their work history with additional education. Students may take all their classes online, and Linfield goes above and beyond to make sure that you'll be prepared for the world of global business. For example, they require proficiency in a foreign language in your first year as well as a study abroad experience. Classes include International Management, International Business Law, Strategic Management, and International Economics. You may also get the opportunity to complete an internship or do independent study. Linfield has received praise from The Washington Post, New York Times, Atlantic, Washington Monthly, Huffington Post, and Princeton Review, and has been named one of "America's Best Colleges" by U.S. News and World Report.
5. National American University
Online Business Administration - International Business
Tuition: $12,500/yr (On average)
Focus on how business is conducted on a global scale with National American University's degree in Business Administration with an emphasis in International Business. Qualified online international business degree professors explain how other countries structure their economies and businesses and many students even choose to travel internationally. The school has an accreditation from the International Assembly for Collegiate Business Education and offers classes at a long list of locations as well as online. NAU is very friendly to distance learners, and in fact over half of the university's students take classes primarily over the internet.
6. Florida International University
Online International Business Major
Website
Tuition: $6,496/yr (In-state) $18,895 (Out-of-state)
Whether you work for an international corporation or a smaller domestic company, the effects of globalization will likely reach your business. FIU understands the importance of thinking globally and has structured an International Business concentration around the knowledge it takes to draft trade agreements, understand foreign exchange systems, and work for a supra-national organization. Take classes like MNC Strategy Simulation, International Marketing, International Finance Management, and others. Toward the end of the accredited online international business degree program you will also choose a proficiency in Management; Marketing; or Accounting, Economics, and Finance. FIU has been rated one of the "Best of the Best" by the Hispanic Network and a "Best Undergraduate Business School" by Bloomberg Businessweek.
7. American InterContinental University
Bachelor of Business Administration (BBA) With a Specialiation in International Business Degree Online
Website
Tuition: $13,345/yr
By specializing in International Business at American InterContinental University, you'll have the preparation you need to analyze international trade, create finance policies, and make big picture decisions for international organizations. The school places an emphasis on real-world practices and allows you to develop proficiency in global financial markets, international marketing, and international trade, among others. After graduation you'll have a toolkit full of skills that you can use to construct management practices from a global perspective. AIU's business programs are accredited by the Accreditation Council for Business Schools and Programs. The school also offers an innovative Intellipath system that lets you skip over material you already know and get support from professors when you need it.
8. Golden Gate University
Online Bachelor of Science in Business - International Business Concentration
Website
Tuition: $14,400/yr
Learn about International Banking and Finance, International Marketing, and Import/Export Fundamentals when you enroll in Golden Gate University's Business Program with a concentration in International Business. Through this well-rounded degree program you'll also study regional business practices in Asia, Europe, and South America, and you can even do an internship in management. Golden Gate places an emphasis on understanding how people behave across and within cultures, a strategy that will help you be more successful in a globalized world. The university has a regional accreditation and boasts many notable alumni, including an astronaut and multiple politicians.
9. Salem International University
Bachelor of Science in Business Administration - International Business Concentration Online
Website
Tuition: $17,700/yr
At Salem International University, you can choose to major in Business Administration with a specialization in International Business. You'll complete General Education as well as Core Curriculum classes which you can use to complement the many courses with an international focus. You'll study law and public policy, marketing, human resources, management, banking, and finance all from a global perspective. The school has a regional accreditation and has churned out many recognizable alumni, including professional athletes, politicians, and accomplished researchers. You may qualify for a number of special scholarships Salem offers to make your education even more affordable.
10. Waldorf College
Bachelor of Science in Organizational Leadership - Global Leadership Concentration Online
Website
Tuition: $20,316/yr
For a little bit of a different approach to international business, consider Waldorf College's Organizational Leadership degree in Global Leadership. You'll be prepared for a wide variety of careers that require you to be knowledgeable about global decision-making strategies and the art of leading cross-cultural teams. By choosing a degree in leadership, students are poised to be more successful than their peers at promoting communication and collaboration among coworkers from diverse cultures. Soak up all the knowledge you'll need in classes like Leading Virtual Teams, International Management, Business Ethics, Survey of Global Societies and Cultural Geography, and Introduction to Spanish. Many successful people have come out of Waldorf's business programs, including the CEO of Best Buy, the founder of Winnebago Industries, and a Lockheed Martin executive.
11. Liberty University
Online Bachelor of Science in Business Administration - International Business
Website
Tuition: $20,768/yr
Get exposed to cultural protocols and the nuances of operating in the international marketplace through Liberty University's effective business degree in International Business. Learn about international trade, law, and business, and gain practice negotiating across borders. Take classes in Accounting, Finance, and Marketing that will introduce you to the concepts you need to build a business domestically and abroad. Liberty also makes it easy for you to use this online international business degree as a stepping stone toward a Master's in Business Administration or Leadership and Management - both of which are also available online! The university has received much publicity for its place in national rankings in recent years, including a Best College for Veterans, Best Regional University, and Best Online Bachelor's Program by U.S. News and World Report. The school has also made top positions on lists by Barron's Profile of American Colleges and Forbes.
12. Post University
Online Bachelor of Science in Business Administration/International Business Degree Program
Website
Tuition: $20,925/yr
As a much-decorated university, Post can offer you a degree that will get you far. It has been named as a Best Online Bachelor's Program and Best Online Grad Business Program by U.S. News and World Report, is a Better Business Bureau accredited organization, and has multiple NCAA Division II sports teams. In the International Business concentration within the Malcolm Baldrige School of Business, students learn about international business law, management, marketing, finance, and international operations, to name a few. Get the most out of your education in small, highly-interactive classes that are concentrated into 8-week modules taught by highly-qualified faculty. All online international business degree business programs are accredited by the Accreditation Council for Business Schools and Programs.
13. Schiller International University
International Business Bachelor Degree Online
Website
Tuition: $21,540/yr
One of the benefits of getting a degree from Schiller International University is that your degree will truly be of the international variety. The school has campuses in France, Germany, Spain, and England, as well as Florida and online. As a result, students have the unique opportunity to interact with peers all over the world and even travel abroad themselves. Learn about the social, economic, political, and linguistic influences on international business while grounding your education in all the foundations of business administration. Within this cheap online international business degree, you will take on assignments and projects that will give you real world experience and challenge you to confront the nature of global businesses first-hand.
See also: Top 10 Cheap Online Organizational Management Degree Programs (Bachelor's) 2019 and International Business Scholarships.
Sources:
College Navigator
Wikipedia - National American University
Wikipedia - Golden Gate University
Wikipedia - Salem International University
Wikipedia - Waldorf College
Wikipedia - Liberty University
Wikipedia - Schiller International University
About the Author:
Iris Stone got her start in writing when she began working as a freelance writer and researcher in 2011. Her freelance business soon took off and she now owns and operates a writing and editing firm that works with clients all across the country. Despite the time it takes to run a business she still does much of the writing herself, and her work has included a variety of content related to education policy, colleges and universities, academic programs, and graduates' careers. Check out her Google+ Profile.