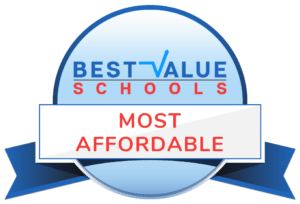 Welcome to our ranking of the most affordable online health science degree programs.
If you're passionate about the Health Sciences, you're in luck: of the nearly 50 healthcare jobs categorized by the Bureau of Labor Statistics, practically all of them are expected to experience faster than average growth between now and 2026. That means that finding a job in healthcare will be more accessible than working in almost any other industry in the U.S. Many of these positions are also lucrative, and what's better than making a comfortable salary while doing something you love?
Featured Programs
In response to the booming healthcare industry, many colleges and universities have begun offering bachelor's degrees in the health sciences. Some of these institutions even offer their degrees completely online, a welcome relief for working adults and busy parents who struggle to find the time to return to school. Online colleges are particularly beneficial to students who need to maintain a flexible schedule and/or are looking to complete their degree in less than four years.
The 20 Best Online Health Science Degree Programs Ranking Methodology
Selection Criteria
For this ranking, we focused on public and private (non-profit) colleges and universities that offer health science bachelor's degrees online. Because the focus of this list is on affordability, we only considered programs with average* tuition rates of $25,000/year or less.
*For public schools, we calculated the average value of their in-state and out-of-state rates.
Ranking Factors
Because there is not an abundance of online bachelor's degrees in health science, we could not compile a pool of options large enough to justify a complex ranking system in which we'd filter out schools based on a number of factors.
So instead, we ranked the programs solely according to their affordability. See below for the best cheap health science bachelor's degrees online, ranked from most to least expensive.
Cheap Online Health Science Degrees Ranked
20. Rutgers University-New Brunswick
Online Bachelor of Science in Health Sciences (BSHS)
Website
Rutgers offers a unique Bachelor of Science in Health Sciences (BSHS) program through a partnership with Thomas Edison State University. Degree candidates complete their general education classes at TESU before transferring to Rutgers for health-related, interdisciplinary coursework. In the second half of the program, you'll take 15 credits in core topics like "Ethics of Healthcare" and "Principles of Scientific Inquiry" before selecting a concentration. Students pursuing this BS in Health Science online can choose from specializations in Aging Studies, Allied Dental Health, Health Advocacy, Health Services Management, Imaging Sciences, and Psychiatric Rehabilitation.
Average Tuition & Fees: $22,198/yr
19. Ohio State University
Online Bachelor of Science in Health Sciences
Website
Housed within Ohio State University's College of Medicine, this affordable online bachelor's degree in health science features an in-depth, comprehensive curriculum and a distinguished list of faculty. The program provides students with knowledge from across the spectrum of healthcare topics, including health promotion and disease prevention, policy and decision making, pathophysiology, and management principles. As such, it's a great option for current healthcare workers who want to advance their career or prepare for a graduate professional program (e.g., dentistry, occupational therapy, medicine, etc.). Note that to apply, you'll need to have completed your general education courses and hold an associate's degree (not necessarily in a science or healthcare field).
Average Tuition & Fees: $19,133/yr
18. University of Cincinnati
Online Bachelor of Health Sciences in Behavior and Occupation Studies
Website
If you're looking for a generic health science program that will give you a broad introduction to the field, the University of Cincinnati isn't for you. But if you're specifically interested in studying occupational therapy, UC may well have the best cheap BS in Health Science online. In fact, applicants are only eligible for admission if they have earned an associate's degree in occupational therapy from an ACOTE-accredited program. The benefit of this approach is that UC can cultivate a highly-targeted curriculum that focuses explicitly on behavior and occupation studies. By the end of the program, you'll be in prime position to apply to some of the nation's top graduate schools for OT.
Average Tuition & Fees: $18,667/yr
17. University of Missouri-Columbia
Online Bachelor of Health Science in Health Science (BHS)
Website
Students interested in nonclinical healthcare careers (medical sales or corporate wellness, for example) should consider applying to the University of Missouri - Columbia. This program focuses on general health topics that will prepare you to work in a range of fields, from healthcare leadership to research to public health. MU's program also stands out on this online health science degrees ranking for its customizability. That is, a large portion of the curriculum is allotted to health science and general electives, giving you the opportunity to select classes (with the approval of your advisor) that fit your individual goals.
Average Tuition & Fees: $17,705/yr
16. Western Kentucky University
Online Bachelor of Science in Health Sciences
Website
Whether you've already earned an associate's degree or have yet to take your first college class, Western Kentucky's online bachelor's degree in health science can help you achieve your goals. The general-purpose program offers two concentrations, which are designed to impart useful skills without limiting your career options. First, the Health and Social Welfare track addresses topics like policy, social health needs, and demographic changes. It's an ideal option for anyone interested in community services or non-profit work. On the other hand, you can specialize in Preparatory Health Sciences if you plan to attend graduate school in a health-related field.
Average Tuition & Fees: $17,352/yr
15. Azusa Pacific University
Online B.S. in Health Sciences
Website
Unlike most schools on this list, Azusa Pacific University is a Christian college that integrates religious teachings into its curriculum. But that's not what makes APU so unique; rather, this program stands out on our health science bachelor's degrees online ranking for its extreme flexibility. Indeed, the BSHS curriculum offers nearly endless opportunities to customize your coursework thanks to its six emphasis areas: Healthcare Leadership, Healthcare Management, Organizational Dynamics, Human Services, General Psychology, and Psychology in the Healthcare Profession. You can even choose to concentrate in multiple topics, or you can work with an advisor to select the courses that will best prepare you for graduate-level study.
Average Tuition & Fees: $16,812/yr
14. Florida Gulf Coast University
Online B.S. in Health Sciences
Website
Florida Gulf Coast University's BSHS is a degree completion program that maintains articulation agreements with several local community colleges. Floridians can transfer to FCGU once they've earned their associate's degree and can take all their remaining classes online. Both allied health and nonclinical, entry-level healthcare workers can benefit from FGCU's program. In fact, it's one of the best cheap health science bachelor's degrees online for students who "wish to gain further interdisciplinary education." Required courses provide a thorough look at the US medical system from administrative, legal, and technical perspectives, while electives allow you to dig deep into focused topics like "Health Insurance" and "Client Education in Healthcare."
Average Tuition & Fees: $15,640/yr
13. Northern Kentucky University
Online Bachelor of Science in Health Science
Website
Only current medical professionals with an associate's degree in a healthcare discipline should consider attending NKU's BSHS program. While the program is admittedly restrictive about who it will admit, students ultimately benefit from this razor-sharp focus. Indeed, the curriculum wastes no time with basic healthcare courses, instead, jumping straight into advanced topics like health informatics, chronic disease management, aging, and global health. All this makes for one of the top online bachelor's degrees in health science - especially for individuals looking to push their career to a higher level and prepare themselves for new challenges in the workplace.
Average Tuition & Fees: $13,884/yr
12. University of Colorado Colorado Springs
Online Bachelor of Science in Health Care Science - Health & Wellness Promotion Option
Website
At most schools, an online health science degree serves one of two purposes. It either prepares students to attend a professional graduate school (e.g., medicine, physical therapy) or it provides a broad-based education for nonclinical healthcare workers. Fortunately, program designers at the University of Colorado - Colorado Springs recognized this pattern and created a curriculum that tends to both goals. You need only select the right specialty track for you. For example, the Health & Wellness Promotion track provides an overarching look at topics like exercise, nutrition, and health assessment, while the Pre-Professional track will help you meet specific requirements for grad school.
Average Tuition & Fees: $13,406/yr
11. Indiana University
Online BS in Applied Health Science
Website
For in-state residents, Indiana University undoubtedly offers the top BS in Health Science online. To start, the program is extraordinarily accommodating to students of all academic backgrounds. Whether you have an associate's degree (up to 64 transfer credits) or have yet to complete your first year in college, the BSHS faculty will welcome your application. Even more exciting, the curriculum is supported through a partnership between multiple IU campuses (Northwest, South Bend, Kokomo, East, and Southeast). This means you can take classes from any of these schools in any semester, regardless of where you originally enrolled!
Average Tuition & Fees: $12,878/yr
10. Washburn University
Online Bachelor of Health Science
Website
Forget transfer credits and associate degrees: Washburn University offers a full, four-year Bachelor of Health Science that will teach you all you need to know to have a successful career in healthcare. Housed within the school's Allied Health Department, this affordable online health science degree program comes with three job-oriented tracks: Clinical Laboratory Science, Health Services Administration, and Medical Imaging. If you choose the latter option, you'll then pick a subspecialty in Diagnostic Medical Sonography, Radiation Therapy, or Magnetic Resonance Imaging. Or if you opt for the former, you'll graduate well-prepared to sit for the national certification exam to become a medical laboratory scientist.
Average Tuition & Fees: $12,570/yr
9. University of Wisconsin-La Crosse
Online Bachelor of Science in Health and Wellness Management
Website
From our research, it's clear that most health science programs are focused - at least in part - on preparing degree candidates for professional graduate school in healthcare. But there are always exceptions to the rule. Take the University of Wisconsin's BS in Health and Wellness Management as a prime example. Truly unique on this online bachelor's degrees in health science ranking, UW's program aims specifically to prepare students for nonclinical careers - such as with insurance companies and community agencies. As such, classes cover primarily conceptual rather than technical topics, like "The Wellness Profession," "Population Health for Wellness Managers," and "Worksite Health Environment."
Average Tuition & Fees: $12,322/yr
8. Texas Woman's University
Online B.S. in Health Studies
Website
The BS in Health Studies at Texas Woman's University represents the paragon of versatility and convenience. Yet its curriculum is not exactly a grab bag of open electives. Rather, the faculty has carefully designed a course of study that prepares students for a range of specific career fields. Because the curriculum focuses on community health, all graduates are eligible to become Certified Health Education Specialists. While earning this BS in Health Science online, you can also add on a teaching certification and become a health instructor. Alternatively, you can orient your studies around a career in public health, occupational therapy, or general preparation for graduate school.
Average Tuition & Fees: $12,218/yr
7. University of West Florida
Online B.S. Health Sciences (General) Program
Website
Are you interested in healthcare but still undecided about your professional career path? No need to despair: the University of West Florida has the perfect program for you. Indeed, the school's "general" BSHS degree claims the broad goal of preparing students "to work in the health professions providing service to individuals and communities." This could include nutrition, wellness, administration, physical/occupational therapy…the list goes on. Whatever you ultimately decide, UWF's cheap online health science degree will keep you on track with relevant classes like "Medical Terminology," "Understanding US Health Care," and "Principles of Human Disease."
Average Tuition & Fees: $12,217/yr
6. Arizona State University
Online BAS in Applied Science (Health Sciences)
Website
As a BAS (Bachelor of Applied Science), Arizona State's health science program offers a natural next step for students who have earned their AAS (Associate of Applied Science). The main goal of the program is to help healthcare technicians - people who work in radiology or nuclear medicine, for example - break open a whole new range of career options. Graduates can find work as health educators, wellness coordinators, facility managers, and other in-demand occupations. While earning this cheap health science bachelor's degree online, you'll also acquire valuable knowledge in data analysis, communication, and policy that will help you succeed in any number of professional fields.
Average Tuition & Fees: $11,780/yr
5. Wilmington University
Online Bachelor of Science in Health Sciences
Website
Leadership and hands-on learning: these are the driving forces behind Wilmington University's top online bachelor's degree in health science. This program doesn't just aim to give you new career options; it also works to elevate your skills and accelerate you up the career ladder. Classes like "Leadership for the Healthcare Professional" and "Health Education and Principles of Teaching" will prepare you to take charge in the workplace and serve as a role model for your colleagues. At the same time, a capstone class (complete with professional portfolio) and optional "cooperative learning experience" will help you put your put your newfound skills into practice.
Average Tuition & Fees: $10,670/yr
4. Missouri State University-Springfield
Online Bachelor of Science in Health Services
Website
At this point on our online health science degree ranking, you might think you've seen it all - every possible type of BSHS program. And yet, here is Missouri State University with yet another option for yet another type of student. In this degree completion program, associate's degree students prepare not for practitioner work (e.g., physical therapist) or graduate school, but for interdisciplinary careers in public health and administration. Although many applicants do come from allied health backgrounds, the curriculum does less to build on this background than to leverage it. That is, you'll draw on your technical experience only to help inform your understanding of new concepts like health literacy, legal issues, and health informatics.
Average Tuition & Fees: $10,585/yr
3. University of South Dakota
Online Bachelor of Science in Health Sciences
Website
The University of South Dakota describes its BSHS program as "dynamic" and "interdisciplinary." Indeed, the shape-shifting curriculum perfectly reflects the constantly evolving nature of the modern healthcare industry. More specifically, USD's program offers six distinct concentrations, each with its own unique set of requirements and objectives. Traditional options include Pre-Professional Studies, Public Health, and Health Care/Health Care Advancement Studies. However, USD also offers concentrations in Clinical Informatics and Research - and is the only school on this health science bachelor's degrees online ranking to do so! The latter option is particularly unique, as it will prepare you for careers in biostatistics, data analysis, and biomedical research.
Average Tuition & Fees: $10,073/yr
2. West Texas A & M University
Online B.A. or B.S. in Health Sciences
Website
Looking to gain new skills in health program planning, communication, promotion, and research? Considering a career in hospital administration, policy writing, or human resources? If so, it's worth doing some research into the online health science degree at West Texas A&M. The full four-year program provides a comprehensive survey of healthcare topics with an emphasis on 21st-century skills. Core classes like "Economics of Biotechnology and Health Care" and "Elementary Biostatistics in Health Care Research" will prepare you to succeed in today's data-driven, tech-centric healthcare environment. As an added bonus, you'll have a chance to diversify your studies by choosing electives from pre-approved categories like Health Promotion, Cognitive Health, and Public Policy.
Average Tuition & Fees: $8,002/yr
1. Granite State College
Online B.S. in Health and Wellness
Website
Officially, Granite State College earns the top spot on our cheap online bachelor's degrees in health science ranking because of its low tuition rate. But GSU does plenty more to deserve its place of honor on this list. Indeed, its curriculum is about as comprehensive as they come. Although you'll need an associate's degree (or professional certification) in a health-related field to apply, this is where the academic restrictions end. Once admitted, you'll enjoy a wide-ranging course list that covers everything from nutrition to statistics and will train you for just about any career that "encourage[s] people to live healthier lifestyles."
Average Tuition & Fees: $7,845/yr
Thanks for reading our ranking of the 20 top cheap online bachelor's degrees in health science in the US!
Sources:
IPEDS Data Center
College Navigator
Bureau of Labor Statistics: Healthcare Occupations
See also: