5 TOP JOBS IN THE FIELD OF GEOSCIENCES
Are you ready to find your fit?
Geoscience Jobs
Engineering Geologist
Wellsite Geologist
Environmental Consultant
Seismic Interpreter
Geoscientist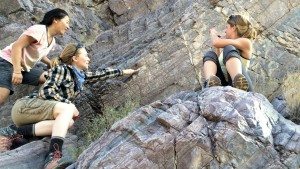 For a geoscience degree, students are expected to understand the major concepts of geology. From plate tectonics to the classification of minerals, these classes prepare students for a career in the field. To obtain a job, students should spend time learning how to collect and interpret earth science data. They should also practice skills like public speaking, writing and computer science that may be needed in their career.
1. Engineering Geologist
An engineering geologist works to make sure that geological factors do not get in the way of engineering projects. With this in mind, they will assess the conditions of the rocks, minerals, and groundwater that are near construction projects. It is up to engineering geologists to decide if a site is too sensitive for development. They may work with geological maps to analyze the site and supervise workers on the construction site.
2. Wellsite Geologist
A wellsite geologist's main job is to look at and classify some of the rock cuttings that have been removed from wells. Using their knowledge, they can tell oil and gas operations how deep to drill. To do this, the wellsite geologists perform tests on rock cuttings and core samples to figure out how drilling should proceed. During and after drilling, they must send in completed reports that detail their findings.
3. Environmental Consultant
Although a geoscience degree is not strictly necessary for this job, it will help students to get hired and to succeed in the position. An environmental consultant is normally hired by the government or businesses to look at environmental issues. They will often look at waste management practices as they perform an environmental assessment. The environmental consultant will also study the levels of contamination in the air, water, and soil. Afterward, they create a report for their employer that details their findings.
4. Seismic Interpreter
For an unusual career, apply for a job as a seismic interpreter. These individuals get to send sound energy pulses through layers of rock. As the sound bounces back, they are able to determine the strength of the rocks and what the earth is comprised of. Often, a seismic interpreter will use 4D, 2D and 3D models to show the depth and types of formations beneath the ground. They are often contracted by mineral or energy companies to research the type of land and create an environmental assessment.
5. Geoscientist
Although it only requires a bachelor's degree, statistics from the Bureau of Labor Statistics show that geoscientists bring in an impressive $89, 910 in pay every year. This median pay might be due to the fact that this field of employment is expected to grow at a speedy 10 percent annually. Once hired, a geoscientist may do any type of work that interprets geological, geophysical or geochemical information. Geoscientists may search for oil, gas, water or mineral reserves that can be exploited, or they may provide advice to engineering projects.
To obtain a position in one of these fields, students must study the geosciences. Many of these jobs boast of growing job markets, which makes them ideal options for graduating students. In addition, there are always job opportunities available for geoscience students at one of the many mineral or oil operations.
Related Resource: Most Affordable Online Master's in Science Education Degrees
Get prepared for your next steps
Use articles and resources to uncover answers to common questions, get guidance on your goals, and learn about applying to schools.
If you're pursuing a master's degree in psychology, you may have been asked the following question: "What can you do with a master's in psychology?" It may even be a...
Are you interested in helping others resolve their issues and hurdles through talk therapy? You may want to consider a career in the counseling field. Counseling is a field that's...
Mental health counseling jobs exist across many settings — from hospitals and government agencies to schools and private practices, and they're projected to grow. The Bureau of Labor Statistics (BLS)...
Discover a program that is right for you.
Explore different options for you based on your degree interests.