MEET TRACY: STEM SCHOLARSHIP AWARD WINNER AND EARTH'S SUPERHERO
Are you ready to find your fit?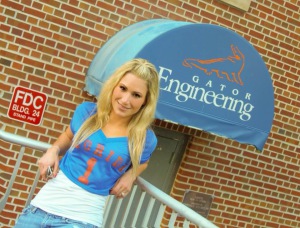 At Best Value Schools, we are pleased to announce another shining recipient of the STEM Scholarship for Women as chosen by our committee. A $2,000 award has been granted to Tracy Fanara, who will be using the scholarship funding for the 2015 spring semester to cover the costs of finishing her doctoral degree and dissertation research in the College of Environmental Engineering at the University of Florida.
As an extraordinary young engineer who impressed us with her dedication to studying the science of environmental problems, Tracy has focused her research to storm water pollutant transport, low impact development (LID), hydrology, and public outreach.
From an early age, Tracy saw the power in education and exhibited a strong passion for science as she ran off to the creek to catch tadpoles, rather than playing dolls with the other girls. After starting her academic career at Hobart and William Smith Colleges, Tracy courageously followed her interest in science to the University of Florida in pursuit of an engineering degree. In the following years, Tracy has excelled academically to graduate with a B.S. and M.E. in Environmental Engineering on the Dean's List.
Outside of the classroom, Tracy has also worked as a project engineer at a consulting firm and paved a path by becoming the firm's only female engineer working on civil design projects. In her work, she has gained extensive experience in creating eco-friendly designs for water, storm water, sewer, wetland, and reuse systems to leave her mark on the STEM field. As her passion for the environment grew, Tracy found her niche in creating new inventions, procedures, policies, and designs that would make a substantial impact on improving our planet.
Bringing Light to Environmental Issues
In addition to her academic and work experiences, Tracy inspired the scholarship committee with her strong commitment to public outreach to bring our world's environmental issues to light and finding innovative scientific solutions to improve human relationships with the environment. After being awarded the SPICE fellowship in 2012, Tracy took on a 7th grade teaching position to educate the young minds of middle school students and inspire their interests in science. At the University of Florida, she has volunteered her free time to mentor EPA Rainworks Challenge teams and both teams' designs ended up receiving national first place awards.
As she continues to support the public outreach chapter of her doctoral research, Tracy has recently presented her research findings at a statewide engineering conference and will present her work at a national conference this fall. Tracy also publishes environmental educational articles and videos to inform people on various areas of climate change, sustainable practices, stream health, and more. To read more about Tracy's passion for her life's work, be sure to follow her blog at Inspector Planet, Earth's Superhero.
For her hard work, tremendous drive, and strong commitment, it is our honor to present the STEM Scholarship for Women to Tracy Fanara to help fund her bright future in spreading awareness on environmental concerns. Congratulations, Tracy!
Could You Be the Next Recipient?
If you would like to share your own story about how you are positively contributing to the world of science and enhancing female representation in the field, we invite you to learn more about the Best Value School's STEM Scholarship for Women. Please check back often to find news of any updates and apply for our next application session next year!
Get prepared for your next steps
Use articles and resources to uncover answers to common questions, get guidance on your goals, and learn about applying to schools.
College is an exciting but harrowing time for most college students, and that can be especially true for prospective college students who identify as lesbian, gay, bisexual, transgender, questioning, or...
Historically Black colleges and universities, commonly known as HBCUs, are an incredibly important part of the higher education system in the United States. These schools, which of the nation's colleges...
It can be tough to narrow down higher education options after graduation for most students. There are state and private college options, trade schools, and community colleges to choose from, and each option offers a different price point, a different trajectory, and a different path. These choices become even more difficult when there are other […]
Discover a program that is right for you.
Explore different options for you based on your degree interests.