MEET PAVITTHRA – 2016 STEM SCHOLARSHIP RECIPIENT AND FUTURE ENGINEER
Advertisement
BestValueSchools.com is an advertising-supported site. Featured programs and school search results are for schools that compensate us. This compensation does not influence our school rankings, resource guides, or other information published on this site.
Are you ready to find your fit?
MEET PAVITTHRA – 2016 STEM SCHOLARSHIP RECIPIENT AND FUTURE ENGINEER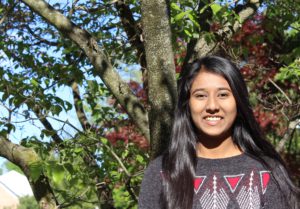 At Best Value Schools, our STEM Scholarship for Women committee would like to announce the first 2016 winner – Pavitthra Pandurangan! Pavitthra will be given a $2,000 scholarship to help afford her post-secondary pursuits after graduating from the Middlesex County Academy for Science, Mathematics, and Engineering. As a senior Honors student, Pavitthra was accepted at two prestigious schools: Cornell University and Carnegie Mellon University. She's committed to Carnegie Mellon with a STEM major in computer science.
Pavitthra impressed our committee with her outstanding academic achievements. She's maintained a 3.96 GPA on a 4.0 scale while challenging herself in AP Calculus, Honors Physics, and Civil/Mechanical Engineering. She's taken college courses like Modern Cosmology and Quantum Mechanics through the Columbia University Science Honors program, which is a program designed for high school students who take weekend classes taught by Columbia graduate students or professors. She scored an impressive 2400 on the SAT, including a perfect 800 on Math. Pavitthra has joined the National Honor Society and been selected as a National Merit Award finalist.
Since 2014, she's motivated other students by tutoring in English, Algebra I, and Chemistry. She even developed and co-taught her own SAT course at a local library. Pavitthra's passion for community service only starts there. She received a $400 hunger grant from the Sodexo Foundation to help feed the needy. She organized a Bowl-a-Thon event to raise money for and donate 600 cans of food to the Community Food Bank of New Jersey. Pavitthra is also president of her school's Do Something Service Club and has volunteered with Habitat for Humanity.
Designing Breakthrough Tech Innovations
Pavitthra Pandurangan strives to use her inquisitive mind as an engineer to solve problems for the betterment of society. For two years, she's participated on a For Inspiration and Recognition of Science and Technology (FIRST) robotics team. She serves as the Compute-Automated Design (CAD) captain for the championship-winning Team 5169, Watt's Up. She's used PTC Creo, Keyshot, and Augment 3D to build interactive robots for competitions. Her coach, Jim Carr, declares that Pavitthra's "by far the best presenter of the mechanical design to judges."
In 2015, Pavitthra spent two months completing the Girls Who Code Summer Immersion Program and finding her love for computer engineering. She worked as a programmer on several web development and robotics projects, including a new app called Enrighten Me. Her application makes it possible for users to easily find information about the rights of U.S. citizens. It's been published in the Android Play Store and rated with five stars. Through her CAD, Pavitthra also proudly helped her team received the PTC Design Award at the Pennsylvania Robotics Qualifier.
It's our honor at Best Value Schools to recognize Pavitthra Pandurangan for her selfless desire to engineer a better world. She's been chosen as Middlesex County Academy's Student Leader. She's written for her school newspaper "Eagle Eye," served the sick at St. Peter's University Hospital, and landed in the Top 10 Best nationwide on the TSA TEAMS Competition. She even found time to start a Future Business Leaders of America chapter that won Rookie of the Year in New Jersey's FBLA Conference.
We believe Pavitthra truly embodies a well-rounded scholar with a bright future inspiring tech advancements. Congratulations, Pavitthra!
Could You Be Next?
Tell your own story about how you're contributing to any science, technology, engineering, or math discipline. You could win $2,000 for college tuition! We invite all ladies to learn more about and apply for our biannual STEM Scholarship for Women. Our next application cycle will begin in October. Don't miss your opportunity to earn financial support for your STEM career aspirations.
Get prepared for your next steps
Use articles and resources to uncover answers to common questions, get guidance on your goals, and learn about applying to schools.
How To Make Sure You Are ReadyBy Kate JellemaThis year, for the first time, the number of women and men enrolled in graduate schools in…
As technology becomes an ever-increasing part of our lives, the demand for information systems security experts grows, and with it, the need for online Ph.D.
If you're looking to land nonprofit management scholarships, you may be surprised to discover that there are numerous awards available from professional organizations and universities…
Advertisement
BestValueSchools.com is an advertising-supported site. Featured programs and school search results are for schools that compensate us. This compensation does not influence our school rankings, resource guides, or other information published on this site.
Discover a program that is right for you.
Explore different options for you based on your degree interests.