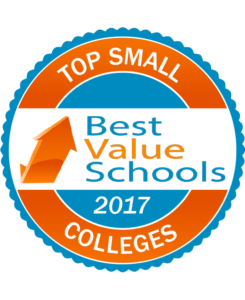 By BVS Staff
Choosing to pursue a degree in Russian studies gives you a deep look into the language, history, and culture of Russia. By studying this field, you can prepare yourself for careers in areas like foreign policy, Russian history, art history, and cultural studies. Those who lean heavy on the language element of such a program can also pursue careers in translation, localization, and marketing.
In our list of the 15 best small colleges for Russian studies majors on a budget, we've brought you the best value possible. Read on to learn about our strict criteria:
At least two relevant programs (including minors) for students seeking a bachelor's degree in Russian studies or a related area
Overall undergraduate graduation rate of at least 80%
Estimated annual costs of less than $30,000 a year (as reported by College Navigator)
What's the most affordable college of them all? Scroll all the way to #1 to find out the secret.
---
15. Rhodes College
Memphis, TN
Studying in Russia can be immensely helpful to any Russian major, but you might not want to spend an entire semester abroad or navigate the country alone. In that case, Rhodes' top Russian undergraduate program offers a compromise: a 3.5-week intensive program at St. Petersburg's Gornyi Institute, a university founded in 1773 by Catherine the Great. The school handles all transportation, scheduling, and housing, leaving you free to focus on learning. You'll take immersive Russian language courses, attend cultural events, and visit the historic city of Novgorod. It's a great way to augment the on-campus courses Rhodes offers as part of the Russian Studies major or the interdisciplinary Russian and International Studies program.
Net Price: $29,659/yr
14. The College of Wooster
Wooster, OH
Niche programs like Russian Studies typically attract a small but dedicated number of students, and so Wooster fosters a close-knit community in its Russian department. Many undergrads choose to live in the campus's Russian House, which groups fellow majors together alongside a post-grad teaching assistant from Russia. Not only does this make it easier for students to collaborate on assignments, but it facilitates a number of cultural activities within the house. These include weekly lunches and tea hours to improve your conversational skills as well as student-prepared dinners that will test your knowledge of Russian cuisine. All these options - and more - help make Wooster one of the best small colleges for Russian studies majors who want to feel like part of a community.
Net Price: $28,038/yr
13. Smith College
Northampton, MA
Smith offers two affordable small college Russian studies programs: Russian Language and Literature and Russian, East European and Eurasian Studies. Both majors require at least two years of language study alongside coursework in literature, history, and culture. And thanks to Smith's participation in the Five College Consortium, undergrads have access to an extensive course catalog from which they can select unique electives. In addition, the five colleges collaborate to run the Slavic Seminar, a series of meetings where students and professors share works in progress and discuss relevant topics. It's a great opportunity to interact with a larger group than Smith's relatively small all-women student body.
Net Price: $26,318/yr
12. Mount Holyoke College
South Hadley, MA
With two majors, three minors, a certificate program, and a teaching licensure, Mount Holyoke offers one of the broadest ranges of degree options on this Russian language degrees ranking. The major in Russian and Eurasian Studies provides a broad look at the area as a whole, exploring the history and culture of the former Soviet countries, the Caucasus, and central Asia. Although the degree requires proficiency in Russian, you'll also have the opportunity to study other Slavic languages through study abroad and immersion programs. Mount Holyoke itself offers a three-week trip to the country of Georgia every January, where you'll get to practice both Russian and Georgian.
Net Price: $26,082/yr
11. Lafayette College
Easton, PA
An affordable college for a Russian studies degree, Lafayette offers an interdisciplinary program that requires you to take courses in myriad disciplines. For example, you'll study the area's politics, language, literature, and history, but you'll also be required to fulfill courses in other departments, especially the humanities and social sciences. But don't worry, these aren't "filler" classes. Lafayette's comprehensive course catalog makes it easy to find relevant options in just about every department, from art history classes in Slavic art to religious studies coursework in Orthodox Christianity. You'll finish your program with a capstone course, and you can even complete a thesis to graduate with honors.
Net Price: $24,993/yr
10. Trinity College
Hartford, CT
Thanks to its location in Hartford, Connecticut, Trinity is one of the best small colleges for Russian studies majors who want to augment their time in the classroom by experiencing Russian culture firsthand. Hartford's Russian community is just steps away, so undergrads majoring in the Russian language or in the World Literature and Culture Studies program can easily converse with and get to know members of the Russian diaspora in America. And if you want to spend time in the mother country, Trinity recommends several targeted study abroad programs located across the globe, from Moscow to far eastern Vladivostok.
Net Price: $23,980/yr
9. Barnard College
New York, NY
Barnard's affordable Russian undergraduate programs are divided into two tracks: humanities and social sciences. Both tracks offer focus options in Eastern Europe (for a broader education) and the country of Russia. But the humanities program places greater emphasis on language and literature, making it ideal for students who are primarily interested in learning to read, write, and discuss the great literary works of this region. The social science program, on the other hand, combines lighter language requirements with additional coursework in the history, culture, and politics of both Russian and Eastern Europe. And thanks to a partnership between the Slavic departments at Barnard and nearby Columbia, you'll reap the benefits of attending a small women's college and a large, resource-rich university at the same time.
Net Price: $23,741/yr
8. Franklin and Marshall College
Lancaster, PA
Founded in 1787, Franklin and Marshall has been in the business of liberal arts education for more than 200 years. Over that time, the school has developed a variety of niche degree options for highly focused learners. Today, that list includes one of the top small college Russian studies programs in the country. Interested undergrads can choose from two minors - Russian Studies and Russian Language and Literature - and typically spend at least one semester studying abroad. If you're worried about the cost of an overseas trip, note that Franklin and Marshall offers two travel grants specifically for Russian Studies students. Or for a more condensed experience, consider taking the college's new Russian culture course, which concludes with a three-week stint in Moscow and St. Petersburg.
Net Price: $23,092/yr
7. Davidson College
Davidson, NC
Davidson has one of the smallest undergraduate populations - and one of the best graduation rates - on this Russian language degrees ranking. But don't let its small size fool you; this North Carolina-based small college offers some big opportunities in its Russian Department, including two majors and a minor. What's more, the department's passionate faculty is all about making courses that are both culturally relevant and fun. For instance, you might take "Russia and Ukraine - War and Peace," which uses literature to explore the tensions between the two nations. Another popular course is simply titled "Vampires," and examines the historical and metaphorical figure of the vampire in Russian culture.
Net Price: $22,865/yr
6. Wesleyan University
Middletown, CT
You'd be hard-pressed to find another top college for a Russian studies degree with a pedigree quite like Wesleyan's. Recognized as one of the top Russian departments in the country from the 1970s through the 1990s, many thought leaders escaped the USSR and found refuge in the U.S. thanks to connections at Wesleyan. Today, the department maintains its top-tier reputation but with a broader scope of coursework, and undergrads can choose from majors in Russian Language and Literature and East European/Eurasian studies. But perhaps most importantly, students in all of these programs can strengthen their knowledge through regular seminars and events at the Russian House, where lectures, meals, and conversation bring fellow majors and faculty members together to share their passion.
Net Price: $22,257/yr
5. Colgate University
Hamilton, NY
Russian and Eurasian Studies (REST) majors at Colgate tend to keep themselves busy. In fact, many double-major by pairing their REST degree with a complementary one in a subject like history or political science. And if you can keep up your GPA despite the heavy course load, you may be eligible to complete an honors thesis within this top Russian undergraduate program. Be forewarned: the honors track requires students to complete a 400-level independent study course and major thesis paper, which requires you to cite primary sources in Russian and will likely run about 50 pages. But for serious academic scholars, the experience is well worth it - and will undoubtedly provide great preparation for potential post-graduate work.
Net Price: $21,741/yr
4. Colorado College
Colorado Springs, CO
Colorado College's unique block plan enables students to take just one class at time - for three and a half weeks - with four-day breaks in between courses. These intensive courses rely on small group discussions and personal interactions with professors, making them particularly well suited for language and discussion-based courses. CC also offers undergrads the option to live in the Russian Language House, where you can continue developing your language skills alongside your fellow classmates. The department even employs a cultural program coordinator from Russia to run the house and plan activities. With this kind of immersive learning baked right into the college experience, it's no wonder that CC has become one of the best small colleges for Russian studies majors.
Net Price: $21,027/yr
3. Middlebury College
Middlebury, VT
As one of the most well-known American colleges for studying a foreign language, it's no surprise that Middlebury is also one of the top colleges for a Russian studies degree. Not only does it boast a high graduation rate and an affordable net price, but the school runs its own intensive language school in Russia. (In fact, many of the other colleges on this list refer their undergrads to Middlebury's study abroad program.) Middlebury ensures that its students become highly proficient in the language by requiring them to follow a language pledge and to pass tests in four skills: reading, writing, speaking, and listening. If you're serious about becoming fluent in Russian, Middlebury should be at the top of your list.
Net Price: $20,197/yr
2. Colby College
Waterville, ME
In terms of undergrad enrollment, Colby is one of the smallest colleges on this Russian language degrees ranking, and its Russian department is similarly small. But faculty work hard to nurture a collaborative community. Because the degree program centers on Russian culture (including language, literature, history, and film), students have access to a multitude of extracurricular opportunities in these topics. You can attend lectures, film screenings, and dinners regularly, or even attend the occasional Russian poetry slam or student research symposium. And if you choose to study abroad, the school's alumni can provide a wealth of helpful detailed information for attending Colby's program in St. Petersburg.
Net Price: $18,908/yr
1. Pomona College
Claremont, CA
The top small college Russian studies programs at Pomona seek to place the study of Russia in a global context. As such, you can expect to focus heavily on the politics and history of the region, both at Pomona and the other colleges in the regional Claremont Colleges consortium. If you opt for the Russian and Eastern European Studies major, you'll wrap up your undergraduate studies with a senior thesis, a research project that will challenge you to take a deep dive into Russian primary sources. And if you'd like to do some of that research work on site in Russia, the department offers a $2,000 travel grant that could go a long way toward making that possible.
Net Price: $18,423/yr
Want to find out exactly how much it will cost for you to attend one of these affordable Russian undergraduate programs? Check out the U.S. Department of Education's Net Price Calculator Center.
See also: 50 Best Value Rankings: Best Small Colleges
Sources: