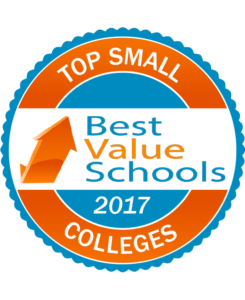 We live and interact in a world that is more digital today than ever before. Whether at the bank, the grocery store, or online, people who interact with technology need to be cautious and aware of cybersecurity.
As a professional working in cybersecurity, you'll work hard to make sure that data stays with its rightful owner in positions like IT security analyst or cybercrime investigator.
To help you achieve your goal of working in cybersecurity, we've created a list of the five best colleges for cybersecurity majors on a budget. Each of the colleges listed adheres to strict criteria to make our ranking:
Estimated annual cost of less than $27,000 a year (as reported by College Navigator)
Undergraduate graduation rate of at least 50%
At least one full program for those seeking a bachelor's degree in cybersecurity
If you're interested in hacking the code for an affordable college career, keep reading all the way to #1.
---
5. Norwich University
Northfield, VT
What better place to earn a cybersecurity degree than a college that is almost entirely devoted to national security? Norwich University, which is a military school that is open cadets and civilians, places a clear emphasis on defense and criminal justice in its academics. One of the ways this manifests is in the university's Computer Security and Information Assurance (CSIA) degree. Majors in this program can choose a concentration in Advanced Information Assurance or Digital Forensics, the latter of which is only available at one other college on this cybersecurity degrees ranking. In fact, Norwich is one of just a few schools in the country with a concentration in this area.
Net Price: $26,733/yr
4. LeTourneau University
Longview, TX
Christian students will love LeTourneau University, which was the first member of the CCCU (Council for Christian Colleges and Universities) to offer an undergraduate degree in cybersecurity. But LeTourneau's degree isn't just distinct among religious institutions; it's also one of the most affordable small college cyber security programs in the country. Not only will students pay less to attend this university, but they'll also enhance their job prospects a�� and their financial potential a�� by taking intriguing classes like "Security Policy Analysis" and "Cryptography." By the time they complete their degree, cybersecurity majors will have all the tools they need to work as firewall engineers, IT auditors, forensic investigators, and more.
Net Price: $23,024/yr
3. Anderson University
Anderson, IN
New in 2016, Anderson has added two majors that fall under the umbrella of cybersecurity: National Security Studies and Information Security. The latter is a particularly good fit for individuals who want to make a career out of fighting cybercrime, as it emphasizes risk management and mitigation, network security, and the proactive protection of critical information. Importantly, the curriculum also places special emphasis on topics related to policy planning and other aspects of political science. As a result, Anderson is well on its way to becoming one of the best cyber security schools for students who want to work in government or public administration. The university's Cyber Security Engineering Laboratory opened in October 2017 and it state of the art. It provides students with real life experience in order to enhance and better their learning. The school also offers a highly competitive Cyber Security scholarship for first year students that is renewable for 3 years. It is a $2,500 scholarship which could end up being a total amount of $10,000.
Net Price: $21,945/yr
2. Montreat College
Montreat, NC
In Montreat College's Center for Cybersecurity Education and Leadership, ambitious students tackle some of the most pressing threats that face governments and corporations today. Utilizing a "responsible and ethical approach" to cybersecurity, the program prepares members to join the next generation of "cyber defenders." The B.S. in Cybersecurity offers classes like "Cybercrime, Cyberlaw, and Cyberethics" and "Incident Response and Contingency Planning." But lectures are just one aspect of learning at this top cyber security school; majors also spend their time attending professional conferences, participating in national competitions, and working in the newly-completed Cybersecurity Operations Teaching Lab.
Net Price: $18,721/yr
1. Christian Brothers University
Memphis, TN
Although Christian Brothers University officially ranks 1st on this list because of its low net price, there is plenty of other evidence to suggest that this is one of the best small college cyber security programs in the country. Perhaps most importantly, the school's B.S. in Cybersecurity and Digital Forensics is one of just a few programs nationwide to focus specifically on digital forensics (also see Norwich University at #5). The degree is also appealing for its hands-on approach, which incorporates a heavy dose of computer engineering courses to train students in topics like data structures, digital design, and programming.
Net Price: $15,556/yr
Want to find out exactly how much it will cost for you to attend one of these affordable small college cyber security programs? Check out the U.S. Department of Education's Net Price Calculator Center.
For information about our methodology, click here.
We think you might also like:
Sources:
By Iris Stone
AprilA�2017