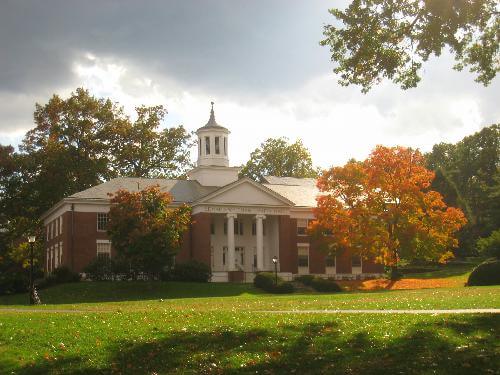 Amherst College appears in these rankings:
30 Best Liberal Arts Colleges in the Northeast, Ranked by Return on Investment (ROI)
25 Best Value Small Colleges for a History Degree
30 Best Liberal Arts Colleges in the Northeast
Top 25 Best Liberal Arts Colleges with the Best Return on Investment 
30 Best Value Colleges and Universities in Massachusetts for 2018
15 Best Value Small Colleges for a Physics Degree
20 Best Value Small Colleges for an African Studies Degree 2017
Overview
Amherst College, located just outside of Amherst, Massachusetts, is one of the top liberal arts colleges in the nation, educating an average of 1,800 students who come from all over the United States and 54 countries. With its innovative open curriculum, students are able to choose the courses that matter the most to them and their chosen major, rather than struggling to meet distribution requirements and completing a core curriculum. With 38 majors and more than 850 courses to choose from, Amherst strives to provide students with the means to be at their most creative and intellectually adventurous. And with a student to faculty ratio of 8:1, students are able to interact on a much more frequent basis with instructors who are at the top of their respective fields and who encourage students to continually challenge themselves in the academic arena.
Amherst College Accreditation Details
Amherst College is reviewed every ten years and accredited by the Commission on Institutions of Higher Education (CIHE), which is a division of the New England Association of Schools and Colleges (NEASC). In addition, it is a member of the Five College Consortium, along with Hampshire College, Mount Holyoke College, Smith College, and the Amherst Campus at the University of Massachusetts. The Five College Consortium is a longstanding member of the Association for Consortium Leadership (ACL). This consortium arrangement allows students of Amherst to also take courses at any one of the five participating colleges, greatly expanding the number of course offerings and options.
Amherst College Application Requirements
As Amherst is strictly a four-year college offering only undergraduate degrees, students may apply as either first-year students or transfer students only. The application process involves submission of the common application and $60 application fee, transcripts from either the student's secondary school or previous college(s), at least two teacher recommendations from teachers who have taught a core subject or a foreign language or professors who taught college classes that the student took previously.
In addition, first year applicants must submit a writing supplement in addition to the essays involved with the main application. Specific details of the writing subjects can be found on the application page of the Amherst College website. Standardized test results for either the ACT or SAT are also required, both of which recommend inclusion of the writing or essay portion.
Transfer students are considered to be those who have earned a minimum of 32 credit hours elsewhere and before applying to Amherst College. Transfer applicants do not need to supply standardized test scores but may do so if they feel it would strengthen the application. In either case, evidence of any other exceptional accomplishments can submit additional information regarding these accomplishments for review and consideration.
Tuition and Financial Aid
While the cost of attending a private college may seem out of reach for some, Amherst is devoted to ensuring that no student is turned away solely because of cost. The estimated cost of attending Amherst for one year is currently listed as about $65,330 for tuition, room and board alone. When adding in other fees, health insurance, books and supplies, and personal expenses, it can be as much as $70,000 or more.
However, Amherst's approach to financial aid involves meeting the full demonstrated need of every student, even if it means the student pays nothing. In addition, Amherst has replaced all student loan options with scholarship grants in their financial aid packages, so that students can graduate debt-free. On average, Amherst provides financial aid awards of more than $50,000 to about 58 percent of the student population. Students seeking financial aid to attend Amherst should still begin by filling out the Free Application for Student Aid, or FAFSA, and then working with the financial aid office at the college to ensure all costs are covered and needs are met.
Bachelor of Arts in Neuroscience
Students seeking this program major at Amherst will work closely with faculty to look for answers to questions about how the brain works. The major itself is highly interdisciplinary, with courses taken in areas of biology, chemistry, psychology, mathematics, physics, and other areas of the student's choosing and in keeping with a particular interest or focus.
Because this is mainly a science-based major, students must meet certain course requirements for completion of the degree program. These include general requirements of three specified courses in chemistry, one in biology, at least one in biochemistry, at least one in statistics, and at least two in physics or mathematics. In addition, students are required to take the Introduction to Neuroscience course in the spring semester of the sophomore year, followed by at least one upper level behavioral neuroscience course, one upper level cellular/molecular neuroscience course, and two additional upper level electives. In all of these cases, courses must be chosen from particular lists given of courses that will satisfy the major requirements.
In addition to required coursework, students seeking the Bachelor of Arts in Neuroscience must also complete senior comprehensives involving attending neuroscience seminars throughout the senior year and student comprehensive presentations. Currently, seniors are required to keep Thursdays after 4:30 PM open for attending the seminars, attendance at all of which is required to satisfy this part of the comprehensive grade. In addition, the senior comprehensives involve a written examination.
Optionally, students in this major may choose to also complete a senior honors thesis project through a laboratory at Amherst College or possibly at one of the other institutes with the Five College Consortium. This is usually done in an area of ongoing research for the faculty member involved in the project with the student. Students completing this Bachelor of Arts degree are positioned well for moving into various graduate programs at universities of their choosing, programs related to neuroscience and the study of the human brain and behaviors.
Prospective students who pride themselves on independent thinking and creativity would do well to consider beginning their higher education career at Amherst. With the goal of allowing students to find and use their own voices as a way to make a difference in the world around them, Amherst College prides itself on providing well-rounded individuals who go on to succeed in their chosen fields or in graduate and professional programs.