Add value to your marketability with one of the 10 Best Affordable Online Master's Degrees in Taxation for 2019!
To say that people generally don't like tax season is a gross understatement. We aren't just talking about individual people, but companies and corporations as well. Tax laws and procedures seem to be immensely complicated. It can be hard to even decide on something as simple as itemizing or using the standard deduction. For those who know what that last sentence also means, and for those who don't, tax professionals exist to help others navigate the waters of complexity and uncertainty that every citizen must wade through.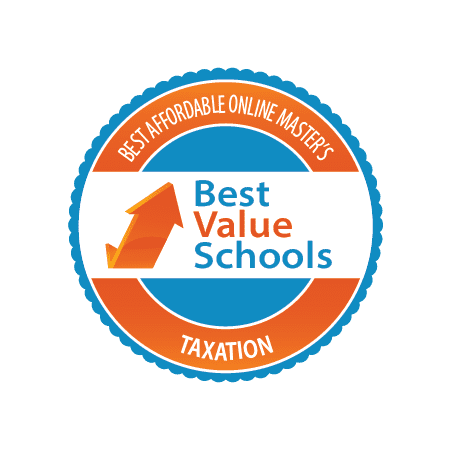 Becoming a tax expert typically requires a master's degree. Though this is an investment of both time and tuition, it is certainly worth it. The U.S. Bureau of Labor Statistics projects that the field is growing at a rate of 27 percent from 2012 to 2022. Career prospects range from independent tax consulting to corporate tax management. The average base pay for a tax specialist is $49k, according to Glassdoor, but this number tends to grow with experience and education.
Selection Criteria
Best Value Schools publishes college degree rankings with the belief of how one's higher education should be, both, affordable and an investment of continued value for the students who pursue them. The staff of BVS collects data from reputable sources in order to calculate Net Price and the short and long-term value of every ranked degree. Collected data is simplified into weighted categories before scoring and then scaled through a BVS Score up to 100. The weighted categories are:
Degree Investment Return (25%)
Student & Alumni Evaluation (25%)
Cost Value (25%)
Matriculation (10%)
Academic Success (15%)
No matter what degree you decide on, we hope our research and support has made the selection process easier. There are numerous resources BVS utilizes to collect information on degrees, and we encourage you to check them out for yourself!
Here are the 10 Best Affordable Online Master's in Taxation for 2019!
10. DePaul University - Chicago, IL
Master of Taxation
Based in the heart of Chicago, DePaul University offers a Master of Science in Taxation that benefits from proximity to the world of businesses and corporations. Major firms and organizations frequently recruit at DePaul, and many professors have dynamic professional connections. With this program, it's possible to become an expert in the tax industry at a variety of paces. Some can complete the curriculum in a year, but there's also precedent for students to take up to three years, which is helpful for those who are working professionals.
Throughout the program, students take seven required courses and five electives: about 45 credit hours. Choosing which electives to enhance learning is no trivial task, seeing as there are 21 different course options. Over 96 percent of alumni from 2016 were working full-time within six months of graduation, so you can have confidence that DePaul's online Master in Taxation is a useful next step in your career.
Net Price: $32,927
9. University of Southern California - Los Angeles, CA
Master of Business Taxation
It comes as no surprise that the University of Southern California is included in our Top 10 with its Master of Business Taxation. Its academic reputation is rivaled only by its athletic reputation. UCS's Marshall School of Business was the first AACSB-accredited business school in Southern California, and it was founded in 1920. Working professionals outside of SoCal complete coursework on their own, but also participate in a weekly interactive session with fellow online classmates and their professors. These are between 5:30-6:30 p.m. PST. These interactions enable all USC students to benefit from the esteemed USC network.
Net Price: $32,892
8. Northeastern University - Boston, MA
Master of Science in Taxation
Northeastern University offers an Online Master of Science in Taxation that is accredited by both the Association to Advance Collegiate Schools of Business International and the New England Association of Schools and Colleges, Inc. This program can be completed in as few as 16 months. You can choose from two academic tracks: Taxation of Entities or Taxation of Individuals. Ideally, students are professionals who have backgrounds in business, law, accounting, or finance. In 2018, U.S. News & World Report ranked Northeastern at No. 37 for Best Online Graduate Business Programs. A perk of studying at Northeastern is exposure to its network of 235,000 alumni.
Net Price: $30,784
7. Nova Southeastern University - Fort Lauderdale, FL
Master of Taxation
Nova Southeastern University's Online Master's of Taxation consists of 36 credit hours and can be started in January, May, or August of any given year. Motivated students can complete it in 21 months, but it's a flexible program that can adapt to the needs of working professionals. Eight of the required courses include Internet Technology, Taxation of Individuals, Corporate Taxation, and IRS Practice and Procedure. Also, students take five electives from a list that includes U.S. Taxation of International Transactions, as well as Real Estate Taxation. If anything, NSU's Master of Taxation is comprehensive to fit the needs of future tax specialists.
Net Price: $26,740
6. St. John's University - Queens, NY
Master of Science in Taxation
Online degrees at St. John's University are accredited by the Middle States Commission on Higher Education. The university is registered with the New York State Education Department, as well. Students pursuing a Master of Science in Taxation can take courses at their own pace, as lectures and other material are presented asynchronously. Remote students are eligible for the same resources as on-campus students, which includes access to financial aid and federal support. Coursework includes Corporate Taxation, Estates and Gifts, Business Tax Planning, and internship opportunities. The program requires 31 credit hours, and can be completed in a year, but is flexible such that you can take more time according to your professional pace.
Net Price: $25,981
5. University of Cincinnati - Main Campus - Cincinnati, OH
Master of Science in Taxation
On-campus and online students at the University of Cincinnati - Main Campus learn from faculty who are tax experts, lawyers, CPAs, professionals, and academics who are experienced in international accounting and with Fortune 500 companies. As such, they can also pursue concentrations in either Corporate Taxation or Individual Taxation. The program has four available start-dates in January, March, May, and June, with 16 credit hours of required tax courses, as well as 14 credit hours of electives. Students will, therefore, be exposed to the curriculum on Tax Structures, Life Cycle Strategies, Operational Considerations, and the Taxation of Subchapter S Corporations.
Net Price: $21,050
4. The University of Alabama - Tuscaloosa, AL
Juris Master Concentration in Taxation
The University of Alabama's Culverhouse Jr. School of Law offers a Juris Master degree with a concentration in Taxation. This provides advanced tax education from a legal standpoint with a lower opportunity cost than a full Juris Doctor degree. It is a two-year online program that requires 30 credit hours and begins every August. Students participate in a required online orientation. In addition, exams are proctored at the end of the first year, and students must take those in person. Apart from these, this online degree is flexible. Six required courses cover topics such as Capital Transactions and Civil Tax Procedure. Electives are offered within the fields of Tax and Business Law. You could choose to take courses such as Ethics, Criminal Tax Procedure, Securities Regulation, Business Bankruptcy, or all the above.
Net Price: $19,993
3. University of Akron Main Campus - Akron, OH
Master of Taxation
The "MTax Direct" program at the University of Akron is intended for practicing attorneys and accountants; however, those without a Juris Doctorate or an undergraduate degree in accounting can still be admitted after completing two prerequisite courses. Completion of the degree takes as little as 15 months, utilizing five 10-week terms. While classes are recorded for later view, they are designed for active participation. Students can attend every seminar on a once-per-week basis from 6:00-9:30 pm. The entire program consists of 30 credit hours - 36 if pre-requisites are needed - which include 24 credits of foundation courses, and six credits of electives. Those with an appropriate academic background can have some of these courses waived. In terms of admission, GMAT, GRE, or LSAT scores are typically required, but a waiver exists for those who are CPAs or J.D.s.
Net Price: $16,863
2. Florida Atlantic University - Boca Raton, FL
Master of Tax
Florida Atlantic University has designed a Master of Tax program around four tax pillars: appreciation of policy, technical savviness, conceptual understanding, and awareness of professional responsibility. It's a competitive program, so students with backgrounds in accounting and business have the advantage. Although, the curriculum in the program can satisfy education requirements for professional licenses such as the CPA. This Master of Tax program requires 30 credit hours, which include six core courses, three tax electives, and one program elective. In terms of value, FAU offers its program with the second lowest tuition of all the schools ranked. Students also rave about the diversity of students at FAU, which ensures developing a worldview that accounts for different perspectives.
Net Price: $10,100
1. California State University - Northridge - Northridge, CA
Master of Science in Taxation
There are few professionals in the Tax industry would be shocked that California State University - Northridge is our top-ranked program. In fact, CSUN's Master of Science in Taxation is highly ranked by at least five other top-ranking institutions. It is fully accredited by the AACSB and takes 19 months to complete. From the beginning of the program to its completion, students have access to a one-on-one program manager who ensures all is running smoothly. Pedagogy utilizes the form of a cohort model where students develop relationships and networks with other students. Students arere provided the flexibility complete their assignments on their own time, but there is still a structured schedule they must follow. Twenty-six percent of students have received a raise upon graduation, and 89 percent of graduates from 2014 received a promotion with their new MS in Taxation.
Net Price: $5,958